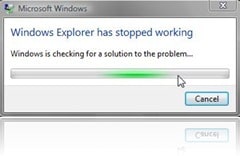 Have you ever tried to open your Control Panel on Windows XP (or Vista) and every time that you attempted it, you received a "Windows Explorer has Stopped Working" message and your entire Windows environment loses all of its functionality? It can be very bothersome and extremely annoying.
This happened to me the other day and there wasn't a very good explanation or fix anywhere (unless you do a lot of digging through forums and such). So I have done the research for you and found some work-arounds and fixes to get your control panel behaving the way it should.
I described the symptoms above, you try to open the Control Panel and your Explorer just stops working or crashes. Unfortunately, sometimes the Windows Event Log doesn't capture the cause or culprit, only the result (e.g. Windows, not Internet Explorer, crashing – that is the screen shot to the below).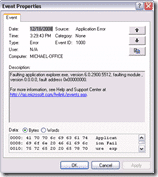 Most likely what has happened is that one of the items contained in the Control Panel has become corrupted, either due to an update or something else. In my particular case, I was on Windows XP and the Control Panel item in question was a control panel named "igfxcpl.cpl". Googling it didn't produce much that I could go with but eventually, I came up with the generic way to troubleshoot the problem.
{ 35 comments }