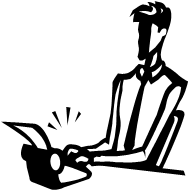 Sure, this sounds like a very boring and subjective topic. I assure you, it really is. But I'm writing this on the odd chance that someone out there might find it useful. I have been blogging now for several years, starting back in 2005. And during that time, I have tried out several methods and tools that have gotten me to the point where I am now. It is a process of continual refinement.
This article mainly talks about how I do my personal blog posts and not my work ones. There is an important difference here. The ones I do for work are done AT work during work hours and typically at the same computer. The ones I do for this blog typically span a few days, are done on various computers, and are done at different times of the day (including night and commute – offline – time). There are some similarities but for the most part, I follow a different workflow.
An Overview of My Blogging Process
Blogging is an extremely personal thing, so what works for me, might not won't work for you. Some people will scrawl ideas on a napkin while others formulate the entire post in their head and write it directly into their blogging system. And these methods can evolve over time.
But for me, at least, the process for both my work and personal email revolves around a core set of tasks.
{ 6 comments }