Let's face it, when you buy a laptop, you don't usually think about the built-in webcam. But if you look at many of the laptops out there, you will see that the built-in webcams are dramatically underpowered and are pretty much like using a really old camcorder to do video calls or webcam-related actions. Many netbooks, for example, come with measly 1.x – 3 megapixel webcams. These are great for regular video conferencing. But when you really want to get detailed, and have some fun in the process, you might want to look at the Microsoft LifeCam HD Cinema.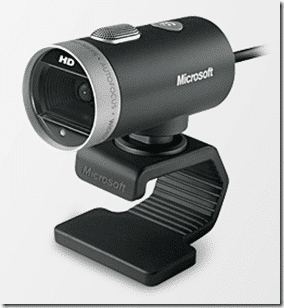 This is not your average webcam. It's a 720p widescreen high definition camera that boast of a variety of high end feature. It has auto focus which means that objects that are in view and move remain crisply oriented. If you get close, it automatically adjusts to focus in. There is a digital microphone that makes sure that the audio remains crisp and clear.
It has some "named" features as well like "ClearFrame Technology" which means that even in low light, the Cinema will produce good video, even in lower lighting conditions. And it has something else called "TrueColor Technology" which automatically adjusts the exposure of the shot.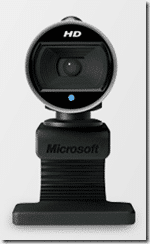 I only had a couple of complaints with the Cinema, for one, it doesn't work with Macs, but this isn't a Microsoft issue, it's an Apple one in that they only allow some select USB, firewire or built-in webcams. Also, in lower light, and this is pretty typical for any webcam, the colors were a bit bland.
But, if you are looking for a good upgrade to those lame built-in webcams, take a look at this one. Not only does if have all of the stuff above, it works quite well. And, I particularly like how easy it is to attach to a laptop or LCD monitor. Like most cameras, the better the light, the better the camera picture. This is the same with this camera. I did some low-light pictures using the built-in webcam and the Microsoft Lifecam and while the Lifecam showed a wider range of display resolutions (and a wider aspect ration as well), I found that the contrast in the colors weren't that great. However, I believe this to be the result of the TrueColor setting coupled with the lower lighting.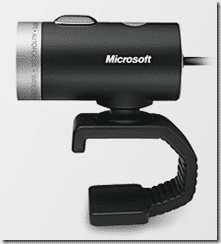 Below are some snapshot tests using the Microsoft LifeCam and the built-in webcam in my Acer laptop. Do note, the lighting was NOT ideal when I took these shots but you can see the difference in light capture, color an resolution. The screen shots were set at 1080 resolution on both.
The shot on the left is from the built-in webcam and the one on the right is from the Microsoft LifeCam HD Cinema. (I guess I should have shaved for these shots!)
As you can see, the resolution and color/contrast of the Microsoft LifeCam HD Cinema (RIGHT) is a lot better than the built in camera (LEFT):
The Microsoft LifeCam HD Cinema is a nice portable webcam that attaches  easily to the top of your laptop screen or desktop monitor via a creative, bendable mount. With a 720p HD widescreen capture ability, a small form factor and a built-in mic, it's a pretty good webcam to have around.
But the fun thing about any of the LifeCam series is the software and the fun that you can have with it. I have used this software in the past with a previous Lifecam and while it doesn't seem like that have made any significant changes to the software, it is still a blast to use. When you click on some of the effects, they are actually quite amusing:
When you use these video effects and move your head, the effects tracks with you which is pretty impressive.
So, the Microsoft LifeCam Cinema is a compact and well designed High Definition webcam that can make even a netbook produce pretty solid results. Some netbooks, though, might not have the graphics capabilities due to lesser powered video cards to truly enjoy HD grandness. So, you might want to use the Cinema on a laptop that has a bigger screen and better video card.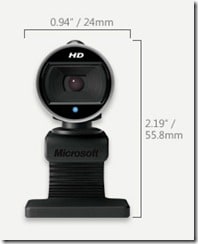 To sum up some of the highlights, the Microsoft LifeCam Cinema has:
A 720p HD widescreen webcam which captures at 30 frames per second
Auto focus so that the subject of your videos (or photos) stay in focus
ClearFrame technology which is especially helpful in low light conditions (see my photos above)
A digital microphone which captures audio but canceling noise in the process
TrueColor technology which produces pretty decent colors when checked (even at low light)
Robust and fun special effects that can be used with videos but also Windows Live Messenger, Yahoo! Messenger, AOL IM and Skype, for example
An innovative flexible base that can adapt to laptop screens or flat panels
The Microsoft LifeCam Cinema HD retails for $79.95 but you can currently pick one up for $49.99 on Amazon.
Disclosure Text : I have a material connection because I received a gift or sample of a product for consideration in preparing to write this content. I was/am not expected to return this item or gift after my review period. More information can be found in my About page as well as here.
HTD says: Give your built-in webcam a High Definition upgrade with the Microsoft LifeCam HD Cinema!