At CES 2011, I was introduced to a fantastic digital camera made by Sony. It's the NEX-5 and while it is not exactly a Digital SLR camera (I did mistakenly call it that in my video below), it is perhaps the smallest digital camera that has a detachable and interchangeable lens. I have used a few small digital cameras in my time, but nothing to the level of the NEX-5. It's feature packed, is a 14.2 megapixel camera that also films 1080/60i HD video. But it isn't just the multi-function and the small form factor that made me really like the NEX-5. It's the fact that it is very full-featured and extremely easy to use.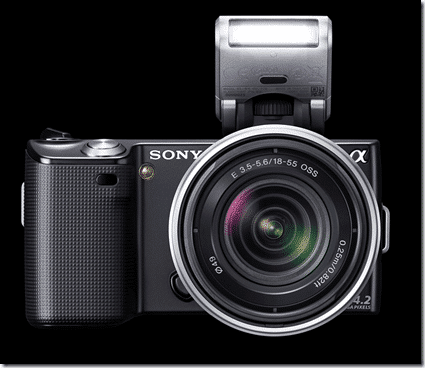 At CES, I got an overview of the NEX-5 which walks through a lot of its plusses. Possibly the most amazing thing was being able to put on a HUGE lens onto the tiny body of the NEX-5.
You can see some of the photographs that I took at CES 2011 on my Flickr stream.
{ 3 comments }