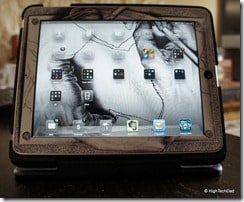 I finally got my hands on a ClamCase. When it was first announced, long before there were all of the other hundreds of bluetooth keyboard cases for the iPad, the ClamCase design really intrigued me. Now I have spent a few hours testing it out and I finally have something to write about. Over the past year that I have had my iPad, I have tested out quite a variety keyboard cases. This one is quite unique in that it fully envelopes the iPad in essentially a netbook-sized keyboard layout.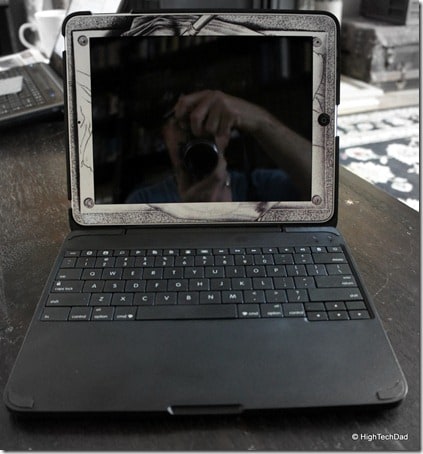 So, why would anyone want a case/keyboard combo that weight 1.8 lbs (note, the original iPad weighs about 1.5 lbs)? I mean, that is a 3 lbs. device all total. That is the same weight as the MacBook Air. And I have gotten a lot of comments to the effect of – "why would I want that. Wouldn't a netbook or a laptop simply be better?" Well, for starters, you get the fun and flexibility of a tablet device but with the keyboard and its associated functionality of a netbook or MacBook Air. The MacBook Air will set you back about $1000 and a netbook is probably $300+. The original iPad (if you can find one) and ClamCase combo is about $300, plus the $119 for the iPad 1 version of the ClamCase. Version 2 of the ClamCase for the iPad 2 should be coming out soon.
Below you can see the innovative hinge in action. This one one of the nicer ways to view iPad content (e.g., a movie). Other cases I have found to be a bit clumsy at this, but it is quite easy to do with the ClamCase. At the bottom of the review, you can see another photo that shows the ClamCase in the "tablet" mode. Do note how thick it is.
{ 2 comments }