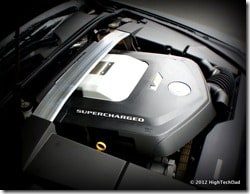 A few months ago, I had the pleasure of doing a parade lap in the Cadillac CTS-V station wagon at Infineon raceway. As I drove around the speedway, I made a mental note to myself – I MUST drive a CTS-V on the streets. My dream came true last week as I was able to spend 5 days behind the wheel of the 2012 Cadillac CTS-V coupe. And, to cap it off, I got to drive the 6-speed manual transmission to make my driving experience even more interesting.
Before I took the delivery of the CTS-V, I read up on it, especially on the performance. The CTS-V manual transmission boasts 556 horsepower, yes, you read that right, five-hundred-and-fifty-six stallions all packed into the engine. When I explained to my kids the whole meaning of horsepower, that really got their attention ("it's like 556 horses all pulling your car at once" – to over simplify it). The other amazing benchmark was a 0-60 mph in less than 4 seconds! After reading that, I made another mental note – do NOT get a speeding ticket when you test the CTS-V out!!! Cutting to the chase, literally, after the 5 days, my driving record remains blemish-free but my adrenaline is running a bit on empty.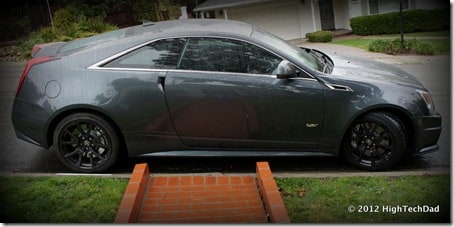 When I write reviews, I try to typically focus on technology and how it integrates with the family. Also, when it comes to car reviews, I don't drop a lot of buzzwords, nor auto-specific terms. I'm much more about coming at it from the perspective of an "average guy" who knows a bit about cars, but not enough to even get close to sparring with auto aficionados. Also, I think it is important to note that the CTS-V is really not about gadgets and technology (but I will go into that a bit), nor about family (which I will explain as well). It's all about muscle, gritty power, roaring engines and literally being thrown back in your seat.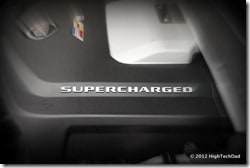 Before I get into the details, here's a quick slideshow of the CTS-V (also available here on YouTube):
To see all of the photos, they are available on this Flickr set.
If you have a chance to test drive a CTS-V, do it! It's worth the experience (especially if you are not paying for the gas because this high-performance auto gulps down gas like it's going out of style – my MPG after my test drive averaged out to 13 MPG – I guess I was doing a lot of hard accelerations – grin!). Settling into the RECARO seats and turning the "key" brings a rumble from under the hood. Unlike other cars out there, Cadillac elected to have a key-like starter instead of a push button I actually liked this a lot. You don't actually remove the key as you have a keyfob that you carry around in your pocket.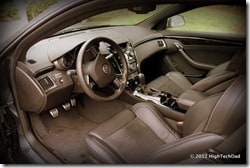 With the 6-speed manual, you engage both your feet. When starting, clutch is in and other foot is on the brake, especially when you need to disengage the electronic parking brake (something that I'm still getting used to – how do you powerslide with the emergency brake with an electronic brake?). While this review may be peppered with a few negative observations, you have to remember, this is not a "practical" car. This is a car designed and built for pure excitement and performance. If you are going to use it to shuttle your kids to and from school (lucky you!) or in bumper-to-bumper commuting (unlucky you!), you must have an incredible disposable income (the MSRP of the one that I drove was over $71,000 fully tricked out with all sorts of options).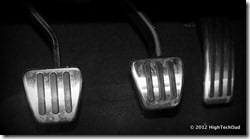 Back to the clutch and gearbox for a moment here. This is the second manual transmission that I have driven in a month or so (see my Buick Regal review which was a manual transmission as well). And there is clearly a difference between the 2 cars that I drove. The Regal was much softer and more forgiving than the Cadillac. Pushing in the clutch didn't require that you do some squat weight exercises a few weeks prior. The Cadillac was much more of a solid feel. When stuck in rush-hour, bumper-to-bumper traffic, I felt my left leg quads getting much more tired. It would have been much more fun to drive in an open, windy road where I could just play with the engine, handling and performance, instead of building up my muscles. Shifting is solid and a short throw, almost feeling like the stick was going into grooves (like in Ferraris). After a day, I really enjoyed how the shifters provided enough resistance to make it really feel like a performance car.
The handling of the CTS-V was tight but since much of my driving was done in the rain, I really didn't want to accidentally spin out by taking a turn too close. On dry pavement, like in a curved off-ramp, the CTS-V gripped the corners very closely, with no squealing tires whatsoever (and yes, the CTS-V is outfitted with high-performance, low profile wheels – 19″ aluminum wheels). The CTS-V is guided by a Nürburgring-tuned suspension and chassis. Here's where some cool technology comes into play. The suspension has something called "dual-mode magnetic ride control" which allows you to switch between "Tour" mode and "Sport" mode by simply pressing a button on the dash. The shock absorber fluid has fine metallic particles in it that when influenced by magnets, change the liquid within the shock absorber suspension, softening or tightening it up. In Sport mode, you get a tighter suspension while in Tour mode, the bumps in the road are softened out a bit. The road is read up to 1,000 times per second, giving you incredible reaction time from your suspension.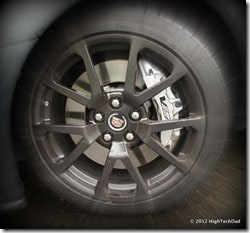 The engine is a supercharged 6.2L V-8 with 551 lb.-ft of torque powering this rear-wheel drive auto. I hadn't driven a rear-wheel drive car since I was learning to drive many, many years ago. If you couple the rear wheel drive with the large number of horses under the hood and the raining weather, it makes for some interesting driving. Spinning the rear wheels was easy to do without even thinking about it. In fact, I was able to accelerate hard on a wet uphill that easily kicked out the rear end The Cadillac does come with both Traction Control and Stability Control, both of which you can turn off right on the dash. When I fishtailed a bit, these controls kicked in to correct the driving line of the car. Oh, and the car can supposedly do 0-60 MPH in a mere 3.9 seconds, something that I didn't try out – I did, however, do plenty of fast accelerations on freeway on-ramps and was pretty blown away at how quickly 60 or even 70 MPH came up on the speedometer.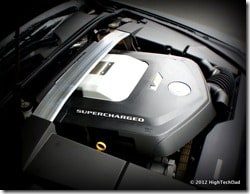 The inside comfortably seats 4 adults/children. The back is roomy enough for an adult to sit fairly comfortably and for kids, quite well. It is a bit of an effort to get to the back seat, given that this CTS-V is a 2-door (coupe). But the RECARO seats do fold forward easily and there is a button to electronically move the driver or passenger seats forward or backwards. A couple of kid comments here because I always want to be sure that I provide a balanced review. There are metallic emblems on the back seat which hit the back of the head of a child in a booster seat pretty easily. While they look nice, they were a bit annoying to my daughter. Secondly, the rear side windows are not the big and that was a complaint that my 2 younger daughters told me. It was hard for them to look out. Consequently, since I was whipping around corners and accelerating hard, both of them complained of being a bit carsick (a disadvantage of there not being a bigger rear window and one that could be rolled down). But I spent most of my driving time alone. The front RECARO seats provide all kinds of support and are electronically adjustable to really fine tune your seating position – the driver seat actually has 14 ways to adjust it.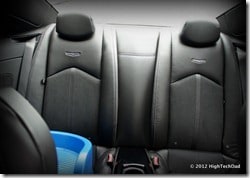 From an external styling standpoint, the version that I tested was a subtle charcoal gray. Coupled with the aerodynamic design, the CTS-V really looks like a Stealth Fighter plane in my opinion. I guess that it was stealthy enough to avoid the radars of the police in hiding (or I just wasn't speeding fast enough to pop up). The pictures below do a much better job showing the sharp edges and unique styling that makes the CTS-V a definite head-turner.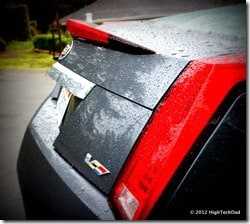 In terms of the interior tech, as I stated before, the tech is really in the performance. Yes, there is a cool "glide-up" touch-screen navigation panel for GPS, Audio and other information related to the car. This definitely got some "oooooohs" from my kids when it slid up. The steering wheel has enough controls to keep your eyes on the road. There is also a mini display in the center speedometer area for some other items like odometer, gas mileage, digital speed, etc., as well as status on your vehicle as well. One thing, however, that I found extremely frustrating was initially pairing and using my Bluetooth smartphone. There was no interface on the touchscreen that allowed me to pair or manage any connected devices that I could find. All of the pairing and management was done via a curt-sounding female voice which was a bit less than intuitive for a high-end auto like this. I would hope that in future revs of the interior technology that some careful attention would be spent "modernizing" the usability and interface of the touch-screen and management systems. There is a cool bit of tech that allows you to pause live radio for up to 20 minutes to play back later, as well as a 40 GB hard drive (10 GB of which can be used to store music).
The CTS-V does come with OnStar, but I didn't use this feature at all. You can pair your smartphone with an OnStar app to allow you to do things like sending map destinations directly to your system. The model I tested also came with XM Radio which is always a bonus! It was really nice getting XM NavTraffic alerts when I was driving in rush-hour, alerting me to accidents and slowdowns on my route. The system came with a 5.1, 10-speaker Bose sound system which was awesome.
Since the CTS-V is so low-profile (and aerodynamic), the design is optimized that way, but that means that there are actually quite a few blind spots. Luckily, there was not only a rear backup camera display with proximity sensor (helped a lot with parallel parking), but also with Side Blind Zone Alerts which means that if a vehicle is in your blind spot, either to the left or right, you got a visual indicator on the respective side-view mirror. Since we are talking about safety, the headlights are Xenon HID that follow your vehicle steering (I discovered this without actually knowing that it was there as I drove some dark curves).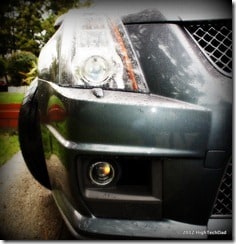 From a comfort perspective, the front leather seats (driver and passenger) can be heated or cooled as needed. Also there are dual climate controls in the front to allow different settings for passenger and driver, each getting a digital display of the temperature.
The model that I drove topped out at $71,185 (which does include a Gas Guzzler tax of $1300). I would be a bit scared to think what the insurance on this performance beast would be. However, if you are purchasing a car like this, you probably don't have to worry about any of that. For this poor dad, I'm just happy doing an extended test drive!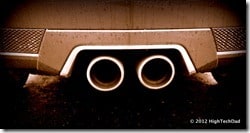 So what's the bottom line? I will tell you this, the 2012 Cadillac CTS-V Coupe is a dream to drive. Knowing that this car was more powerful and faster than probably 98% of the other cars I passed on the road is a really cool feeling. I got lots of looks from pedestrians and even a few thumbs up from drivers as I drove down the road. While unassuming in looks from the dark gray coloring and black wheels, as soon as you see the lines and hear the rumble of the supercharged engine, you know that you are in a street jet just raring to hit an empty road to open up the throttle!
Disclosure Text: Apart from the 5-day loan of the Cadillac CTS-V, I have not received any compensation for writing this content and I have no material connection to the brands, topics and/or products that are mentioned herein. More information can be found in my About page as well as here.
HTD says: The Cadillac CTS-V is one of those automobiles that you dream about! And when you drive it, you also dream about trying NOT to get a speeding ticket!