I've reviewed a pretty good handful of automobiles now and there seems to be something common about all of them, they didn't really have that good gas mileage. Some even made me embarrassed to drive down the street in, because I knew that they were gas hogs. So, I must say that I was really happy when Kia asked me to test out their new 2012 Kia Optima Hybrid. With a claimed gas mileage of 35 mpg city and 40 mpg highway, I was ready to save a little bit of cash on gas. Granted, those aren't the highest numbers you can get for a hybrid, but they are pretty darn good.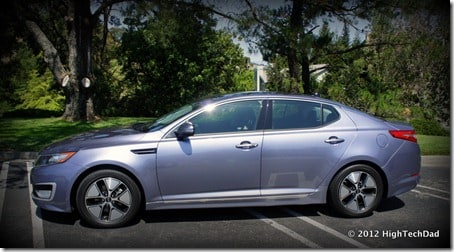 What I didn't realize, was that I was going to actually play an ecological ("ECO") game as I drove as well and something that my kids really started to get into the more we drove the Optima. I will get into the eco-game in a bit as that is really what the Optima Hybrid is all about. Here are some highlights of some of specs and features that I found particularly noteworthy:
Don't want to read any more? Ok, I hear you. You can get a lot of this information on the Kia website. So, here's a 12 minute video that shows some of the features, with particular attention being paid on the ECO game that I mentioned earlier. This video is also available directly on YouTube:
So let's talk Hybrid. Hybrid cars have become quite popular as gas prices have skyrocketed. While you do pay a bit of a premium up front for the gas and electric technology, the "driving" idea is that you will recoup your initial expenditures after a few years of usage.
Probably the oddest thing about driving any hybrid is how quiet it is when it is in electric mode. So when I first turned on the Optima, I kept waiting for the car to "turn on." Luckily, there are some pleasant chines that you hear when the car is on and ready to go. Once you start accelerating (and depending on the driving environment), you will either continue in EV (Electric Vehicle) mode or in a combination of gas/electric. When you are in EV mode, there is a display indicator that turns on. Also, in your dashboard display, you have a meter that indicates how you are driving (actually, it is one of many). When you are in the green zone, you are doing a better job at balancing the power from the electric or gas engines, when you are in the white area, you are using more gas than electric and when you hit the red zone, you are pretty much relying on the gas engine for acceleration or hill climbing.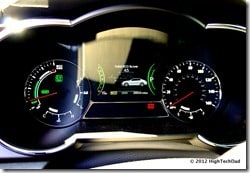 You can actually drive in full-electric drive mode (zero emissions) up to 62 mph. However, from my experience, it takes a bit of effort to NOT have the gas engine kick in. The electric motor is powered by a lithium-polymer battery, which is supposedly 20 percent lighter weight than the commonly used nickel metal hydride systems. Not only that, these Li-PB batteries are smaller and more efficient than others on the marketplace. Remember that when you have a battery powered car, the battery takes up a lot of storage space (and can add considerable weight). As batteries get smaller, lighter and more efficient, they really can help cars become much more energy efficient. Also, the batteries are charged as you brake or decelerate and there is a battery charge level indicator on the dash as well.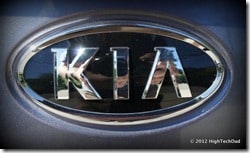 To make the energy readings fun, Kia has a couple of in-dash screens that help you learn to drive more eco-friendly. And, as I found out as I drove my family around, these screens really helped to not only pass the time, but to add excitement to the drive as sort of a in-car video game. There were two main areas where you could "play" the ECO games. In the driver's console, in the center, there was a screen that would show a branch and leaves and flowers. The better and more energy efficiently you drove, the more ECO bars you got and consequently, you got more leaves and flowers appearing on that screen. (See the video above for a demo.)
But even better, there was a dedicated button on the center console called "Hybrid." When you pushed that, you were provided 4 different screens to show how (well) energy was being used based on your driving pattern.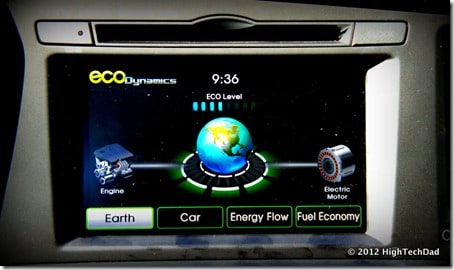 The first screen ("Earth") was the most popular in my family. You could see where the energy was flowing from, either the electric motor or the gas engine. In the center is the Earth which would change from being bluish when you were driving badly to having leaves encircling a green globe when you were driving extremely ECO-positively. There was also a bar indicator of up to 10 bars. Once you got all of the bars filled, the globe had a halo of leaves. Every single time that we hit that level when we were driving, we collectively cheered. It was definitely the highlight of driving the Optima Hybrid.
The "Car" screen showed leaves flowing from the Optima as it drove. The more ECO you dive, the more leaves flow from the car. The "Energy Flow" screen shows how the energy is being routed around the vehicle (e.g., from the gas engine, to and from the battery and from the electric motor). Lastly, the "Fuel Economy" screen shows a graph of colored leaves with your gas mileage over the past few minutes. The higher the bars, the more green the leaves. The video above shows this in detail.
Obviously I took quite a few photos, which you can see in this Flickr set. The video below also highlights those photos (also on YouTube):
Overall, I was pleasantly surprised with the 2012 Kia Optima Hybrid. And especially at the MSRP of just $25,700 (mine, with all of the optional packages was more around $32,000), it's a pretty solid alternative to some of the pricier hybrids out there. I felt that the acceleration was adequate (it's NOT a sports car) and when you needed to accelerate to pass someone or get on the freeway, the gas engine provided enough of a boost to your speed to get by. I did notice though that when the car was cold, the engine was a bit jerky when using the gas, but after a few minutes, this jerkiness went away. My youngest daughter also had a complaint about the rear seat buckles – that they were difficult to buckle when you have a booster seat because the buckles would push down into the back of the seat, making them hard to snap. This could easily be corrected by making those snap areas a bit stiffer.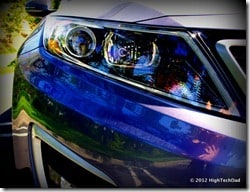 If you are looking for hybrids, I would definitely add the Kia Optima Hybrid to your test drive list. The road noise is fairly quiet, even in gas engine or dual motor mode, the handling is pretty firm, and the ride is not soft – you can feel the bumps through the fairly tight suspension, at least that is what I found. Oh, and a key thing for me with any car is that there is plenty of car tech to play around with, especially with the UVO infotainment system (powered by Microsoft) which has pretty solid voice recognition capabilities, good navigation and decent sound quality through the Infinity-powered audio system.
Disclosure Text: Apart from the 7-day loan of the Kia Optima Hybrid, I have not received any compensation for writing this content and I have no material connection to the brands, topics and/or products that are mentioned herein. More information can be found in my About page as well as here.
HTD says: The Kia Optima Hybrid was a pleasant surprise, a pleasure to drive and countless hours of fun for the family playing the ECO-game!