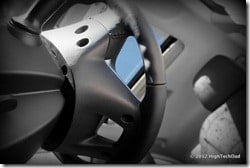 Most of the cars that I have reviewed to me seem to be more geared towards the established business person with some disposable income and possibly a family (especially with some of the larger SUVs or crossovers). These cars tend to be more expensive in many ways, from initial cost to the gasoline that they consumer (lower gas mileage). This is great if you have a regular job, a savings…you know…are an "adult." But if you have a teenage driver who needs a car, you typically have three options: 1) give the teen one of the older family cars and get yourself a new one 2) let them share the family car or 3) buy them or help them buy an inexpensive "first" car. If you are looking at option #3, then the 2012 Kia Rio SX is one that should be on your short list.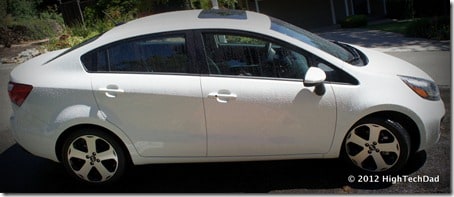 When shopping for a car for your teenage driver, you want the car to have certain qualities ideally (and these are my opinions, your may vary just like your mileage):
Needs to be safe
Needs to be lower cost
Needs to get good gas mileage
Shouldn't be a "race car"
Should have a good warranty
Should have enough technology to satisfy a tech-savvy teen
Should be large enough to hold friends and "stuff"
I'm sure that your teen will disagree with you on a few of these items. They want a fast, sexy, luxury car and want to stay as far away from being practical as much as possible. My response to those complaints will always be the same, you need to start a bit lower down on the scale so that you can appreciate the better things in life later. But let me get this straight, I'm not saying that the Kia Rio SX is low on the scale. In fact, the SX model is the top of the line version that you can still get for around $20,000. And, it is high on the practicality scale! Let's take a look!
{ 0 comments }