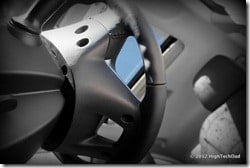 Most of the cars that I have reviewed to me seem to be more geared towards the established business person with some disposable income and possibly a family (especially with some of the larger SUVs or crossovers). These cars tend to be more expensive in many ways, from initial cost to the gasoline that they consumer (lower gas mileage). This is great if you have a regular job, a savings…you know…are an "adult." But if you have a teenage driver who needs a car, you typically have three options: 1) give the teen one of the older family cars and get yourself a new one 2) let them share the family car or 3) buy them or help them buy an inexpensive "first" car. If you are looking at option #3, then the 2012 Kia Rio SX is one that should be on your short list.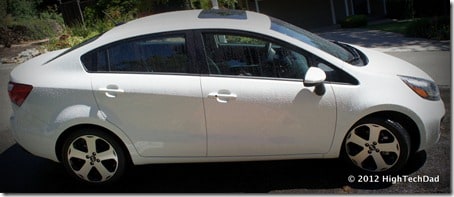 When shopping for a car for your teenage driver, you want the car to have certain qualities ideally (and these are my opinions, your may vary just like your mileage):
Needs to be safe
Needs to be lower cost
Needs to get good gas mileage
Shouldn't be a "race car"
Should have a good warranty
Should have enough technology to satisfy a tech-savvy teen
Should be large enough to hold friends and "stuff"
I'm sure that your teen will disagree with you on a few of these items. They want a fast, sexy, luxury car and want to stay as far away from being practical as much as possible. My response to those complaints will always be the same, you need to start a bit lower down on the scale so that you can appreciate the better things in life later. But let me get this straight, I'm not saying that the Kia Rio SX is low on the scale. In fact, the SX model is the top of the line version that you can still get for around $20,000. And, it is high on the practicality scale! Let's take a look!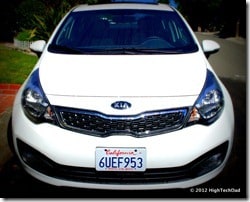 Let's start with safety. Smaller, light weight cars tend to be criticized as being not as safe as larger heavier cars. This is true – it's just the laws of physics in action – heavier objects hurling towards lighter objects with crush those smaller/lighter objects (my interpretation). But the Kia Rio is fully of all the requisite safety features:
Front seatbelt pretensioners – the belts automatically tighten up in certain collisions
Advanced airbag system – 6 airbags around the cabin envelope the occupants during a collision and inflate based on a variety of factors
Dual front seat mounted side airbags – provides protection during side impacts
LATCH – Lower Anchors and Tethers for Children provides the best way to secure child seats
Full-length side curtain airbags – there are curtain airbags to protect all riders during a side collision
4-wheel anti-lock brakes (ABS) – prevents your wheels from locking up and the vehicle skidding during hard or sudden braking
Side impact door beams – provides reinforcement to absorb energy and deflect side impact forces
TPMS (tire pressure monitoring system) – pressure sensors monitor for low air pressure
Traction Control System – helps the Kia get a better grip on the road, especially in slippery conditions
Hill assist control – prevents your vehicle from rolling backwards when starting on a hill
So, obviously for a parent looking for an auto for their new driver, they want to be sure the basics are covered from a safety perspective. The Rio, while a smaller car, does have some fairly advanced safety features, much better than the ones (or lack there of) in the cars that I drove as a teenager!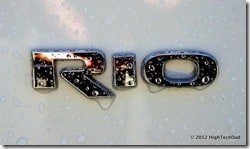 From a cost perspective, I thought that the Kia Rio SX had a pretty good value for what you got. The version that I tested was the "top of the line" model that had all of the features that I would want in a car, specifically:
Air Conditioning
Power Windows/Locks
AM/FM/CD/MP3 Audio System
UVO In-vehicle "infotainment" system
Rear video display
Cruise Control
Bluetooth wireless
Steering wheel controls for audio/Bluetooth/Cruise Control
Auto on/off headlights
Front fog lights
Heated power-folding mirrors with turn signal indicators
And the trimline that I tested had the Premium Package (a $2,200 upgrade price) which included:
Navigation system with SIRIUS traffic
Power tilt and slide sunroof
Push button start with a smart key
Leather seats
Front heated seats
With all of these extras put in, the Kia Rio SX topped out at $20,545 MSRP! If you factor in the fact that there is also a 10 year/100,000 mile limited powertrain warranty and a 5 year/60,000 mile warranty, that's a pretty good deal!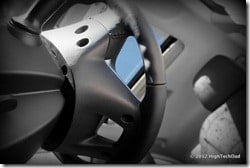 Enough about the features and safety. You are probably wondering what the car looks like and how it runs. Well, you can see my entire Flickr photoset of the Kia Rio here or you can watch this video slideshow (also available on YouTube) below:
In terms of drive-ability, I do have to state that the Kia Rio is NOT a race car. It is peppy, being power by a 6-speed automatic that pumps out about 138 hp @ 6300 rpm's. It is a Gasoline Direct Injection (GDI) fuel system as well with dual continuously variable valve timing (CVVT).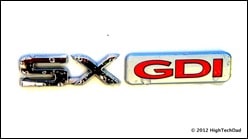 But since the Rio is lighter weight and has a smaller engine, it also has pretty amazing gas mileage for a non-hybrid vehicle, boasting 30 mpg city and 40 mpg highway. I averaged about 28 mpg (driving it hard in a mixed environment) but at one point, my kids and I cheered when we hit about 32 mpg on average!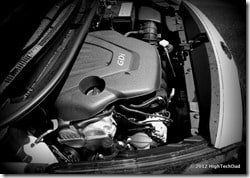 You do hear the engine and the road as the Rio is not as insulated as some of the higher-end luxury cars out there. You can also manually "shift" the automatic if you want, and push the whining redlines a bit higher. Makes it almost feel like a little go-cart. It handles decently, you can corner pretty tightly. Basically, it's a fun little (conservative) economical car. Oh, and for some reason, my entire family liked these tiny little windows near the side view mirrors!
The 2012 Kia Rio SX seated our family of 5 comfortably (granted, 3 are smaller children) and there was plenty of luggage room in the trunk. The model that I tested did not come with spare (which is optional now). Instead, there is flat repair kit/electric pump in its place (you could quite easily put a spare in the space). The rear also has a split/fold down option so that if your kid is heading off to college, they can really pack up the car!
The bottom line – if you are looking for a great starter car, with a few bells and whistles to make your teenage driver a bit happier, give the Kia Rio SX a good look and test drive. It won't break your wallet if you max out all of the options either, and if you go with the bare minimum, it will probably only set you back about $15,000!
Disclosure Text: Apart from the 7-day loan of the Kia Rio SX, I have not received any compensation for writing this content and I have no material connection to the brands, topics and/or products that are mentioned herein. More information can be found in my About page as well as here.
HTD says: Geez, I'm not ready for my girls to be drivers yet, but when they are, the Kia Rio might be a good auto for them!