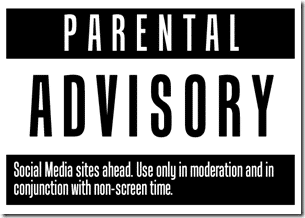 WARNING: The repeated use of Social Media can be dangerous to your child's well-being. Should we have a Surgeon General's warning label slapped onto each and every social media site out there? What about some sort of age rating system like we have for movies, music and video games? No, of course not. The Internet is all about freedom of speech and expression and is a wealth of knowledge. But we all continue to get the message that social media is dangerous for children. Even I have written a couple of articles to that effect.
But as I reflect on it and watch how my children use social media, I wouldn't be a balanced parent if I didn't look at both sides of the argument. Sure, social media can be dangerous to children, but there are lots of caveats to that statement. In fact, the statement needs to be really qualified. "Unmonitored" social media makes that statement much more true than without the descriptor. But I won't be dissecting that statement. Instead I will offer one that is potentially controversial: Social media might actually be good for your child.
I'd like to preface my reasoning however. I am not saying to just turn your child loose on social media. I am, however, saying that not all aspects are dangerous to them. In fact, I believe that some social media, in moderation, can have a positive influence on a child's life.
5 Reasons Why Social Media can be Good for a Child
{ 0 comments }