Today is an interesting day for me. For starters, it is my 43rd  birthday. But it is also a somber and reflective day as it was a memorial service and celebration of life for a neighbor of mine that passed away much too early in her life at 41. So my thoughts are mixed and introspective today.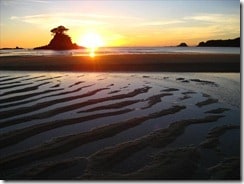 I woke up this morning with lots of expectations. I was waiting for my wife to give me a kiss with a birthday wish on her lips (which I got). And I was waiting for my 3 daughters to come running in to my bedroom, with hand-made cards clutched in their hands. The day unfolded much the way I had expected. My middle daughter brought me a cup of coffee in bed and I now have 3 creative and beautiful hand-made cards to take into my work to showcase. And there is a pile of kid-wrapped presents sitting on the dining room table. It's sort of funny how when kids wrap presents, they can practically hermetically seal the present with a roll of scotch tape. (By the way, scotch tape makes a GREAT gift for kids!)
I was happy. I was surrounded by family who were (almost) catering to my every need (I still couldn't get them to pick up their rooms, despite me saying – It's MY birthday, do it for ME!). Then my wife and I  headed out from my own celebration of life to another, much different one…that of our neighbor.
Our neighbor passed away a few weeks ago after losing a courageous fight with breast cancer. She was 41 and left behind 2 daughters and a husband. The gathering was touching and packed with friends, family, co-workers, acquaintances, neighbors and other people who were affected by our neighbor's life. We heard stories from childhood friends and saw photographs from all parts of her much-too-short life. It was a thought-provoking and a celebration containing many varieties of emotions from tears to laughter.
{ 0 comments }