I'm a big Star Trek fan. I have watched reruns of the original Star Trek series many times over. I liked Star Trek Voyager and Deep Space Nine, and, most obviously, Star Trek The Next Generation. (Oh, and I do recommend the latest Star Trek movie.) Where am I going with this? Ideas evolve. Technology improves. New strategic teams are created. New dynamics are explored. Much the same way that Star Trek has modernized (yet still sticks to the original themes), the Managed Service Provider (MSP) has evolved, deepening its roots. With advances in cloud computing, the Next Generation MSP must be different and better able to adapt to the ways of the present as well as the future.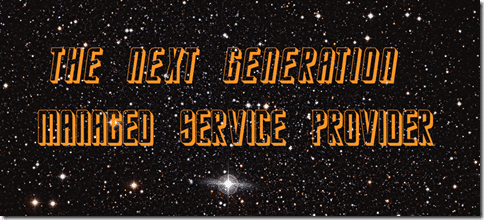 Let's first understand what an MSP actually is and does. Let's say that you company is looking to implement some new complex business process or a Big Data rollout or a CRM solution. If you have the internal resources, you can approach these complex topics with your internal teams. You form a core team, define the requirements and timeline, and do the implementation. Sounds easy, right? More often than not, it is much more complicated, lengthy and expensive than you would think. If your company decides to undertake it on their own, a "month-long project" could expand into a half a year or longer and the expenses could get out of control.
The other approach to a complex IT project implementation is to outsource it. And this is where an MSP can bring increased value and shortened timelines to the mix. While the project may cost more to implement using an MSP, often the hidden costs of a Do-It-Yourself implementation are more than outsourcing it. Also, an MSP brings added value of expertise, a potentially shorter timeline, documentation and actually having the project done properly the first time.
This sounds a lot like a consultant, doesn't it. One primary difference between a consultancy and an MSP is that the Managed Service Provider also handles the on-going maintenance of the IT solution that they implemented. Think of the MSP as sort of both a general contractor (when building a house) but then also the maintenance crew who keeps the property looking nice and working well. Frequently an MSP will bring other vendors to the mix during the implementation phase of a project or rollout, but only those vendor that they know and have relationships with. By consolidating experts, they bring efficiency.
The Next Generation MSP
But what is a "next generation" MSP? It's not something out of Star Trek, but if you do compare the original Star Trek with the Next Generation, you will see the evolution of thinking. Giving the times of the series creation, the "political correct" movement definitely is obviously. Original series said "where no man has gone before" and now the phrase is "where no one has gone before." There is also more emphasis on the Prime Directive, of not interfering with the development other cultures.
In my mind, the next generation MSP is more agile, understands more about IT and cloud trends and services, knows where the market is heading and how to best maximize new vendors and expertise in the space. They understand business processes and are not wholly focused on the technological side of the solution – they understand not only the How but also the WHY. And they get the driving toward the bottom line.
If you are a first generation MSP, you might want to think about version 2.0 of your business practice. If you haven't adopted cloud services into your business solution mix, you are quite behind and should look to retool your offerings and your knowledge base.
Timothy Tsao (IBM Global MSP Marketing Leader) presents his recommendations to MSPs who are trying to modernize to this new generation. In a nutshell:
Differentiate yourself from other MSPs
Move your current service lines to the cloud
Ensure that your sales team can sell cloud solutions
Use cloud to deploy client solutions in a fraction of the time
Partner with ISVs
Similarly, Chuck Calio (Technical Lead, STG ISV Enablement Team at IBM) outlines what he believes a "next generation" MSP looks like. His vision is that MSPs need to have a solid delivery of cloud service but go beyond that by incorporating social aspects and services as well as a mobile focus. He does state that cloud is a commodity (which I somewhat agree with, however, I believe that there are plenty of cloud service providers that have not been commoditized yet and those next generation cloud providers are providing use case or vertical-based solutions that MSPs should be watching closely and using). Calio also offers advice on Sales and Marketing tactics to help differentiate MSPs.
IBM's Edge2013 conference is right around the corner (June 10-14). At Edge2013, there is the MSP Summit which is focused on the fast growing ecosystem of MSPs (VARs, ISVs, System Integrators, etc.) and teaching strategies on what solutions work, how to anticipate customer needs and how to use cloud computing best.
What's my recommendation? If you are an MSP and you are turning away business, you are probably doing ok. Think about specializing and becoming the expert in that niche that you are finding particularly successful. If you are looking to grow your business, ensure that you have a good focus and that you are using next-generation products, services, skills and partners. If your current practice doesn't involve cloud, it should. Talk to your peers and attend shows to find out how to differentiate yourself with unique cloud service offerings or management.
To become "next generation" at anything, you need to analyze, iterate and evolve. Look towards the stars to guide you. They have been aiding voyagers in the past for centuries and finding the right guidance in this day and age of extreme technologies can propel your business light years ahead of your competition.

This post was written as part of the IBM for Midsize Business program, which provides midsize businesses with the tools, expertise and solutions they need to become engines of a smarter planet. I've been compensated to contribute to this program, but the opinions expressed in this post are my own and don't necessarily represent IBM's positions, strategies or opinions.
HTD says: Dare to go where no MSP has gone before!