I have said it before, I've done a lot of Bluetooth portable speaker reviews during my 10+ years of writing reviews on HighTechDad. But I have to say, the JBL Boombox Bluetooth speaker blows away all of those other speakers…literally. That being said, this is not a little speaker you can just clip to your backpack or belt loop and just go. The Boombox is a beast in many different ways. But, it lives up to the high standards that JBL has set for audio. From crisp highs to a bass that moves the beat and the air, again literally, the JBL Boombox is a force to be reckoned with. (*Disclosure below.)
JBL and I have a long history. In fact, back in the 1980's, the first pair of speakers that I ever purchased were some JBL L20T's. These were marketed as small yet powerful "studio speakers" and believe it or not, I still have them. These speakers were powerful and moved the air in much the same way the JBL Boombox does. Technology has evolved from the corded L20T's I used in my dorm room and later in my apartments and homes. But the sound quality has gotten better and now, with advances in technology, this sound can be transmitted wirelessly via Bluetooth.
As I mentioned, the JBL Boombox is a beast, and not only just from a sound perspective. It feels quite rugged and sturdy, and it weighs a whopping 11.57 pounds! So, while it is portable with the attached handle, it is a bit of a lug. But no matter, that is part of the package when you want a Bluetooth speaker that throws around some serious sound. Let's take a look at some of the specs since I'm talking about weight.
Specs (as provided by JBL) on the JBL Boombox include:
Frequency response – 50Hz to 20kHz
Signal-to-noise ratio – 80dB
Output power – 2 x 30W (when plugged into power) and 2 x 20W (when running on battery)
Music play time – up to 24 hours!!! (but this does depend on the volume level and type of music)
Charge time – <6.5 hours
Battery type – 74Wh (Lithium-ion Polymer)
Weight – 11.57 lbs (as I mentioned)
Dimensions (H x W x D) – 10" x 19.5" x 7.7"
Bluetooth version – 4.2
Waterproof rating – IPX7
The JBL Boombox chassis itself houses two 4-inch woofers and two 20mm tweeters. The woofers are mounted on the sides and are not covered by a grill. This is actually kind of neat, especially when I cranked up the volume of a bass-heavy song. You see the woofers flexing back and forth, moving the air. My daughters were actually amazed by this. Since the woofers are exposed (but recessed into the chassis), they won't touch items around it. If they do touch, you will get some kind of vibration so be sure they are free to flex back and forth to provide that thunderous bass.
Here's a quick video that showcases some of the JBL Boombox's highlights:
On to the setup and usage of the JBL Boombox.
Setting Up and Using the JBL Boombox
The JBL Boombox comes securely packaged in a large box. There are only three items in the box, the Boombox itself, a power adapter, and a cable which attaches to the power adapter. Mine arrived with a partial charge so I was able to jump right in and use it. When you turn it on, you hear a series of startup sounds. And, if this is the first time turning it on, it automatically goes into Bluetooth-pairing mode. From there, just grab your smartphone (or whatever device you want to pair) and choose the "JBL Boombox" device. Pairing should only take a few seconds and you are ready to blast some music.
Once paired, you can control the volume directly on your smartphone (which is what I'm assuming you will pair first). Just choose the sound source and start streaming tunes or audio directly to the JBL Boombox. It's that simple.
So there you have it! Well, actually, there is a bit more to the JBL Boombox than just that.
For starters, the Boombox has a waterproof rating of IPX7. What that means is that is it protected against short durations of immersions into water. A "short duration" means that it should be less than 30 minutes and at a depth of less than 1 meter. So, for parties around my pool, I feel pretty confident that the Boombox will survive the encounter fairly well, provided my kids don't take it actually into the water.
Honestly, it's truly hard to see how the Boombox can actually be water-resistant. But, if you look at the design, you will see the careful attention to preventing holes for data, audio, or power ports to be exposed. In fact, in the back, where you charge the Boombox, there is a rubberized flap that when pried open, shows all of the ports. A quick note: if there is water around, keep the flap closed (meaning don't charge other devices or charge the Boombox itself.) Let's talk about those for a second.
When you flip open the flap, you will see several ports. You have an Audio AUX port to physically connect the Boombox to an audio device using a mini-audio cable. There is the power plug for charging. There is a micro-USB port for "Service." And there are two regular USB ports. So what are those two USB ports for?
Another great feature of the JBL Boombox is that you can actually use it to chart your smart devices. There is a built-in 20,000 mAh battery which allows you to charge your devices even while you are playing back music or audio. (Yes, charging and playing music will reduce the estimated 24 hour playback time but I think that is a great problem to have – hook up your phones to charge, play music all day, then grab your full-charged phone at the end of the day!)
On the front of the JBL Boombox are a series of buttons. Starting from left-to-right, there is a Bluetooth button – just press and hold that to enter pairing mode and connect other devices. There is the volume-down button, a minus sign, for lowering the volume (which you can do on the connected device as well). Then there is the Power button. Next to that is the JBL Connect+ button. With JBL Connect+, you can wirelessly link about 100 JBL Connect+ speakers together to share audio (note: I haven't tested that out as I only have one JBL speaker). Moving right, you have the volume-up button, a plus sign. And lastly, you have the Play button which can answer calls as well as play and pause the audio.
On the back, there is the port area which I already discussed. There is also a button to slightly tweak the audio output for indoor or outdoor playback.
A quick note about the speakerphone function, this isn't really called out in the product specs or on the website, but you can use the JBL Boombox for calls.
There is, via the JBL Connect app for iOS and Android, a way to transform the Play button into the activation key for Siri or Google Now. You can only use the app when it is paired and connected to the JBL Boombox. You also use this JBL Connect app to doing firmware updates as well as to rename your speaker.
There are several LEDs on the Boombox which serve different purposes. The Power button, for example, will glow white when it is one, flash white when on standby, flash blue when in Bluetooth pairing mode, and be solid blue when connected to Bluetooth. The Connect+ will be solid white when in broadcast mode. There are also five LEDs at the bottom that show how much charge is left in the battery.
You can set up the JBL Boombox in stereo mode if you have two of them. One will act as a left speaker and the other as a right one. Once you add one more speaker into the mix, it simply links them all in "party mode."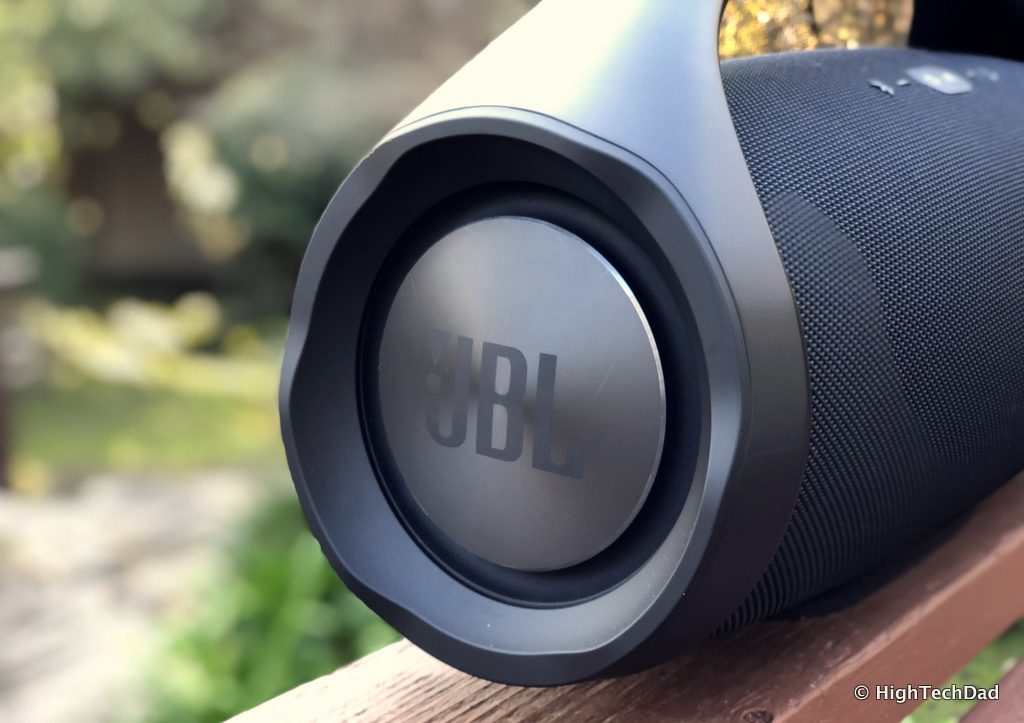 So what about the sound? It's clear and crisp for the highs while booming and strong for the lows. And, even when I maxed out the volume levels with music with heavy bass, I could barely hear distortion, if any at all. I have tested with more modern (teen-approved) music and different songs/artists/styles seem to be handled quick elegantly and clearly. However, I'm truly waiting for the weather to warm up and pool-season to begin to really test the JBL Boombox out (or have my kids just use it and abuse it around the pool). I do want to see how it handles "teen usage" and how well the 24-hour battery truly measures out.
The JBL Boombox does come with a hefty price tag though, unfortunately. But you are paying for the JBL quality of sound, something that I can attest to truly. The Boombox retails for $449.95 and is available on Amazon for $449.95 (as well but I expect the price to drop over time). If you want to pair the Boombox using the JBL Connect+ feature, there are some slightly less expensive models available, specifically the JBL Xtreme (for $229 on Amazon) and the JBL Charge 3 (for $119.90 on Amazon).
Shop on HighTechDad
The product shown below (and related products that have been reviewed on HighTechDad) is available within the HighTechDad Shop. This review has all of the details about this particular product and you can order it directly by clicking on the Buy button or clicking on the image/title to view more. Be sure to review other products available in the HighTechDad Shop.
Disclosure: I have a material connection because I received a sample of a product for consideration in preparing to review the product and write this content. I was/am not expected to return this item after my review period. All opinions within this article are my own and are typically not subject to editorial review from any 3rd party. Also, some of the links in the post above may be "affiliate" or "advertising" links. These may be automatically created or placed by me manually. This means if you click on the link and purchase the item (sometimes but not necessarily the product or service being reviewed), I will receive a small affiliate or advertising commission. More information can be found on my About page.
HTD says: If you want a booming portable speaker that will last for hours of playback and can handle the elements or a pool environment, the JBL Boombox is that speaker. And while your neighbors probably won't be happy having the party continue from day and into the night, you can be sure that your friends and family will!
HighTechDad's Ratings
Ease-of-Use

Family-Friendly

Price Point

Features
Summary
If you want a booming portable speaker that will last for hours of playback and can handle the elements or a pool environment, the JBL Boombox is that speaker. And while your neighbors probably won't be happy having the party continue from day and into the night, you can be sure that your friends and family will! The JBL Boombox is incredibly easy to set up and pair with your device. And adding additional pairings is just as easy. In terms of sound, the bass is huge but without distortion even at high volume. You probably won't need to max out the volume though because this speaker is thunderous. It is water-resistant (up to 30 minutes in less than 1 meter of water), but to play it safe, I wouldn't recommend floating it around long. But it is definitely splash-proof and great for a pool or beach. You can charge 2 other smart devices from the on-board battery, and even pair other compatible JBL speakers with it. The only item I marked a bit down in the ratings is the price point which is a bit hefty. But you are paying for some powerful, quality, JBL speakers. The JBL Boombox speakers rock, literally and figuratively!