I'm not really a "truck guy." Yes, I have test driven a few, and I have borrowed my friends' trucks occasionally. I definitely see the utility of using a truck for hauling things or going to places that a regular car probably couldn't travel to. But, after spending a week driving to, from, and around Lake Tahoe in the 2019 Chevy Silverado 2WD RST DBL, I suddenly feel like a truck is much more than a mere utility vehicle. The Silverado was not only comfortable and could haul a lot of vacation luggage, but it was also actually fun to drive, complete with plenty of car tech to make this HighTechDad happy. (*Disclosure below.)
As I have mentioned in many of my other vehicle reviews, I don't approach these types of auto reviews like sites like Car & Driver or Road & Track. You are not going to find geeky performance stats (other than perhaps gas mileage). Nor will you find information specific to going off-road or doing donuts in the parking lot (my media contract prevents me from getting too "extreme" with the vehicles I test for reviews). What I will provide are my thoughts, insights, and opinions of the vehicles I test. Some of these are my own personal opinions while others come from my other "testers," namely my family (wife and teenaged girls – one is actually 20 now). These are real-world testing opinions from us taking out the vehicle (the Chevy Silverado in this case) out and about and doing things we would typically do in our own cars.
For the 2019 Chevrolet Silverado, I have compiled a list of items that we discovered and enjoyed as we drove it. Obviously, I don't own this vehicle and only got to test drive it for about ten days, but if you have any questions, feel free to leave a comment below!
17 Features of the 2019 Chevy Silverado that Surprised Us
The following list of features we liked about the 2019 Chevy Silverado are in no particular order. And there are probably some features that I completely missed (as I said, I'm not really a truck guy). The biggest stress for me was figuring out how to load the Chevy Silverado's bed so that our luggage didn't go flying down the highway hitting cars behind us. I did figure out (and probably over-engineered) how I wrapped things up. But the bottom line, we didn't lose anything, the load didn't shift, and we didn't have tarps flapping in the wind as we went down the highway!
Here's the list (read on for the details):
Nuclear Window Down Option
Seating for 5
CarPlay (Android Auto)
Bose Premium Sound
Gas Mileage
Bed Space
Comfortable Drive
Plugs for Power (bed/cabin)
OnStar – link to OnStar article
Blind Spot Indicators
Rear Camera
Parking Assistant
Auto Lift Gate
Engine
Large Armrest
Auto-stop/start
On-board WiFi
Nuclear Windows-Down Option
It's hard to describe this feature without chuckling a bit. While I'm not entirely sure why this feature exists, we definitely found a use for it. Essentially, it's a button on the dash that when you press it, all four windows roll down at once. Note: it's doesn't have an "up" option.
How do I put this delicately? Well, altitude for some folks can make people a bit "gassy" (just like eating protein like meat might do). When one of my family members announced the requirement for windows going down, my wife or I would quickly press the nuclear windows-down button to vent the entire Silverado cabin quickly. It worked like a charm and often prevented us from gagging. Ha!
Seriously though, it's a great feature to have if you need to clear the cabin of smells quite quickly. I only wished it had an "up" option as well. But, all of the windows can be controlled from the driver's side, and all of the windows have individual automatic down and up options.
Seating for 5
This model of the Chevy Silverado (the 2WD RST DBL) did not come with an extended cab. That means that the back row seats did not have as much legroom as an extended cab might. The back row is essentially bench seating which can handle five people. For my girls, it had adequate legroom and comfort. For larger adults, the legroom may be a bit cramped though.
We only had two back-row passengers. The seats are comfortable (with very slim padding to allow for more space) and don't adjust. But, the seats can be flipped up in a 60/40 fashion. We actually used this a lot to just put in coolers and bags when we went to the beach or on a hike in Tahoe.
Because the seats are thin (yet still comfortable), there is lots of space to use when the seats are flipped. It was perfect for quick trips to the grocery store, for example.
Apple CarPlay (and Android Auto)
The Silverado came equipped to handle either Apple CarPlay or Android Auto. As we are an Apple family, we elected to use CarPlay. What was truly nice about this integration was the fact that two iPhones are supported. There is a USB port in the center console and another one in the massive armrest. So, my wife and I were able to plug in both of our iPhones to charge, use navigation, respond to texts, and play music.
You do have to decide which iPhone would be the dominant or main source for things (it turned out my wife wanted to play DJ, so she tended to take over things).
Using CarPlay is great, especially in vehicles that don't have GPS navigation. This Silverado had the OnStar version of navigation only, so we primarily relied on Apple Maps, Waze, and Google Maps for our navigation around Lake Tahoe. CarPlay was a great use of the 8" (diagonal) touchscreen in the Silverado.
Bose Premium Sound
Can you say "thunderous bass?" Well, that is what this upgraded Bose sound system thumped out. The sound of music was stellar. We actually had to dial down the bass a bit because it was almost a bit too intense.
The Bose Premium sound system has 7 speakers and a subwoofer built into the cabin. You can easily adjust the setting to fine-tune it to your liking. Also, with CarPlay, you can (and should) adjust the Siri voice volume so that you aren't blown away by her (or his) voice.
The Silverado also came equipped with SiriusXM which is excellent for road travel when you don't have reception (or even cellular service for streaming music or other audio).
Gas Mileage
When you think of a large vehicle like an SUV or a truck, you probably think that it doesn't get great gas mileage. And, you would be correct in that assumption for the most part. Many factors that affect gas mileage: the size of the engine, the aerodynamics, the amount of load you are hauling, just to name a few.
The larger the engine, the more horsepower and/or towing capacity you have. Also, a 4×4 probably doesn't get as good gas mileage as a 2×4. The Silverado that we tested was a 2×4 (I honestly didn't really need a 4×4 as I wasn't going to go off-road).
For our trip to and from and around Lake Tahoe, we actually averaged about 22.6 MPG (combined highway & city) which is pretty respectable given the size of this truck. We weren't hauling a trailer. Driving "up the mountain" obviously reduced the gas mileage but we made that up coasting down the mountain later. Also, altitude can affect gas mileage as combustion engines require oxygen (which there is less of at higher altitudes).
Bed Space
One of the best things about having a truck is the amount of space that you have to haul stuff. The Silverado's bed was quite large, and we only used up a portion of the bed space for our luggage (we always overpack when we have space). The bed itself was coated with a protective coating to prevent scratching and rust. There were ties in the front of the bed as well as the back.
As loading a truck bed was new to me, I over-engineered the packing. I created what I called the "blue burrito" where I folded all of our luggage into a large blue tarp and then used bungee cords and tie-downs to anchor the luggage as well as hold down the tarp to prevent it from flapping. It worked reasonably well on the way up (I had to add a load strap to prevent the luggage from shifting as well as put additional bungees to stop the "burrito" from ballooning up on the freeway). But on the way home, I packed the burrito up much more quickly with no ballooning or load shifting issues.
Comfortable Drive
My family and I were pleasantly surprised by how comfortable the drive of the Silverado actually was. I had expected something a bit less refined, jarring, or bumpy. It was quite the opposite. The ride was actually smooth and comfortable. It was much less bumpy and much more rolling when going over road dips and bumps.
After driving three hours, I was not worn out in any way (some cars are very jittery and can tire you out). The Silverado was extremely comfortable for both the seating and the drive itself.
Plugs for Power (Cabin & Bed)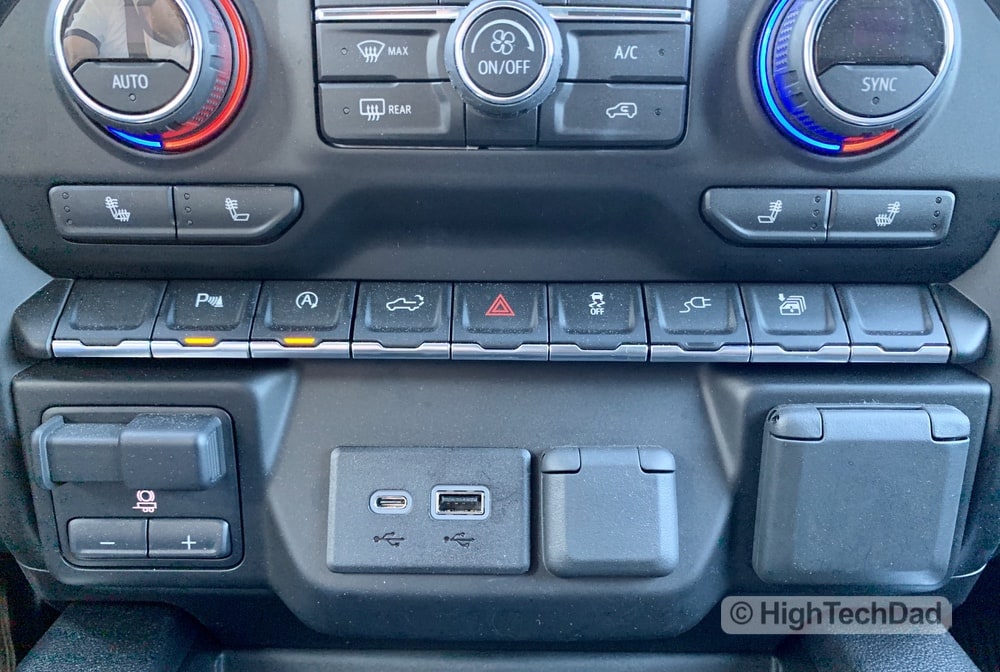 I have taken other large vehicles (like SUVs) up to Lake Tahoe before. One of the things we like doing is bringing an inflatable boat up for the lake. And I always bring an electric air pump. The problem is, while other vehicles have had conventional plugs, often the voltage was over what those plugs were designed for. Since an air pump pulls a lot of electricity, often it simply wouldn't work, even with the vehicle on.
To be sure I could use the air pump in Tahoe, I tested it out at home (I have other pumps that work with different currents/plugs or by hand). With the Silverado, you have two 3-prong plugs, one in the cabin and one in the truck bed. If you plug in anything with the Silverado off, the plug doesn't work. You actually have to turn the Chevy on AND press the plug button on the dashboard. Then, both plugs become active.
I had no issues using the air pump that didn't work on other vehicles on the Chevy Silverado!
OnStar
The Chevy Silverado came equipped with OnStar. You can do a lot with OnStar. We didn't actually have to use it. But, as part of an influencer program I participated a few years ago, I learned a lot about OnStar. If you are curious, you can read my OnStar article here.
Blind Spot Indicators
Whether you have a large truck or a small car, I firmly believe that all vehicles should come with blind spot indicators. In the Silverado, like other vehicles, there are warning lights built into the side view mirrors. When a vehicle is in the blind spot (and you are going a certain speed), these will light up. And, if you have your turn indicator on and there is a vehicle in the lane you are turning into, the blind spot indicator will flash (in some vehicles, you will hear an alert as well).
With a vehicle as large as the Silverado, I don't think I could have survived without the blind spot indicators!
Rear Camera
Another featured that I don't think I could have driven the Silverado without was the backup, rearview camera. Again, these should be standard on all new vehicles (which I think they are). With the Silverado, it is truly impossible to see what is directly behind the truck bed without having a camera. So the rearview camera is a requirement.
There are digital turn lines while act as guides to help you back up. As you turn the wheel, the lines will curve to show your backup path. Also, as part of the Parking Assist, you will get audio and visual alerts if you are getting too close to an object or if there is a hazard in the path. I also found it extremely helpful for seeing parking lines.
Parking Assist
Going hand-in-hand with the rear camera are the sensors built into the front and rear bumpers of the Silverado. I could NOT have done any parking of this truck without this feature. The Silverado takes up an entire parking space pretty much so I used the front sensor to really pull forward as much as I could.
Also, a little side note here. When I first got the Silverado, I took it out for a quick drive to better understand the size. I went to a local supermarket to test out parking. In my first attempt, I realized that on the passenger side, I left about 4 inches of room for the driver of the car next to me to get in. The Silverado is wide, so you really have to fully understand its size before parking in public. Obviously, I re-parked to allow the other car driver to get into their vehicle.
The Parking Assist will provide you with audio (and visual if backing up) alerts to let you know when you are too close to an object.
Auto Lift Gate
Many cars have a button on the key fob that allows you to open the trunk remotely. Well, obviously the Silverado doesn't have a trunk. But, on the key fob, there is still a button for this functionality. Double pressing the button automatically lowers the bed's lift gate. Pressing the release button on the liftgate itself also does this.
You do have to close the gate manually. But, I was quite surprised at how lightweight the gate actually was. You can close the gate with just one hand.
Engine
I promised I wouldn't geek out too much on the specs of the Silverado, but I do feel that I need to showcase what was the "driving" force behind it. Under the hood is a 2.7 liter, turbocharged engine that puts out 310 HP @ 5600 RPM. It has 348-lbs of torque @ 1500 RPM.
The engine itself is an 8-speed automatic, and it does have the capability to adjust if items are being towed or hauled. The model and trim that I tested did have some towing upgrades, but that is not something that we tested out. I did notice that when we were descending the hill that the engine automatically engaged a powertrain brake to slow the truck down, thus reducing the strain on the brakes themselves.
Large Armrest
One thing that my wife commented on was how great the armrests in the front were. And I heartily agree with her. There is a large center armrest with a ton of storage (and USB port). You could almost put a small dog inside the center armrest (but even though we have a small dog, we didn't test that out).
Also, on the doors, there are almost two types of armrests. One is the traditional one you might expect, which is where the handle is. But the other is the ledge next to the window. This ledge was actually large enough for an arm to rest comfortably. So, in our ride, there was no fighting for armrest space. (Although, we did have to battle for some space when one of my daughters who was sitting in the center of the rear seat did put her feet up on the center armrest.)
Auto Stop/Start
One nice gas-saving feature that I didn't know about until it happened is the Auto Stop and Start feature. When the Silverado is stopped at a stop light, for example, the engine will actually shut off (unless you are blasting the air conditioner which requires the engine to keep running). The Silverado will sit silently, just waiting for you to take your foot off of the brake.
When you remove your foot, the engine automatically roars to life and is instantly powered on and available. I don't have any statistics on this feature, but I'm sure that over time, it will save not only gallons of gas but also reduce pollution. A great feature to have.
On-Board WiFi
Last but not least (and obviously there are other great features) is the ability to have on-board WiFi. While my family and I enjoy unlimited data with our mobile devices, this Silverado came with the optional WiFi powered by OnStar. Within the cabin, there is a WiFi network available which pulls LTE service magically from the air and then broadcasts it as a WiFi connection.
Why might you want this? Well, for those devices that don't have cellular connectivity built-in like tablets or laptops, this is an awesome feature to have. Simply connect to the on-board WiFi (the SSID and password are easily available within the settings in the center display), and you can start streaming music or movies, check email, or go crazy on social media on your connected devices.
Hauling Down the Road in the Chevy Silverado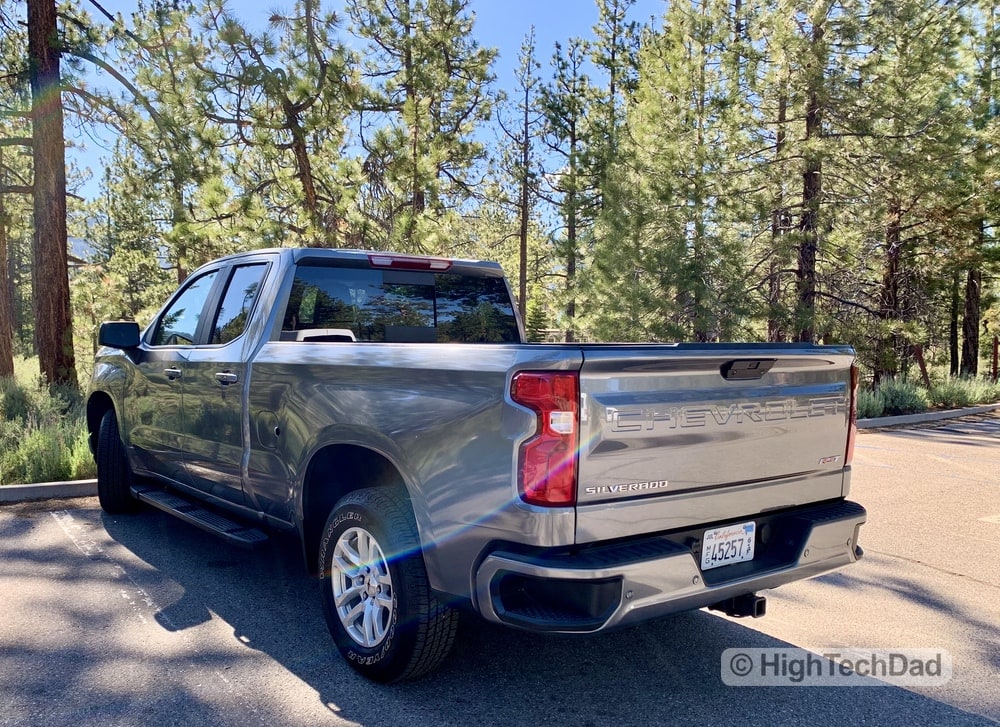 There you have it! The 17 features that my family and I loved about the 2019 Chevy Silverado. The base price for the 2019 Silverado 2-Wheel Drive RST DBL before all of the upgrades is $38,800. The model that I drove had a few extra packages (Convenience Package, Convenience Package II, Safety Package I, Leather Package, Black Tubular Assist Steps, Bed Protection Package, Trailering Package, and some other items) which added an additional $7,500 to the price. With the Destination Charge, the Total Vehicle Price of the Silverado I drove was $47,795.
Overall, the Chevy Silverado was fun to drive, held a bunch of cargo and luggage, got pretty good gas mileage for the size of the vehicle, and my family felt quite safe high off the ground and taking up the full lane.
Disclosure: Apart from the loan of the Chevy Silverado, I have not received any compensation for writing this content and I have no material connection to the brands, topics and/or products that are mentioned herein. All opinions within this article are my own and are not subject to the editorial review from any 3rd party. More information can be found in my About page.
HTD says: If you aren't really a truck person, taking a test drive in the 2019 Chevy Silverado will change your mind. It's a utility vehicle that goes beyond just utility as it is fully featured with tech and options that make your drive both comfortable and fun.