My family and I live in the San Francisco Bay Area, and over the past few months, we have had days-upon-days of terrible air quality due to various forest fires burning around the state. Knowing the AQI (Air Quality Index) score became more important than knowing the actual temperature outside. While we already have face masks due to COVID-19, we had to get different types of masks to filter out the particulate matter of the smoke. And while wearing a mask outside was a given, we now needed to get air filters and air purifiers in our homes as we closed up the windows. Well, much of those extremely smokey days have passed (knock on wood), and our AQI is back in the healthy range. And just in time for the clear air, I was given the opportunity to review an extremely innovative air purifier called the puripot airFrame F1+. And it's got a feature you honestly won't believe! (Well, a few actually.) (*Disclosure below)
Before I go into more of the details of the puripot airFrame, I have to mention that this air purifier was a 2020 CES Innovation Award Honoree in Health and Wellness. In fact, there is so much technology packed into its small form factor (17.32″ high x18.35″ wide x 5.83″ deep), you would be quite surprised. You actually probably need an engineering degree to understand all of the electronic wizardries fully.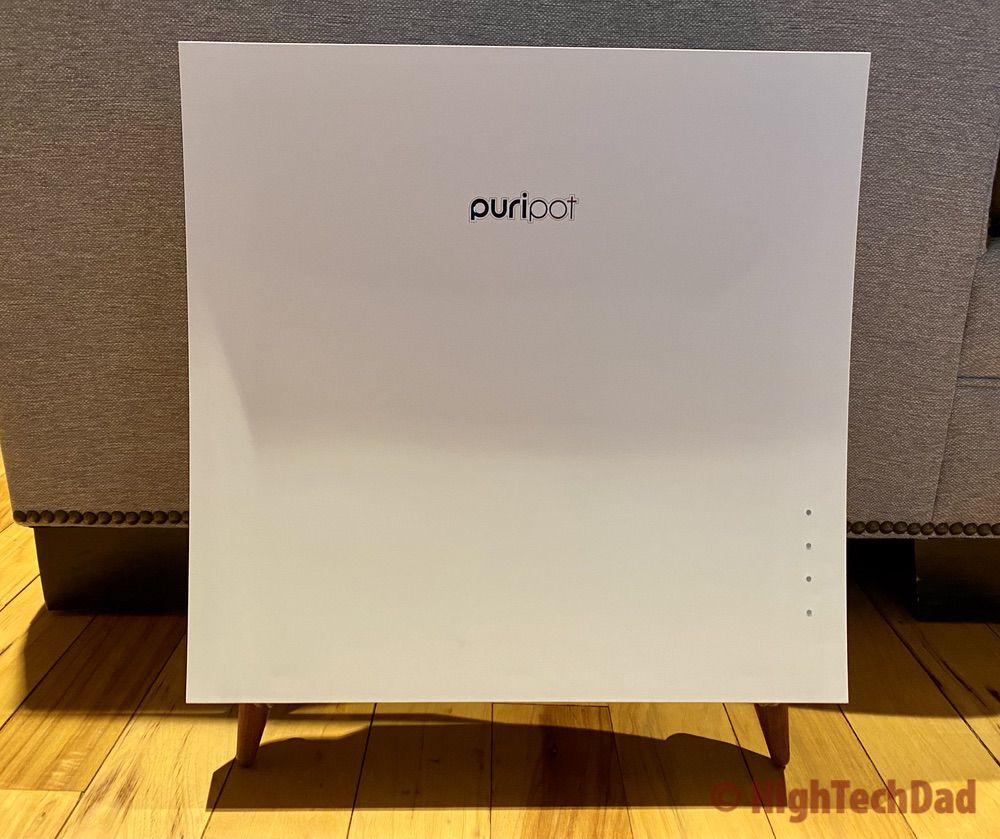 While I will go into some of the tech (not that I fully understand it), I will provide you with some of those "unbelievable" features I mentioned earlier. Here's the short list:
You don't have to replace a filter – EVER!
It provides a visual indicator of the air quality in real-time.
It will automatically adjust the fan speed based on how clean or dirty the air is.
It can be mounted elegantly on a wall or stands on three wooden legs.
Its operation is quite quiet
Intrigued yet? Well you should be! Let's dive in a bit more.
Update 11.18.2020 – I recently recorded a video of the puripot airFrame F1+ which you can see below. However, the more granular details are in this article.
Yes, it has NO FILTER
One thing that you never really think about when you are purchasing an air purifier is what the cost of replacing the air filter is. This is the standard razor and razor blade situation. While the razor is typically fairly affordable, you really have to add in the costs of buying razor blades and the lifetime of the razor. This can really add up over time!
With air purifiers, depending on the type or model, you will have to change at least one or more filters regularly. And, depending on the type of filter (e.g., HEPA, which is great for filtering out allergens), these can be even more expensive. I regularly change the air filter in our home for our furnace and air conditioner. I always choose the HEPA version, which is typically $10-15 more than the model below it. But our lungs are important, so we want to have good filters and regularly change those filters.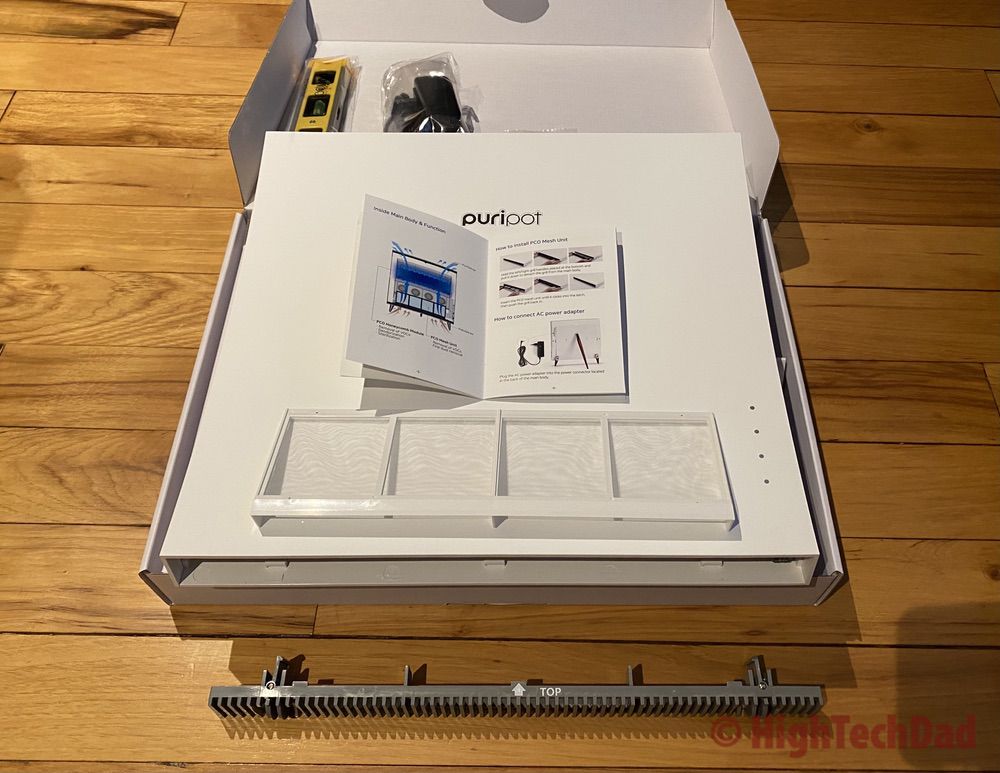 This is where the puripot airFrame Purifier F1+ is extremely different from most air purifiers on the market. It actually has no physical filter that you have to replace. The only thing you do have to occasionally clean is the PCO Mesh Unit, but you can just do that by washing it under a faucet. It is important to note (and I go into this a bit later) that the puripot airFrame is NOT a HEPA filter.
Some filtering tech
The PCO Mesh Unit removes VOCs (Volatile Organic Compounds) like gases from paints or varnishes. When the puripot detects a VOC and is in automatic mode, it will automatically increase the fan speed to remove the VOC.
But what is PCO? It stands for photocatalytic oxidation. But what is that? I haven't exactly figured it out (but I probably need someone like Bill Nye to explain it to me in simple terms.
Here's how the entire process is explained by puripot:
The air purifier has an electrochemical photocatalyst unit coated with mesoporous structured titanium dioxide materials. This unit uses the visible light of 460nm wavelength to generate instantaneously hyperactive hydroxyl radicals that ultimately break down VOCs destroying the molecular bonds.

puripot.com
Basically, it uses a combination of some very high-tech materials, blasts it with light, and runs it through a microporous material, which then causes a chemical or physical reaction that breaks all of the molecular bonds down. Or something like that. I still haven't quite put my head around it.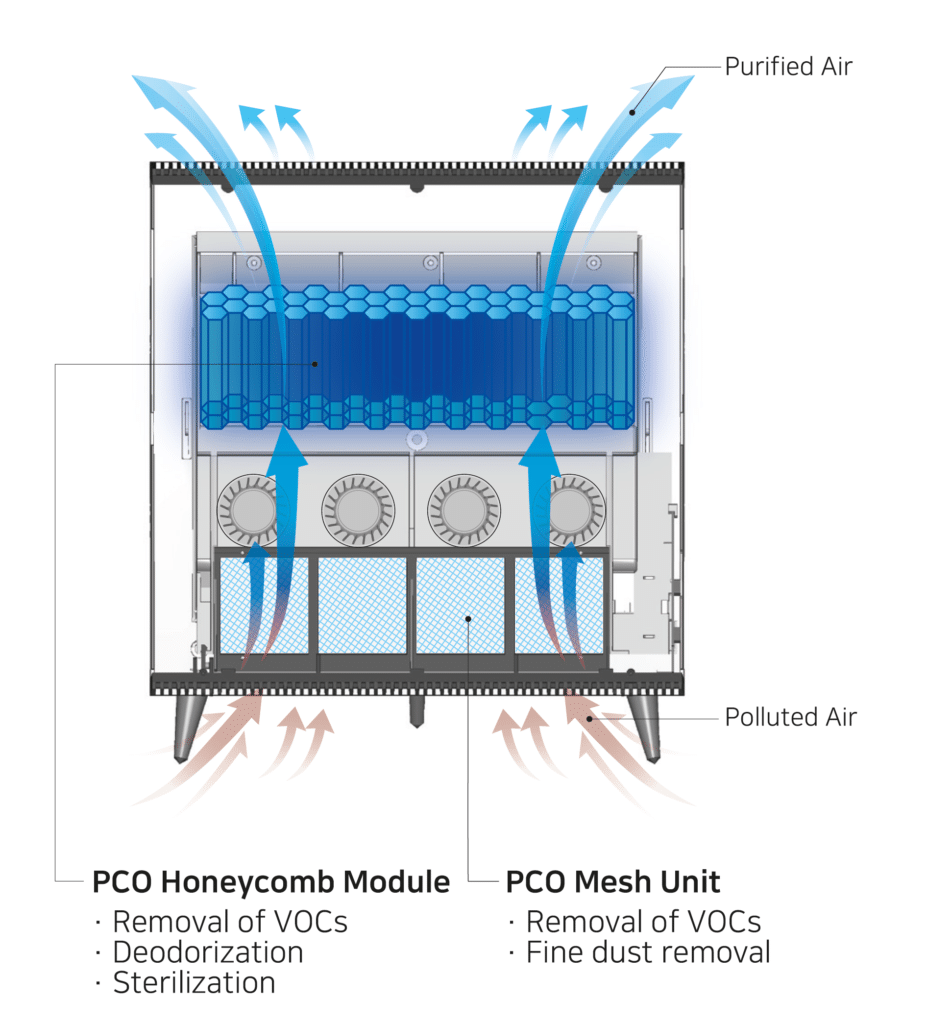 One important note about the puripot airFrame F1+, it is NOT a HEPA filter. What does that mean? It won't remove particulate matter the way a traditional HEPA filter does. That means that it probably won't improve the AQI within your home.
What it DOES do is sanitize the air as well as deodorize it. So, if you have a stinky room like perhaps someone has used hair spray or put on nail polish (remember, I have girls), the puripot can not only detect the VOC (of which smelly things like hair spray or nail polish fall under), it will also work practically silently to remove those VOCs and reduce the smells in the room.
According to some tests provided by the manufacturer, the puriPot can remove a variety of VOCs (like I mentioned above) and get rid of almost 74% of viruses and over 91% of bacteria (within 4 hours) and 99% after 8 hours.
Lighting tells you a story
One of the features I truly liked about the puripot airFrame is the lighting. Not only does it provide a controllable cool blue ambient backlight light which you can dim to your choosing, but there is also another set of lights which tell you the story of how polluted the air around you is.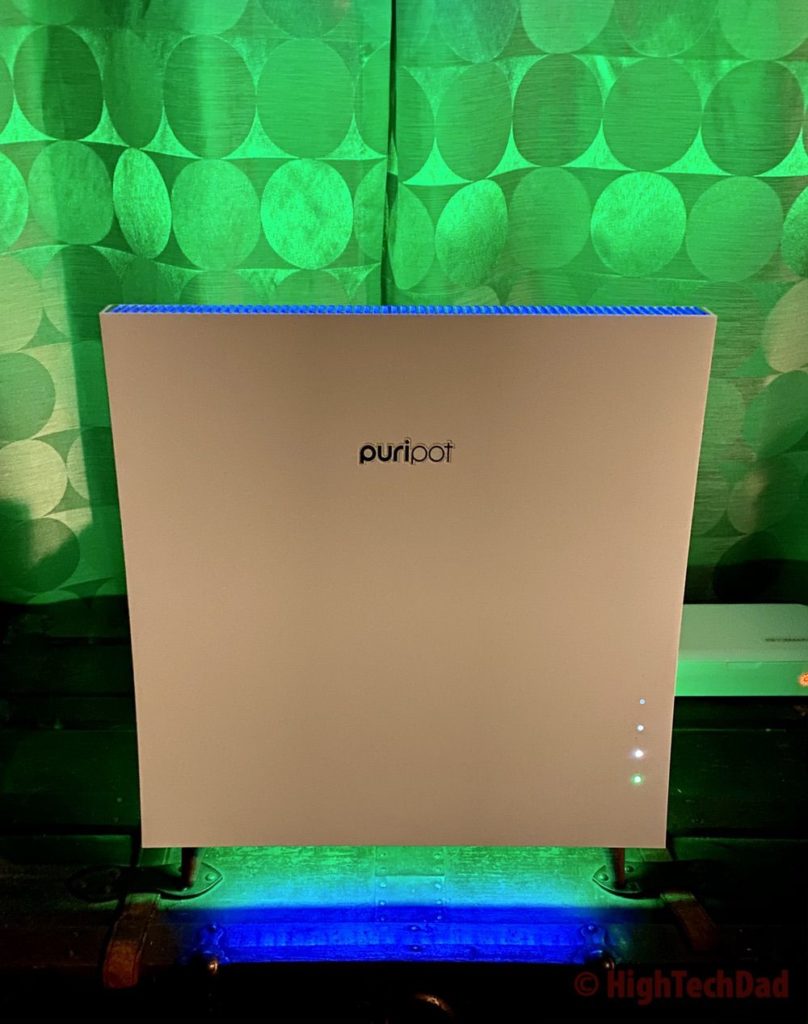 I ran some unscientific tests over the past couple of weeks. We have the puripot airFrame in our living room where most of the family hangs out to watch TV or do homework. We often have the windows open to ensure good airflow. But as the days are getting cooler, we have started closing things up a bit.
We have left the puripot on throughout this. When the air is "clean," the light shines blue. But after an hour or so of people hanging out in the living room (doing a lot of breathing, for example), I began to notice the color change from blue to green and even sometimes from green to yellow or even red. Obviously, those colors mean something—that the VOC sensor has detected changes in the VOC gasses in the air.
And this leads me to another great feature of the puripot…automation.
Automating the cleaning
The puripot airFrame F1+ can be controlled manually or in an automated fashion. That is to say, if you want to crank up the purifying fan, you can do that by pushing one of the buttons on the side. A chime indicates that you have changed levels. There are 3 fan levels, low, medium, and high. And obviously, there is an Off setting. But the one setting I have just left the puripot on is Auto.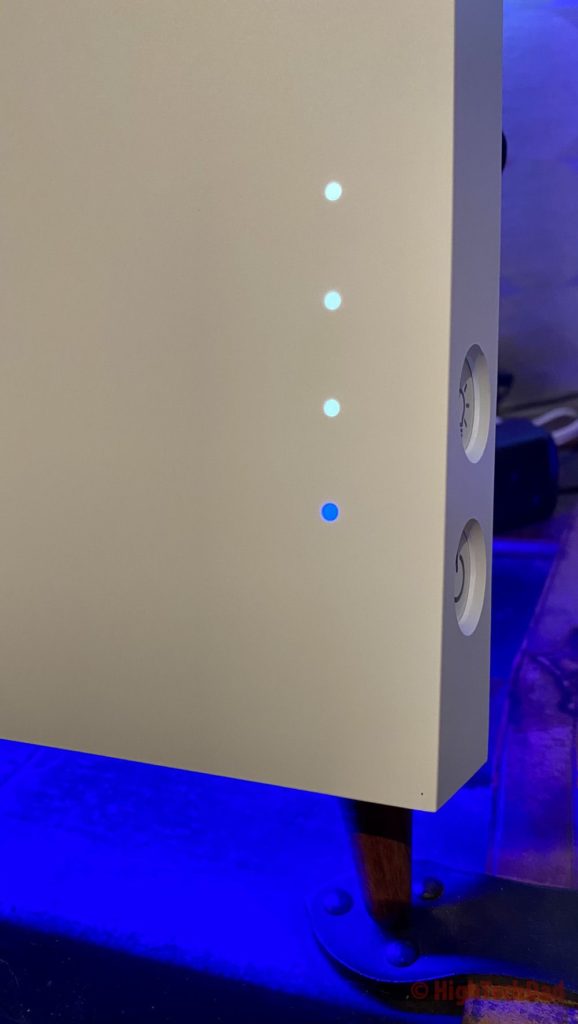 When you have the puripot set to Auto, it will not only indicate the level of VOCs, but it will automatically turn up or turn down the fan to clean the air. Again, you can control how bright you want both of the colors (the blue and the level of VOC pollution). Dirty or polluted air is sucked into the bottom, through the PCO Mesh unit, and up through the PCO Honeycomb module (where it is blasted by light), and then the purified air blows out of the top.
Since I'm talking about buttons, there are two on the side of the puripot, one to control the operation, as I just outlined, and one to control the mood light.
Assembly and Setup
There are two ways you can use the puripot airFrame. You can attach three modern yet stylish-looking wooden legs to form a tripod stand to allow the puripot to be placed just about anywhere on a flat surface. This is the option I chose to do so that if needed, I could move it around the home.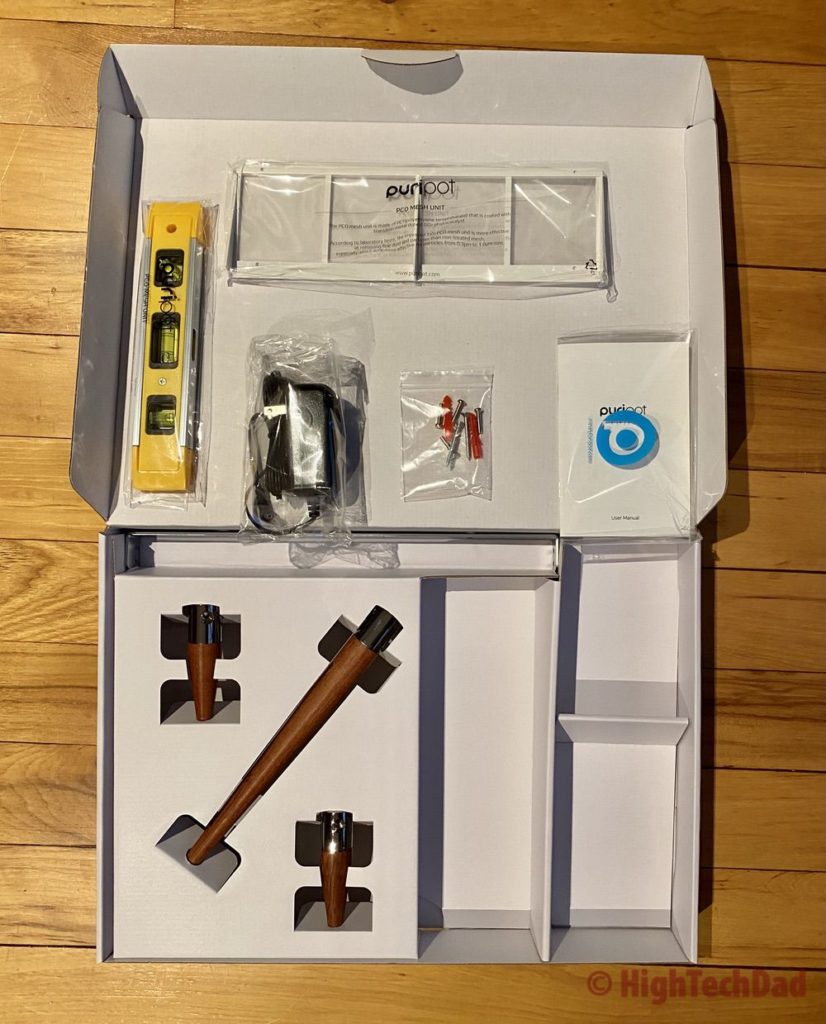 Or, you can actually mount it to a wall, hence the name "airFrame" as it mounts on a wall like a frame. In the box, you will find all of the items needed for either option. For mounting on the wall (an option I did not test out), there is a wall bracket that you anchor into the studs of the wall (ideally) or use drywall mounts to ensure a good mount. The puripot even comes with a level to ensure that your bracket is level. That is a nice extra bonus!
Since the puripot airFrame is curved in its design, if you mount it to the wall, it will not be flush with it. This is to ensure airflow, among other things. But the bracket does allow for two mounting positions, one where the curve is more balanced and one where the top part of the airFrame leans forward a bit more.
Attaching the legs, which is what I did, is just a matter of screwing in a few screws. Since the footprint of the airFrame is not very deep, it can be easily tucked away (provided there is good ventilation) or even placed on a table. It's also quite lightweight (about 10 lbs), which is good for mounting and moving around.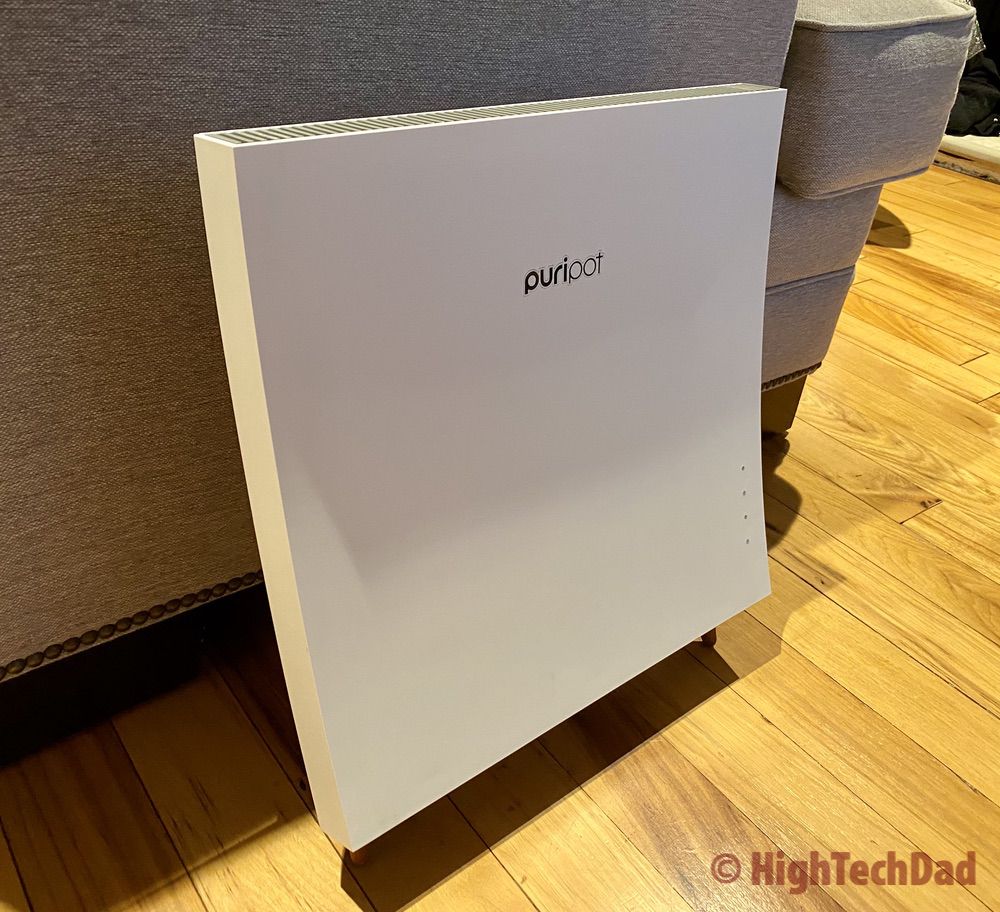 When you first plug the puripot in and turn it on, you need to be sure that your room is as clear from pollutants as possible. This is because, for the first ten to 20 minutes, it is runs a VOC sensor calibration. You can always reset the calibration later if you need to, but the calibration helps ensure the sensor's sensitivity is properly set.
The only other thing which you need to "install" is the PCO Mesh unit. As the puripot pulls in air and cleans it, this mesh unit may become dusty or dirty. To ensure that you have the best performance of the purifier, you will need to slide the mesh unit out periodically and clean it. You can do this by washing it under a faucet and then vacuuming it or wiping it with a soft cloth. But that is ALL of the maintenance you need to do. And you don't need to buy a new one!
Notice, I did not mention having to put in or change a filter? Yep, as I said, no filter!
Final purified thoughts
The puripot airFrame F1+ is a nicely designed and elegant air purifier packed full of some amazing purification technology. It is relatively maintenance-free, meaning that you don't have to purchase and replace an air filter. The only maintenance you have to do is occasionally clean the PCO Mesh unit, as I mentioned.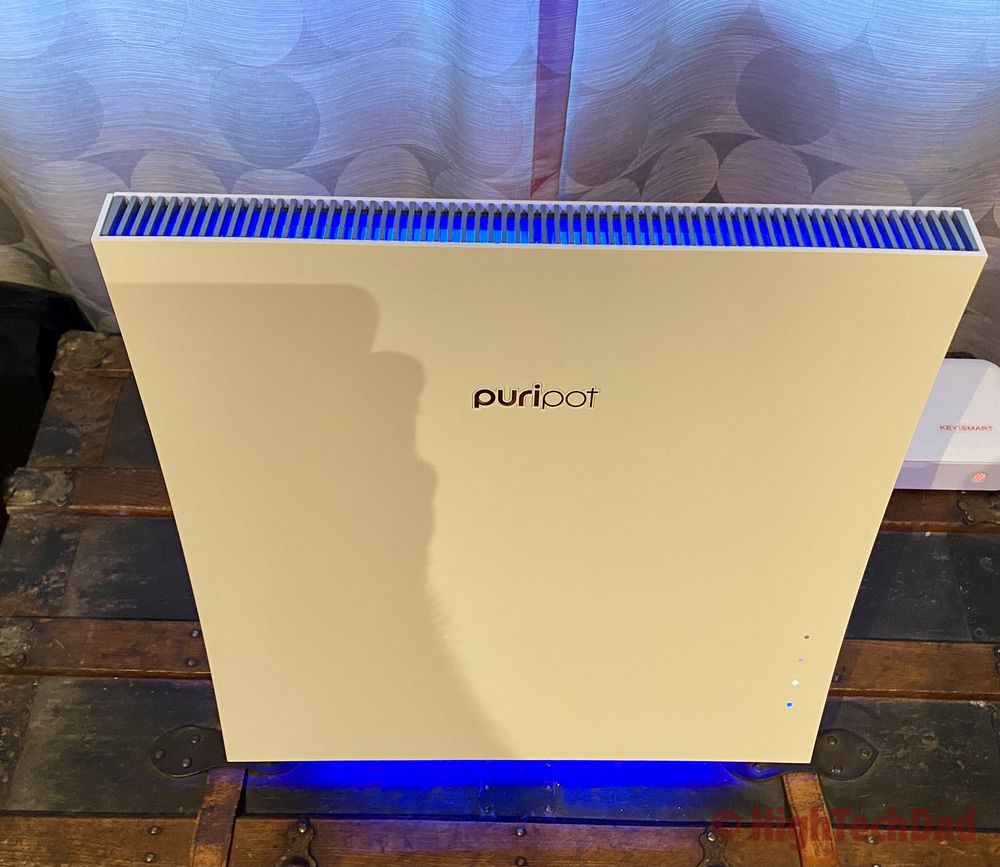 However, it is important to note that because it doesn't have a physical filter like a HEPA filter, it will not remove particulate matter (like smoke particles that we encountered in California during the recent fires). It will, however, remove odors from VOCs as well as zap viruses and bacteria using a powerful blue light system within the unit.
Setup is easy, and running it even easier. Plug it in, turn it on, and set it to automatic (my recommendation). You can watch and hear the puripot cycle through different fan and purification levels as it detects and cleans pollution. Oh, and one quick note about the fan noise – even at the highest level, you can barely hear it (minimum of 29dBA and a maximum of 49dBA – see what that equates to here).
The price is probably a bit higher than traditional air filtration units because of all of the fancy technology and modern design. But remember to factor in the cost of having to regularly replace air filters. With the puripot airFrame F1+, it's a one-time cost. That being said, the puripot airFrame is a bit of an investment, retailing for about $900 on Amazon. I have seen it lower on Amazon for about $600, so you may want to watch the price.
Shop on HighTechDad
The product shown below (and related products that have been reviewed on HighTechDad) is available within the HighTechDad Shop. This review has all of the details about this particular product and you can order it directly by clicking on the Buy button or clicking on the image/title to view more. Be sure to review other products available in the HighTechDad Shop.
Remember, this type of product is an investment in your health and that of your family. Removing VOCs, viruses, and bacteria from the air is an important process to have in place within your home. So while the puripot airFrame F1+ is a bit pricy, you need to factor in the zero-maintenance, the lack of having to pay for a filter regularly, and its elegant design.
Disclosure: I have a material connection because I received a sample of a product for consideration in preparing to review the product and write this content. I was/am not expected to return this item after my review period. All opinions within this article are my own and are typically not subject to editorial review from any 3rd party. Also, some of the links in the post above may be "affiliate" or "advertising" links. These may be automatically created or placed by me manually. This means if you click on the link and purchase the item (sometimes but not necessarily the product or service being reviewed), I will receive a small affiliate or advertising commission. More information can be found on my About page.
HTD says: The puripot airFrame F1+ is a fantastic piece of mechanical engineering. This maintenance-free air purifier auto-magically removes VOCs, viruses, and bacteria from the air automatically with its whisper-quiet operation. And it simply looks great as well!
HighTechDad Ratings
Ease-of-Use

Family-Friendly

Price Point

Features
Summary
The puripot airFrame F1+ is a fantastic piece of mechanical engineering. This maintenance-free air purifier auto-magically removes VOCs, viruses, and bacteria from the air automatically with its whisper-quiet operation. And it simply looks great as well! You can mount it on a wall quite easily, or you can simply attach the three wooden legs to make it a bit more portable, which is what I chose to do. This VCO air purifier is a set-it-and-forget-it type of device. Just plug it in, set it to Auto, and it will automatically purify and deodorize the air based on the VOC levels it detects. I gave the puripot airFrame F1+ high marks for ease of use and being family-friendly, but it is expensive. Just remember, you can subtract the costs of having to purchase filters regularly.
Pros
Easy to set up and use
Quiet operation
Zero maintenance (wash mesh unit occasionally only)
No need to purchase a filter…ever!
Cons
Not a HEPA filtration device
Pricey