I have often written about the poor-ish sound quality of many HDTVs on the market. You pay for great visual performance, but it often is a bit sub-standard when it comes to the audio. In cases like these, you may want to invest in a soundbar to bring your audio experience up to the level of the visual one. But, sound bars can be expensive. A great way to start is with more of an entry-level soundbar like the iLive HD Sound Bar which also comes with a wireless subwoofer (model: ITBSW399B). Not only is the sound quite decent, but it also offers a variety of audio connection options. (*Disclosure below)
There is probably some unwritten formula about how much you should spend on a soundbar based on the cost of your HDTV. I'm guessing, however, that you don't want to spend more on your audio than you do on your TV. But there are various things to consider when adding a soundbar to your audio/visual setup. Obviously, the sound quality is #1, but you should consider the flexibility of the soundbar as well. How does it connect? What types of devices can it connect to? Does it fit into your viewing environment? Is the setup easy?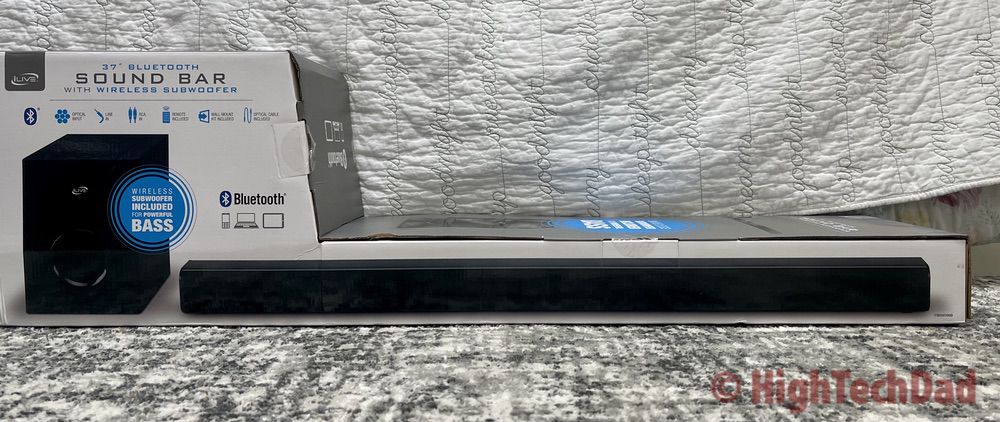 The iLive HD Sound Bar is one of those devices that won't break your budget but will still provide you with an "upgrade" to whatever you have "out of the box." In my testing, I don't think it will beat out some of the higher-end soundbars out there, but if you are looking to add a better audio experience to your viewing environment, or perhaps you have a child heading off to college, and they need a multi-function speaker that can do more than just connect a TV, definitely check out the iLive solution.
Multiple Audio Connections
One of the great things about the iLive HD Sound Bar is the fact that you are not limited to one type of audio connection. In fact, you can pair Bluetooth devices like a smartphone, tablet, or laptop quite easily. This makes it ideal for that college student, as I mentioned. Instead of also having to get a Bluetooth speaker for their audio around the dorm room, the iLive HD Sound Bar gives you that option to play their music loud – provided it's not after-hours or during study time.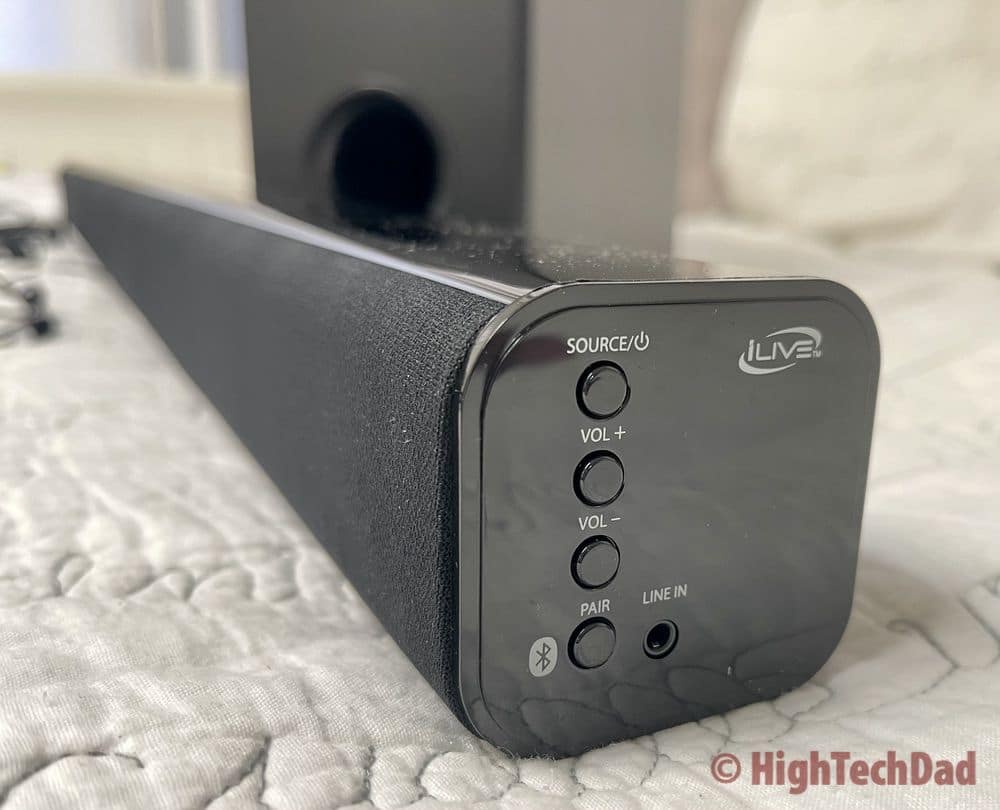 But, if you use the (included) optical digital audio cable and your HDTV supports an optical audio output, that is the option to take when you connect your HDTV. While the iLive speaker only has 2.1 channel stereo sound (with the .1 being the subwoofer), I do feel that is more than enough for using this sound bar for watching movies or binge-watching the latest Marvel series.
What if you have an older device that doesn't have Bluetooth or optical? There are connectivity options for that as well; two of them, in fact. There is a 3.5mm Aux-in port to allow you to connect something like an iPod (remember those?) or just use the audio-out from an older smartphone. And, if you want to connect something perhaps a bit bigger (or older), there are even RCA stereo audio inputs. RCA connections are good for those TVs which don't have optical connections.
Remember though, the best two ways for audio connections, I feel, are the optical-in and the Bluetooth connections. If you have other devices connected to your HDTV like a game console, media streaming device, or something similar, connect those directly to your HDTV and then use the optical connection for the best sound.
Thumping with the Wireless Subwoofer
Many of the entry-level soundbars don't include a subwoofer. As a result, the bass can sometimes be a bit lacking. Personally, I like the bass. It adds to the viewing experience, especially if you like watching action movies as I do. So, when shopping for a soundbar, definitely look towards getting one that has an external subwoofer. The extra thumping and bumping is truly nice.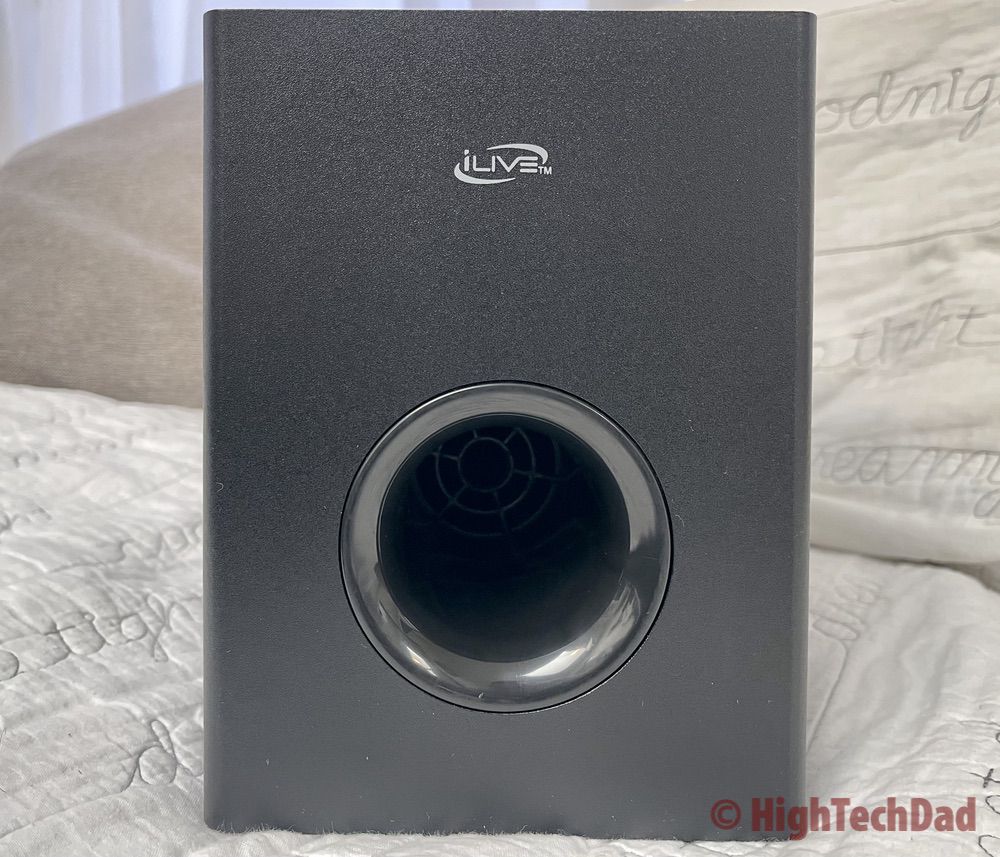 Many sound bars that include a subwoofer often have them physically attached to the soundbar itself via a cord. This isn't the end of the world unless you struggle to find a place to put the subwoofer near your HDTV and soundbar.
The great thing about the iLive HD Sound Bar is that the included subwoofer connects wirelessly. This means that as long as you place it within 30 feet or so of the iLive soundbar itself, you can connect it wirelessly. But this also means that you do have to find an electrical plug to power it. So weigh your options here and make sure you have a plug where you want to put the subwoofer.
I found that connecting the iLive wireless subwoofer was very easy. You just turn on the soundbar, plug in the subwoofer, and flip the power switch on the back of the subwoofer. The subwoofer will automatically search for the sound bar and connect with it. Once connected, there will be a blue LED that shows it is connected on the soundbar. If you lose your connection, just turn both devices off and then on again, starting with the soundbar.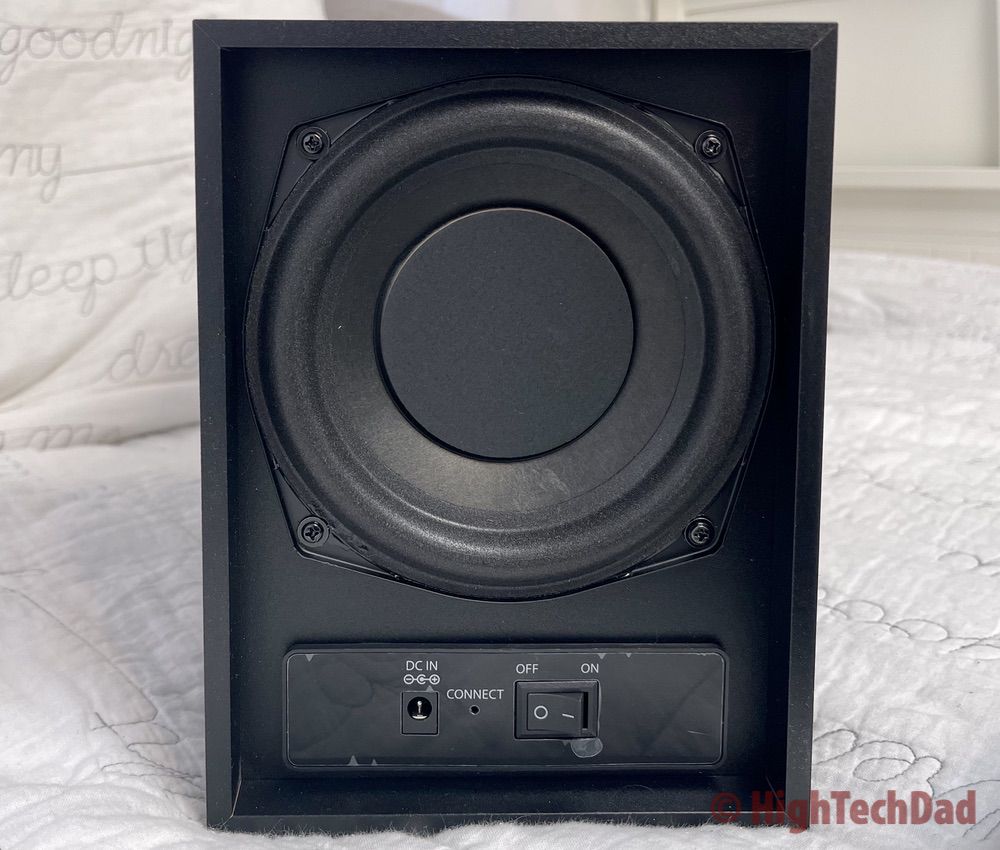 The quality of bass of the wireless subwoofer is fairly good. It won't make the plaster fall off of the wall, but it is definitely better than not having a subwoofer at all. And, the nice thing is, you can adjust the amount of bass you want thumping out via the iLive remote control (more on the remote shortly).
Easy-to-use Remote Control
The iLive soundbar comes with a multi-featured remote, which is extremely handy. And, you will need to be sure that you keep that remote handy to use the functionality. While there are buttons on the side of the soundbar itself, you need the remote if you want to fine-tune the audio experience.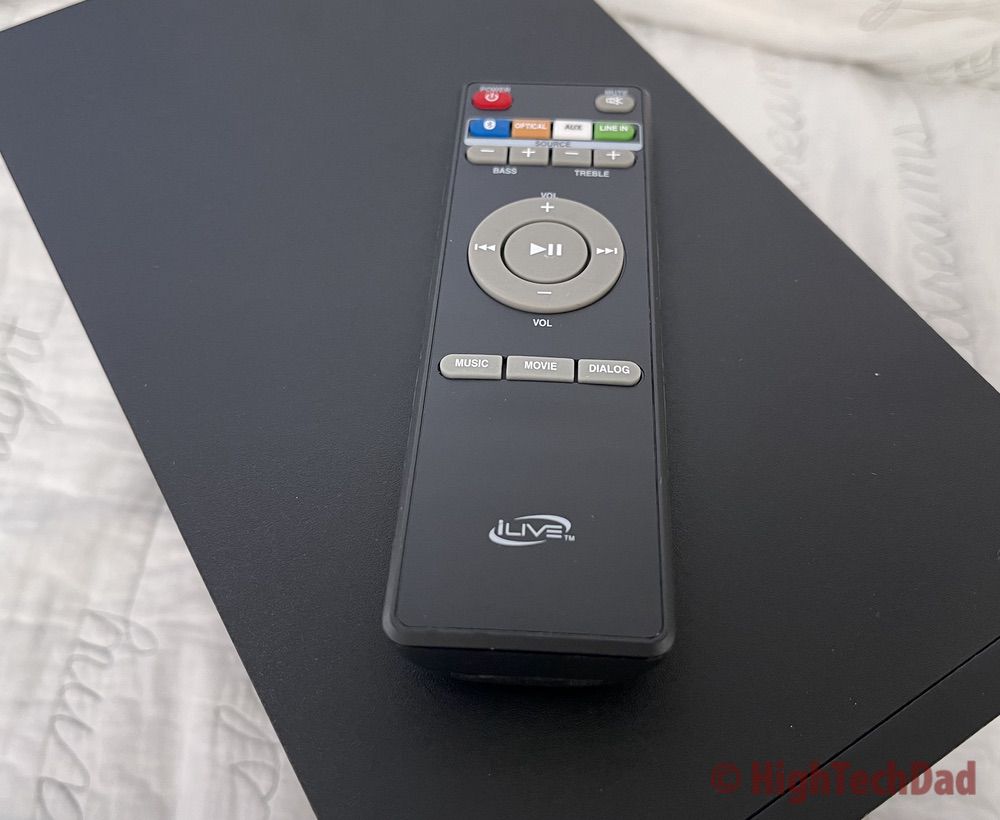 The remote control has the standard features you would expect – power, volume, and mute buttons – but it also has other controls based on how you are connected. If, for example, you have a Bluetooth connection, you can play/pause the audio and skip tracks using the remote.
You also have dedicated source input buttons for Bluetooth, Optical, Aux, and Line In, so you can conceivably have four devices simultaneously connected and simply toggle between them with just one button push.
Using the remote, you can fine-tune both the treble and the bass output of the iLive soundbar and subwoofer. Having this ability is nice since everyone's listening preferences are different.
Lastly, there are dedicated buttons with some pre-set audio settings for the type of audio you are playing: Music, Movie, or Dialog. While these are handy, I actually felt it was better to do the settings myself manually, as I honestly didn't like the presets.
iLive HD Sound Bar Dimensions, Final Thoughts, and Price
For those curious about the physical specifications, here's a little bit of content for you. The soundbar measures 37″ long by 2.8″ wide by 2.7″ high. The wireless subwoofer is almost a cube, measuring 8.27″ x 8.27″ x 9″. Bluetooth has a range of about 60 feet before the audio starts cutting out.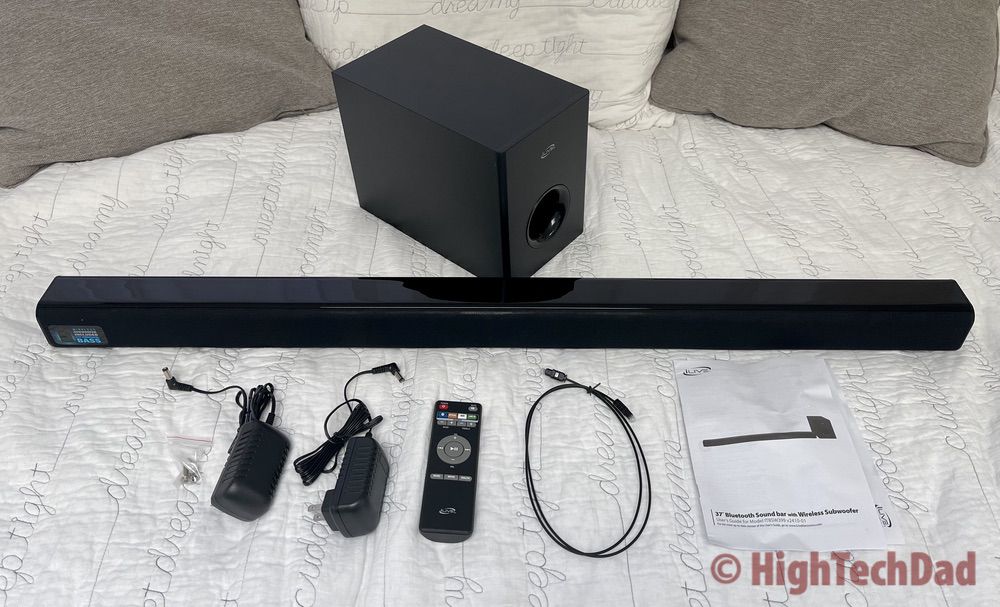 Also, the iLive sound bar is wall-mountable. While I prefer simply having the soundbar below the TV, if you don't have the space for it or aesthetically you like how it appears above the TV, or if you have the TV mounted to the wall already, you do that have the option (and included hardware).
The iLive HD sound bar and wireless subwoofer retails for $149.99. But, you can pick it up currently on Amazon for only $85.72! At this price, it's a great gift for a grad or perhaps adding to a secondary TV environment like a bedroom.
Shop on HighTechDad
The product shown below (and related products that have been reviewed on HighTechDad) is available within the HighTechDad Shop. This review has all of the details about this particular product and you can order it directly by clicking on the Buy button or clicking on the image/title to view more. Be sure to review other products available in the HighTechDad Shop.
The iLive HD Bluetooth soundbar is a nice, entry-level, multi-function speaker that is great for kids, grads, or simply adding to another room apart from your main HDTV environment. While I do like all of the functionality and features, I do wish the sound was a bit more robust. Nevertheless, having any type of soundbar is definitely a step up from using the stock speakers built-in to a TV.
Disclosure: I have a material connection because I received a sample of a product for consideration in preparing to review the product and write this content. I was/am not expected to return this item after my review period. All opinions within this article are my own and are typically not subject to editorial review from any 3rd party. Also, some of the links in the post above may be "affiliate" or "advertising" links. These may be automatically created or placed by me manually. This means if you click on the link and purchase the item (sometimes but not necessarily the product or service being reviewed), I will receive a small affiliate or advertising commission. More information can be found on my About page.
HTD says: The iLive HD Sound Bar and Wireless Subwoofer is a great starter soundbar. It connects multiple types of devices through different connections, has quite good sound quality, and makes any type of audio or visual playback better.
HighTechDad Ratings
Ease-of-Use

Family-Friendly

Price Point

Features
Summary
The iLive HD Sound Bar and Wireless Subwoofer is a great starter soundbar. It connects multiple types of devices through different connections, has quite good sound quality, and makes any type of audio or visual playback better. The out-of-the-box setup couldn't be easier. Simply plug in the iLive soundbar and connect it to your audio source. For HDTVs, use either the optical (ideal) or RCA connections. Connect additional devices via Bluetooth or 3.5mm Aux-in. And, the wireless subwoofer is extremely handy to put in various locations. The sound quality is fairly good for an entry-level soundbar but it does take some adjustments based on the audio connection type or the content you are playing. It's obviously not as robust as much higher-end (and more expensive) soundbars. But as a gift for a grad or to build out a second viewing room for your HDTV, the iLive 37″ soundbar is definitely a nice addition.
Pros
Good price point for an entry-level sound-bar
Ability to connect multiple audio sources
Wireless subwoofer for easier configurations
Cons
No HDMI connection (so no ARC control)
Sound quality is good but not fantastic