Rarely do I think about essential tools for my MacBook Pro. The newest version has many great features and capabilities, including better configuration options for things like hard drive space. But, you have to choose your configuration carefully because it isn't always that easy to upgrade, especially on a Mac. Luckily for multimedia producers, a fantastic external SSD solution is available from OWC, the OWC Envoy Pro Elektron portable SSD. And, after spending some time with the Elektron, I now consider it an essential tool. Here's why. (*Disclosure below.)
If you are a multimedia producer, digital artist, videographer, or casual YouTuber, one thing you need to ensure that you have is storage space for your videos and photos. But, you need to think beyond simply storage once you put on your editor's hat. Not all storage solutions are the same. You don't want to be editing a Final Cut Pro or Adobe Premiere Pro project using an old USB-A external hard drive unless you want to be sitting around watching that spinning beach ball or waiting for things to render.
You want speed. You want lots of storage space. And you want to be able to scale.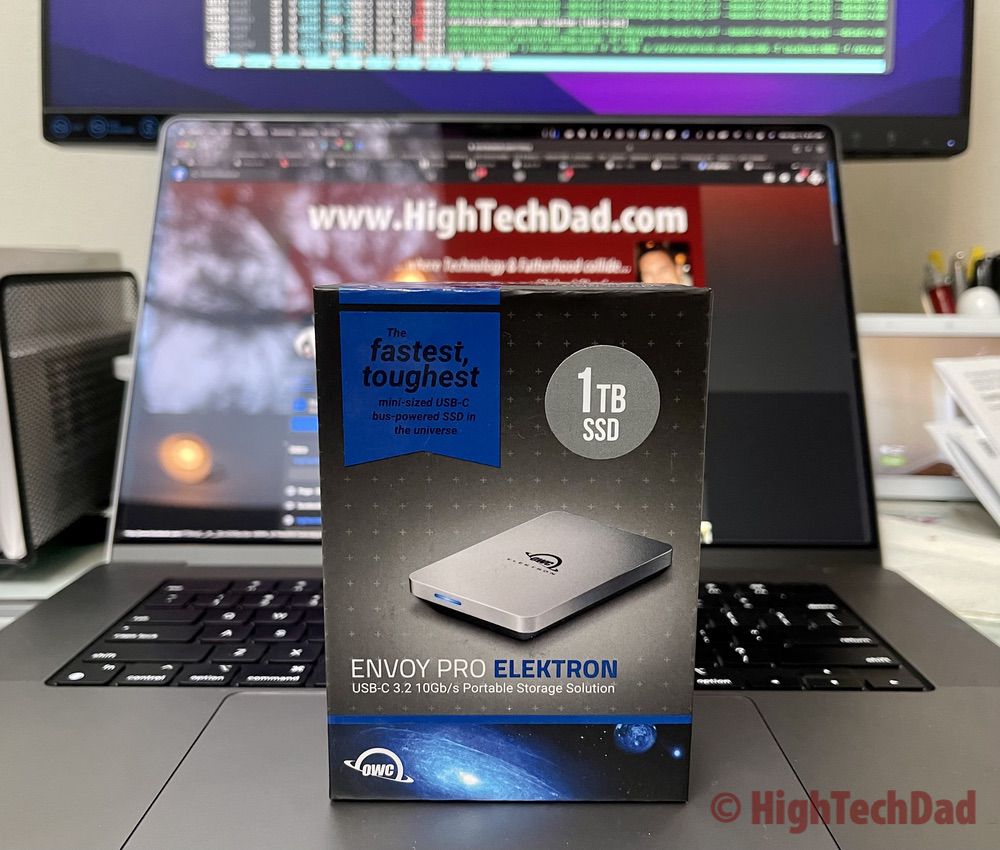 Sure, you can use your internal hard drive on your Mac, for example. But that assumes you have lots of space to spare. Video projects tend to gobble up space quite quickly. But, particularly if you have one of the 2021 MacBook Pros with Apple silicon, you will be amazed by the speed of the internal SSD. So it is a bit of a catch-22 situation. You want the speed of an internal SSD, but you also are concerned about your internal hard drive filling up.
Solution – OWC Envoy Pro Elektron Portable SSD
This is where you need to look for a solution that combines speed with size and portability. And the OWC Envoy Pro Elektron portable SSD is, in my opinion, the perfect fit. And, because of its design and form factor, it has now become my go-to external hard drive for my video editing projects.
I will discuss speed in the next section as I did some quick benchmarking tests of the Elektron versus my Mac's internal SSD versus an older external USB-A drive.
I do want to spend some time talking about how OWC designed the Envoy Pro Elektron because these design choices make this device essential in my mind.
Let's start with the physical dimension. When I first unboxed the Envoy Pro Elektron, I literally said "wow" aloud. I hadn't realized how small it actually would be. I was used to carrying around larger portal HDs, which are significantly larger. Below you can see the drive on top of a MacBook Pro keyboard.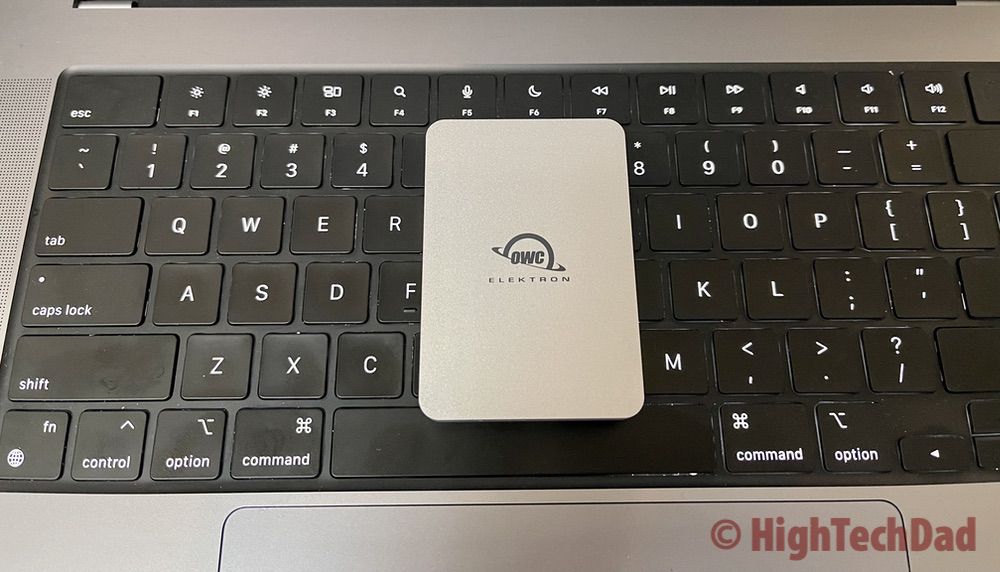 The Envoy Pro Elektron measures 2.1″ wide by 3.0″ deep by 0.5″ high. That's pretty darn compact. AND, it only weighs about 3.1 oz (for comparison, an iPhone 13 Pro weighs 7.19 oz – it even weighs less than the iPhone 13 Mini, which weighs 4.97 oz.).
Yes, it is small and lightweight and perfect to just throw in a bag without worry. Also, and importantly, since it is an SSD (Solid State Drive), there are no moving parts which means that if you bang it around a bit, you are not going to damage the read/write heads that are built into traditional hard drives (think of a vinyl record player – traditional hard drives are like that).
Below you can see the OWC Elektron sitting on top of a traditional USB-A external drive.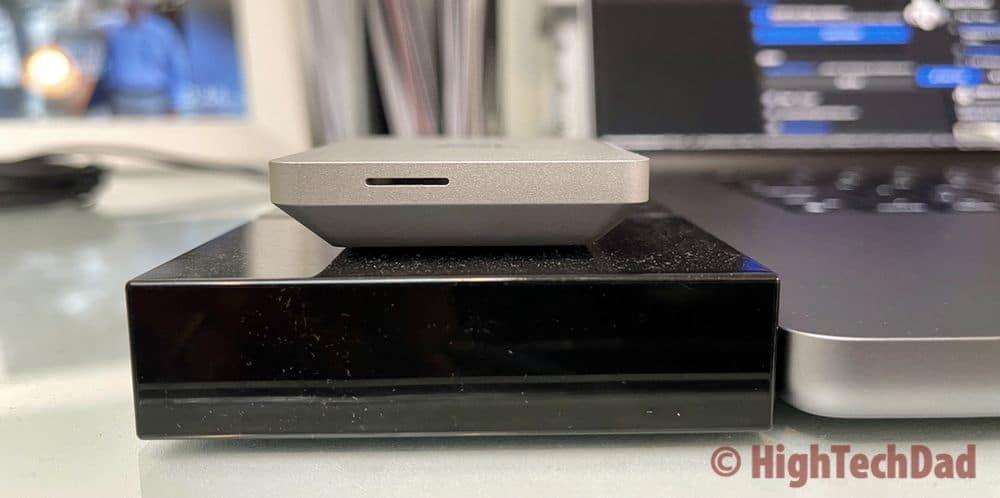 The design marvels don't stop there. The Envoy Pro Elektron is built like a little tank. According to OWC, it is "crushproof, dustproof, and waterproof." Honestly, because I like the Elektron so much, I didn't put it through any rigorous physical tests. It has an IP67 rating which means it has "protection from contact with harmful dust" and "Protected from immersion in water with a depth of up to 1 meter (or 3.3 feet) for up to 30 mins" (learn about some of the IP ratings for iPhones from c|net).
The Elektron SSD is contained within a heat-dissipating, aircraft-grade aluminum housing, making it lightweight and strong. Yet, as I used it, it remained cool to the touch.
You can see how compact the design is compared to a traditional USB-A external hard drive below.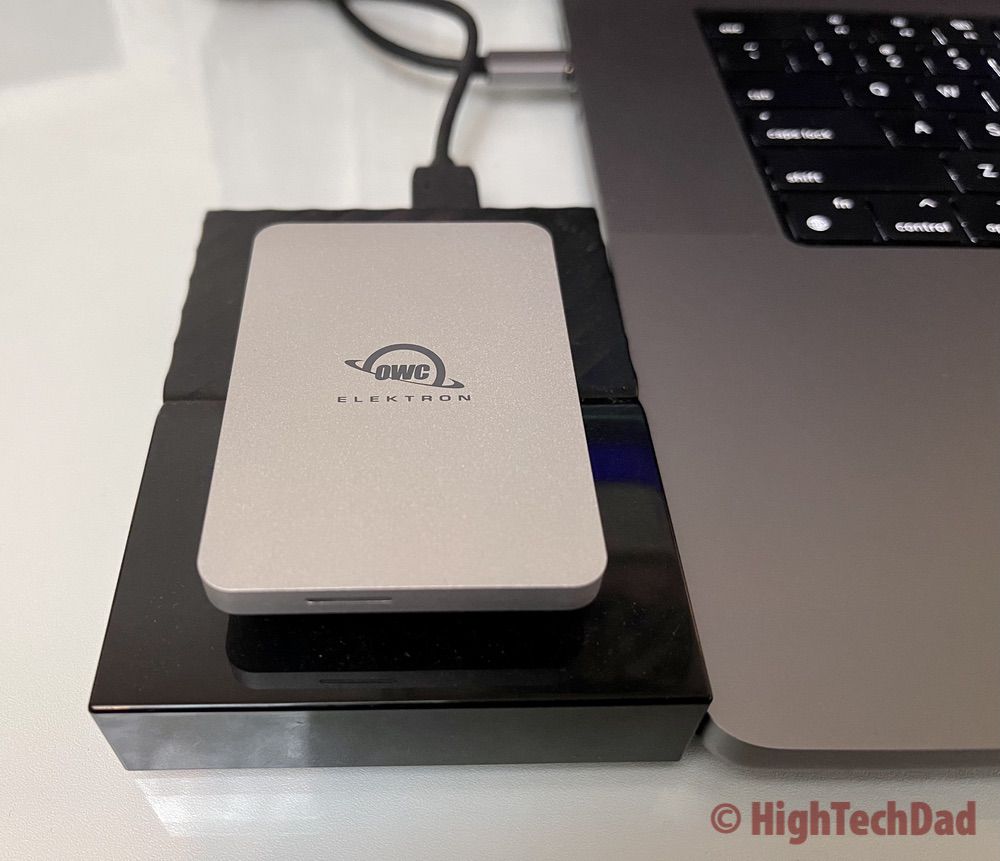 On the back of the SSD is a USB 3.2 Gen 2 (10Gb/s) Type-C port. And, the Elektron comes with a USB-C cord and a USB-A adaptor for computers that don't have USB-C ports. On the front is a blue LED to indicate power and HD activity. By the way, the Elektron is compatible with various devices (Macs, PCs, Chromebooks, and many tablets).
Quick Benchmark Tests
I wanted to provide some comparative context for the OWC Envoy Pro Elektron. There is a free benchmarking tool by BlackMagicDesign that videographers can evaluate and test various storage solutions. The application description states, "Disk Speed Test is an easy to use tool to quickly measure and certify your disk performance for working with high-quality video! Simply click the start button, and Disk Speed Test will write test your disk using large blocks of data and then display the result. Disk Speed Test will continue to test writes and reads from your disk so you can evaluate both performance and readability over time."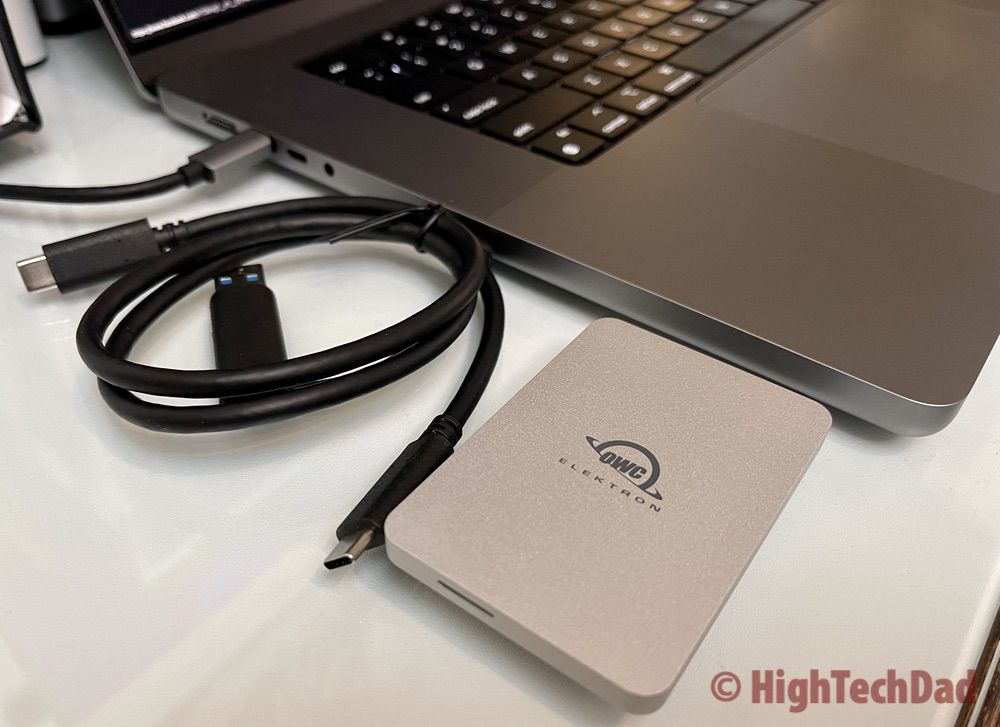 I decided to do four tests:
Internal MacBook Pro SSD
External USB-A Hard Drive connected via a USB-C hub
OWC Envoy Pro Elektron connected via a USB-C hub
OWC Envoy Pro Electron directly connected to via USB-C
Using the BlackMagicDesign software is straightforward. First, you choose the hard drive you want to test and the size of the file you want to continuously write and read to that selected hard drive. Then you run the software, and it will continually write and read the file until you stop it.
The results show the top-level performance results – write and read speeds measured in MB per second. The details below are to better understand if the hard drive will work well (or not) for video editing and rendering.
First, I ran the test against my MacBook Pro's internal SSD.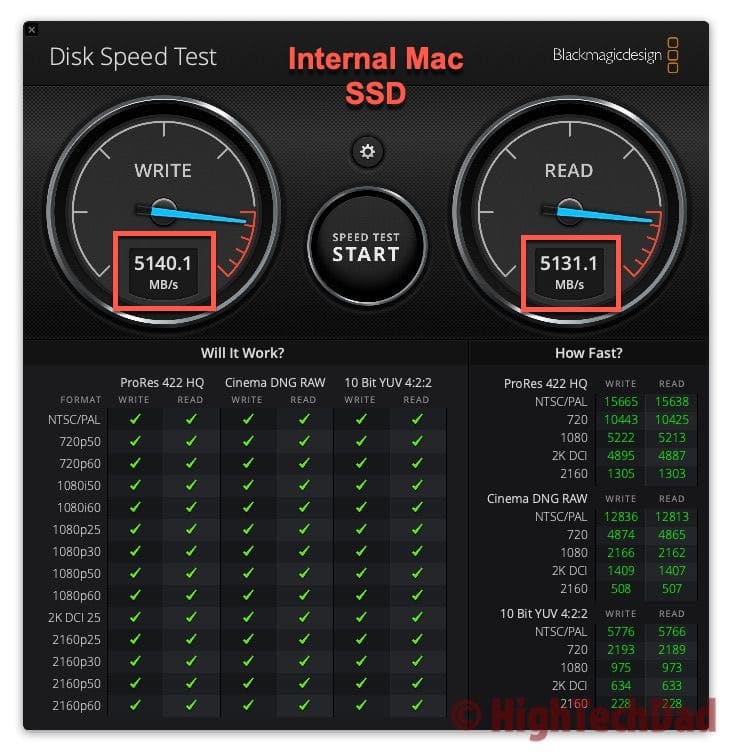 Next, I ran the test against an older external USB-A hard drive. These inexpensive external hard drives are great for backup solutions but probably shouldn't be used for video projects based on the BlackMagicDesign test.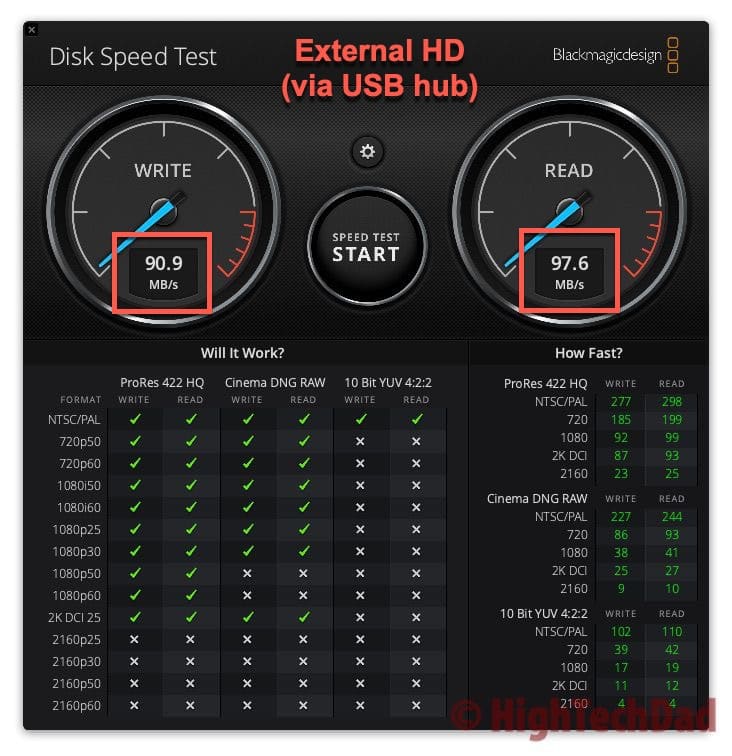 Then I decided to hook up the OWC Elektron to the same USB-C hub to have a somewhat similar comparison to the other external hard drive.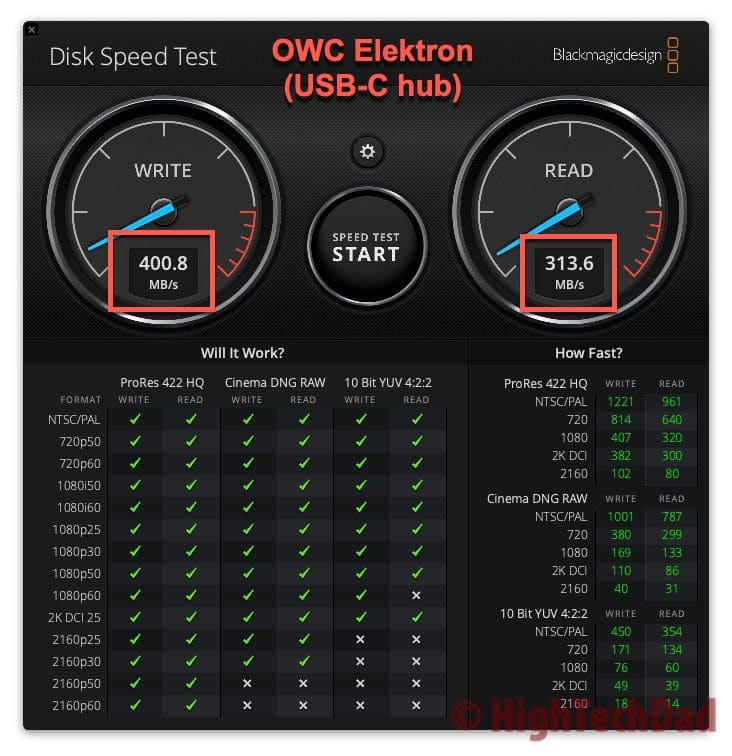 Lastly, I ran the test with the Elektron plugged directly into my MacBook Pro via the USB-C port (not the USB-C hub).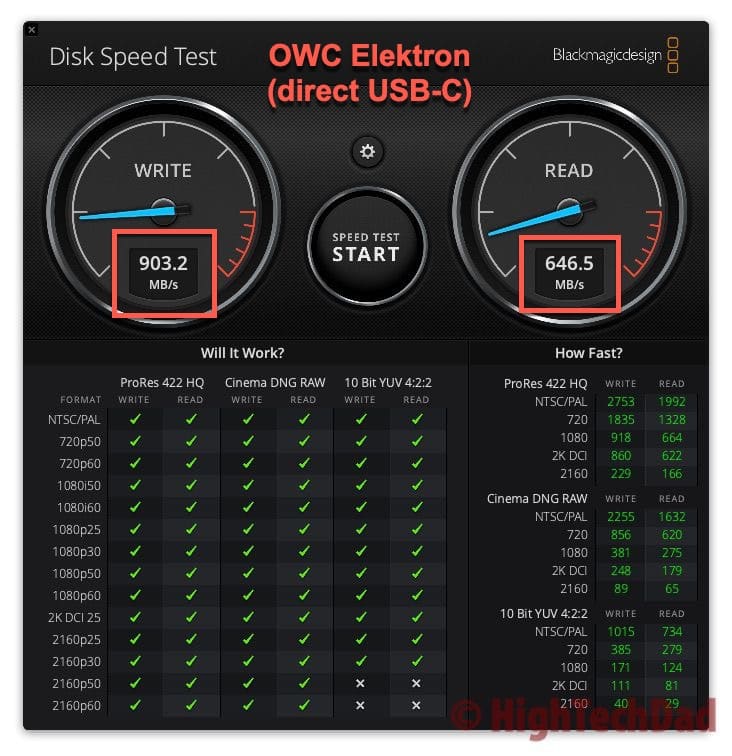 Obviously, the Mac's internal SSD performs the best. So, if you set up your video editing process to do all of your work using your Mac's internal SSD, you will get the best performance.
On the other side, the external USB-A hard drive should probably not be used for video editing (as I mentioned before, these slower drives are great for simple storage and backups like using TimeMachine).
However, once you bring the OWC Elektron into the mix, you have both an external and portable hard drive, but also one that has speeds that are much faster than traditional external hard drives. And, these speeds are ideal for video editing, according to BlackMagicDesign.
Also, as you can see from the tests above, it is better to directly connect the OWC Elektron to your computer via USB-C to get the fastest speeds possible.
Portable & Speedy in a Durable Design
The OWC Envoy Pro Elektron SSD is now my go-to external hard drive solution. Coupled with a speedy and powerful Mac or PC, the Elektron will provide you with the performance you need when you need it. Powered by the OWC Aura SSD using advanced MVMe technology, this external SSD drive delivers two times the performance of other portable drives and much more than older USB-A external drives.
OWC claims a data transfer rate of 1011 MB/s, and I concur that the speeds are pretty fast. My non-scientific tests show the Elektron hitting upwards of 900 MB/s in write speeds which is more than adequate for my video needs.
The price point of the OWC Envoy Pro Elektron is comparable to what you would expect an SSD drive to cost, but if you mix in the small, compact, and sturdy design, I believe the price to be quite reasonable. Of course, it is more expensive than traditional USB-A-type external drives, but that is expected.
Your biggest choice will be around the size of storage you select. It comes in four sizes: 250GB, 500GB, 1TB, and 2TB. The review model I received was 1TB which is practically perfect for occasional video editing projects. If you can afford it, always go with a larger storage. You can always partition the drive to have some storage for files and other storage for backups. It's truly up to you.
Here are the price points on OWC (and on Amazon):
Whether you use the Envoy as a backup solution or a portable, extensible video editing drive, you can pretty much be assured that you will get good performance in a compact design.
Buy on HighTechDad
The product shown below (and related products that have been reviewed on HighTechDad) is available within the HighTechDad Shop. This review has all of the details about this particular product and you can order it directly by clicking on the Buy button or clicking on the image/title to view more. Be sure to review other products available in the HighTechDad Shop.
HTD says: OWC is known for creating speedy and powerful SSD (and other) solutions for both Macs and PCs. The OWC Envoy Pro Elektron is no exception! This sturdy and powerful external SSD hard drive is an essential extension to your computing environment!
HighTechDad Ratings
Ease-of-Use

Family-Friendly

Price Point

Features
Summary
OWC is known for creating speedy and powerful SSD (and other) solutions for both Macs and PCs. The OWC Envoy Pro Elektron is no exception! This sturdy and powerful external SSD hard drive is an essential extension to your computing environment! If you are looking for an external hard drive for storage and backup and you are on a limited budget, you may want to go with a traditional external hard drive. But, if you require speedy performance, you will definitely want to get a Solid State Drive (SSD) and OWC has the perfect solution for this requirement. Housed in an extremely sturdy, water and dust-proof aluminum housing, the OWC Envoy Pro Elektron SSD is an amazing solution for video and multimedia editors who are on the go, offering high-performance read/write speeds in a portable design. 
Pros
Small design
Sturdy design
Fast external hard drive speeds
Includes USB-A & USB-C cable
Cons
Not at the speeds of internal SSDs but that is to be expected from an external drive
A bit pricy but in line with other SSD solutions.