When you invest in a laptop, you must also invest in protecting it. The same thing goes for smartphones as well – I always recommend that people get cases to protect their phones from damage. You should similarly ensure that your laptop has protection from drops and day-to-day roughness during transportation. But, honestly, some of the laptop cases I have seen in the market are bulky and ugly. While they may provide protection, they are not the type of thing you want to take to a business meeting, for example. This is where the Mujjo Envoy laptop sleeve excels. It's slim, provides protection, and looks elegant. (*Disclosure below.)
Mujjo has quite a wide variety of iPhone cases, so you may have heard of them. The Mujjo Envoy laptop sleeve is a new product for them. While I haven't tested any of their iPhone cases (yet), they do look to be quite well-designed and use vegetable-based tanning techniques with their Ecco leather (which is more environmentally conscious).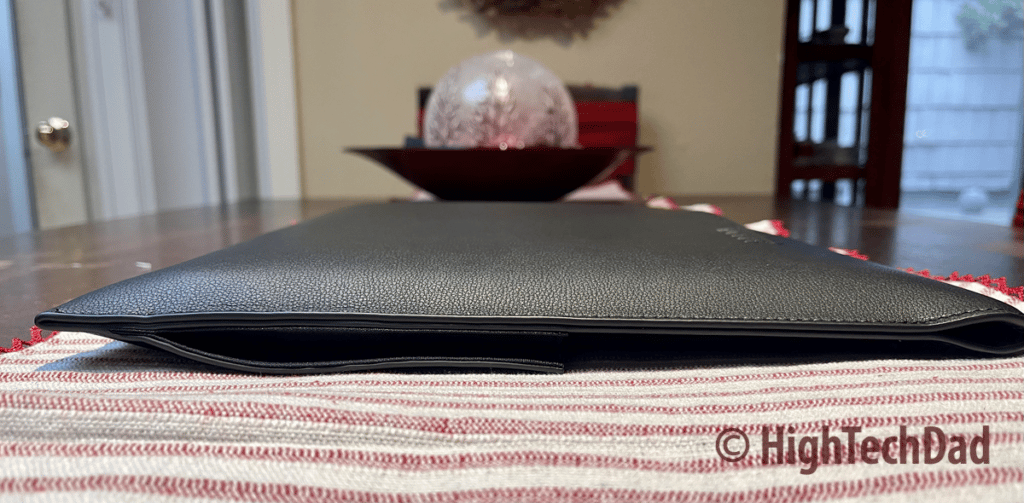 The Mujjo Envoy laptop sleeve is also environmentally conscious, as it is actually crafted from faux leather. This vegan leather looks like actual leather, complete with ridges and valleys, and the texture is relatively easy to grip and hold, not slippery like others I've seen.
A Simple and Slim Laptop Sleeve from Mujjo
One thing I particularly like about this laptop case is that it is practically not there. That is to say, it isn't bulky but still allows you to slide a 16″ MacBook Pro inside it and close it up completely. Mujjo does have two sizes, one for the 14″ MacBook Pro and one for the 16″ MBP.
The dimensions of the 16″ version are 15.74″ wide by 12″ high and 0.4″ thick. Note that the thickness measurement is without the laptop inserted. A 16″ MBP is about 0.66″ thick (er…"thin" as Apple likes to say), so the Mujjo case with the MBP inside would probably measure slightly over 1 inch thick. The laptop sleeve itself weighs only 57 grams (note – the Mujjo website states it as 0.57 grams which is clearly a mistake – I have notified them about that.)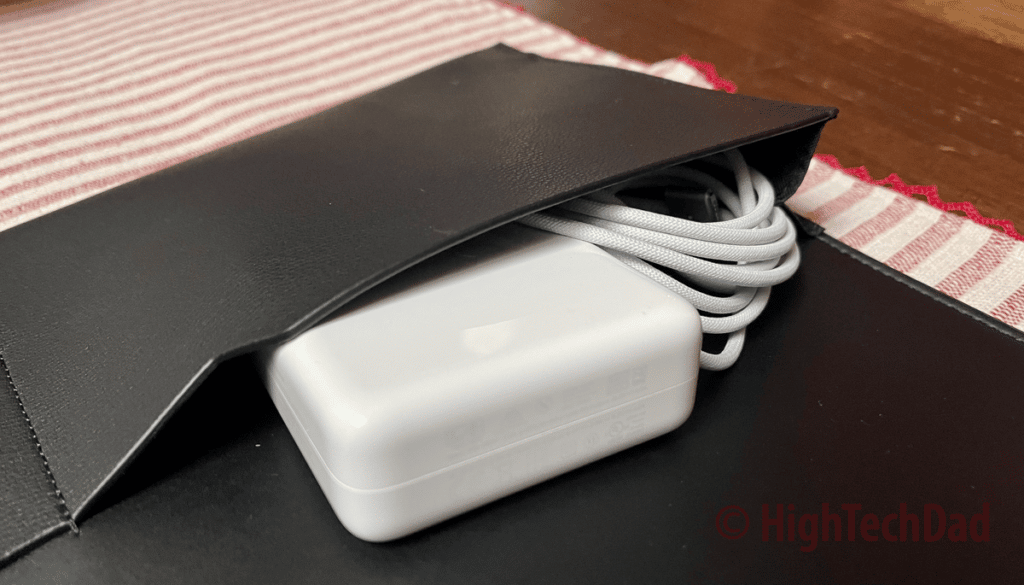 Also, it is important to note that there are pockets on both the front and back of the Mujjo Envoy sleeve. When filled, these pockets can add to the case's bulk and weight. My impression of the design is that Mujjo wants to keep things simple and clean. Therefore, you should only be bringing the essentials – part of why I feel this is a great laptop sleeve for business work.
On the front, the pocket on the left is designed to hold your charger and cable. It expands to hold the "charging brick," but just barely. I recommend investing in a smaller USB-C charger and leaving the standard Apple brick at home. It does become a bit bulky.
One amazing little detail about this particular pocket is that it has a magnetic closer built into it. What that means is the pocket stays firmly closed when you don't have anything in it, and it doesn't flap around despite it being able to hold larger objects.
The pocket on the right is designed to hold your smartphone. Unlike the pocket on the left, it does not expand in the same way, nor does it have a magnetic closure. But it DOES have an elastic band in the pocket itself, designed to secure your smartphone within this pocket.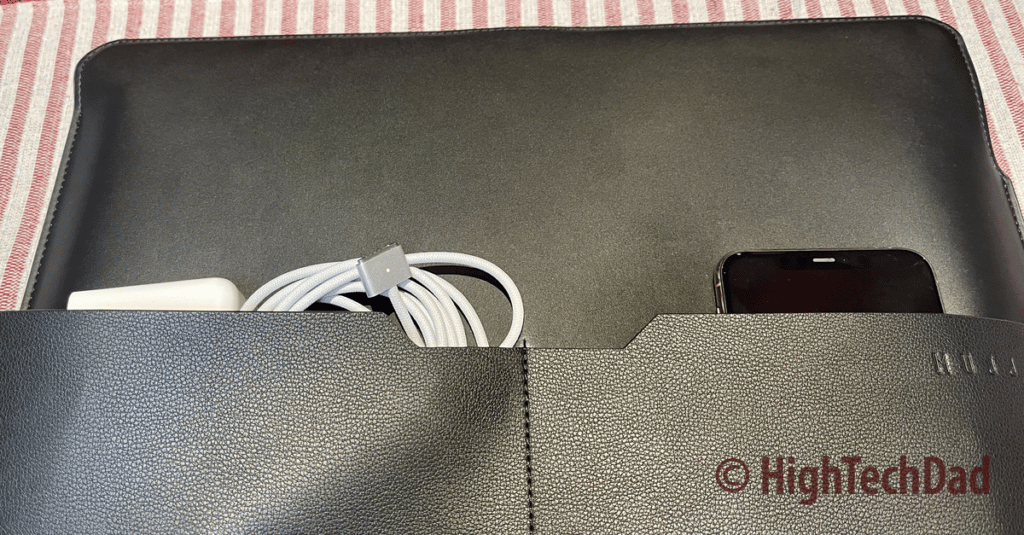 There is also a pocket on the other side of the Mujjo Envoy laptop sleeve. The size is perfect for holding a notebook, folded newspaper, or magazine. However, it isn't too deep, so whatever you store there may stick out a bit.
Both sides of the laptop sleeve have a subtle Mujjo logo etched into the fabric. There are no other colors present other than the primary color of either black or navy blue. The stitching is also dark.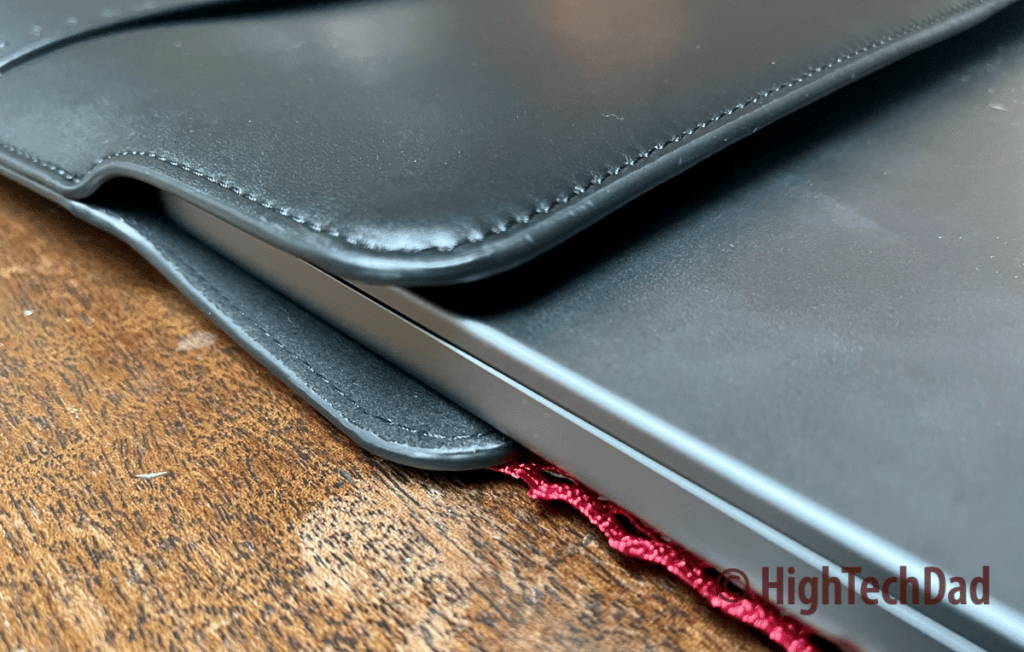 Speaking of the stitching, it is quite tight and precise and close to the edge, giving it a very modern design and feel to the case. It is definitely machined-stitching and is not hand-sewn, but this allows for more precise use of the vegan leather. This vegan leather is water-proof as well.
If you want to learn more about vegan leather and vegetable-based tanning, this article is helpful. It's important to note that Mujjo is very focused on being environmentally conscious in its manufacturing techniques and its chosen materials. Read their story for more details.
Mujjo's Main Laptop Storage Sleeve
I have left the biggest "feature" to the end – the laptop sleeve itself. The sleeve owns up to its name. No flap covers the entry point. You just slide the laptop inside.
The fit is tight, which is a good thing, in my opinion. Your laptop will not be moving around as you walk, for example. It is securely held inside. And, the inside sleeve is almost felt-like so that it won't scratch your precious laptop either.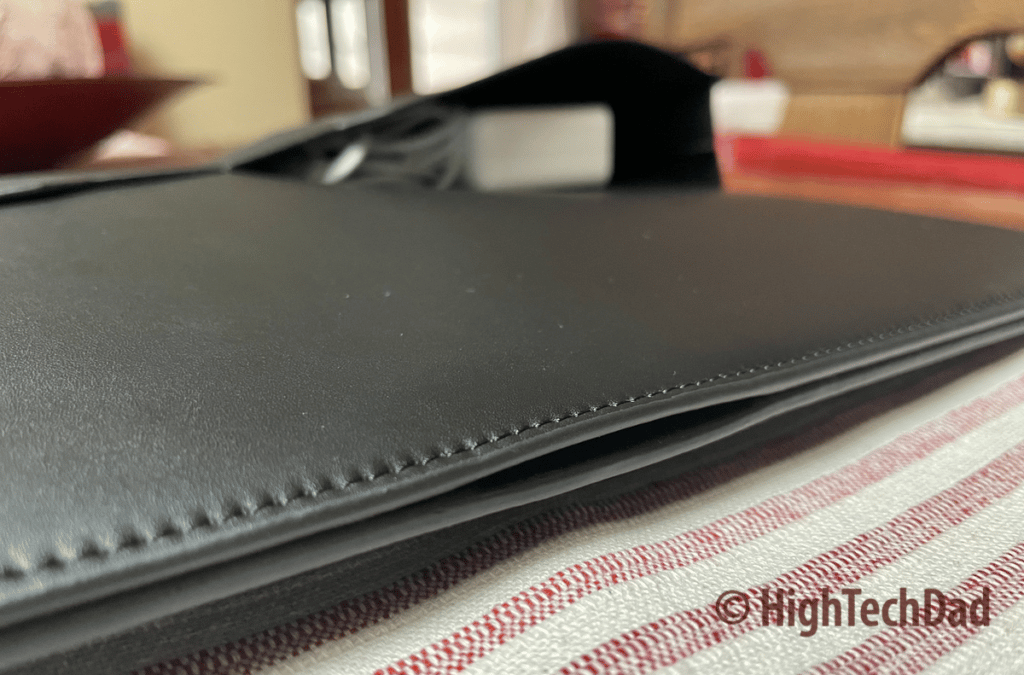 There are three subtle yet nifty features about the main sleeve. And this is something you wouldn't notice immediately. For starters, like the left front pocket, the top sleeve also has magnetic closures. So you pop open the top, slide your MacBook Pro to the bottom of the sleeve, and then the opening magnetically snaps shut. That is the first feature I wanted to call out.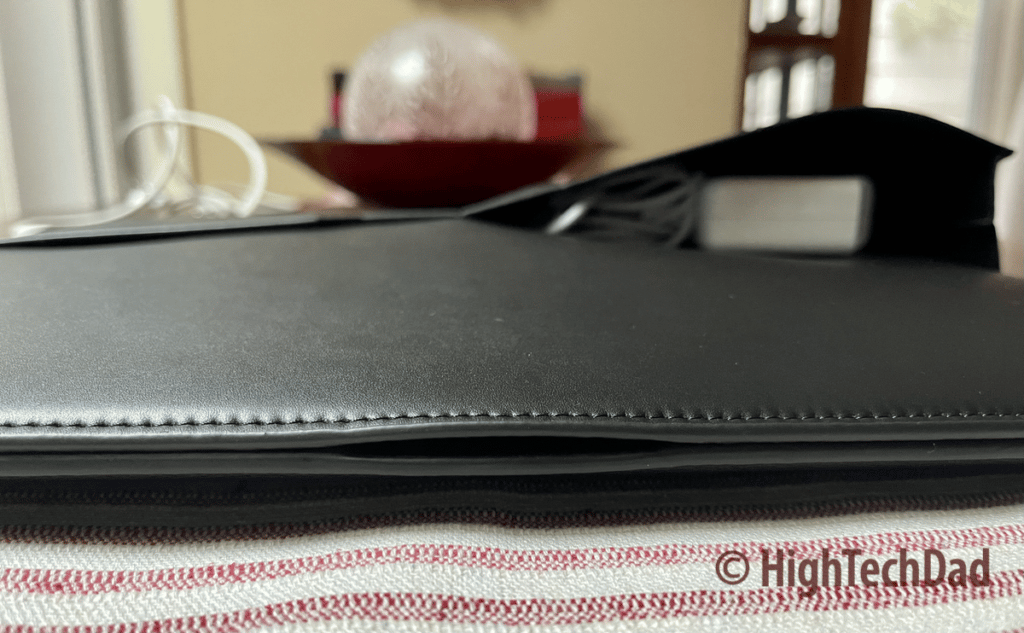 The second one has to do with the sleeve opening as well. Initially, I thought it was a manufacturing defect, but as I tested the Mujjo Envoy, I realized it was part of the design. The center of the sleeve opening is slightly opened (which is a bit more obvious in the pictures. This is where you will stick your finger in to open up the magnetic closures, as the magnets are pretty strong and hold the top closed quite firmly.
The last feature I wanted to mention has to do with one of the top sides of the main sleeve. It has more of an opening than the other side, which practically has nothing. This, too, is a designed feature (and is also more understandable by looking at the photos than it is to describe in writing).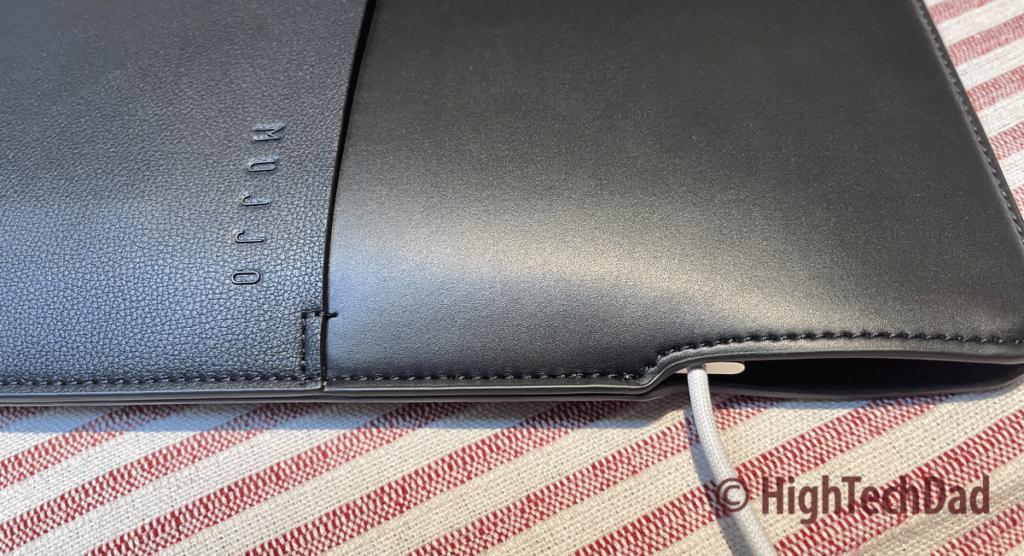 Essentially, this deeper opening on the side allows you to have your MacBook Pro inside the case yet still connect your MagSafe charger to it, allowing you to charge your Mac easily without removing it.
These are little design choices that you might overlook at first glance, but in my opinion, they do make a difference!
A Functional Yet Stylish Laptop Sleeve
While the Mujjo Envoy laptop sleeve is not a briefcase or a laptop case with a shoulder strap, it does provide protection, can store a few extra essentials (like your charger, smartphone, pen, and notepad), and does a great job in the process.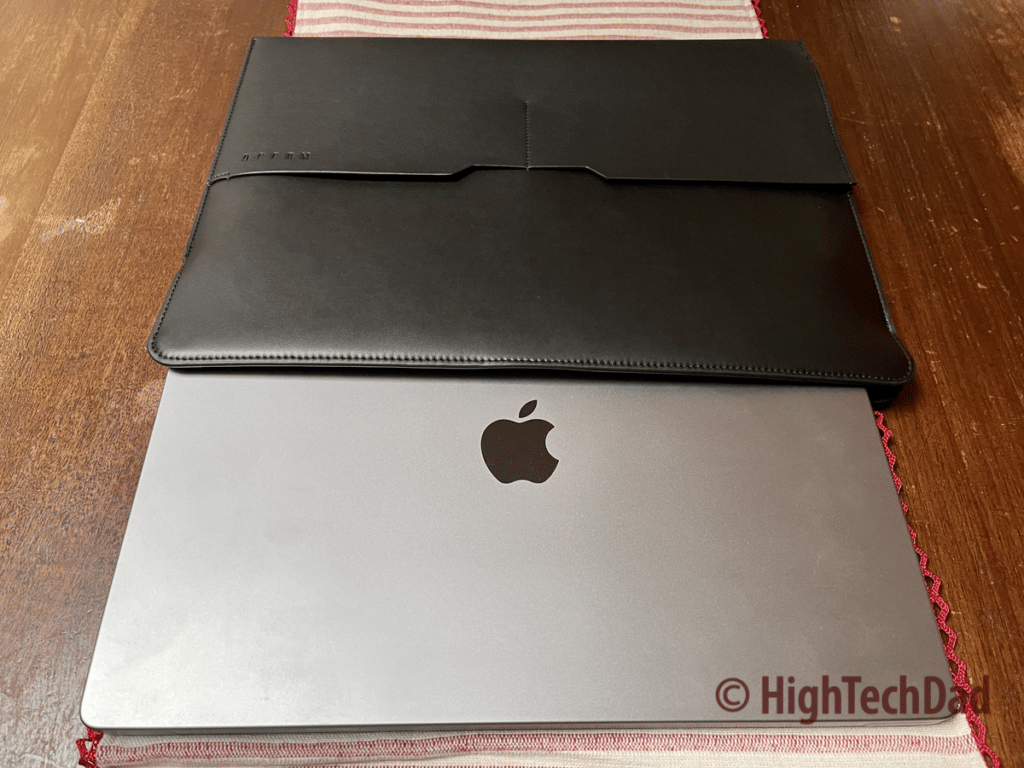 I wish the charger pocket had a magnetic flap to keep the charger and cable a bit more secure. Perhaps a flap covering the smartphone pocket that is magnetic as well would balance out the look too. (In my opinion, there is no need for a flap on the other side for the notebook pocket, though.)
The Mujjo case is not real leather, and the $95 price reflects that. A premium leather case would be significantly more expensive. However, to the casual viewer, this Mujjo case looks like leather and practically feels like leather as well. This laptop sleeve is not yet available on Amazon; however, I expect it to be showing up in the Mujjo store on Amazon soon, so be sure to check for it.
Shop on HighTechDad
The product shown below (and related products that have been reviewed on HighTechDad) is available within the HighTechDad Shop. This review has all of the details about this particular product and you can order it directly by clicking on the Buy button or clicking on the image/title to view more. Be sure to review other products available in the HighTechDad Shop.
If you are searching for a slim, business-looking protective case for your 14″ or 16″ MacBook Pro, the Mujjo Envoy laptop sleeve might be a great match. It securely holds your Mac, charger, smartphone, and more without going overboard with a ton of compartments. This allows the case to remain slim and not be too heavy, all while giving the appearance of high-end leather but at a fraction of the cost of leather.
Disclosure: I have a material connection because I received a sample of a product for consideration in preparing to review the product and write this content. I was/am not expected to return this item after my review period. All opinions within this article are my own and are typically not subject to editorial review from any 3rd party. Also, some of the links in the post above may be "affiliate" or "advertising" links. These may be automatically created or placed by me manually. This means if you click on the link and purchase the item (sometimes but not necessarily the product or service being reviewed), I will receive a small affiliate or advertising commission. More information can be found on my About page.
HTD says: The Mujjo Envoy laptop sleeve is a modern yet business-ready laptop case for your MacBook Pro. Small design features make it stand out from many other laptop cases on the market, and the vegan leather ensures a reasonable price point while preserving the elegant look.
HighTechDad Ratings
Ease-of-Use

Family-Friendly

Price Point

Features
Summary
The Mujjo Envoy laptop sleeve is a modern yet business-ready laptop case for your MacBook Pro. Small design features make it stand out from many other laptop cases on the market, and the vegan leather ensures a reasonable price point while preserving the elegant look. My initial impression was that this laptop sleeve was very basic and simple. And, the more that I tested it, the more I realized that it was basic and simple by design…and that was a good thing. But, also, as I tested it out, I discovered subtle features that truly made it a great, business-ready laptop holder. The small design choices definitely make a big difference.
Pros
Made from environmentally-conscious vegan leather
Magnetic closures
Securely holds smartphone
Lightweight