One of the nice things about new(ish) computers is the abundance of USB-C/Thunderbolt 4 ports. Actually, I'm completely joking. Unfortunately, it seems like there is always a scarcity of ports, especially when you need them. For example, I have a MacBook Pro, which nicely has three thunderbolt ports. The problem is I have a monitor, a hard drive, and a peripheral (a microphone) that is using up all of the ports on my Mac. So when I learned about the new HyperDrive Thunderbolt 4 Power Hub, I realized that this could be a fantastic solution for many people suffering from port-envy (or lack-of-port madness). But the Thunderbolt 4 Power Hub brings a whole lot more to the table. (*Disclosure below.)
The first thing to point out, however, is the fact that while Thunderbolt 4 ports look and behave like USB-C ports, they are not one and the same. As Intel describes in this article, Thunderbolt 4 and USB-C ports share the same form factor. However, Thunderbolt 4 (I'll refer to it as TB4) can do a bit more. TB4 cables and ports support high bandwidth (40 Gpbs for data and video), fast charging (up to 100W of power for laptops), and display support for up to two 4K 60 Hz displays or one 8K 60 Hz display using a single connection. You can transfer data, daisy chain devices, and much more.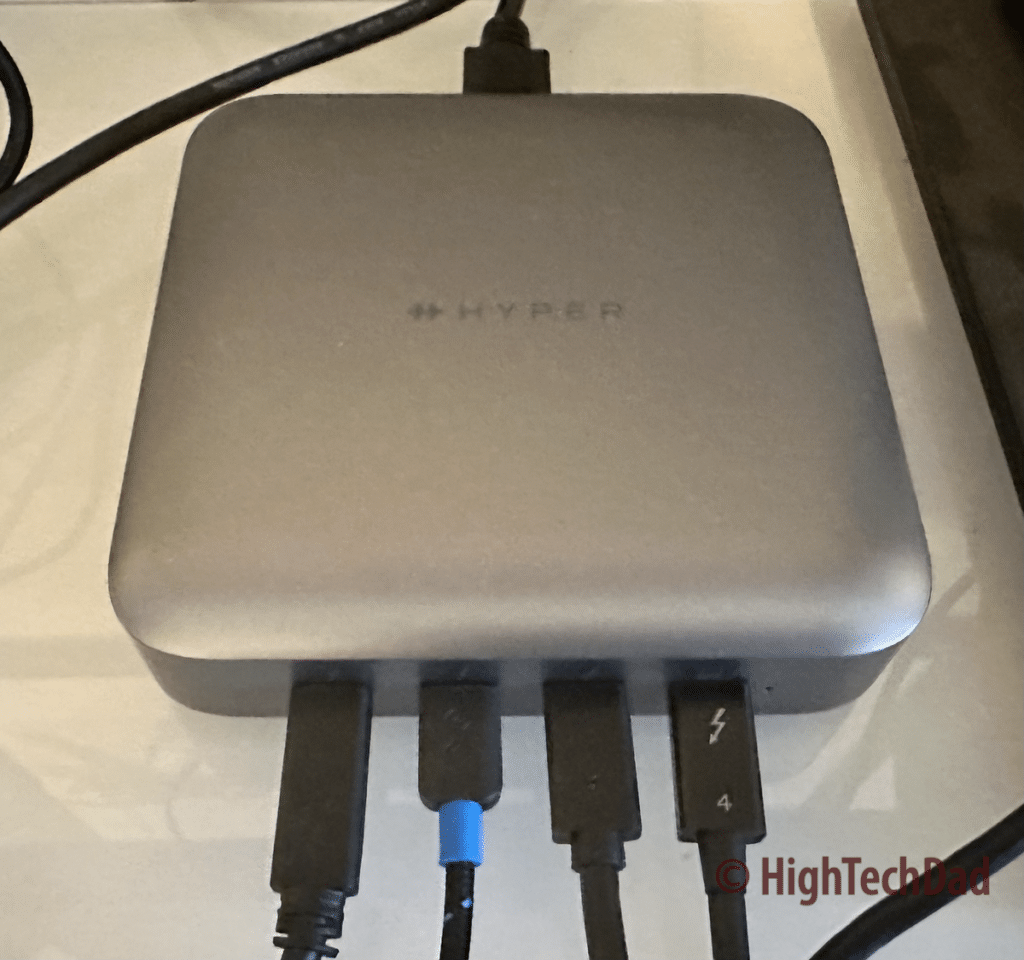 The HyperDrive Thunderbolt 4 Power Hub elegantly packages together found TB4 connections. And it does it without needing a clunky and large power supply. So if you have a couple of Thunderbolt displays or some hard drives or other devices you need to chain together or connect via a hub, definitely take a look at this device.
Table of Contents
Unboxing the HyperDrive Thunderbolt 4 Power Hub
Before testing this out in my home office environment, I obviously had to unbox the Power Hub. If you want to understand what the Power Hub looks like, how the ports are laid out, and how big it is, please watch the video below.
What did impress me the most was the clean design of the HyperDrive Thunderbolt 4 Power Hub. It blends in cleanly with that shiny, brushed aluminum that many Macs or Apple devices have.
The front houses the four TB4 ports, and the back has the port for the power cord. Remember, there is no power brick for this because it uses GaN technology. GaN tech allows for battery cooling and temperature dispersion, making charging devices smaller than traditional chargers.
The Power Hub weighs about 1.27 pounds. It honestly feels a bit heavier than that, but that is probably because it feels pretty solid in nature. It measures 4.9″ x 4.9″ and is 1.2″ high.
It's all about the Thunderbolt 4 ports!
There are only TB4 ports on this device. There are no USB Type-A ports or Ethernet or audio or other types of display ports…just purely Thunderbolt. While this does make the device a bit less expensive because of its focus on purely Thunderbolt, as I mentioned, Thunderbolt is NOT USB-C, and consequently, it is more costly than a USB-C hub.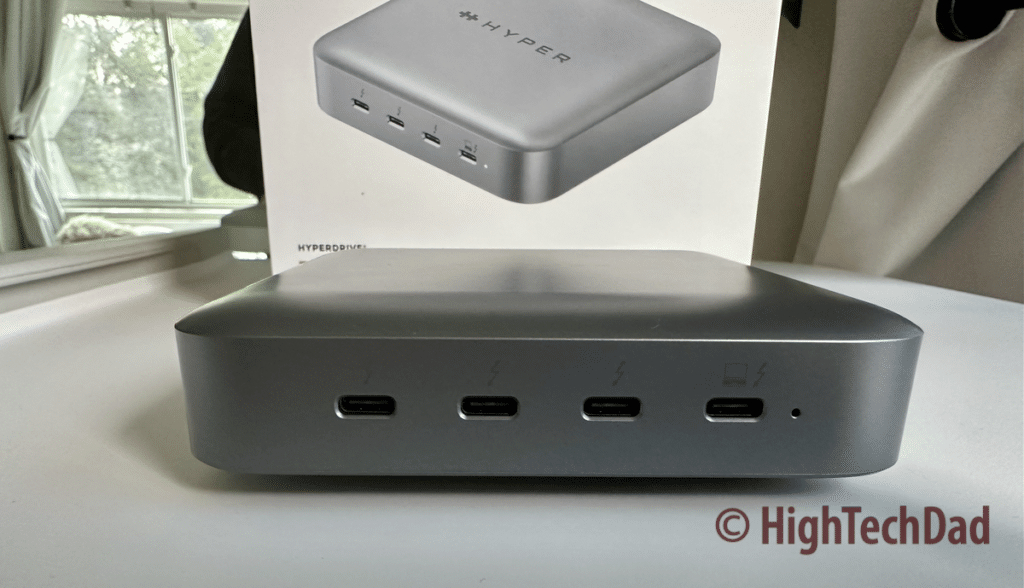 Think of Thunderbolt 4 as a premium service with better data and video transfer properties than USB-C. Another good article to look at about USB-C versus Thunderbolt is this one from HP. The bottom line is TB4 is significantly faster than USB-C (at least for now).
The HyperDrive Power Hub has one TB4 Upstream Port that handles data transfer speeds of up to 40 Gbps, and it also supports Power Delivery (PD) for up to 96W of pass-through charging, which is excellent for many laptops on the market today.
The other three TB4 ports also handle 40 Gbps of data speeds and a PD of up to 15W (suitable for smaller devices like tablets or smartphones). These three ports also allow for 32 Gbps PCIe data transfers (for better graphics transfers). And most importantly, you can connect dual 4K 60 Hz displays or a single 8K 30 Hz display. TB4 enables eGPUs.
In my unboxing video, I worried that I had to install a driver to run multiple displays on a Mac. I was pleased to find out that no driver or software was needed to do this. (I had tested a different hub that said it was "driver-less," but I still had to run software whenever I wanted to use it, which defeated the purpose). No driver, as I said, was needed here.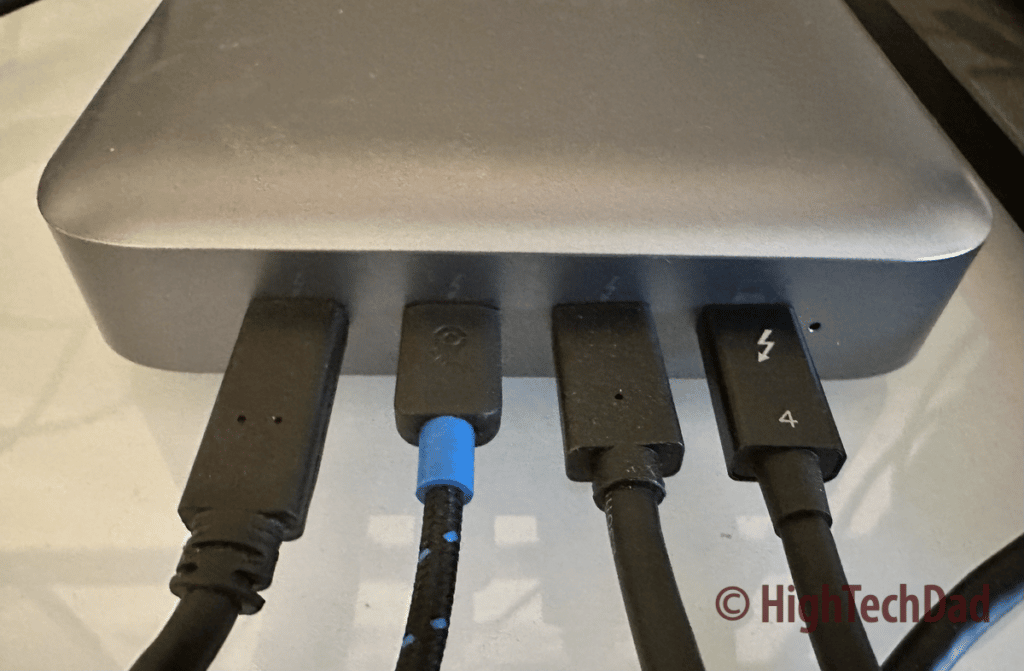 Do note, however, that I only tested with a single USB-C/TB4 monitor. My other monitor was connected to my MacBook Pro via HDMI. They were extended desktop monitors, though, and not mirrored displays.
There is a mention on the HyperDrive Thunderbolt 4 Power Hub that "dual display support is not compatible with M1/M2 MacBooks." What I don't know and may have to test somehow is to see if that is true with MacBook Pros as well.
As mentioned, another great feature of Thunderbolt 4 is the ability to daisy chain peripherals. That means that if you have the proper devices, you can connect and power other devices to each other.
A few observations when testing
I hooked up my monitor, a hard drive, and a USB-C microphone to the three downstream ports. And I connected the upstream TB4 PD port to my MacBook Pro to provide power, data, and video connectivity.
My monitor actually has a mini hub built into it as well. I plug my Ethernet into my monitor and then connect the monitor via USB-C/TB4 to my Mac. Ethernet connectivity is passed through.
Before connecting the HyperDrive Power Hub to my setup, I used the Apple MagSafe connector to charge and power my MacBook Pro. But once I used the HyperDrive as the PD source, I didn't need to have the MagSafe charging cable connected.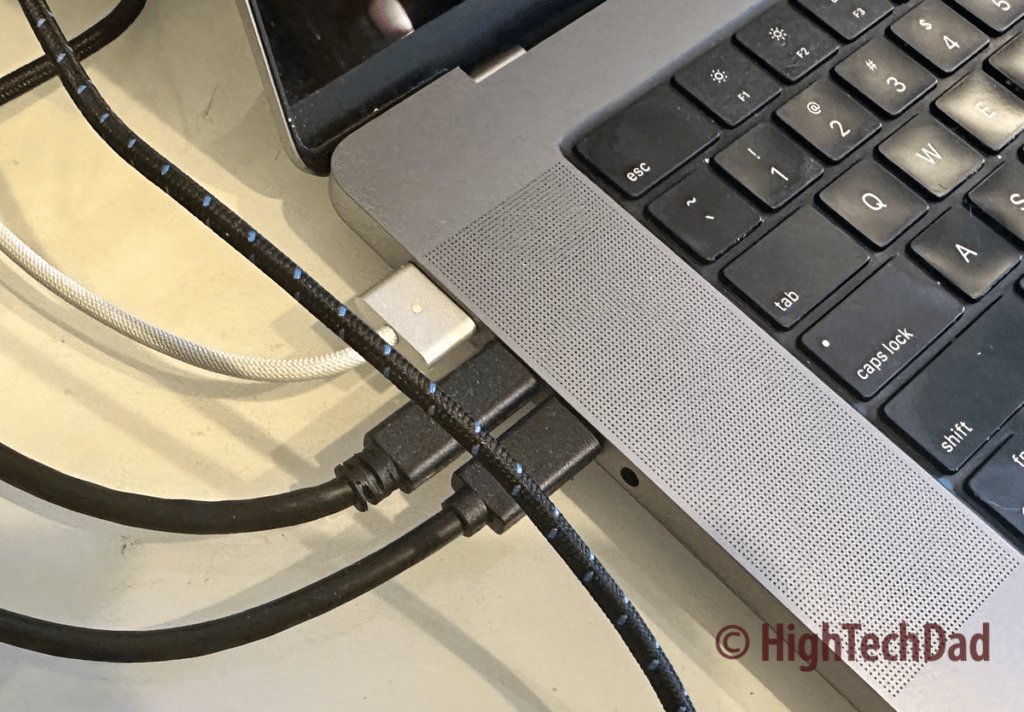 But an interesting thing happened when I tried connecting the MagSafe AND the PD cable from the HyperDrive simultaneously. Not only when both power sources were connected did my monitor turn off, but I think because of the Ethernet connectivity and the data connectivity from Monitor to Mac, my Ethernet network also experienced a momentary outage.
Unplugging the MagSafe and solely charging using the HyperDrive PD connection (which also supplied Ethernet via the display connection) brought everything back to normal.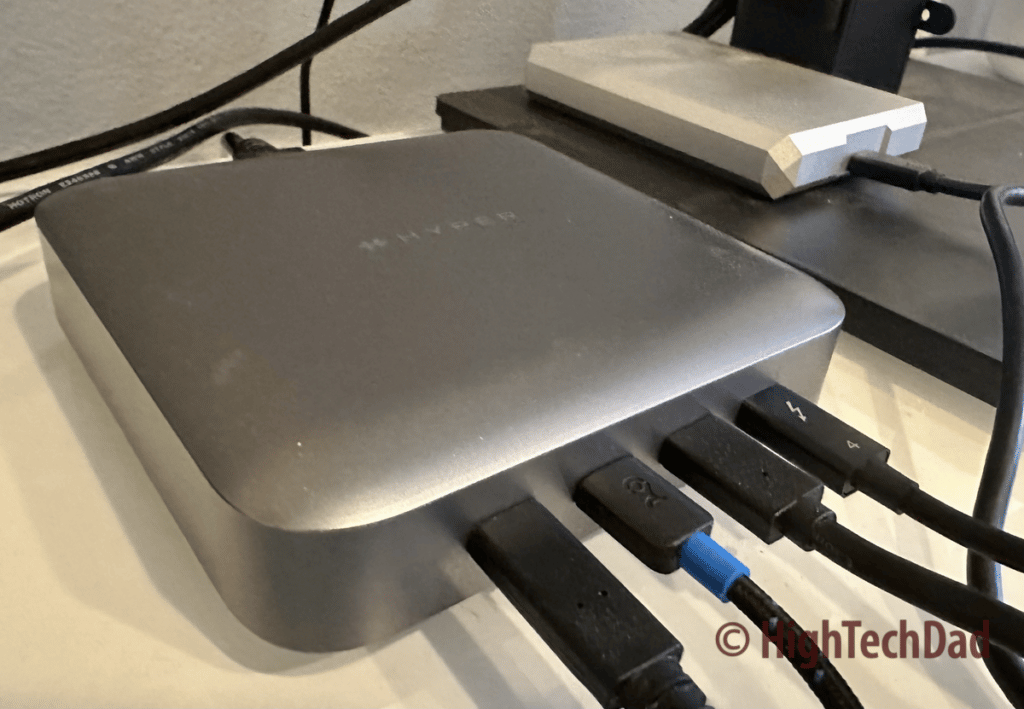 I have held off trying to confirm this to be completely true as I'm not super excited about knocking out my home's Internet just to test this out repeatedly.
Regardless, without the MagSafe connected and just relying on the Power Hub PD delivery has been working fine. My Mac is charged, the monitor is displaying as it should, and my Mac also is getting Ethernet connectivity from the hub within the monitor (and my connected Mic and USB-C external drive are functioning just fine).
The Price for Thunderbolt 4
As I mentioned earlier, TB4 is more expensive than USB-C, and you should not confuse the two or use them interchangeably. The HyperDrive Thunderbolt 4 Power Hub is a bit of an investment, but if you have Thunderbolt displays, you may want to invest in a nice TB4 hub to ensure you are using your monitors well.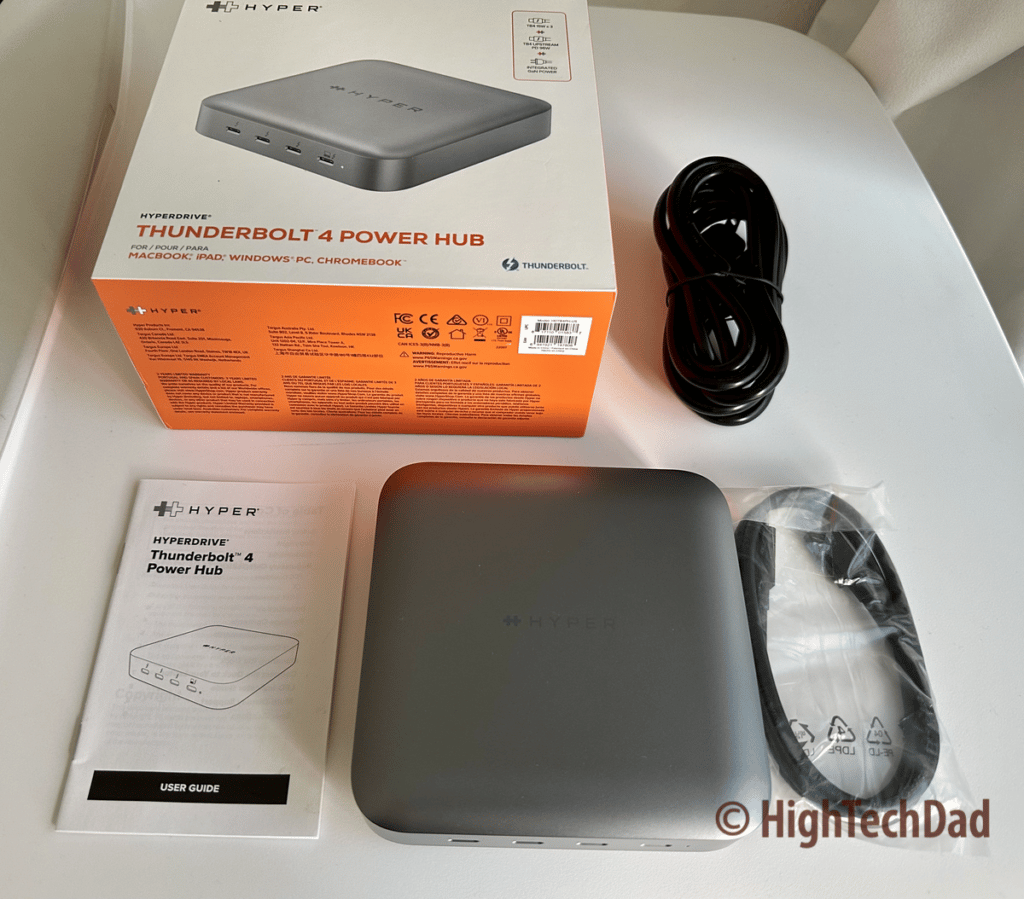 The HyperDrive Thunderbolt 4 Power Hub retails for $299.99. Since, as of the writing of this review, the Power Hub was recently released, it is not currently available on Amazon, but I expect it to be added in the coming weeks. 
Buy on HighTechDad.com
The product shown below (and related products that have been reviewed on HighTechDad) is available within the HighTechDad Shop. This review has all of the details about this particular product and you can order it directly by clicking on the Buy button or clicking on the image/title to view more. Be sure to review other products available in the HighTechDad Shop.
You can never have enough Thunderbolt ports, or USB-C for that matter. The nice thing about the HyperDrive Thunderbolt 4 Power Hub is that you essentially add in a bunch of extra TB4 ports to your existing assortment. While I did say that the Power Hub probably is a bit heavy and big for traveling, it probably is fine for commutes, especially given that it doesn't have a power brick attached to it, just a power cord. This is because of the GaN technology it is using inside. 
While I have yet to test file speed transfers as I don't have a Thunderbolt external hard drive (yet), only USB-C, my research indicates that the transfer speeds are quite good. And the fact that I use it for my Internet connectivity, a monitor, a USB-C hard drive, and a Mic shows that it can handle multiple data throughputs. Overall, this is a well-rounded, high-performing Thunderbolt 4 hub that provides 96W charging for Mac laptops as well, and it is backward compatible with USB-C devices.
Disclosure: I have a material connection because I received a sample of a product for consideration in preparing to review the product and write this content. I was/am not expected to return this item after my review period. All opinions within this article are my own and are typically not subject to editorial review from any 3rd party. Also, some of the links in the post above may be "affiliate" or "advertising" links. These may be automatically created or placed by me manually. This means if you click on the link and purchase the item (sometimes but not necessarily the product or service being reviewed), I will receive a small affiliate or advertising commission. More information can be found on my About page.
HTD says: If you suddenly find yourself lacking in Thunderbolt and/or USB-C hubs and you need to connect and daisy-chain Thunderbolt 4 monitors, hard drives, or other accessories, the HyperDrive Thunderbolt 4 Power Hub should be considered an essential addition to any home office or graphic/video design environment as it provides high-speed data connectivity and power across devices.
HighTechDad Rating
Ease-of-Use

Family-Friendly

Price Point

Features
Summary
If you suddenly find yourself lacking in Thunderbolt and/or USB-C hubs and you need to connect and daisy-chain Thunderbolt 4 monitors, hard drives, or other accessories, the HyperDrive Thunderbolt 4 Power Hub should be considered an essential addition to any home office or graphic/video design environment as it provides high-speed data connectivity and power across devices. This hub is not exactly inexpensive. But the important thing to remember is that this is NOT simply a USB-C hub. It is a Thunderbolt 4 hub which means that it has faster throughput and more capabilities (like daisy-chaining) than traditional USB-C. It is backward compatible to support your USB-C devices, though. However, if you are a graphic or video designer looking to connect multiple 4K monitors or a single 8K monitor and perhaps a high-performance Thunderbolt hard drive, this is a great hub for your work environment. And, for laptops, the single upstream PD (Power Delivery) port can charge your device. It has a clean design and elegantly integrates into your desktop environment. And, it is truly "driver-less" so you don't need additional software to power it. Simply plug and play!
Pros
3 upstream Thunderbolt 4 ports
1 downstream PD Thunderbolt port
Can charge your laptop up to 97W
Integrated power supply (no power brick) as it uses GaN
Cons
A bit pricy (but you are paying for Thunderbolt 4 – not USB-C)
Can be a bit finicky in some environments (have a single power supply connected to Mac only)