Ring lights, light rings, selfie lights (or whatever the name-of-the-day is for those round lights used for social media and influencer videos) are everywhere. With literally thousands of ring light options to choose from, what do you look for? Do you shop by price? Do you check to see if multiple color temperatures can be used? Do you look at the size of the ring or perhaps the type of smartphone mount? Do you ever think about the power requirements? It's evident that Sandmarc carefully considered the last question when they designed their Sandmarc Ring Light Wireless version. While their key feature is not unique or revolutionary, it is definitely logical and needed when it comes to filming videos on the go with your smartphone. (*Disclosure below.)
I have quite a few light rings in my possession. Some of them, I got for reviews while others were acquired by my daughters, and then the ring lights turned into "tech-me-downs" (the equivalent of hand-me-downs but for tech) to me. All of them pretty much have the same core functionality. Plug them into a power supply (wall plug or perhaps a portable battery) and turn them on or off. They also have adjustable brightness and color temperature (at least, the ones I have do, and those are core features I would recommend with any ring light).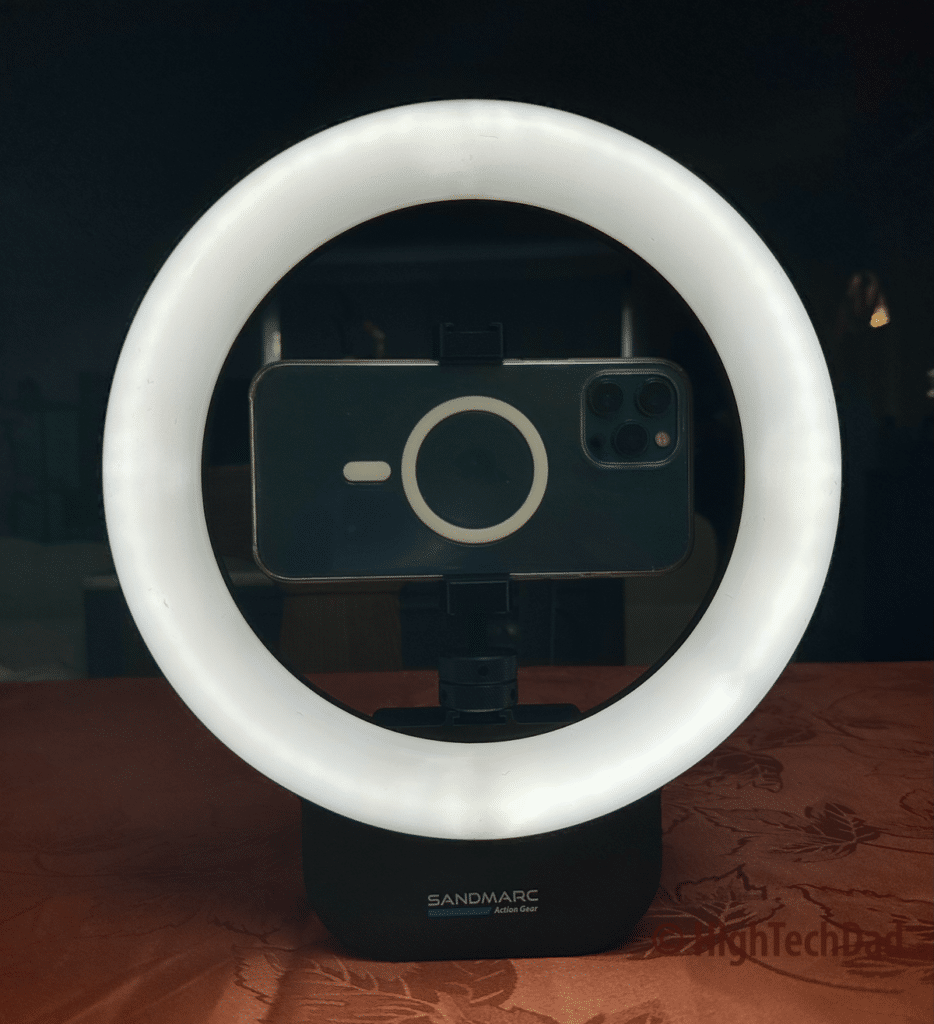 Table of Contents
A portable ring light solution is needed
Some ring lights have smartphone mounts or brackets to secure your smartphone in the center of the light ring circle. And some of those mounts are better than others in terms of stability and ease of use. Some cannot even handle some of the larger-sized smartphones now available on the market from a size and weight perspective. Earlier (and other) versions of these ring lights don't even have mounts for your smartphone, which means you either have to use them as secondary lighting or you have to have another tripod and smartphone mount available. That translates to having to carry around additional gear wherever you go to film.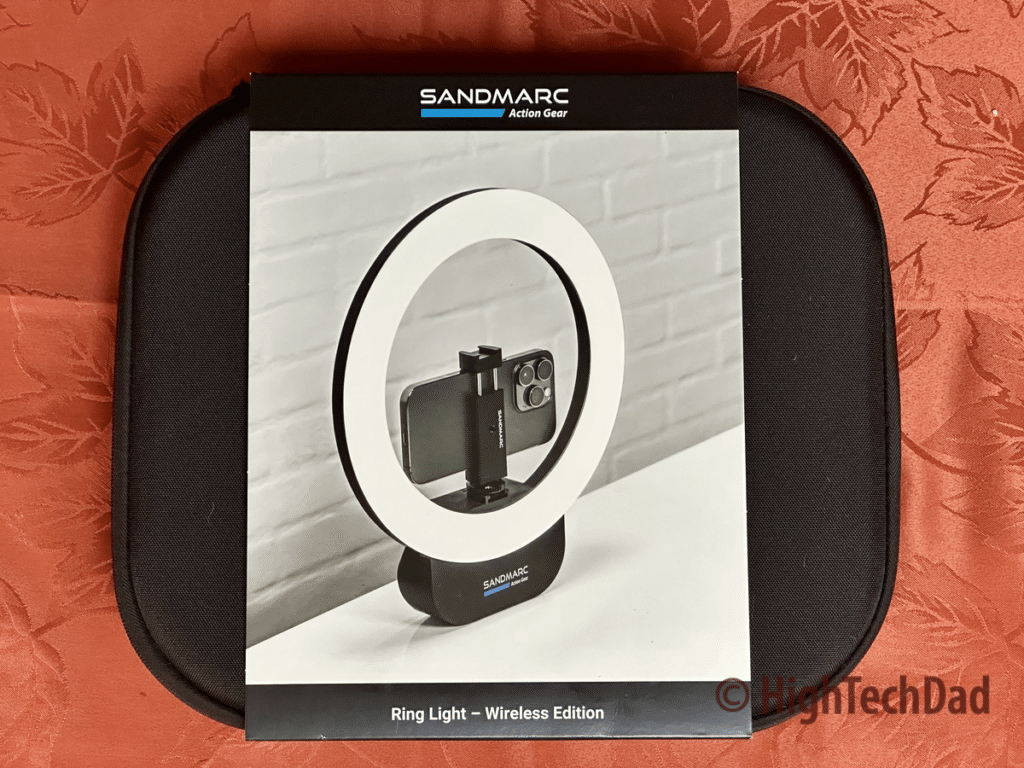 "Wherever you go to film" brings up an interesting point. If you do most of your filming at home or in an office, you are typically near some sort of power source. You can plug your light ring into a computer, wall plug, or battery, all attached to a USB cord. As soon as you need to do filming somewhere else, you suddenly need to figure out a means to have a portable power supply. This could be a portable battery or something like that. But again, this means carrying around additional equipment and cables. This is precisely the use case that Sandmarc had in mind when they developed the Sandmarc Ring Light Wireless.
What's "unique" about the Sandmarc Ring Light Wireless version
The Sandmarc Ring Light Wireless edition has some core features that somewhat differentiate itself from all the "traditional" ring lights currently cluttering the market. There is one important word that defines it: "self-contained" (ok, that is sort of two words). For starters, it is entirely wireless when you are on the go. Yes, it does require a wire and wall plug when you are charging the ring light's battery, but once it is charged, you can leave the cable and wall plug at home and take the Sandmarc Ring Light Wireless on the go.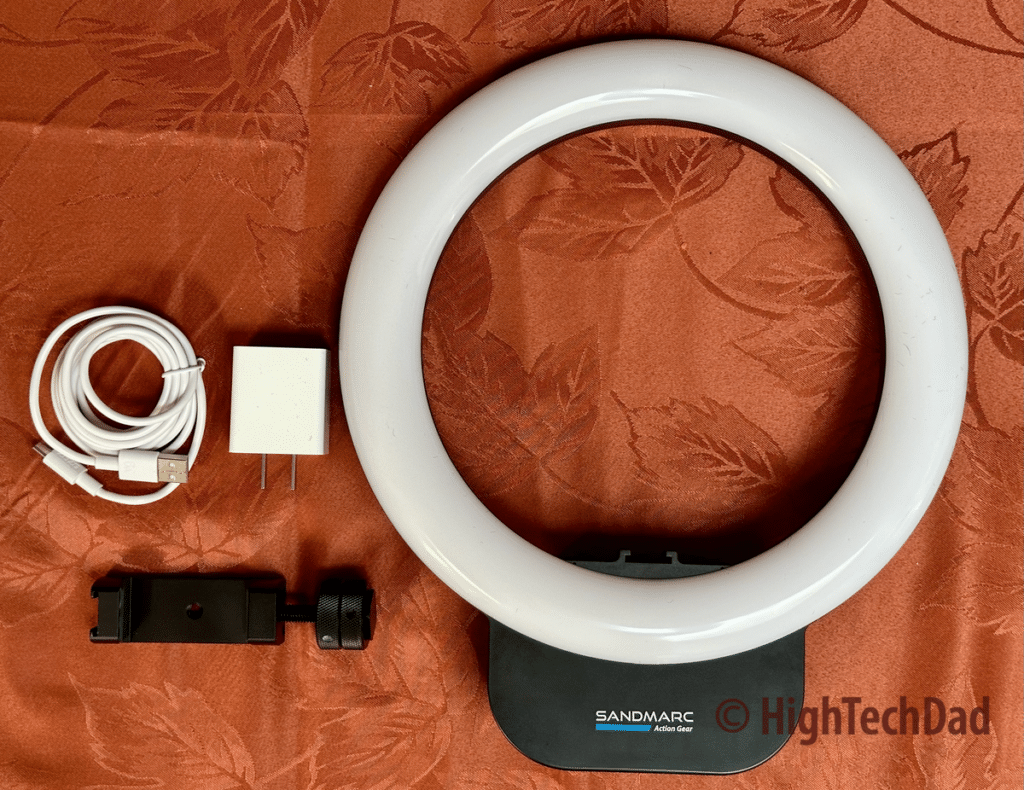 What is key here is the built-in battery, which can provide more than four hours of light, according to Sandmarc. Unfortunately, there are no official battery specifications on the product website, packaging, or product itself, so I cannot tell what the battery's capacity is. But, because the light ring uses LED lights and because the light ring itself is pretty lightweight (only weighs 460g), the internal battery is relatively small. For perspective, an iPhone Pro 14 Max weighs 240 grams. It is made out of very lightweight plastic (which does feel a bit fragile at times).
The lithium-polymer battery is obviously rechargeable. Included in the package is a USB-A to USB-C cable as well as a USB-A wall adapter. I tried using a USB-C to USB-C charging cable plugged into a higher-powered charging plug, and the Sandmarc didn't seem to like that (it wouldn't charge), so I recommend using lower-powered plugs or USB-A charging ports. And use a USB-A to USB-C cable. I tested a few options with USB-C to USB-C, and that combination did not work. However, using USB-A to USB-C seemed to work just fine.
Sandmarc Light Ring Options
I believe the light ring you choose should have two essential adjustments: color temperature and brightness. A nice optional adjustment (that the Sandmarc Light Ring Wireless does NOT have) is being able to adjust the color itself. That would require a different type of LED lighting and would increase the price. However, the Sandmarc has good, granular adjustments for color temperature and brightness. And the best thing is, there is a backlit display that tells you the levels of both of these adjustments and lets you easily adjust them on the fly.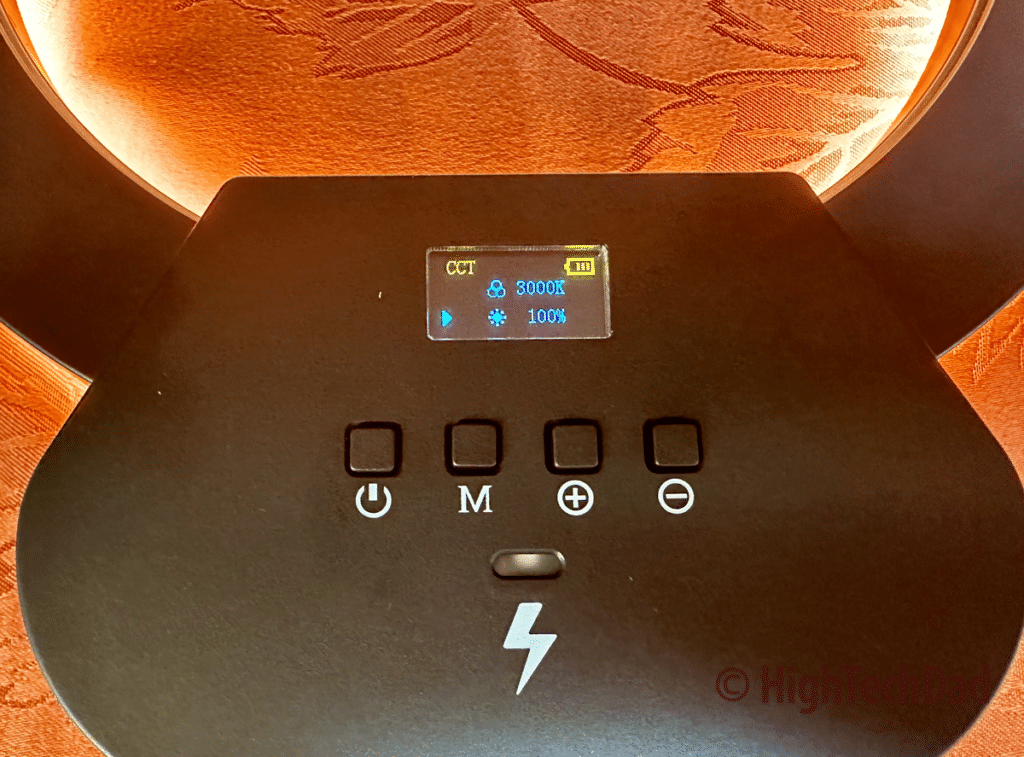 The color temperature range is between 3200K and 6500K, so you can easily go from warm to cool lighting. And there is an important thing to note. The website and product packaging state that the lowest warm temperature level is 3200K; however, using the backlit display, I got the warm level down to 3000K. I'm guessing the Sandmarc team may correct the website in the future.
The brightness can go from 100% to 1% in individual digit steps using the built-in display controls. And the total brightness (at half a meter) is 350 Lux. I found the brightness to be more than adequate, and the fact that it could be easily dialed up or down is quite important (just like you can change the temperature, you change the brightness in precise amounts, not "chunks").
As I mentioned, the mini display built into the back of the Sandmac Ring Light wireless is quite helpful. It shows the brightness and temperature levels and the current battery level. Directly below the display are four buttons – power, mode, plus, and minus. Press and hold the power button to turn the light ring on and off. Press the M (mode) button to toggle between brightness and color temperature. Then, use the plus or minus button to adjust either the brightness or temperature. The screen will indicate which mode you are in.
Below the buttons is a light to indicate the charging. When the Sandmarc is plugged in, the LED light is orange while it charges. When the internal battery is fully charged, it turns green.
Physical features of the Sandmarc Light Ring Wireless
When choosing a light ring, you should ensure it will fit your smartphone size. Larger smartphones are pretty darn big and even bigger with a protective case. The Sandmarc Light Ring Wireless has an internal diameter of 7.75″. From outer edge to outer edge, it is almost 10.5″. From the base to the top, it measures about 12″. Using an iPhone Pro Max with a case, the iPhone fits just fine within the ring.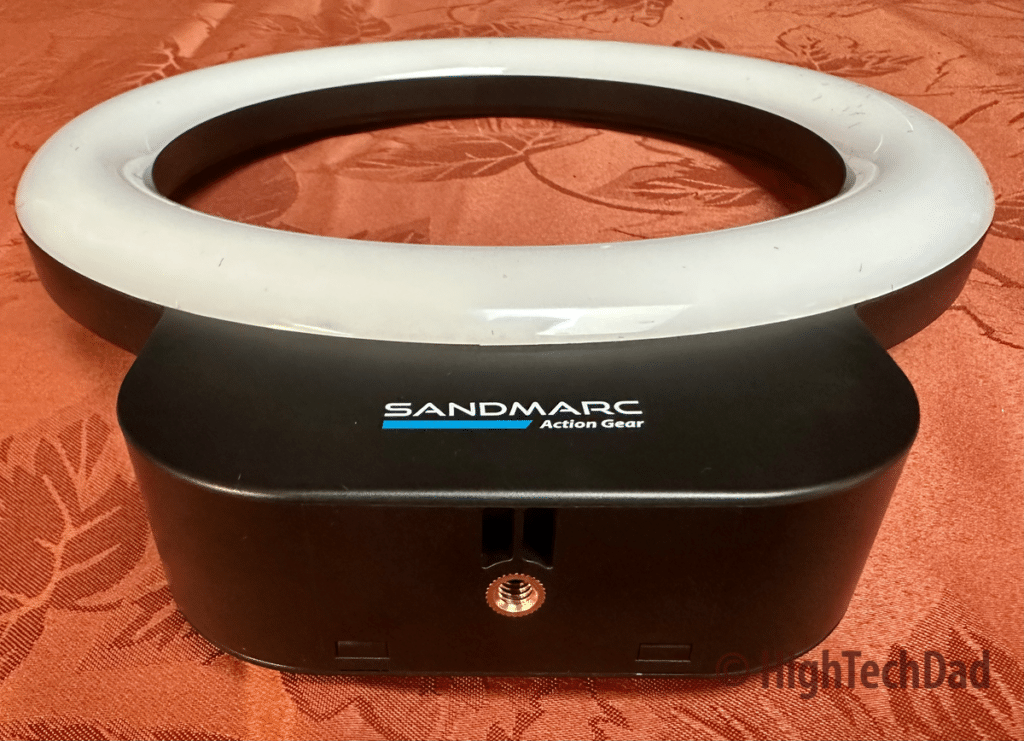 There is a detachable smartphone holder that has a spring-loaded clamp to hold your smartphone in place in the center of the ring. It is easily tightened down to hold it securely. And there is a standard attachment at the bottom of the Sandmarc Light Ring Wireless to attach it to a tripod. While Sandmarc does sell tripods that work directly with this ring light as part of a package, I was able to attach a quick-release tripod mount to the bottom to use my own tripod.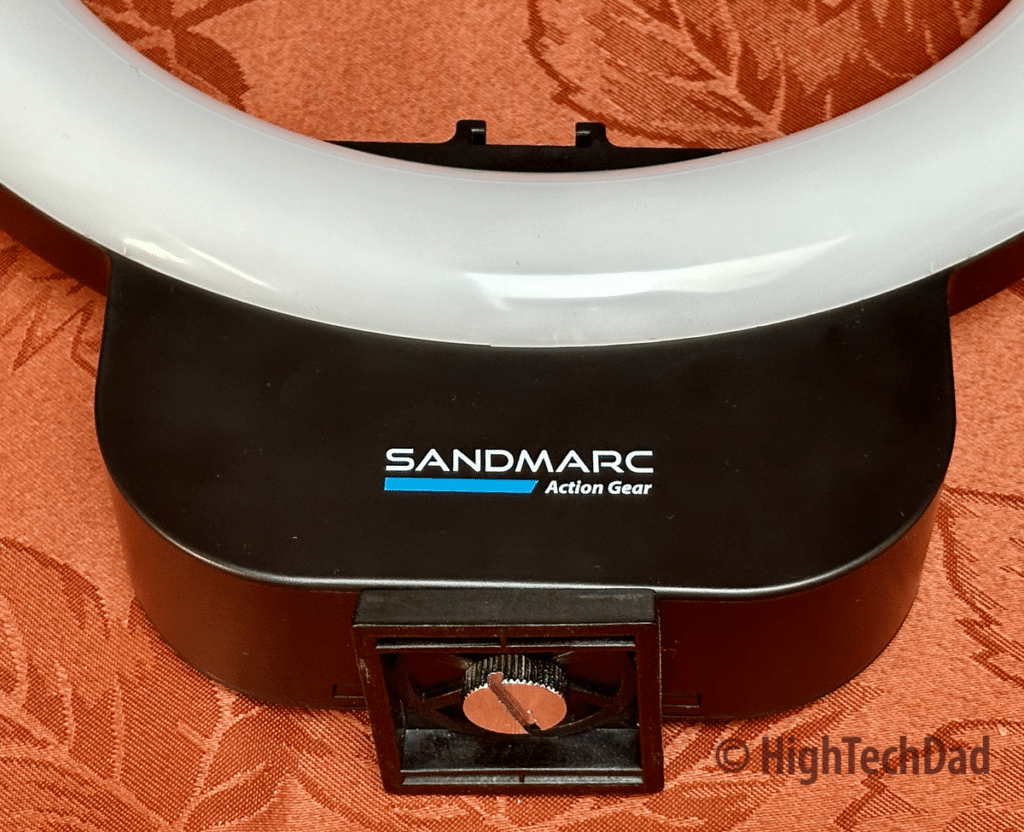 If you don't want to use a tripod, the Sandmarc base is flat and designed to sit on a table or a flat surface. This is highly convenient as most of the other ring lights I have used or own require a tripod (or they come with a tripod). So, with the Sandmarc, you can place it just about anywhere you need to have additional lighting, either forward-facing or as a side or even backlighting.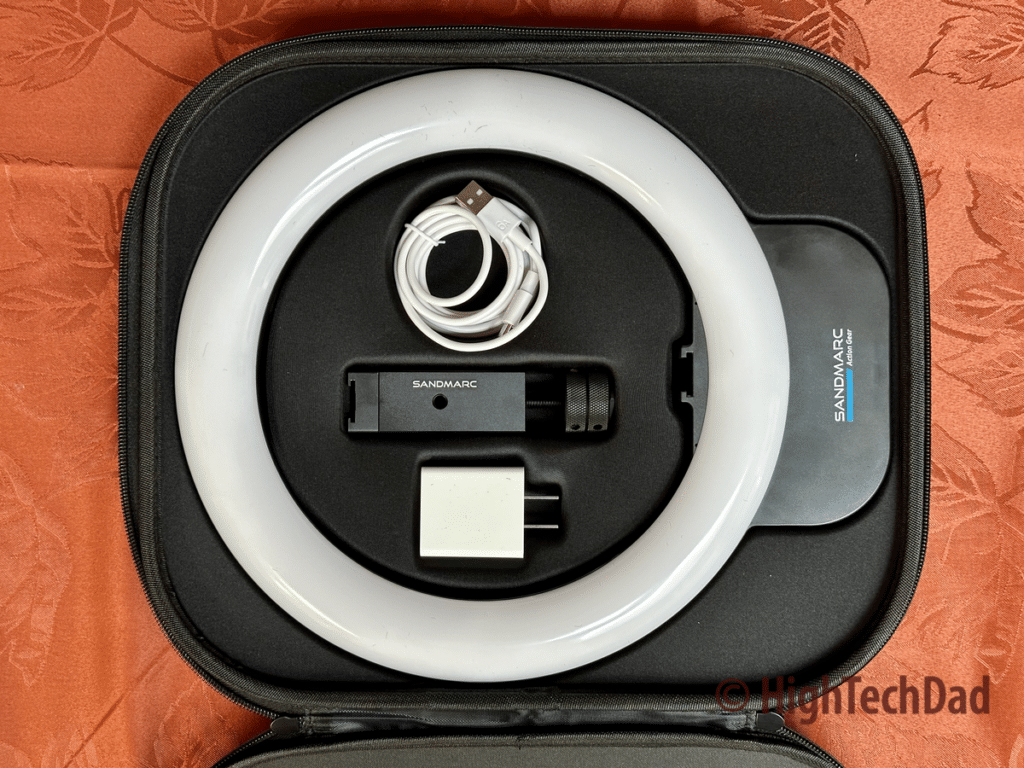 Lastly, a nice feature that the Sandmarc Ring Light Wireless has is that it comes with a protective, hard-shell carrying case. All of the items, like the charging cable, the smartphone mount, the charging wall plug, and, of course, the ring light itself, all fit securely and nicely into the foam-lined package, which zips up and has a carrying handle. As a complete package, it is ideal to simply take and go.
Pricing of the Sandmarc Ring Light Wireless
There are three options for getting the Sandmarc Ring Light Wireless. You can simply get the Ring Light, which comes with the case, cables, mount, and the light. Or you can opt for either the compact tripod with the Ring Light or the Pro Tripod that comes with the Ring Light.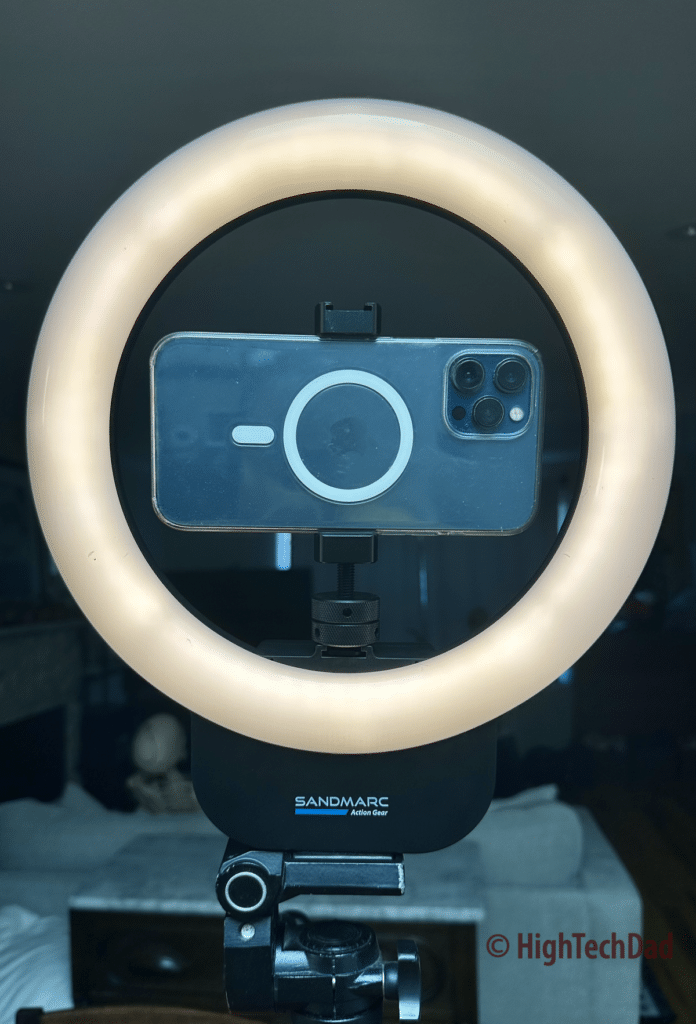 Pricing on the Sandmarc site is as follows:
The Ring Light Wireless is not yet available on Amazon, but you may want to look at the Sandmarc store on Amazon to see if it is available later.
The price for just the Ring Light is fairly reasonable for what you get (including the case). You may want to watch for sales or for the Ring Light to become available on Amazon. However, when evaluating the tripod option pricing, you might save a bit of money by using your own tripod and/or getting a quick-release mount for your existing tripod.
Shop on HighTechDad.com
The product shown below (and related products that have been reviewed on HighTechDad) is available within the HighTechDad Shop. This review has all of the details about this particular product and you can order it directly by clicking on the Buy button or clicking on the image/title to view more. Be sure to review other products available in the HighTechDad Shop.
If you are a videographer who uses your smartphone to record videos and are in need of a standalone ring light that is battery-powered, the Sandmarc Ring Light Wireless is a great option. The fact that it is self-contained and has a battery that can provide full brightness of warm or cool lighting for about four hours is a great selling point. And, since it has a carrying case, you simply need to charge the internal battery fully before heading out on a photo or video shoot.
Disclosure: I have a material connection because I received a sample of a product for consideration in preparing to review the product and write this content. I was/am not expected to return this item after my review period. All opinions within this article are my own and are typically not subject to editorial review from any 3rd party. Also, some of the links in the post above may be "affiliate" or "advertising" links. These may be automatically created or placed by me manually. This means if you click on the link and purchase the item (sometimes but not necessarily the product or service being reviewed), I will receive a small affiliate or advertising commission. More information can be found on my About page.
HTD says: Spend a little more on a ring light, and you get some great options. The Sandmarc Ring Light Wireless has an internal battery, provides color temperature and brightness controls directly on the device, holds your smartphone securely, and can be mounted on a tripod or sit flat on a table, making it the perfect companion for any photo or video shoot.
HighTechDad Rating
Ease-of-Use

Family-Friendly

Price Point

Features
Summary
Spend a little more on a ring light, and you get some great options. The Sandmarc Ring Light Wireless has an internal battery, provides color temperature and brightness controls directly on the device, holds your smartphone securely, and can be mounted on a tripod or sit flat on a table, making it the perfect companion for any photo or video shoot. Setup is extremely easy – just charge the internal battery using the included cable and wall plug. Then use the buttons on the back to power on and change the temperature and brightness settings. The light is quite bright at full brightness and is very portable, especially due to it coming with a carrying case. The mount for the smartphone in the center is quite secure. And you can optionally use your own tripod, making this a great videographer or influencer personal lighting device. The plastic is quite lightweight, which worries me slightly as it feels a bit fragile. However, the carrying case is a good protector, and it's nice that it is included.
Pros
Lightweight
Portable
Self-contained – no cords needed when using the light
Easy to adjust brightness/color temperature
Comes with a carrying case
Cons
Plastic is a bit flimsy
Tempermental charging (must use low-powered charge)
A bit pricey