Well this past weekend I ran into a rather confusing problem which I did manage to resolve, however, I'm not sure exactly how I resolved it nor what really caused it. I have some ideas on both the cause and resolution so I will try to work through those here. This all came when I tried to sync my iPhone to iTunes (on my Mac). I plugged it in and it started to sync and I got the rather cryptic error message (image below) saying: "iTunes could not sync <item>to the iPhone '<insert iPhone name>' because a sync session could not be started." For me, the <item> was my Bookmarks, supposedly, but in the end, it was Contacts as well.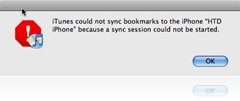 That makes a lot of sense, right? So, first my "environment"
iPhone was "supposed" to be syncing contacts through iTunes
Plaxo for Mac installed and syncing contacts (supposedly)
New version of Plaxo installed recently
MobileMe configured but not syncing anything
Last.fm recently installed
Some weirdness that was happening:
When syncing, I would get the error message about the bookmarks (above)
For a time, when I tried to select or unselect my bookmark toggle on the iTunes Info tab (under the iPhone) and click Apply, the toggle wouldn't stick
The same thing would happen when I tried to select the "Sync Address Book Contacts"; the toggle wouldn't stick
Under the address book setting in iTunes, none of the groups that I have set up within my Address Book were showing
None of my recently added Contacts in the iPhone had transferred over to my Address Book
Things that did NOT resolve my issue:
I tried Resetting the data on my iPhone using the Settings > General > Reset > Reset All Settings –> FAIL
Uninstalling Last.fm completely –> FAIL
Reconfiguring MobileMe to sync my Contacts and Bookmarks (later unconfigured) –> FAIL
Reboot Mac –> FAIL
Reboot iPhone –> FAIL
Rebuild permissions on Mac –> FAIL
What I DID do to resolve the issue (note, this worked for me and I'm not going to try to recreate the issue; I just wanted to document some steps that corrected the issue – it could have been a combination of things):
Disabled the Plaxo Mac syncing of contact –> that ALONE did not resolve but I wanted to eliminate that as an issue
Reset my iSync Sync History:

Simply launch iSync and go to the Preferences for it and click the "Reset Sync History" –> I think this was causing some of the issues, however, it didn't truly get my iPhone synching as expected until I ran the step below. This may work for some of you.
What I think WORKED. Ran a manual reset of my iSync using instructions found here. These are:

In the Finder, choose "Utilities" from the "Go" menu
Open "Terminal"
In the terminal, type in or paste (without quotes): "/System/Library/Frameworks/SyncServices.framework/Versions/A/Resources/resetsync.pl full"
Press "Return"
When complete, quit "Terminal"

After resetting the Sync, try launching iTunes again and connect your iPhone. When I did that, I suddenly was able to see my Address Book groups and the selection boxes were working. NOTE: I had to restart iTunes a few times to be sure that this took.
I have not yet re-enabled Plaxo. I wanted to be sure that all of my new Contacts that I added to my iPhone were syncing across properly. They finally were. And, my Bookmarks were syncing as expected.
If any of you are having similar issues AND one or all of the tips above worked, please leave a comment so that others can track the solutions to this issue.
Did you find this solution useful? If so: [paypal-donation reference="Sync Session"]
HTD says: Syncing is a pretty complex thing. When troubleshooting, just start eliminating other 3rd party items first, then go from there.