In my house, there is not only a battle for plugs to charge our smart devices, there is frequently a battle for portable batteries in case those plugs are all used up. In fact, my kids like the ability to not be physically tethered to a plug when they want to charge their iPhones. So, often we have mini, portable charging solutions on various tables around the house (think iPhone – charging cable – portable battery). But keeping those portable batteries fully charged all of the time slowly drains money from our electrical budget. So, why not tap into a free energy source to keep portable batteries charged? This is one of the great benefits of a new portable battery that I just tested, the Solartab. Oh, and does the name give you a hint of this great benefit? It's SOLAR POWERED!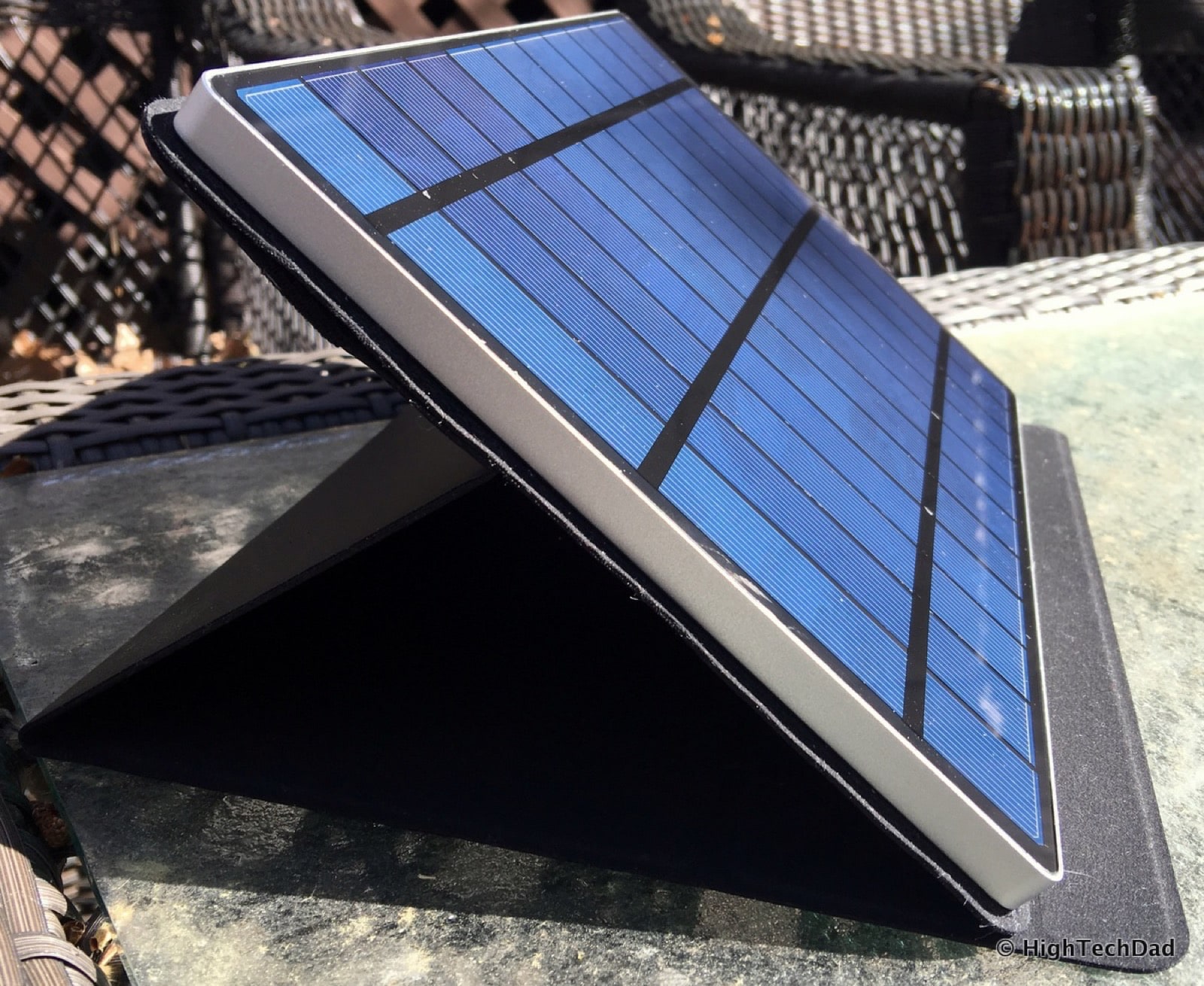 There are other pretty compelling benefits to the Solartab. Here are a few right off the top of my head:
It's solar powered (wait, did I already say that?)
It has a massive capacity – 13,000 mAh (that's milli-Amps hours)
Unique tablet-sized form factor
Dual 2.1A 5V USB output charging ports
Indicators galore (charging for both output ports, input port charging, solar charging & battery level)
Ability to plug in the wall to charge
Reasonable price point
Read on for some more of my thoughts on the Solartab. But first, here is a quick video review (direct link to YouTube):
Here are the details!
Solartab Details
I have tested a wide variety of portable batteries in the past. Some are very high capacity but require a wall-plug to charge them up. Others are quite portable, but have a smaller capacity. And a few are even solar-powered, but again, don't hold that much of a charge.
Because of the larger form factor of the Solartab (it is almost identical in dimensions as an Apple iPad), this allows for there to be a large solar panel to capture the sun's free energy. My sample came fully charged and I worked hard to try to drain it so that I could test the solar charging capabilities. Eventually, once the Solartab was fairly drained, I propped it up out in the direct sunlight to charge it back up.
To set some realistic expectations here, solar charging of any device takes time. It's best to start early in the morning and keep rotating the Solartab to face the direct sun. Even with this process, you need to pretty much allow for a full day's worth of direct sunlight to fully charge the 13,000 mAh battery.
Let's talk about the battery. 13,000 mAh is pretty darn big (albeit, not the largest on the market). For comparison, an iPhone 6S Plus has a 2750 mAh battery. The new Samsung Galaxy S7 edge has an even larger battery at 3600 mAh. So, conceivably, the Solartab could charge the iPhone almost 5 times and the Galaxy S7 almost 4 times.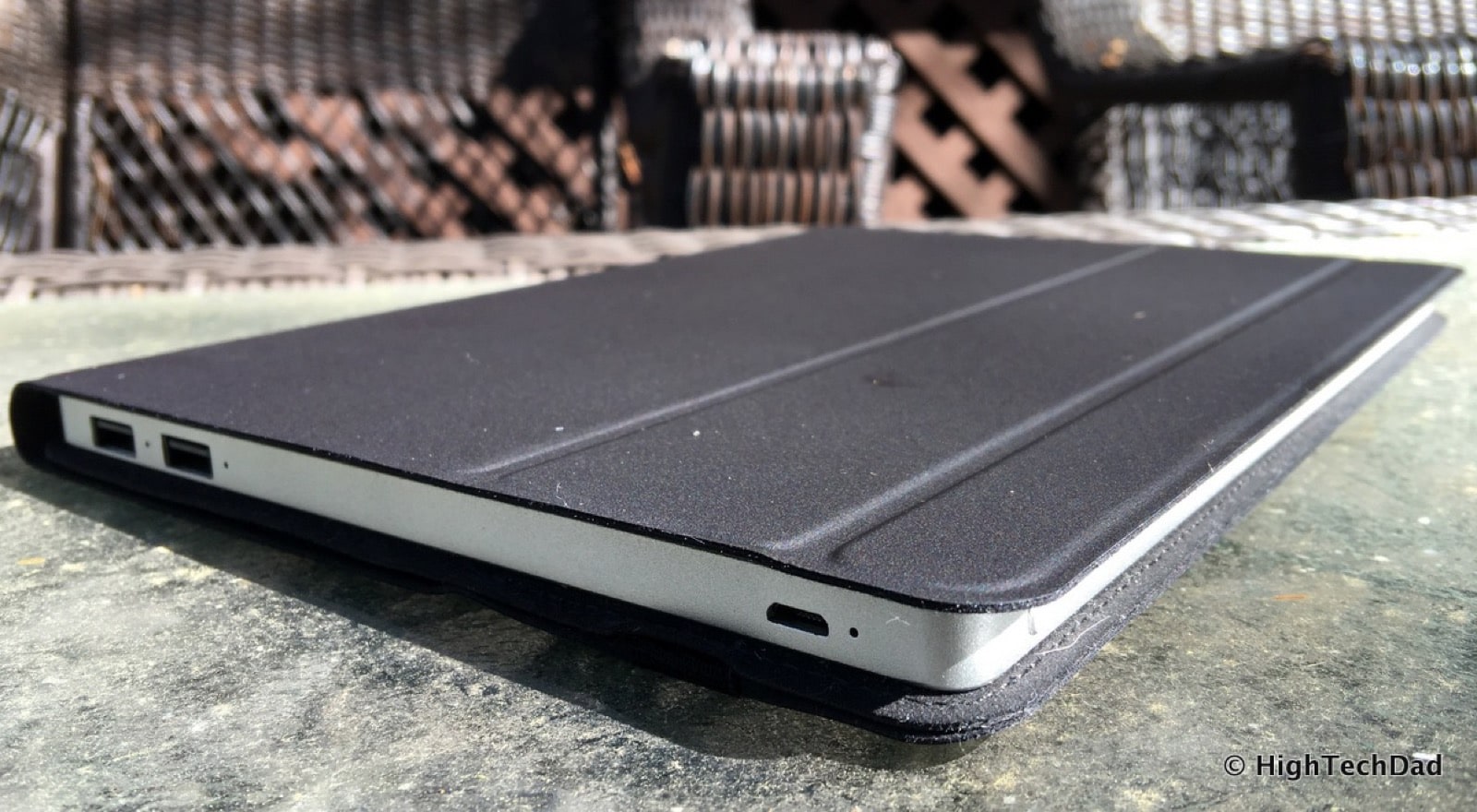 What jumps out at you about the Solartab is the form factor. It was designed to have pretty much the same physical footprint as a tablet (think an original iPad or iPad Air). It is 9.7" long by 7.6" wide by 0.35" thick. It has an integrated cover to protect the panel when it's being carried. The cover also acts as a stand so that the solar panel can be angled in 3 ways to face the sun. When the cover is closed, the Solartab looks pretty much identical to a tablet in a case. And when the cover is closed, you still have access to all of the indicators and charging ports from the side. It weighs a bit over 2 pounds.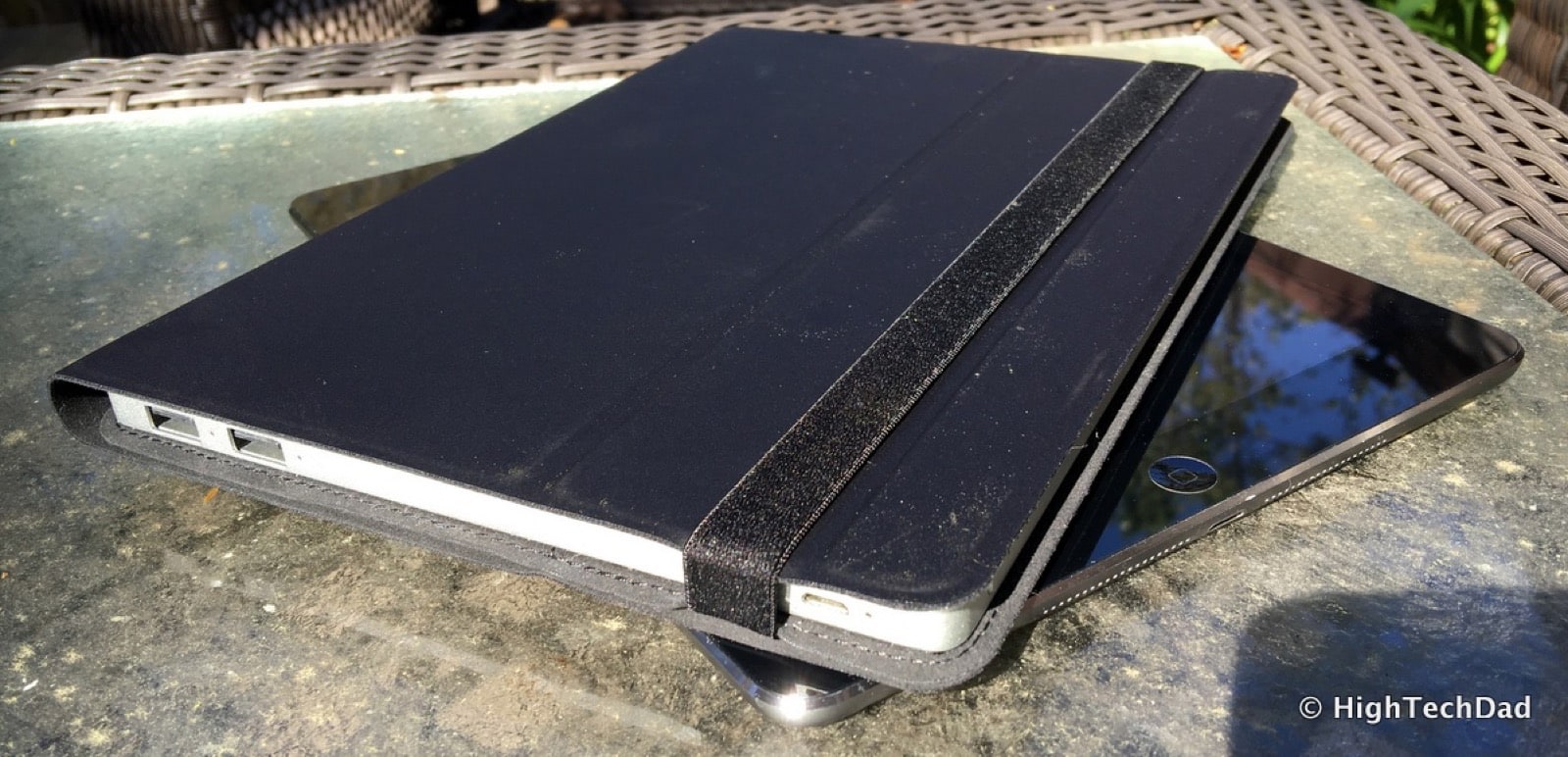 There are 3 ports (two USB outputs and one micro USB input) on the Solartab. The two USB output ports are 2.1A 5V which means it could charge an iPhone 6 in about 1.5 hours or an iPad Air 2 in 4 hours. And there is a micro USB port for wall charging (with a cable and charger for that) which is rated at 1.5A 5V.
One nice thing that I liked about the Solartab is the number of various indicators. For starters, each of the USB outputs have a green light that turns on when a connected device is charging. Also, should you want to charge the Solartab via a wall plug, there is a charging indicator for that as well. There is a power button that, when pressed, will light up between 1 and 4 lights depending on the charge level of the Solartab's internal battery.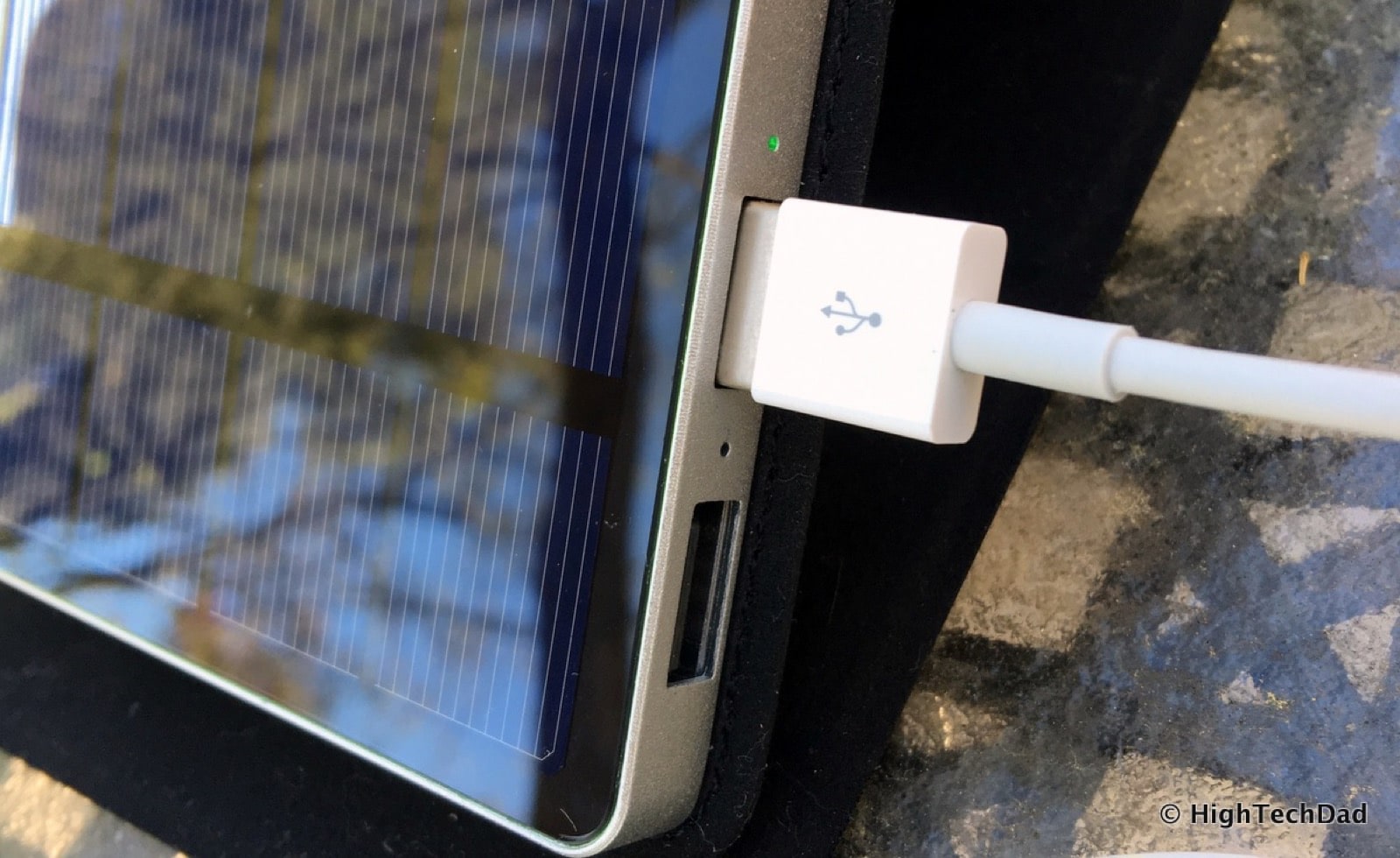 And lastly, the most important indicator is the one that indicates if it is being charged by the sun. This is not a green light like the others but rather a white one. I noticed that when directly facing the sun for optimal charging positioning, the white light is fairly bright. If the solar panel is partially covered, or if the angle towards the sun is not optimal, the white light is a bit dimmer. So you do get an indication on how well your solar charging performance is.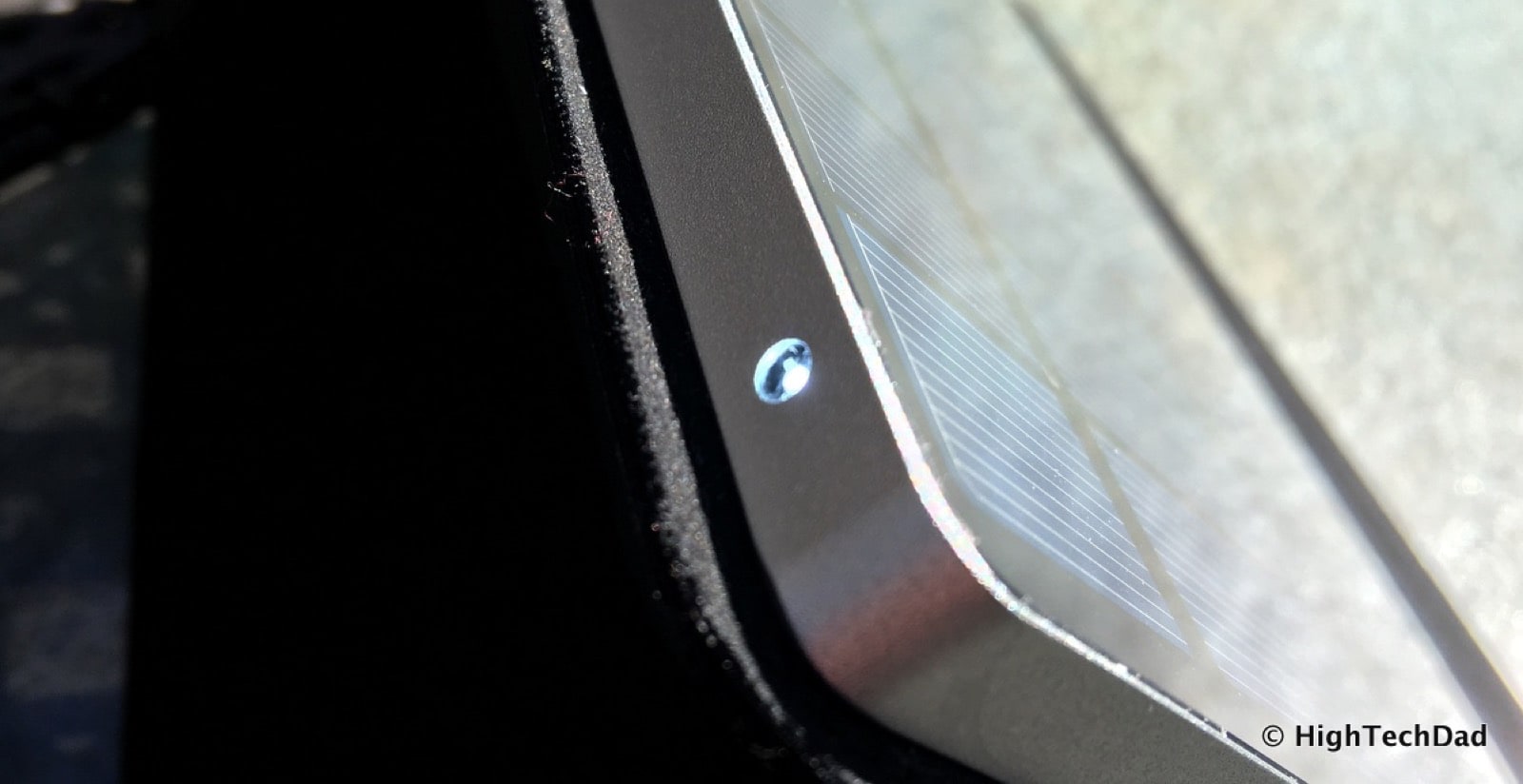 As I mentioned, if you don't have access to the sun's free power, you can optionally plug the Solartab into the wall. It's nice to have that as an option, especially if you need to charge at night or if it's a cloudy day.
Lastly, let's talk pricing here. The Solartab originally retails for $129 but as of this writing is on sale on Amazon for $97. While it is not the cheapest solar-powered battery on the market by any means, I feel the price is justified by the design, the size of the battery, and how it easily fits along side a tablet when carried. The fact that it can charge via the sun's energy is a definite plus.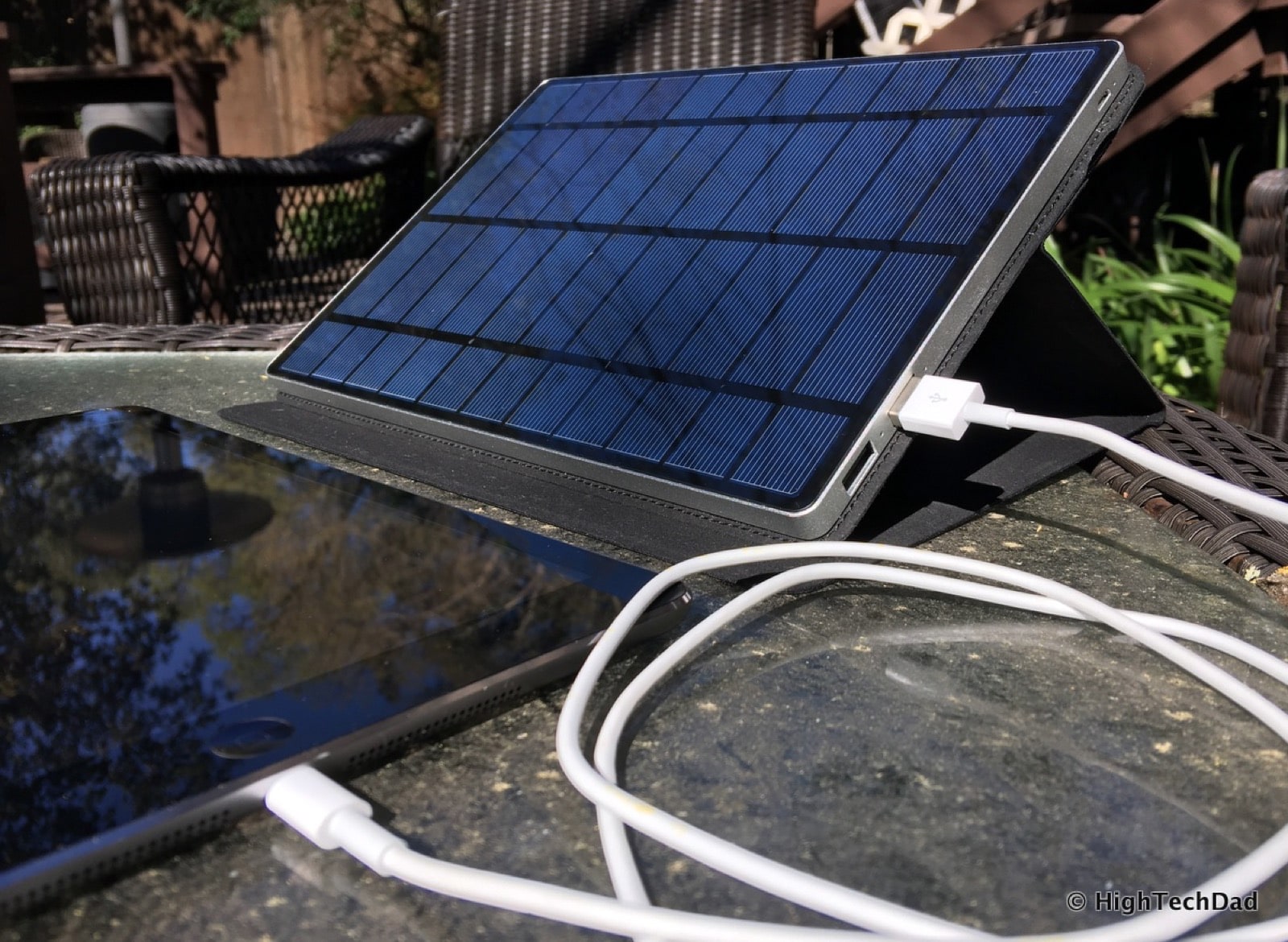 Solartab was originally launched as a Kickstarter campaign with an initial goal of $30,000. It actually received $61,419 worth of pledges during its funding period of 4/2/14-4/30/14 (27 days). It is nice seeing that crowdfunded products do actually see the light of day – PUN INTENDED!
[StandardDisclosure]
HTD says: Take advantage of the free energy of the sun with the solar-powered portable battery that is Solartab!
HighTechDad's Ratings
Ease-of-Use

Family-Friendly

Price Point

Features
Summary
Take advantage of the free energy of the sun with the solar-powered portable battery that is Solartab! Of course, free energy is great. I know that the Solartab team is currently developing an updated version of this product with USB-C. While you can get plenty of batteries with the same capacity for less money, most of those require you to draw power from the wall and not the sun. The form factor for the SolarTab is nice since it mirrors the size of a tablet. This is great for an outdoors-oriented family (think an essential for camping). And it's a good emergency charger to have.