One of the biggest arguments I have with my kids is not about going to bed, or cleaning their rooms, or doing their homework. It's actually about finding who had stolen my iPhone charger cords. I have this tangled mess of cords next to my bed to charge my iPhone and iPad. My wife hates the tangled mess as well. But it is my kids who really irk me. As I also have some portable batteries charging nearby, they have decided that it's totally fine that they take my cables and plug in their phones to a portable battery. The problem is, at the end of the day, the cords are still missing and I have to yell at them to bring them back. I have even resorted to labeling my cables "Daddy's cable – Do Not Take!" but that doesn't really work either. But there actually is a solution to my cord madness. There is a wireless charging standard called Qi (pronounced "CHEE) that enables you to go cord-free when it comes to charging your devices.
Qi is the solution to many smartphone owners' madness. Losing a charging cable means having a smartphone that is dead and of no use to you. And charging cables, whether they be Apple's Lightning cable or the Micro-USB cables that Android phones rely on, are not built to last. I can't tell you how many times I have simply had to throw out a cable because it simply stopped working. And if you drive, that means you have to bring a cable with you or have one always connected in the car. And keeping track of working cables is a nightmare. Cables seem to disappear much the same way socks lose their pairs in the laundry. UGH!
This is where Qi comes to the rescue! Qi, as I said, is a standard developed by the Wireless Power Consortium which was founded in 2008 to develop a standard that a variety of companies could utilize for wireless charging solutions. While some smartphone and tablet manufacturers have built Qi technology directly into their products, there are some smartphone makers…eh hem, like Apple, who have yet to adopt this standard as a better option to charging. And Qi is being built into other items, far removed from smart devices actually.
Qi uses what is called a combination of inductive charging (think about those cordless toothbrushes that charge in a base) with resonant charging which builds on the inductive concept but eliminates the requirement of needing close contact. This combination means that other manufacturers can build wireless charging solutions into a wider range of objects, like tables or nightstands or lamps, where the distance between the device and the wireless charging pad or area is a bit greater.
Qi is currently backed by over 200 developers and this base is growing quickly as more companies realize the benefits to consumers on wireless charging. In fact, coffee houses and other public areas have Qi technology built into their environments, allowing you to charge your device by just putting in on a table while you enjoy your latte, for example.
Qi Hands-on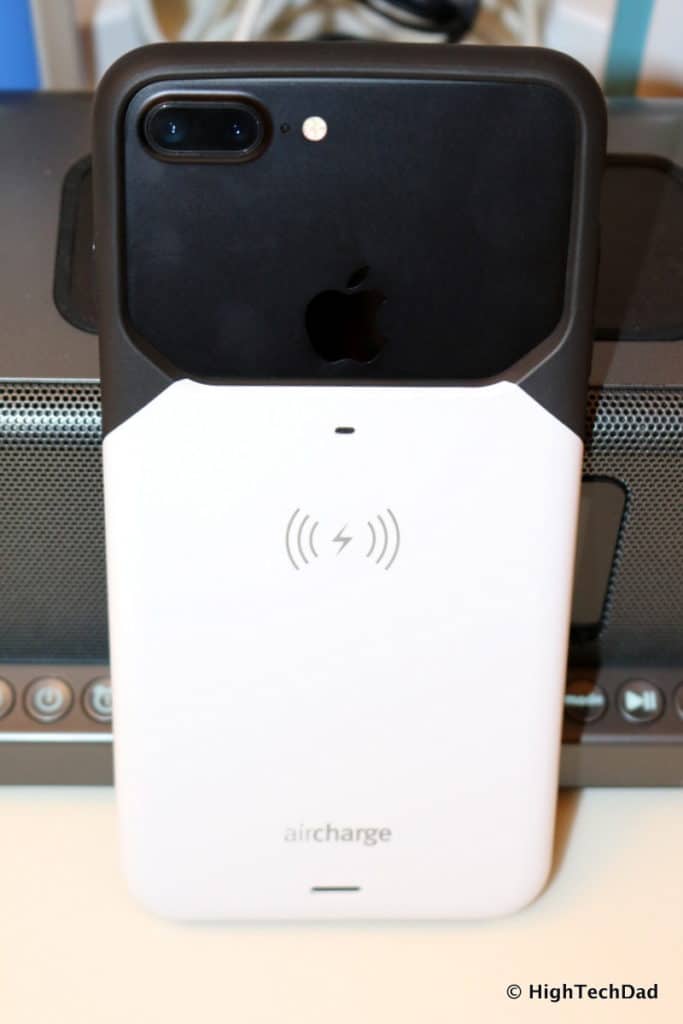 As part of this sponsored article, I was given three items that use Qi. My biggest problem was that my house only has iPhones (which don't support wireless charging…yet). But actually, they do. You can get iPhone cases which not only wrap your iPhone in protection, they also plug into the Lightning charger slot and enable Qi wireless charging for those devices.
First, I had to Qi-enable my iPhone 7 Plus. For that, I started with the Aircharge Wireless Charging Case. Not only does this case protect the iPhone, it gives you the power of Qi. It's relatively easy to slip on (and off) and there is a tiny Lightning connector in the case to power the wireless charging capability. Mophie recently introduced a battery case for the iPhone which also supports Qi charging. (That seems to be the ideal solution for someone on-the-go, battery AND wireless charging!)
So, with my iPhone 7 Plus Qi-enabled with the Aircharge case, I needed a source to power it. Another product supplied to me for the purposes of this article was the iHome iBN350 which is a great gadget to have honestly. It is a Bluetooth-connected, clock radio complete with quite powerful speakers, NFC-connectivity, a built-in mic (so you can do speakerphone calls with your Bluetooth-connected smartphone), Aux-in jack and a USB-port for charging, and, most importantly, it is Qi-certified with a charging area directly on top.
I placed the iBN350 in our bathroom (next to two other inductive devices – our cordless toothbrushes). We have a tablet handy to stream shows or movies, using the iHome speaker. But now, I can actually put my iPhone (with the Aircharge case) directly on top of the iBN350 to fully charge my iPhone while I'm getting ready for the day.
Just placing my iPhone on top of the iBN350 is all it takes. I hear the tone as the iPhone starts charging, as if by magic. No cords. No clutter. Just wireless charging!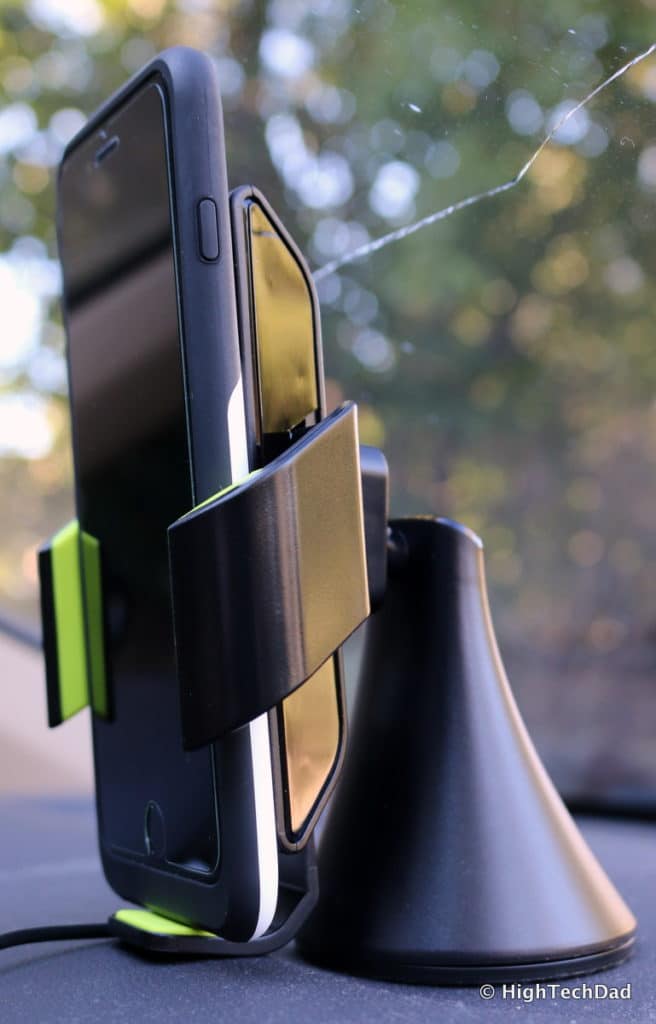 Another item I received for this review was a smartphone holder for my car. Made by TYLT, the Vü wireless charging car mount (model: VUCARG-T), this mount offers not only a was to secure your smartphone to your dashboard, it also provides wireless charging via Qi. While the mount does require it to be plugged into a cigarette lighter port (and there is a cord involved for that), when you put in your Qi-enabled device, it will automatically start charging it when your vehicle is on. And if you need to charge a…errr…USB-corded device, there is a USB port for that.
As I mentioned, there are many items that now support Qi. If you are thinking about a full day of charging ability, you can start with the items I mentioned above. While getting ready for work, put your Qi-powered device on the iPhone iBN350. As you drive to work, use the TYLT car mount. And on the way into the office, head over to a coffee shop that has a table with Qi embedded. When you are in the office, put your smartphone on the IKEA RIGGAD lamp which has Qi in the base. And when you are getting ready for bed, you can just put your smartphone onto the IKEA NORDLI nightstand which had Qi built in as well.
If you are curious about how Qi wireless charging works from a geekier perspective, take a look at this article from All About Circuits which explains the differences between Inductive mode and Resonant mode.
Regardless, for now, I think I have headed off the battle with my kids over charging cords. I have a secret, more modern weapon which makes those cables obsolete. And my blood pressure will be a bit lower knowing that I simply don't need charging cords. I can just put my iPhone on top of my Qi charger (and yes, you can get simple stand-alone Qi pads that are just for charging and nothing more).
Disclosure: This is a sponsored conversation written by me on behalf of Wireless Power Consortium. I have a material connection because I received a gift, sample of a product or service, and monetary compensation for consideration in preparing to review the product/service and write this content. I was/am not expected to return this item or gift after my review period. All opinions within this article are my own and are typically not subject to the editorial review from any 3rd party. Also, some of the links in the post above may be "affiliate" or "advertising" links. These may be automatically created or placed by me manually. This means if you click on the link and purchase the item (sometimes but not necessarily the product or service being reviewed), I will receive a small affiliate or advertising commission. More information can be found on my About page.
HTD says: "Cord-cutting" goes well beyond the TV. With Qi, now smart devices like phones and tablets can take advantage of wireless charging, eliminating the need to find or carry a charging cable with you all the time.
This is a sponsored conversation written by me on behalf of Wireless Power Consortium. The opinions and text are all mine.

[AMAZONPRODUCTS asin="B019EFG7NA"]
[AMAZONPRODUCTS asin="B00QJ9AH8G"]