Do you know how a speaker works? Or do you just sit back and listen to the sound coming from a box or tube? The physics behind moving air in regulated patterns is fascinating. (Oh, and by the way, all of those space movies and TV shows are breaking the laws of physics since space is airless and sound waves cannot travel through a vacuum – that explosion you hear in the movies? That's Hollywood at its finest! But I digress.) A majority of speakers on the market today use this process of a flexible dome or cone vibrating and moving air to produce sound. But there are some other speakers, like the BenQ treVolo S, that employ a newer and different type of technology to produce rich, crisp, and clear sound. It's an electrostatic speaker. How does it work? And more importantly, how does it sound? Read on for more! Updated: there is a limited-time 10% Amazon discount code below! (*Disclosure below)
Before I dive into my review of the BenQ treVolo S electrostatic speaker, let's do a quick explainer on how traditional speakers (electromagnetic) and electrostatic speakers work. First, let's talk about electromagnetic speakers. The concept is fairly simple. There are 3 fundamental parts to an electromagnetic speaker: the cone, the coil, and the magnet. The cone is on the front of the speaker which consists of fabric or paper or a flexible material. You can think of the cone as a type of drum. The outer part of the cone is essentially fixed to the full speaker, making it immobile. And the inner part (more at the center) is attached to an iron coil which, in turn, is in front of a magnet. The magnet is attached to the back of the speaker, also immobile. So, the only part that moves is the inner part of the cone that has the iron coil.
The sound is then converted into electric pulses which run through the speaker and coil. When the electricity changes, it basically turns the coil into a temporary magnet (or electromagnet). When that happens, the magnetized (or demagnetized) coil is either attracted to repelled by the magnetic field. The resulting moving cone then sends sound waves through the air by moving it.
I know this is a bit over-simplified, but that is essentially how it works. The little animation below illustrates this well.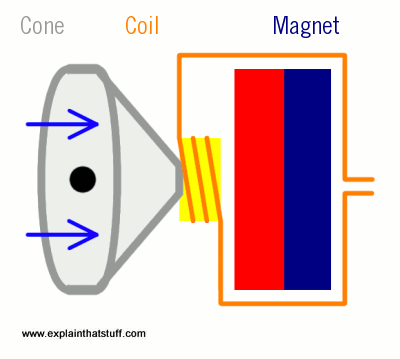 Volume, highs, and lows depend on a couple of factors as well: the size of the cone and how much the cone vibrates (more vibration = louder sound). Larger cones move more slowly than smaller ones; large cones are typically known as woofers (for the bass) and small cones are called tweeters (for mids and highs).
Hopefully, this all makes some sense. Interestingly, electrostatic speakers use different concept and implementation which results in different sound quality and the ability to have flatter designs. Also interesting is the fact that this technology is really not that new. The patent was filed back in 1933. Electrostatic speakers use a super-thin, but large surface area diaphragm (what I called the cone previously). This surface is covered with a conductive material that is sandwiched between two electrically conductive grids. Missing from this physics equation is magnetism. The conductive grids or panels are charged via an electrical current which, in turn, creates an electric field with one end being positive and another being negative. In this case, the audio signal is run as a current through the diaphragm panel (the one sandwiched or suspended between the conductive grids). As the current changes positively or negatively (which happens rapidly), the panel is attracted to either the positive or negative end of the field.
Similar to the electromagnetic speaker, as the diaphragm (or cone) vibrates the air, it creates sound. But this is where the difference between the two technologies comes out. Electrostatic speakers, because they are low mass, can vibrate extremely quickly and precisely as the audio signal changes. What this means to the listener is that the sound is clearer, crisper, and extremely accurate. This is great for mids and highs, but not so much so for bass simply because with bass, more movement is required to move more air – something that the electrostatic speakers don't really do. (More about how the BenQ treVolo S overcomes this shortly.)
So, now you should be a bit more knowledgeable on how electromagnetic and electrostatic speakers work. Let's take a look at the BenQ treVolo S.
A Hybrid Speaker – the BenQ treVolo S
While the BenQ treVolo S is being marketed as an electrostatic speaker, it is, in reality, more of a hybrid speaker, taking the best capabilities of both types of speakers. For mids and highs, it relies on the electrostatic implementation (with the fold out "wings" being electrostatic) but the main body which houses the 18-hour battery among other things has two 12W woofers to help with the bass (as well as dual amplifiers).
When I originally unboxed the treVolo S, it just looked like any other portable Bluetooth speaker out there. It looks like a box. That is until you fold out the two electrostatic speakers. Even open, it is compact. It was heavier than I expected (weighs about 2.2 lbs.), but this is due to it also having an 18-hour playback battery (untested). Before I go into the usage and my opinions, let's geek out a bit on the technical specs:
Frequency Response: 60Hz – 20kHz
Bluetooth 4.2
NFC for Bluetooth pairing
Input types: 3.5mm stereo input and USB (DAC) audio
Two sound modes (Pure and 3D)
No microphone
Rechargeable lithium-ion battery ~18 hours playback after a 2.5-3 hours charge
63.2 x 157.5 x 96.3mm (2.5" x 6.2" x 3.8")
The top of the treVolo S has 6 main control buttons:
Power
Bluetooth
Volume Up
Volume Down
Play/Pause
Mode
On the back of the treVolo S is a micro USB port for connecting to a computer. If you use this method to get your audio signal, you use pure digital audio transmission (DAC) which is better fidelity and supports up to 48kHz. (Obviously, there is also the more wires-free connection option using Bluetooth.) This micro USB port is also used for charging. One nice thing about having an onboard battery is that you can play back audio AND charge the battery at the same time. The battery acts as the primary power source.
My first test of the treVolo S was to simply pair it with my iPhone. My tests are not very scientific. I really try to focus on "real-world" scenarios. So one of them is just pairing via Bluetooth and streaming audio. In this particular test, I didn't worry about the placement of the speaker. At times it was next to me or somewhere in a room. The sound was definitely quite good. But, one of the things I immediately noticed, something that is common for all electrostatic speakers, is that the max volume was not as high or loud as traditional electromagnetic speakers. Again, simply because of the technology I described earlier, this is too be expected. The treVolo S is not about huge, booming volume and bass, it's more about providing distortion-free sound that is extremely accurate.
In order to test out accuracy, I decided to be a bit more "scientific." For the review, BenQ provided a listening plan as well as some sample audio files. They also recommended placing the speaker at ear/eye level in front of me and then test out the various files. And, I decided to take advantage of the DAC and lossless audio (like WAV format) for those tests. Here's what I found.
So first of all, I connected the treVolo vis a micro USB cable. Unfortunately, while the treVolo did charge, my Mac didn't recognize the speaker initially. So first thought was, was the treVolo S connected via Bluetooth to something already. It turns out it was. So I had my wife disconnect her Bluetooth connection. But, then at the same time (non-scientifically), I decided to test a different micro USB cable. In the end, and unfortunately, I don't know which it was, the connection via USB to my Mac worked fine.
I then worked through all of the songs. They range from high vocals to guitar music to concerts to pop music. Each music example was to show the power and clarity of the BenQ treVolo S. I was directly opposite the speaker, with the speaker backed against the wall (as recommended by BenQ), and slightly below my eye level. I had each of the songs slightly below full volume (but I did test full volume and noticed absolutely no distortion whatsoever).
My initial impression was quite positive. The vocals were incredibly clear and crisp. The lows were pretty good, obviously being driven by the two electromagnetic 12W woofers. For an audiophile looking to get accurate sound reproduction from lossless audio, using the USB connection (instead of Bluetooth) should produce the best effects. Also, in my testing, I used the 3D button to turn on the 3D effect which did seem to expand into the room better as well as provide a richer sound with slightly more bass. The 3D mode is particularly good when listening to dialog from a movie.
But one thing I should point out as I mentioned before. Even with the USB connection and 3D audio on, the volume is not as high as with traditional electromagnetic speakers. And, as I said, this is to be expected since it is physically more difficult to get higher vibrations (e.g., moving more air and subsequent louder sound). That being said, if you are looking for a speaker with booming bass that can really rock (like in an outdoor environment), the treVolo S might not be for you. However, if you are planning to use indoors at moderate volume, and will be connecting directly to a computer (or even just Bluetooth which also is fine), AND you want an extremely high-fidelity and accurate sound, the BenQ treVolo S is an amazing portable speaker for your needs.
Lastly, and this is not something I was able to test, it has various playback modes (controlled by a smartphone app). You can have it as a standalone speaker (which is what I did). But you can also have Party Mode where two speakers are paired and provide left and right audio from each speaker. Or you can use Stereo Mode which allows you to dedicate one entire treVolo S to a left channel and another one to a right channel.
The BenQ treVolo S retails for $199 and is available on Amazon currently for $199 as well. It comes in white (as shown in this review) or black.
Updated: Want to save an additional 10%? I have a limited-time only promo code for US Amazon purchases. Just enter Z7Y9JBD3 at checkout on Amazon! (This code is valid from 7/15/2018 to 10/15/2018.)
Shop on HighTechDad
The product shown below (and related products that have been reviewed on HighTechDad) is available within the HighTechDad Shop. This review has all of the details about this particular product and you can order it directly by clicking on the Buy button or clicking on the image/title to view more. Be sure to review other products available in the HighTechDad Shop.
Disclosure: I have a material connection because I received a sample of a product for consideration in preparing to review the product and write this content. I was/am not expected to return this item after my review period. All opinions within this article are my own and are typically not subject to editorial review from any 3rd party. Also, some of the links in the post above may be "affiliate" or "advertising" links. These may be automatically created or placed by me manually. This means if you click on the link and purchase the item (sometimes but not necessarily the product or service being reviewed), I will receive a small affiliate or advertising commission. More information can be found on my About page.
HTD says: If you are looking for a portable, Bluetooth speaker that accurately reproduces music with crisp and amazing highs, and utilizes electrostatic technology typically reserved for high-end speakers, definitely take a listen to the BenQ treVolo S. Your ears will be thankful!
HighTechDad's Ratings
Ease-of-Use

Family-Friendly

Price Point

Features
Summary
If you are looking for a portable, Bluetooth speaker that accurately reproduces music with crisp and amazing highs, and utilizes electrostatic technology typically reserved for high-end speakers, definitely take a listen to the BenQ treVolo S. Your ears will be thankful! The BenQ treVolo S earned solid 4-star ratings across the board here in my opinion. Setup is easy and one you pair the treVolo with a phone or computer, it's easy enough to use. The fact that it has an on-board battery means that it is mobile and you can bring your audio and music anywhere. While it's a bit heavy to just throw in a backpack and take on the go, it's a great speaker for around the home (note: electrostatic speakers don't like moisture so watch out for that). The accurate sound quality is pretty amazing and if you aren't looking for huge, booming bass but rather true audio fidelity, the BenQ treVolo S does very well with no distortion even at max volume. And the highs are simply amazing.