When I first read about the August Smart Lock Pro, I thought, wow, why is that thing so darn bulky? It looks like a fat hockey puck stacked on your door. With circuitry so small and getting smaller these days, why was this smart lock so "big?" Well, there is a very logical and smart reason for this. It's because of the built-in motor that retrofits your existing deadbolt to make the magic of remote locking and unlocking possible. Once I learned more about the August Smart Lock Pro, I figured out a perfect location for its use. And, because of a recently-announced integration with another smart device I have installed, the chosen location became even better. (*Disclosure below.)
I currently have smart locks on my front and back doors. But our garage door was using an old-fashioned deadbolt. And, since our garage is not accessible from the house, we had to either use the garage door opener (which is, of course, a smart opener) or use the side door which has the old fashioned deadbolt, as I mentioned. So, you either need to remember to grab one of two keys, or go through the front of the house and use the garage door opener by entering a PIN (or using the smartphone app). It isn't the end of the world doing that, but often, we couldn't find the keys, or it was hard to tell the different keys apart.
Also, since we have exercise equipment and a second refrigerator in the garage, our entire family of five needed access. This meant finding keys or, gasp, just leaving the door unlocked a lot of the time. Or, after the garage was used, sometimes the door was left unlocked because they exited through the sliding garage door. Regardless, there were so many things wrong with the scenario that I figured a smart lock of some type would solve things.
But not just any smart lock would do. It had to have some "key" features (haha). It had to integrate into my existing smart home items (like my Wink hub or my Brilliant smart lights < review). And, having Apple HomeKit integration would be an added bonus. Also, I didn't want just a Bluetooth connection. I wanted to be sure that I could check the status of the lock from anywhere, and lock or unlock it remotely as needed.
This is where the August Smart Lock Pro with the Connect Wi-Fi Bridge fit all of my needs perfectly. Let's get into the details.
Installing the August Smart Lock Pro
So one of the unique features of the August Smart Lock Pro is the fact that you actually "retrofit" the August onto your existing (and hopefully compatible) lock. And, while the August eliminates the need to carry around a physical key, you CAN use a key to unlock the door you put the August on. So for those traditionalists and tech-haters out there, yes, you can still use one of those annoying old keys to unlock your door.
And remember, the August lock is on the inside of your door, not on the outside.
The instructions are extremely clear and have videos (on the smartphone app) to help you through the process. And since I did the install late at night (the day I received the Smart Lock Pro directly from August who is based in San Francisco), my photos of my installation are not the greatest due to having to light my door and lock via a flashlight. But here are the essential steps.
You do need to start with setting up an account with August within the smartphone app. The full installation instructions are in the app, along with the install videos.
First, you tape off the outside of the lock (the one that has the key). They even provide some tape in the package (nice!).
Next, you remove the screws from the deadbolt. A quick thing that isn't mentioned in the manual (at least I couldn't find it) is that you should save those screws for when you put in the August plate.
Then you screw in the plate that is provided by August. The way the plate is designed, it should fit most deadbolts (again, check the compatibility). I did have to fuss around with the placement of the screws in order to truly have a good fit.
After that, you chose the proper colored adapter based on the type of deadbolt you have. I have a Schlage, so the adapter is the yellow one.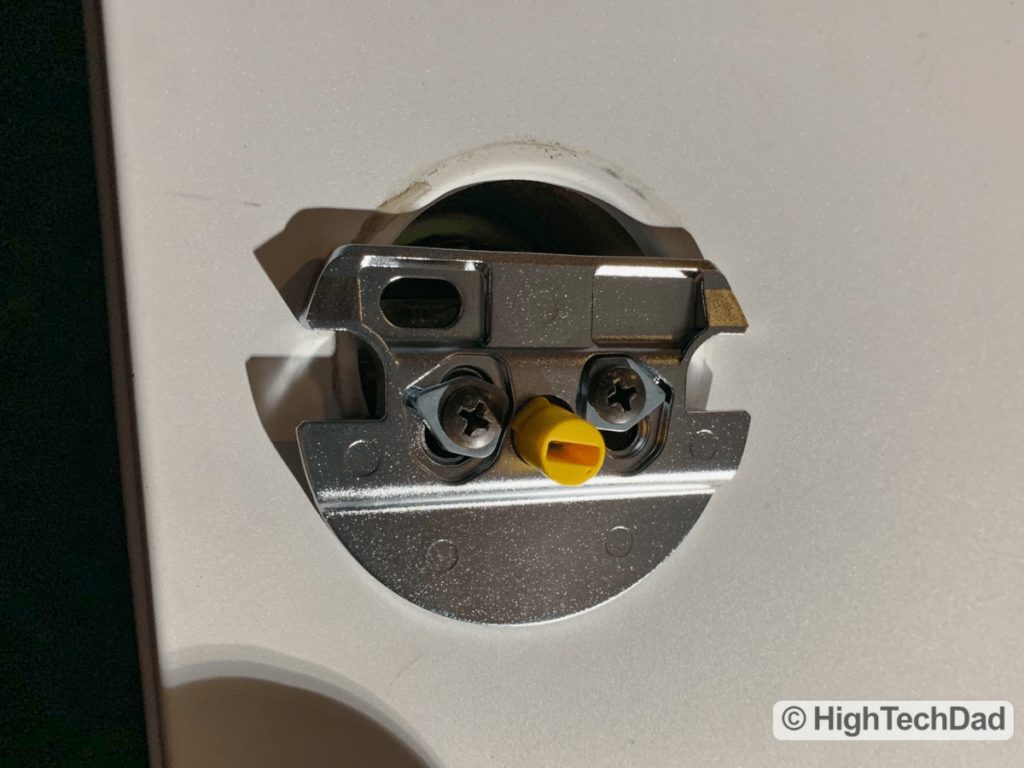 And then, you put the August body onto the plate. And there are two "wings" on the body that flip out. You open those before putting it on the plate, and then you close the wings to secure it to the plate. For me, this took the most amount of time as I had to readjust the screws and tighten them up so that both wings tightened down. But eventually, I got it secured.
Then you pop the magnetic cover off and remove the plastic tab covering the batteries.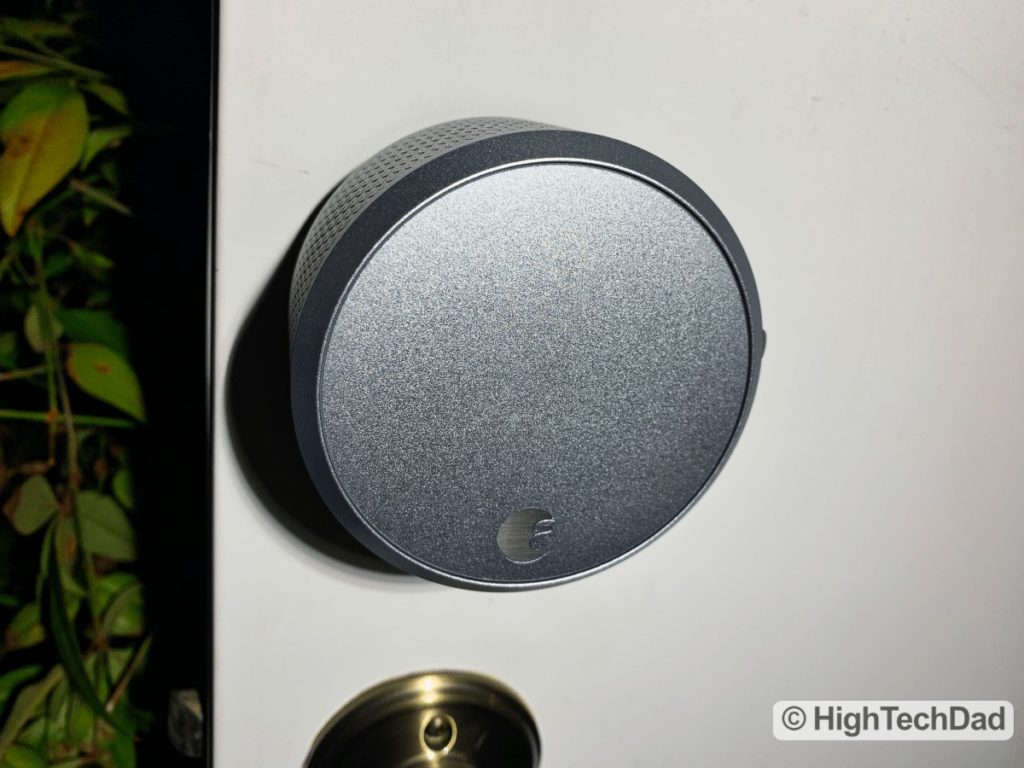 Finally, you go through the Bluetooth connection process to ensure the lock is connected. Once you have it connected, you go through some lock calibration. This is so that the August can learn the idiosyncrasies of your lock – things like how far the deadbolt extends.
Optionally, you can also install the DoorSense sensor. This allows the August Smart Lock Pro to know if the door is open or closed. Unfortunately, due to how my door is hung and the materials of the door, I was not able to do this. But it sure looks like a great feature to have, and I would recommend doing it if your door frame and door support it.
But there is one more thing that you need to do to truly make the August Smart Lock Pro "smart," and that is pairing it with the (optional but highly recommended by me) Connect Wi-Fi bridge. The Connect will, as the name suggests, connect to your Wi-Fi network and eliminate the need to use Bluetooth for locking and unlocking. This is particularly nice if you want to remotely manage your August lock as well as get notifications among other things.
Once you have it paired with the Connect Bridge, you are golden. But wait, there's even more you can do!

Using the August Smart Lock Pro
I mentioned earlier that for me, it's critical for smart devices to be able to integrate with smart hubs. This extends your control and functionality beyond a single device's app. I actually had three other integrations that I could use.
The August Smart Lock Pro integrates extremely nicely with the Brilliant smart light switch. In fact, there is a panel for locks on the Brilliant. So, think about my situation where one of my kids has to go to the garage to get something from the fridge there. All they have to do it go to the light switch and unlock the side door via the screen on the Brilliant. No need to search for or ask for the keys!
Also, since I have a Wink hub with lots and lots of other integrations in the app, I have added the August lock to my long and growing list of smart devices. So, I can also set up some automation to make sure doors are locked at a certain time. And while I haven't tried this, I would think it would be possible to set up a trigger where if the August is unlocked and it is nighttime, that the smart lighting would turn on. (In fact, you CAN do this!)
Similarly, another integration that I hadn't mentioned earlier is that of IFTTT (which is an AWESOME service). Once you authenticate with August through IFTTT, you have the possibility of creating all sorts of automation. I initially set up on to notify me with a rich notification if someone unlocks the door.
Or there is another IFTTT Applet you can use to log, in a Google spreadsheet, when the lock was used and who used it. It turns out, August is a great lock to have if you run an Airbnb or similar service. Not only can you remotely manage the access of certain guests as well as when their user-specific code is used, but you can also use this IFTTT applet to log all of the activity. (There are also deeper integrations with Airbnb to automate the check-in and check-out process among other things.)
Using the August app itself, couldn't be easier. I big red circle means that the door is locked. And a green ring means that it is open. And, within the app itself, you can program some automation. My family, for example, is notorious for leaving doors unlocked. So I have programmed the August to automatically lock the door after a set amount of time. One thing though about programming auto locking (and unlocking), you have to be connected via Bluetooth to configure this. This is an added security precaution so that you are in actual close proximity to make changes. In fact, many of the configurations can only be done when you are connected via Bluetooth.
You can integrate the August Smart Lock Pro with other services like Alexa. By default, unlocking on Alexa is disabled. But, you can enable it via settings and even set it up to unlock via your voice. Because my August is integrated through Wink, it magically appears within Amazon Alexa as well. And, with it being enabled, you can set up Routines in Alexa to automate activities like "I'm Home" to unlock doors, turn on lights, turn on the HVAC, etc. Or, for example, I have a nighttime routine that turns off lights. I can easily add locking the August lock to that routine. Again, pretty powerful.
And, you can also configure user for the management and usage of the August lock. Owners have full management control, can invite and remove guests/owners, and more while Guests can only lock or unlock the August lock.
Locking it in with August
It seems to me that the August Smart Lock Pro is built to grow and integrate. This is important to keep smart devices like this "future-proof" so that they aren't instantly outdated. And, it seems that August is committed to further integration with other smart products and services like Airbnb.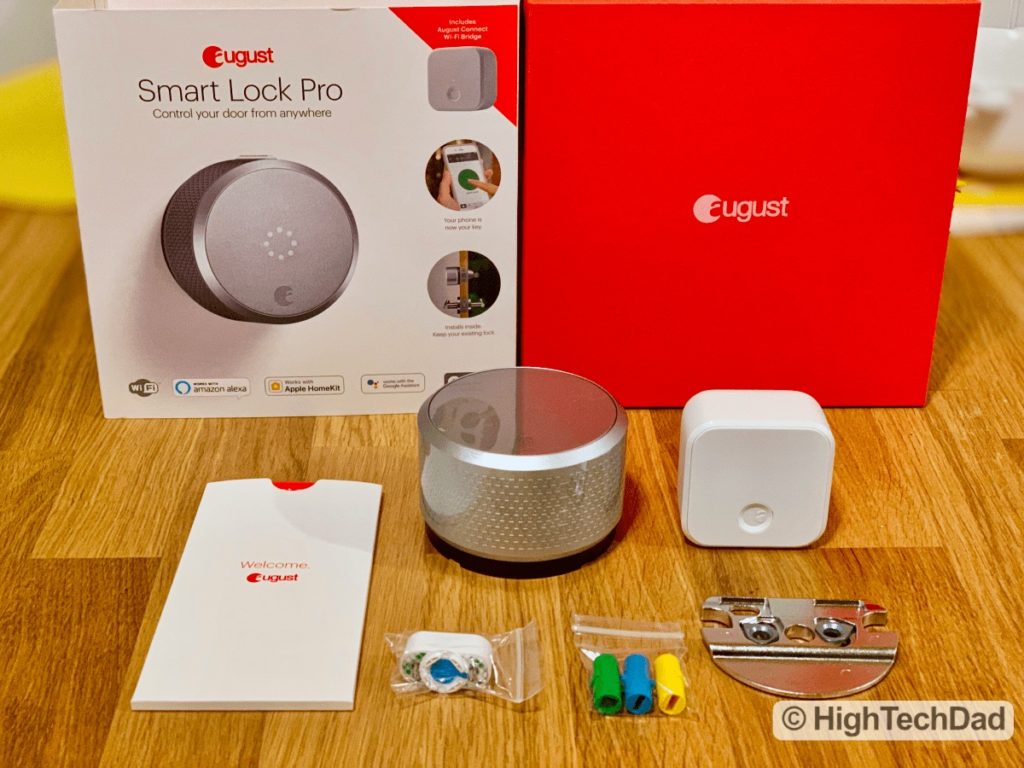 I highly recommend getting the August Smart Lock Pro with the Connect Bridge. It retails for $229, and you can currently pick it up on Amazon for $195.45. It's great for families or households with many people coming and going. And, from what I understand, a perfect choice for Airbnb and other vacation shares. 
Shop on HighTechDad
The product shown below (and related products that have been reviewed on HighTechDad) is available within the HighTechDad Shop. This review has all of the details about this particular product and you can order it directly by clicking on the Buy button or clicking on the image/title to view more. Be sure to review other products available in the HighTechDad Shop.
Investing in your home's security is critical. But you also should think about convenience. Remote access, notification, integrations with other smart devices, and ease-of-use add to the value of the August Smart Lock Pro.

Disclosure: I have a material connection because I received a sample of a product for consideration in preparing to review the product and write this content. I was/am not expected to return this item after my review period. All opinions within this article are my own and are typically not subject to editorial review from any 3rd party. Also, some of the links in the post above may be "affiliate" or "advertising" links. These may be automatically created or placed by me manually. This means if you click on the link and purchase the item (sometimes but not necessarily the product or service being reviewed), I will receive a small affiliate or advertising commission. More information can be found on my About page.
HTD says: The August Smart Lock Pro secures your home or business in a "smart" way. It's easy to use and integrates with many other smart devices and hubs, making it a perfect choice for locking doors anywhere.
HighTechDad's Ratings
Ease-of-Use

Family-Friendly

Price Point

Features
Summary
The August Smart Lock Pro secures your home or business in a "smart" way. It's easy to use and integrates with many other smart devices and hubs, making it a perfect choice for locking doors anywhere. The installation (assuming your deadbolt is supported and many are supported) is fairly easy to do but may take some repositioning of the plate to get a perfect fit. Setup is also quite easy. I highly recommend getting the Connect Bridge to enable remote control. Lock management must be done locally using a Bluetooth connection (for security purposes). One installed, the August Smart Lock Pro can also be integrated with various smart hubs and voice services (like Amazon Alexa). Truly easy to use by all members of a family. And it is great for locks on rental properties like Airbnb. 
Pros
Bluetooth & WiFi connectivity for local and remote access
Easy to install & use
Integrates with many smart services (incl. Airbnb)
Cons
Might not work with all deadbolts
A bit bulky (on inside of door)
Have to get Connect Bridge for true remote access