Sanitizing the objects you carry around with you, especially your smartphones and keys, has never been more important. Sure, a year ago, we might say the same thing. My wife makes my kids and I wipe down our smartphones daily even before COVID-19 turned our world upside down. But now, effectively sanitizing those devices and items you carry in your purse or pockets need an extra degree of cleaning. This is where the KeySmart CleanTray UV sanitizer comes into play!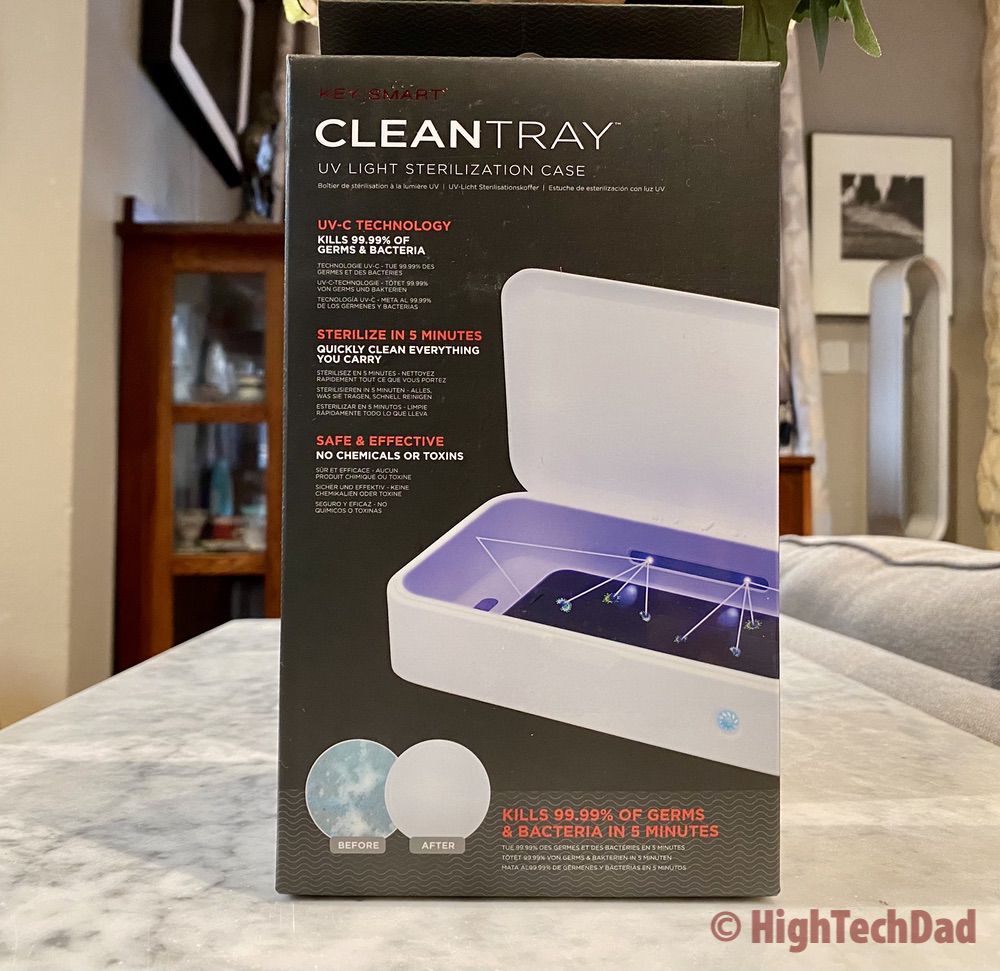 Having a regular cleaning regimen is important to prevent the spread of bacteria, viruses, and germs. Apple recently said (because of COVID-19) that anti-bacterial wipes can be used on their devices. This is something we as a family have been doing fairly regularly. But it takes time and you have to have the wipes handy to do this. Studies have shown, however, that using ultraviolet rays (UV) can be used to eliminate or zap many forms of bacteria and viruses.
But there are different types of UV rays. The one that scientists have shown can break down the DNA of viruses and bacteria is UV-C which occurs naturally from the sun but is filtered out by our ozone. UV-C is actually quite dangerous and can cause cancer if unfiltered and damage our eyes. But, according to this WebMD article, UV-C is being evaluated for use in hospitals or other public areas. But the article does caution that home products are still being evaluated for efficacy.
Additional Cleaning with the KeySmart CleanTray
The jury is still out about how well UV wands or trays can work in the home. That being said, the KeySmart CleanTray uses UV-C in an enclosed case large enough to hold the biggest smartphones on the market today. The important thing is to have, as I mentioned, a regime for regular cleaning of your devices, keys, and other objects you take out into public with you.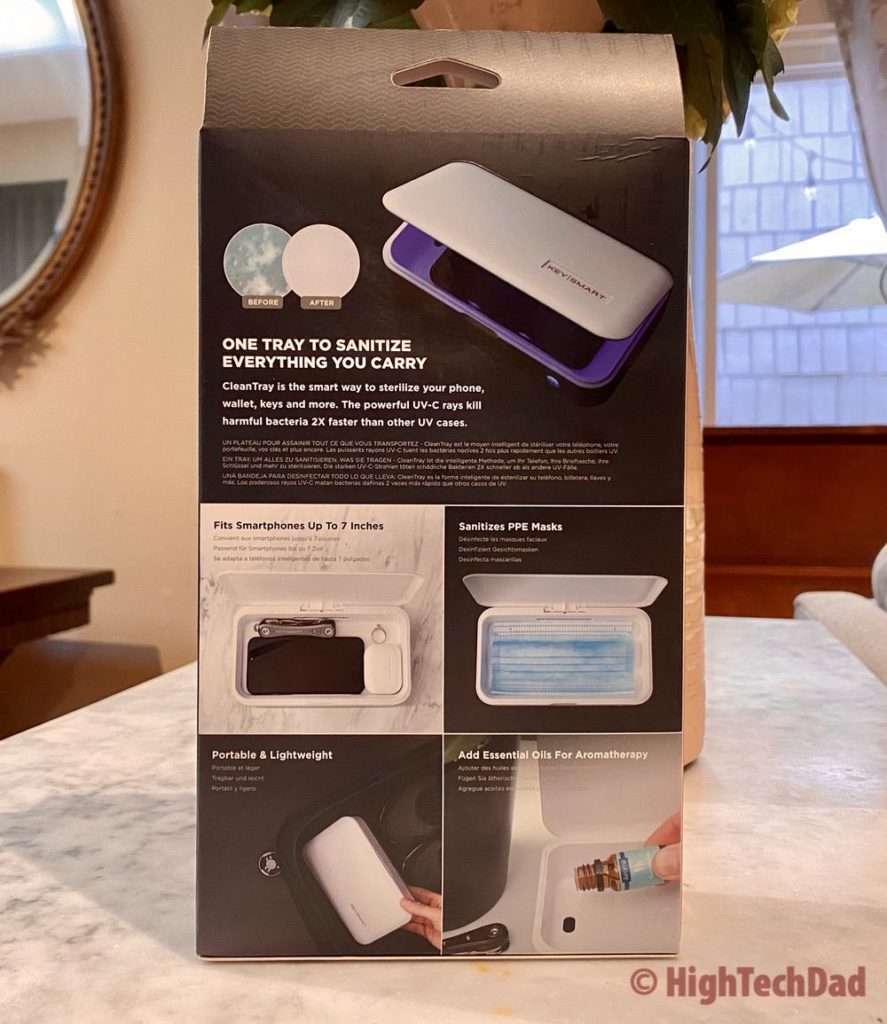 Using the KeySmart CleanTray couldn't be easier. It does require a power source so you plug it in to the wall with the included USB cord (you do have to supply the actual plug like a smartphone plug). But that is it in terms of setup. Then, place the item you want to "zap" into the tray and close the lid. Note: you can't zap anything unless the lid is fully closed.
Pressing the orange-lit button on the side will initiate a UV-C cleaning of whatever is inside. When the KeySmart CleanTray is cleaning with UV-C light, the orange button turns blue. Once the cleaning is completed (it takes about 5 minutes in the case with the UV-C light on), you are good to go! UV-C sanitizers are typically faster at cleaning than other types of UV sanitizers.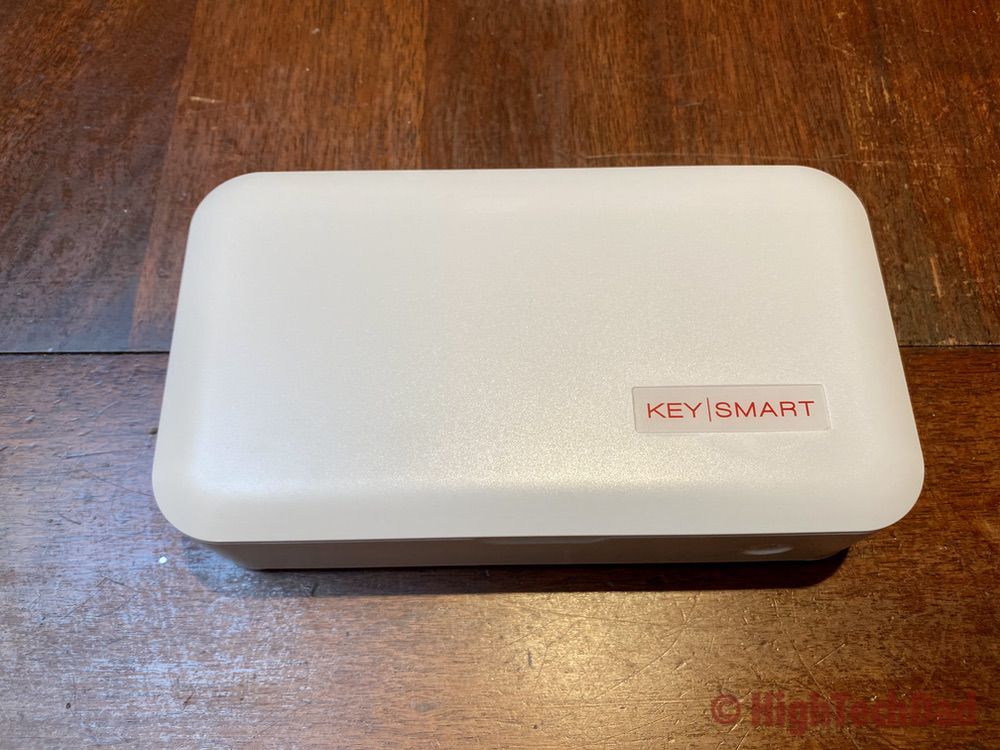 On-going Zapping Ability
While wiping your items down regularly is a good practice, especially since smartphones have been proven to be even dirtier than public restrooms, it shouldn't be your only line of defense. (Read the linked article at your own risk – but essentially it shows that smartphones are MUCH more contaminated than we truly believe!)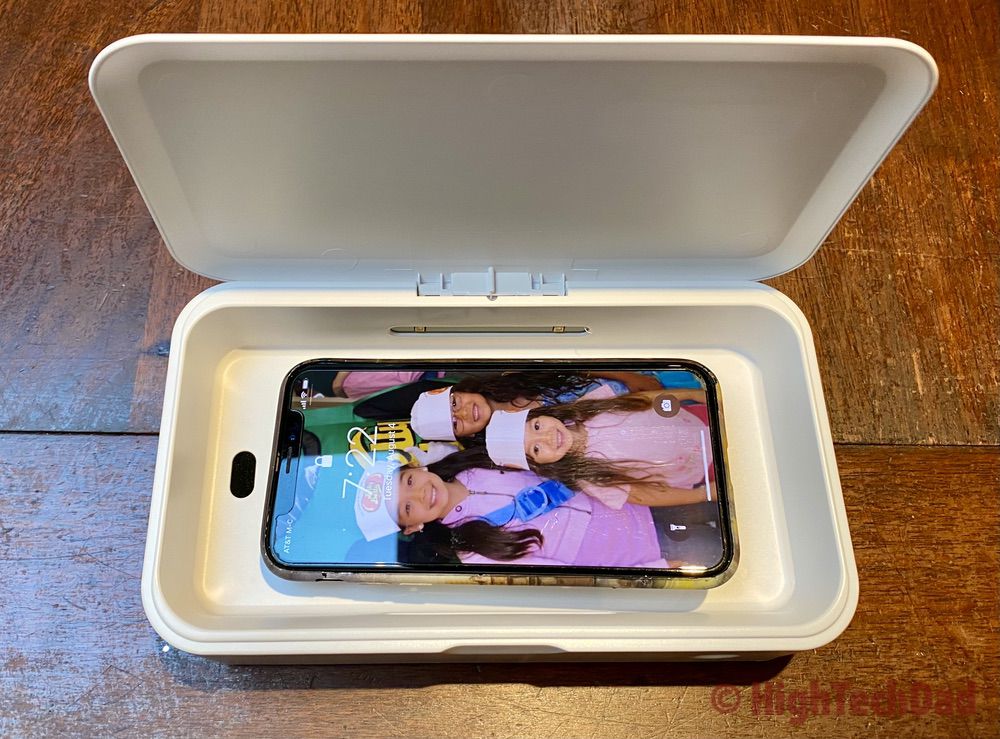 The nice thing about adding the KeySmart CleanTray to your sanitization weaponry is that there is nothing else to purchase once you have the tray. And, as long as the item you want to clean can fit into it, you can zap/clean it. In fact, try truly cleaning a set of keys with a sanitizing wipe! There are so many grooves and crevasses that only light can get everywhere.
KeySmart also says that you can put PPE masks into the tray. I hadn't really thought of that and you definitely can't use a sanitizing wipe to clean masks! Anything that is up to 7 inches wide and a couple of inches high can fit in the CleanTray.
While I haven't done any scientific Petri dish-style tests on the efficacy of the SmartTray, I'm taking a leap of faith saying that it will truly rid your items of 99.9% of bacteria and viruses. So I can't prove or disprove the claims of cleaning. But that is part of the reason I recommend using the SmartTray plus another method for cleaning.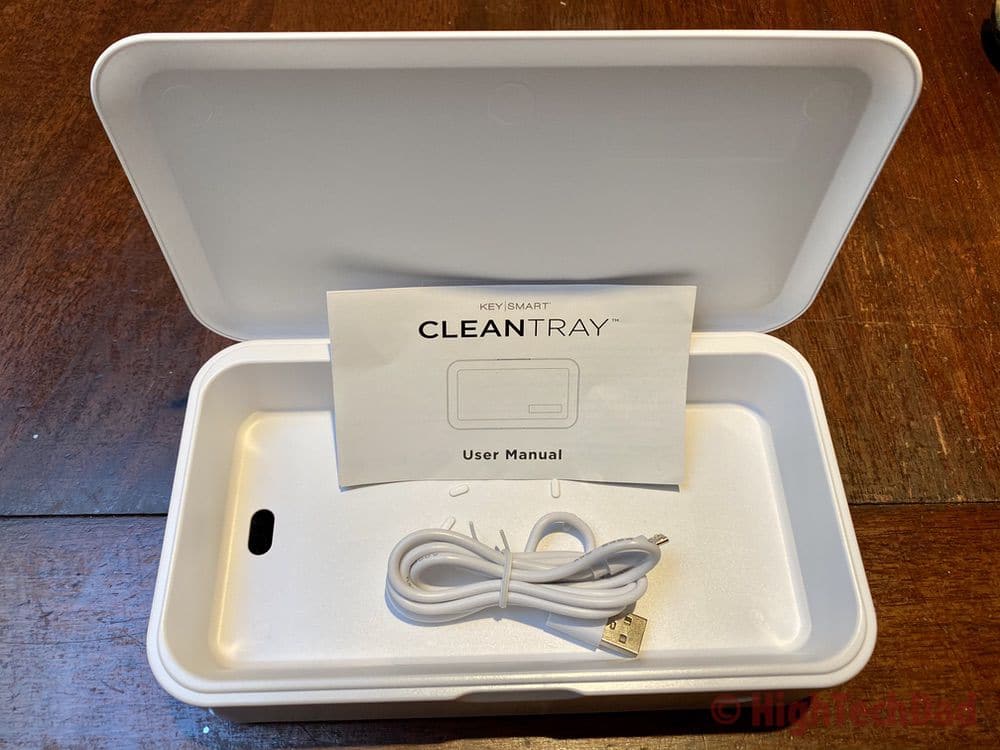 The KeySmart SmartTray UV-C sanitizing case retails for $99.99. While not inexpensive compared to other offerings, when it comes to preventing the spread of germs and even COVID-19, I consider it to be a worthwhile investment. It's easy enough to use by just about any family member (well, probably not our dog) and if cleaning becomes even more of a habit, that is a good thing.
Shop on HighTechDad
The product shown below (and related products that have been reviewed on HighTechDad) is available within the HighTechDad Shop. This review has all of the details about this particular product and you can order it directly by clicking on the Buy button or clicking on the image/title to view more. Be sure to review other products available in the HighTechDad Shop.
Disclosure: I have a material connection because I received a sample of a product for consideration in preparing to review the product and write this content. I was/am not expected to return this item after my review period. All opinions within this article are my own and are typically not subject to editorial review from any 3rd party. Also, some of the links in the post above may be "affiliate" or "advertising" links. These may be automatically created or placed by me manually. This means if you click on the link and purchase the item (sometimes but not necessarily the product or service being reviewed), I will receive a small affiliate or advertising commission. More information can be found on my About page.
HTD says: Taking extra measures to ensure your gadgets and hand-held objects are zapped clean of viruses and bacteria is critical during this COVID-19 era. The KeySmart SmartTray uses UV-C rays to eradicate those dangerous germs quickly and easily.
HighTechDad Ratings
Ease-of-Use

Family-Friendly

Price Point

Features
Summary
Taking extra measures to ensure your gadgets and hand-held objects are zapped clean of viruses and bacteria is critical during this COVID-19 era. The KeySmart SmartTray uses UV-C rays to eradicate those dangerous germs quickly and easily. Setting up the SmartTray is just a matter of plugging it in. Using it is even easier. Place your smartphones, keys, PPE mask, or whatever into the tray, close the lid, and press the orange button. The button turns blue while it is cleaning. Once the cleaning using the UV-C rays is completed, the button turns orange. While I cannot prove (without having a scientific lab) how well it cleans, if you use the SmartTray with other cleaning processes, your objects WILL be clean! The price point is a bit high, but that is what you pay for when you get a true UV-C cleaner that can work for many year.
Pros
Cleans devices easily & quickly
Easy for family to use – even kids
Very portable
Cons
Price is a bit expensive but you are paying for the UV-C lighting