Pretty much all modern smartphones now have the ability to charge wirelessly. And thank goodness! I was tired of either trying to find a cord or buying new ones because some monster was eating them in our house. But many of the wireless solutions I saw were for one or maybe two devices at once. But when you have a family of five, you really need to have more options available. That's where the Mophie 4-in-1 Wireless Charging Mat has become a precious tech destination in our household! (*Disclosure below.)
Even though my kids are teens (and one in her 20's), my wife and I still firmly believe it is important to have a good night's sleep away from gadgets. Prying those iPhones out of their hands is always tricky. But over the years, we have made it a routine that iPhones need to be charged outside of their bedrooms. Who knows how long they will continue to comply, but we are trying our best to enforce this rule.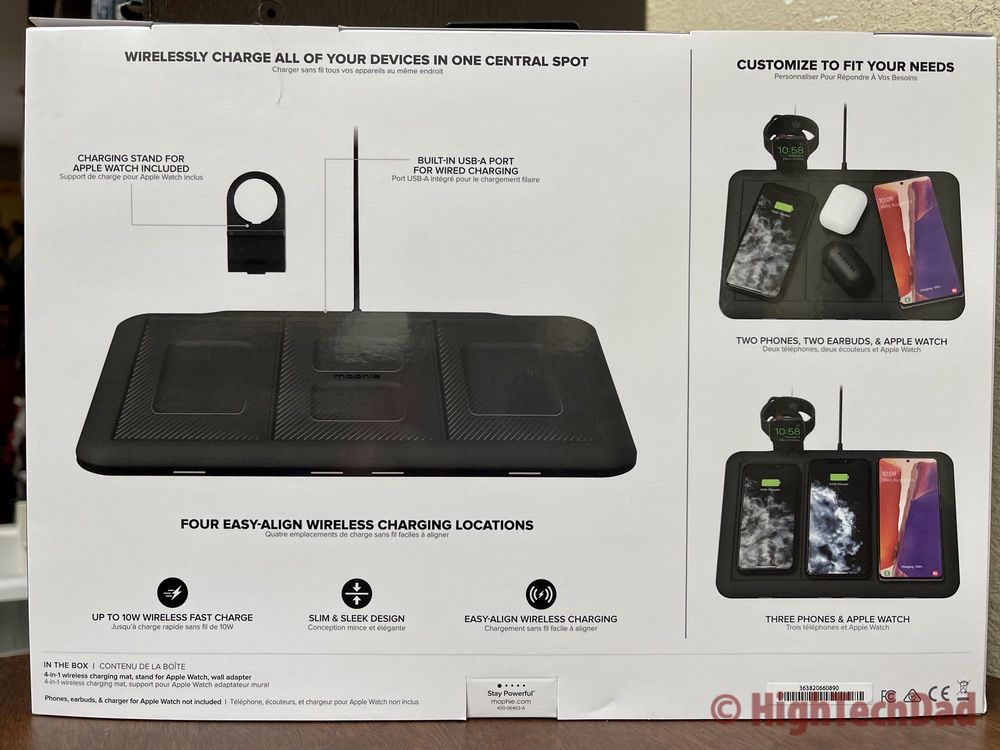 But the biggest problem is, we didn't have a single destination where they could just put their iPhones to charge. It was always a matter of who got the single wireless charger and who was able to find the two free lightning cords. That has all now changed with the introduction of the Mophie 4-in-1 Wireless Charging Mat. Suddenly, all three of my daughters can charge their iPhones all at once with a single charging solution.
Actually Charge More Than Just 4 Devices
While Mophie says that their solution is 4-in-1 for charging, that is actually not quite the truth. The way the 4-in-1 Wireless Charging Mat is set up, you can actually charge a few more devices, just not wirelessly.
From an out-of-the-box design perspective, yes, you can charge up to four devices wirelessly. On the pad itself, there are small indentions to indicate the areas specific for wireless charging. There are two for smartphones on the left and right side of the pad and two smaller indentions in the middle section that are for wireless-charge capable earbuds like AirPods. So, in that configuration, you can wirelessly charge four devices.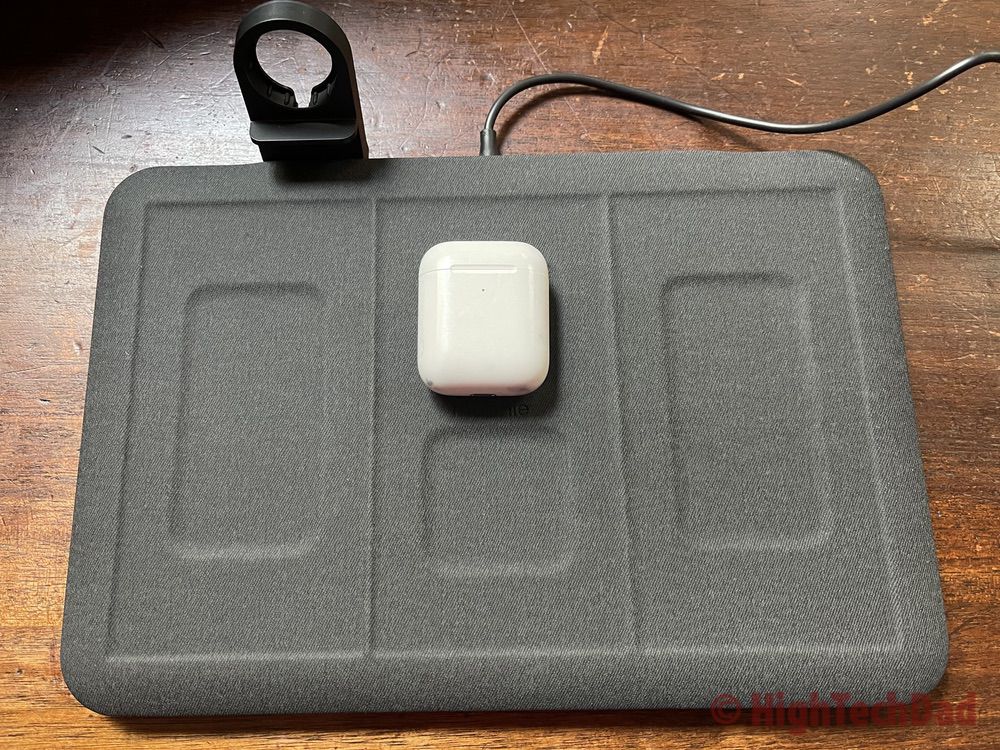 The center section that is specific to earbuds can also wirelessly charge a smartphone, and this is the charging configuration we have adopted. For us, it is perfect – three iPhones wirelessly charging at once.
But the design and capabilities of this Mophie Wireless Charging Mat actually has two more charging options you can use. For starters, there is a plastic clip for holding an Apple Watch. You do have to supply your own Apple Watch charging cable though. But you can use the USB-A port in the back of the Mophie to power the Apple Watch puck.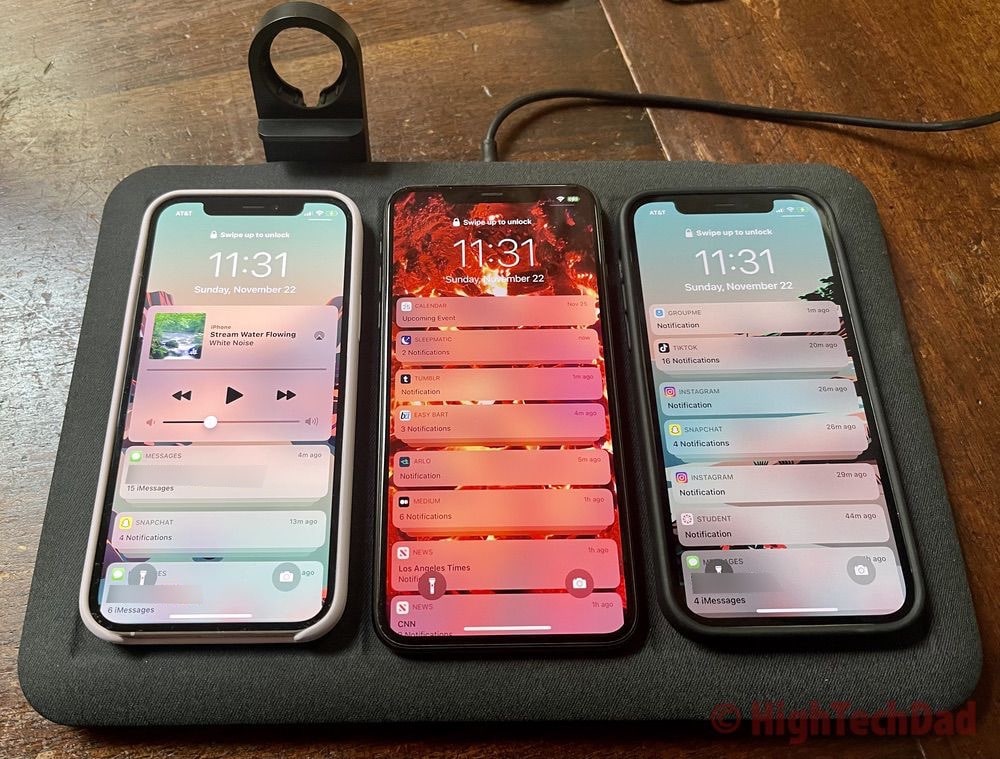 In the back is another USB port where you can connect a USB charging cable to power other devices like another smartphone. So, by my crude math, you can charge up to five devices with the one Mophie charging solution.
Some Quick Specs on the Mophie 4-in-1 Wireless Charging Mat
For those interested in what is "powering" this wireless charging solution from Mophie, let me provide you with some more details. Here is a quick laundry list of some of the specs of this charging mat:
Qi-enabled devices – each device can be charged at up to 10W (each)
Easy to find charging spots – as I mentioned, there are indentions on the mat to clearly show where to place your device
Charge through cases – provided your case isn't thicker than 3mm, you can wirelessly charge through a case.
Dimensions – 11.1″ x 7.56″ x 0.63″ weighing less than 1.5 lbs
Color – the mat is a dark grey fabric (which looks like it will hide dust well)
And what is in the box? You get the mat, a snap-on Apple Watch holder which extends up (you have to bring your own magnetic charger though), a 1.5m wall power supply, and the manual. Setup couldn't be easier – just plug it into the wall and place your wireless-charge capable device onto the proper area on the mat.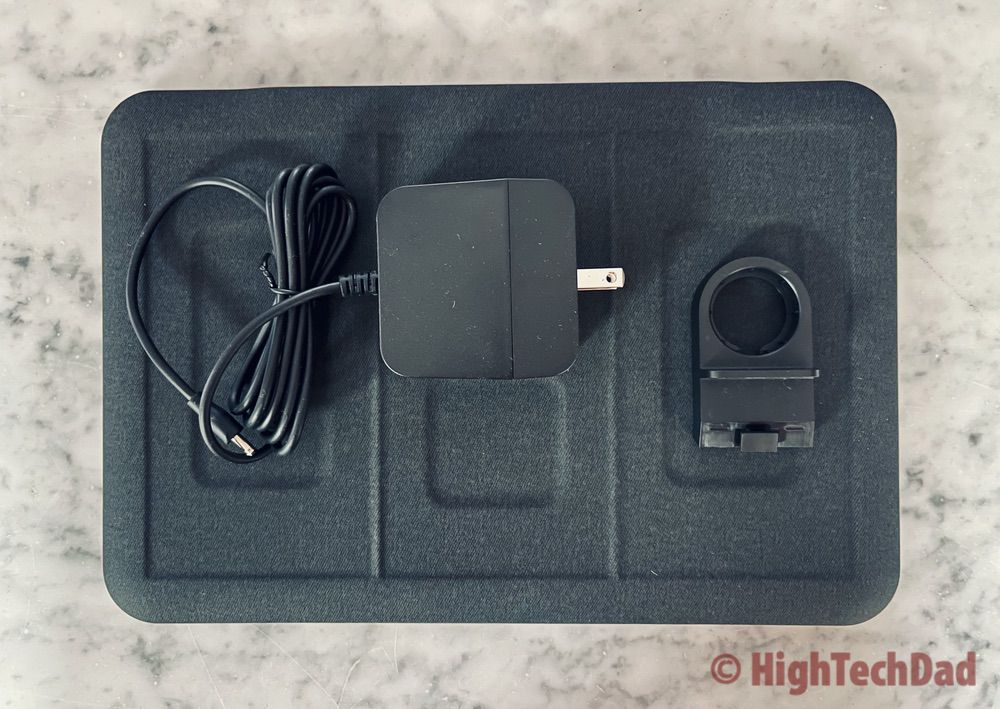 The Mophie 4-in-1 Wireless Charging Mat retails for about $130 (currently on Amazon it is selling for $130). This is a new product for Mophie who are well known for their charging solutions. I do expect the price to come down a bit. While $130 may seem to be a bit steep, you have to remember that 3-in-1, 2-in-1, and even single wireless charging solutions can be expensive for some of the better brands. With this Mophie, you have 4 wireless charging options!
Shop on HighTechDad
The product shown below (and related products that have been reviewed on HighTechDad) is available within the HighTechDad Shop. This review has all of the details about this particular product and you can order it directly by clicking on the Buy button or clicking on the image/title to view more. Be sure to review other products available in the HighTechDad Shop.
If you need to wirelessly charge several smartphones and/or earbuds at once in a single location, the Mophie 4-in-1 Wireless Charging Mat might be your best option.
HTD says: Mophie has always been a leader when it comes to charging up your gadgets. With their new 4-in-1 wireless charging mat, my kids now have a single place to charge their iPhones at night!
HighTechDad Ratings
Ease-of-Use

Family-Friendly

Price Point

Features
Summary
Mophie has always been a leader when it comes to charging up your gadgets. With their new 4-in-1 wireless charging mat, my kids now have a single place to charge their iPhones at night! This is very easy to set up and use this wireless charging solution. Just plug in the wireless charging mat to the wall and put your wireless-charging-capable smartphones and/or earbuds into the divots on the mat. Magically, your devices will start charging wirelessly. The price point is high, but if you compare it against other wireless charging options that don't have the ability to do many devices, the price is reasonable. 
Pros
Can easily charge 3 smartphones
Can charge up to 5 devices including Apple Watch (depending on configuration)
Very easy to use
Cons
A bit pricey
You have to bring your own magnetic charger for the Apple Watch