Here's the scene. You have chosen a great action movie to watch. Maybe with your significant other, or a date, or your kids, or just alone. You are ready to be immersed in HD or 4K glory with your big screen TV. Popcorn ready, you plop down on the sofa, waiting for that explosive opening action sequence. As the car on the screen screeches around the corner and slams into another car, you realize something. The movie sounds like crap. The bass is non-existent, and the highs are lost somewhere in a muddy mid-range. The problem is, many big-screen TVs use their technology on the display and not the sound. But have no fear; you have a hero that isn't going to blow your budget. Enter the Creative Stage V2 soundbar, an inexpensive yet feature-packed way to make those action movies and others really sound the way they should! (*Disclosure below.)
This is exactly what happened with my wife and me. We got a new 4K TV for our living room and took our older HD TV to the bedroom. But moving the TV to the bedroom brought a big disadvantage, it didn't bring the surround sound with it. While dialog sounded "ok," it was just "ok." It was pretty flat. And when you put any kind of bass into the soundtrack, the bottom fell out, and we had odd hums and thuds when we were supposed to hear the bass. In this case, closed-captioning is great. But it wasn't the experience I was really hoping for.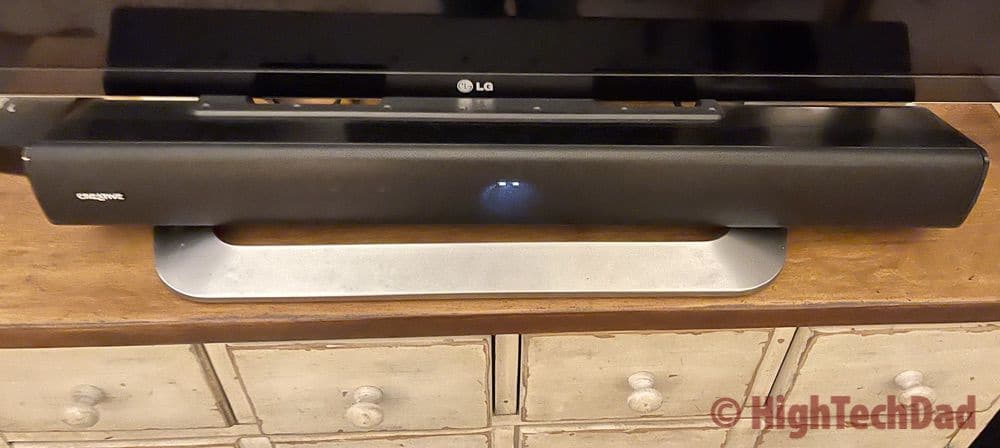 When the kind folks at Creative reached out to me to see if I wanted to review their new Creative Stage V2 soundbar, I practically jumped for joy! THIS was the solution I was looking for because I wasn't about to set up a huge surround sound system in my bedroom (maybe, someday, I will). The Creative Stage V2 soundbar has two pieces to it: the soundbar that sits below the screen (or mounted on a wall) and the tall yet narrow bass. And how did it all sound? Read on!
So, what are the Specs?
Let me start by setting some expectations. This Creative soundbar is NOT going to set you back $1000. Nor $500. Not even $200. You get all of the features I'm about to tell you about for about $100. So if you are on a budget, this is definitely one soundbar you should look at…er…listen to.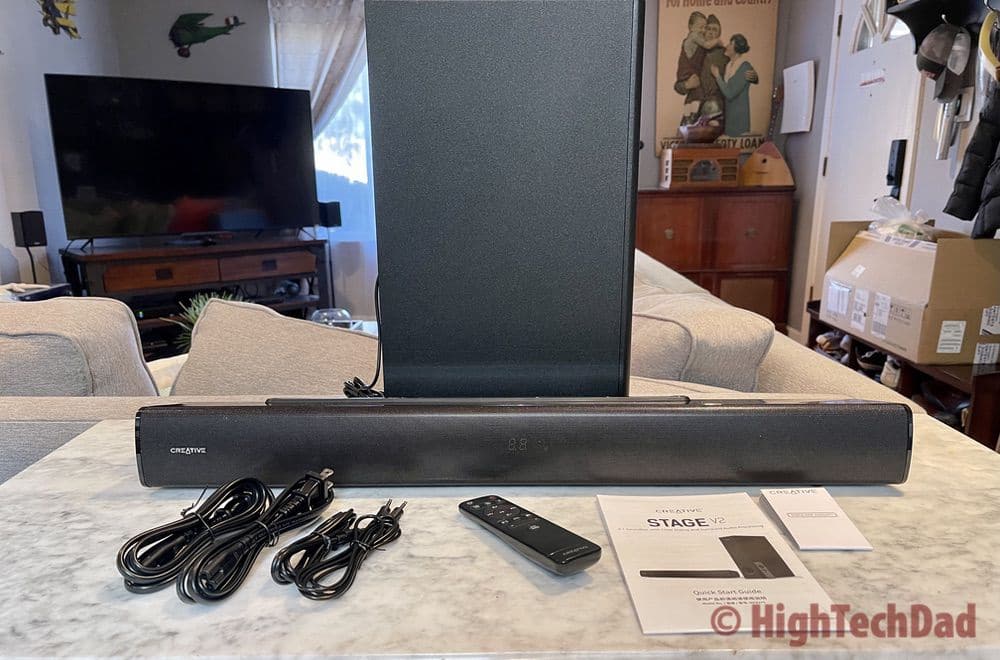 Let's start with the inputs, virtual and physical. There are five total:
HDMI (ARC) – directly connect the Creative Stage V2 to your TV (more about why this is probably the best way to connect later)
Optical – if your TV or other component (like a game console or TV) has an optical out, this is a great way for high-quality audio
USB – if you want to connect your computer, use the USB port
Bluetooth – want to connect your smartphone or tablet? This is an easy way to connect and roam.
AUX-in – this is a traditional way to connect older audio components

The important thing to remember here is that you can connect various items and leave them connected physically. You simply have to switch the input to hear the device you want using the remote or the buttons on the side. The remote actually has more features, so I recommend using it. And who wants to get out of bed or off the sofa to push some buttons!
Let's talk about the speakers. The soundbar has dual 2.25″ drivers, and the subwoofer has a 5.25″ driver. Total system power is up to 80W RMS with a peak power of 160W. The soundbar has 2 x 20W and the subwoofer has 1 x 40W. This is a 2.1 surround system with a frequency response of 55-20,000 Hz.
Their surround technology is powered by Sound Blaster, which can identify and enhance the incoming audio via their proprietary sound filters. And it doesn't matter if it is just 2 channels or multi-channel source content – Sound Blaster can interpret it.
And, remember at the beginning of this review when I was talking about those loud action movies? They are great until the characters need to have a dialog, then their spoken words can be lost in the explosions. This is where Clear Dialog comes into play. When you enable this setting, vocals and spoken words are extracted, enhanced, and amplified, all digitally.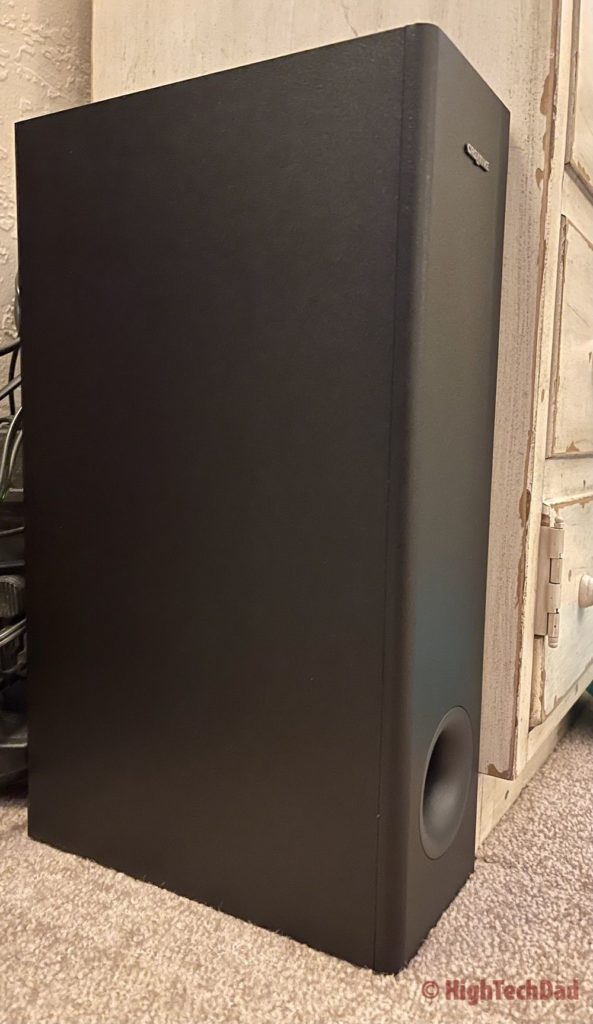 The next important thing to consider is the size. Get too big of a soundbar, and it might not fit in the space you want. And you can't really go small in my opinion because you are then back to small sound. With the Creative Stage V2, you have two things to think about – the soundbar and the subwoofer. (Not all soundbars come with a woofer – I do recommend one unless you are getting a super-high-end soundbar.) Here are the dimensions:
Soundbar – 3.07″ x 26.7″ x 3.94″
Subwoofer – 16.7″ x 4.6″ x 9.84″
When it comes to the subwoofer placement, you have to remember that the subwoofer is corded and not wireless. The cable is about 2m long. Creative is kind enough to provide various cables (3.5 mm AUX-in, USB-C to USB-A, power, and the attached subwoofer cable).
The Remote
The Creative Stage V2 does have a nicely featured and important remote control. You have Power and Mute at the top – those are pretty self-explanatory. The next row down has the input selection (the first two buttons have double functions – press them again to get the other input): TV (ARC/HDMI) and USB, Optical and AUX, and Bluetooth on its own. If you press and hold the Bluetooth button, you enter into pairing mode.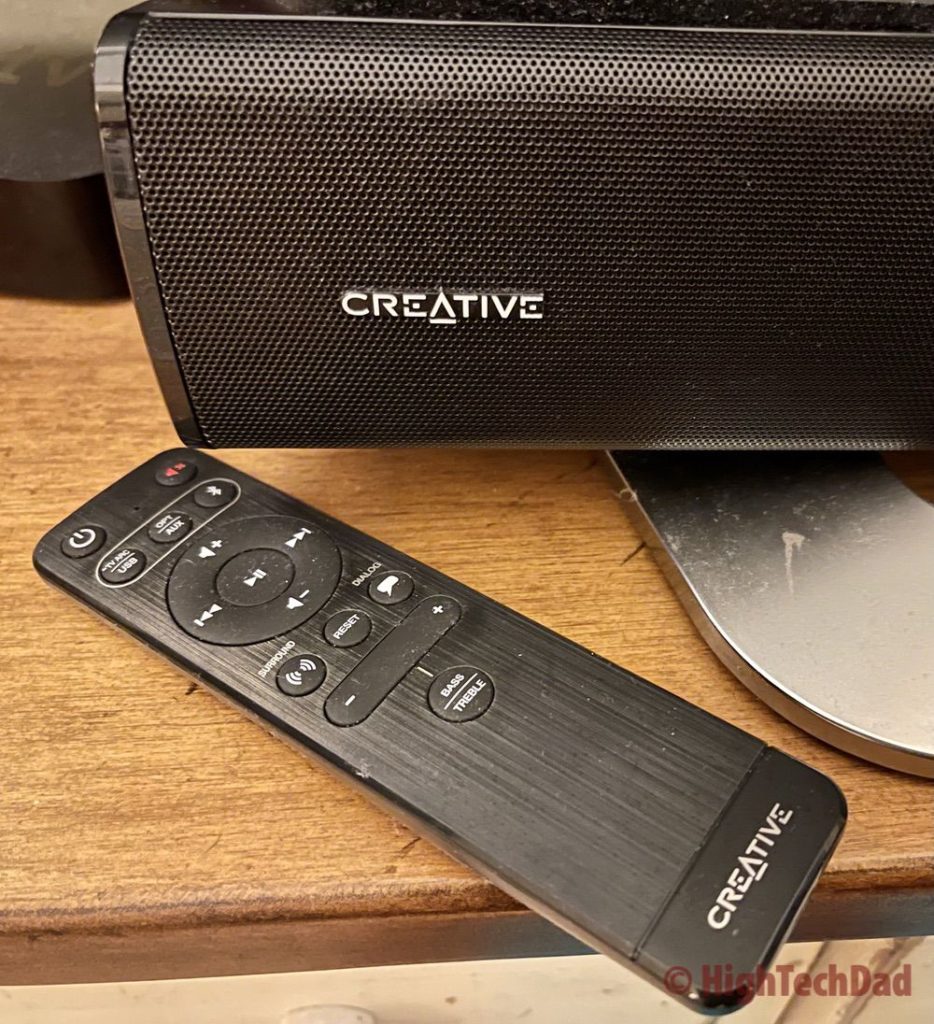 In the middle of the remote, there is a circular control. Volume Up and Down buttons are in the north and south regions. Play/pause is in the middle. And Previous and Next are on the east and west sides. The skipping functions are only available in Bluetooth and USB modes.
There is a dedicated Surround sound button. Whether you use this or not truly depends on you as well as what you are watching. Sometimes I will turn it on, and other times, I'll just leave it off. It's a personal preference.
The Reset button is your nuclear option. Pressing that resets all of the audio settings. Next to the Reset button is the Clear Dialog (shown as an icon) button. This will turn on the Clear Dialog option as described earlier.
Near the bottom is the Bass and Treble to rocker button. With this, you can crank up or down the bass or treble individually. To select which one you are controlling, use the Bass/Treble button below. I highly recommend testing out different settings until you find something that works for you. And again, it may vary by movie.
Final Observations
Some additional things to note. Remember I mentioned that if you are going to connect your TV to the Creative Stage V2 to use the HDMI (ARC) connection? First, you need to be sure that you plug into the ARC connection on your TV as well. Now, why would you do this? It allows you to have your TV actually control the volume and power of the Creative soundbar…most of the time.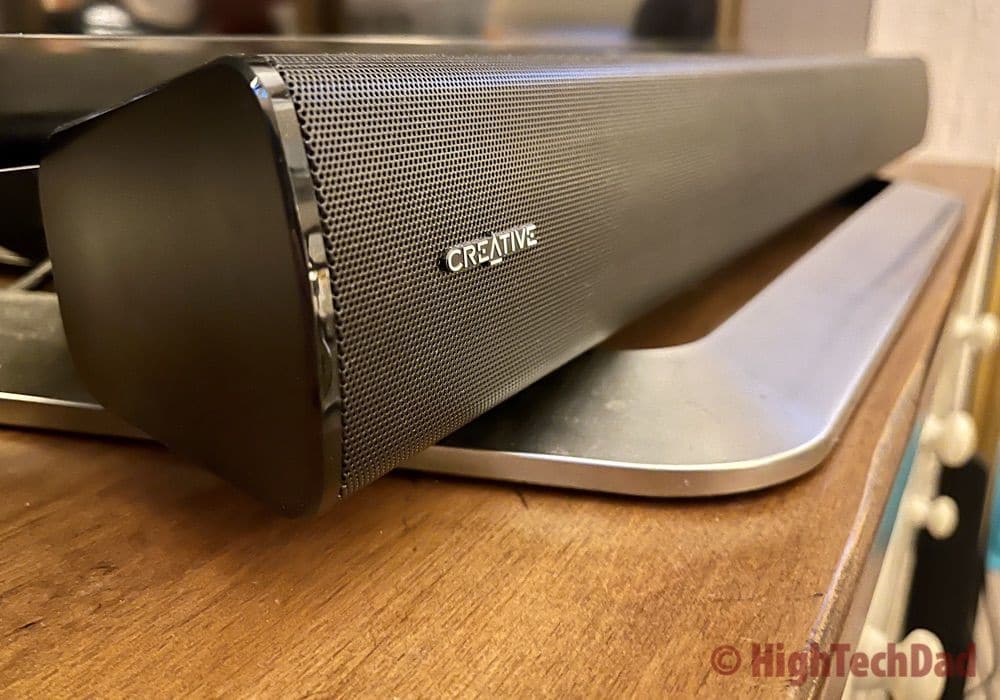 Our bedroom setup is pretty simple. We have an Apple TV connected to our HDTV via the second HDMI port. And the primary HDMI port on the TV, which supports ARC, is connected to the Creative Stage V2. That way, we can use the volume buttons and power on our Apple TV to basically control everything…almost. (There is no power button on the Apple TV, you have to basically put the Apple TV to sleep to power it off.)
ARC works well…except for when it doesn't. And there have been some times where we power off the Apple TV, and neither the soundbar nor the TV turns off. I don't think this is the fault of the Creative Stage V2, but more likely, the TV is not transmitting the proper signal. In those cases, just pressing the power on the TV turns it and the soundbar off. (Or you can use the Creative remote.)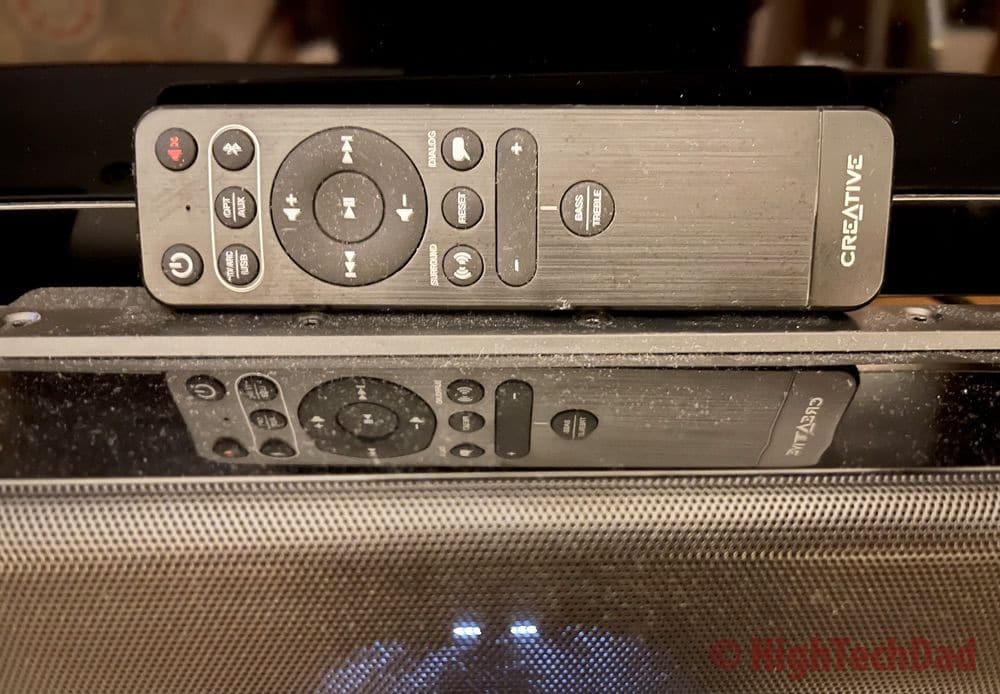 The sound quality is quite good for this $100 soundbar. We have never needed to fully crank up the volume because the Creative Stage V2 definitely can push out a lot of volume. I never encountered any distortion, and the bass is solid enough so that my action movies sound quite good.
The Creative Stage V2 retails for $109.99 on the Creative site, and you can get it on Amazon for $109.99 as well currently. And it is listed as an Amazon's Choice item!
Shop on HighTechDad
The product shown below (and related products that have been reviewed on HighTechDad) is available within the HighTechDad Shop. This review has all of the details about this particular product and you can order it directly by clicking on the Buy button or clicking on the image/title to view more. Be sure to review other products available in the HighTechDad Shop.
So what is the bottom line here? The Creative Stage V2 soundbar is a budget-friendly yet feature-filled soundbar that is perfect for just about any HDTV setup, but it also brings sound to other devices like smartphones and tablets (via Bluetooth) or physically via an optical connection or even an AUX-in. The sound improvement compared with just a standalone TV is incredible. This is also a good addition to a dorm room or office.
HTD says: If you are looking to pump up the bass of your HDTV well beyond what comes out-of-the-box on a TV, definitely take a listen to the Creative Stage V2 soundbar. With multiple input types, it is a well-rounded and good performing, budget-oriented soundbar for your home.
HighTechDad Rating
Ease-of-Use

Family-Friendly

Price Point

Features
Summary
If you are looking to pump up the bass of your HDTV well beyond what comes out-of-the-box on a TV, definitely take a listen to the Creative Stage V2 soundbar. With multiple input types, it is a well-rounded and good performing, budget-oriented soundbar for your home. The setup of the Creative Stage V2 soundbar is quite easy. First, choose what type of item you are connecting. For an HDTV, I recommend choosing the HDMI (ARC) option so that your TV or other connected components can control the volume, among other things. You can connect multiple components as well. The sound is quite good given the price point. This soundbar is great as a starter surround sound speaker, in a dorm room or bedroom, or just to connect multiple devices to. Solid bass and good highs make watching media a much more pleasurable experience than just using your plain old TV.
Pros
Not expensive
Easy to set up
Good bass and treble 
Ability to connect multiple devices
Does include a subwoofer AND a remote
Cons
Sometimes has issues not turning off using ARC (but that could be an issue of HDTV or other attached components)