If you are searching for a multi-function, dimmable LED desk lamp for school or your office, you may want to take a look at the LumiCharge Dimmable LED Desk Lamp. This multi-featured lamp is sort of the swiss army knives of desk lamps. Where other lamps stop with features, the LumiCharge just seems to keep going. In fact, if you were to put all of the features into the name of the product, its name would be a paragraph on its own! (*Disclosure below.)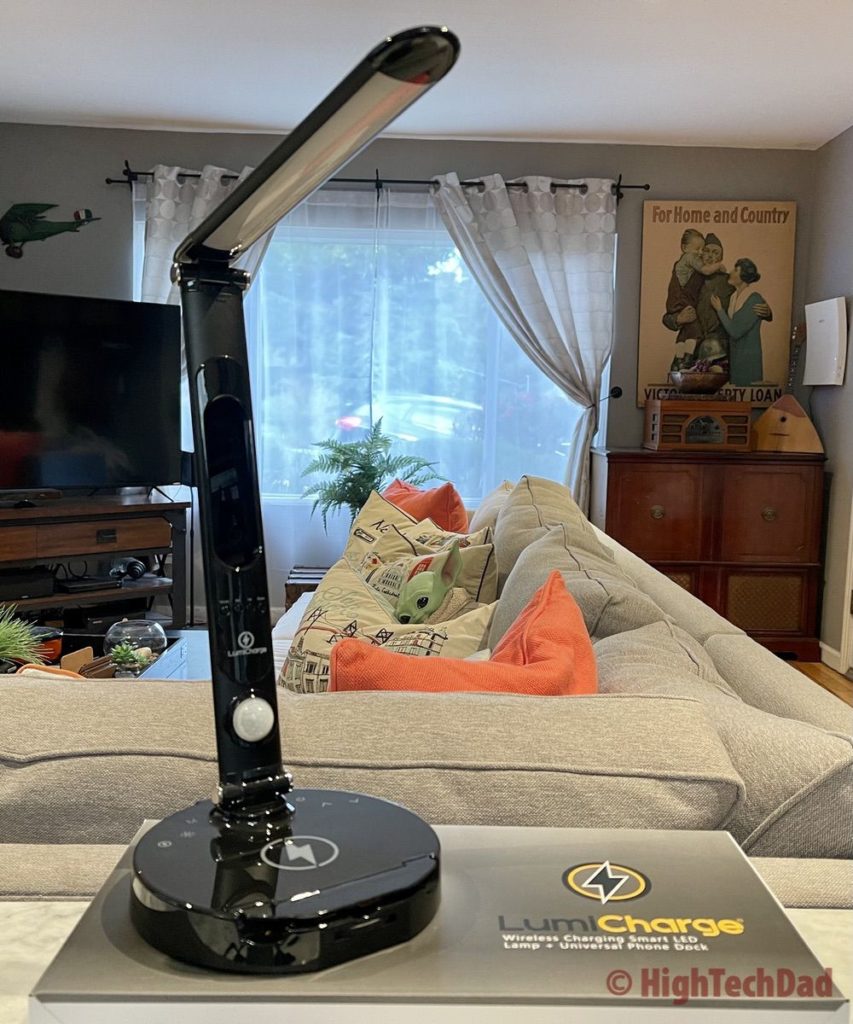 Here's a quick list of all of the little features that I discovered as I tested out the LumiCharge LED Desk Lamp, and I'm sure I missed a few things! I will go into a bit more detail later on in this review.
LED lamp
Dimmable lamp
Color temperature control of lamp
Night light
Motion sensor
Calendar (dimmable)
Temperature reading (dimmable)
Clock with Alarms (dimmable)
Tilting, rotating, and pivoting arm
Side-to-side tilting LED bulb
Universal charging dock (lightning connector, micro-USB, USB-C)
USB-A port
10W wireless fast charger
3 color options – black, silver, white
Memory setting for brightness and color temp
Touch-button controls
Backup battery for calendar, clock, and alarm
Lots of great little features, right! For the most part, I agree. However, there were a few features that I probably won't use until they are redesigned or simply removed. But more on that later. Let's quickly go through some of the highlights.
The LED Lamp
First and foremost, this is a desk lamp. And as a desk lamp, the LumiCharge does a great job! Not only is it an energy-efficient LED lamp, but the lamp also has various configurations to set up the perfect lighting scene.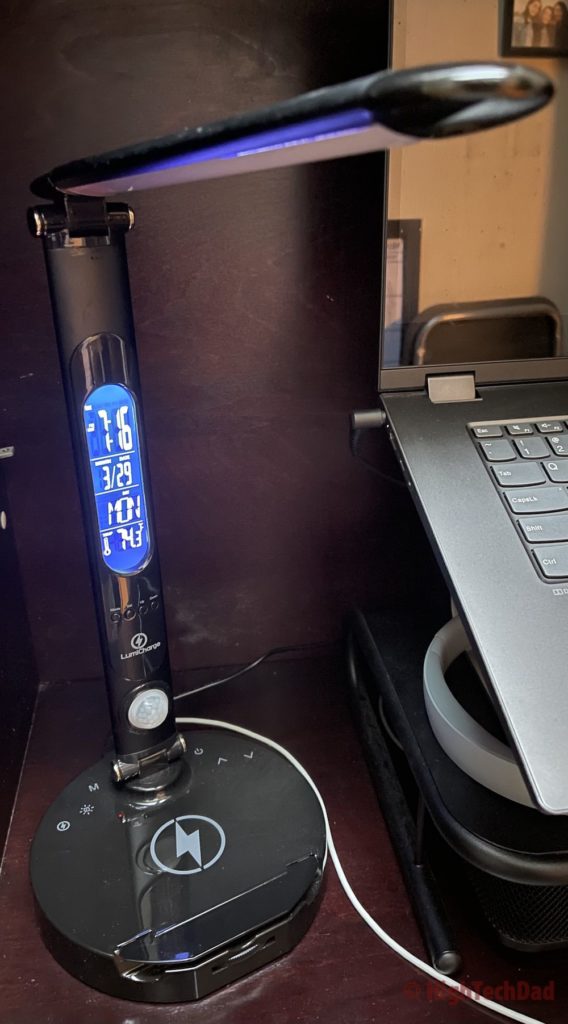 It has three hues of light, for starters. What does that mean? Well, during the day, you may want more of a bright, cool, blueish hue. This type of hue tends to stimulate the brain. But at night, you may want something more calming, relaxing, and easier on the eyes. So, in that case, you would choose the warm hue. Or to have it "just right," you could use the middle setting, which is right in between.
The other thing you would want to control is the brightness. The LumiCharge has ten levels of brightness to give you complete control over your lighting environment. All of the light controls are in the base and done via soft-touch buttons for power, dimming, and color temperature.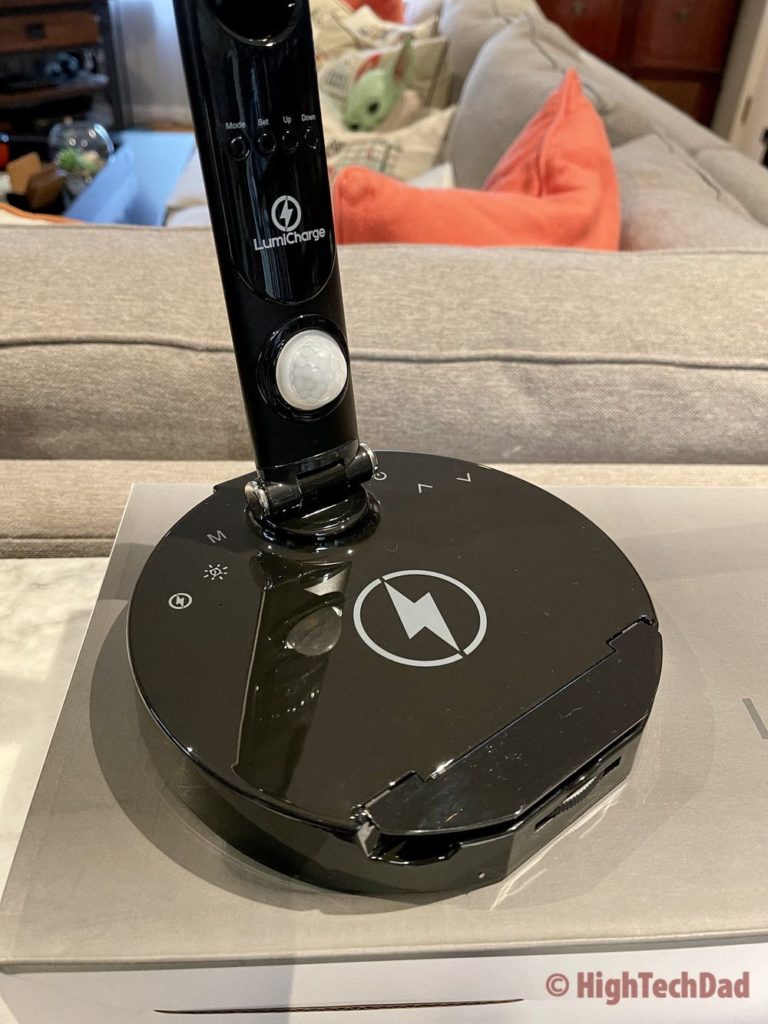 The lamp consists of a base and an arm with two hinges. One hinge is in the middle, and one is for the portion that houses the LED bulb. The arm that is attached to the base actually rotates about 145º. The middle pivot is 120º, and the top arm rotates 90º, so you pretty much can direct the light in any way you want. You could even easily use it as a light for vlogging or doing video conferencing.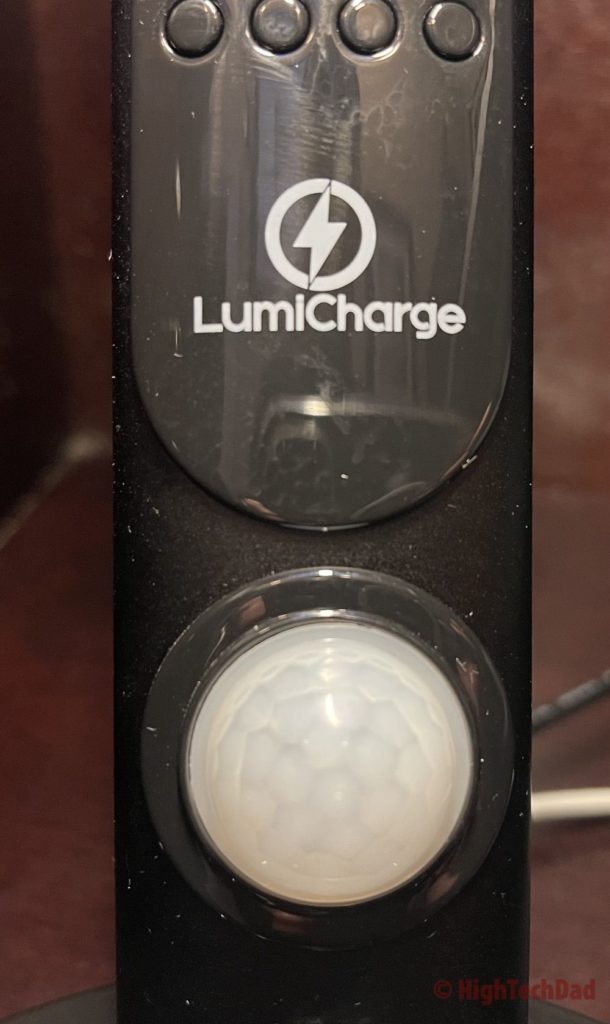 As an added bonus, there is also a motion-sensing night light that will light up (it's quite bright, by the way) when motion is detected (obviously).
The Arm with the Date, Time, Temp, and Alarm
In the arm attached to the base of the LumiCharge LED Desk Lamp is an LED display. The white on black lettering displays the time, the month, the date, the day of the week, and the current temperature around the lamp itself. You can also set an alarm.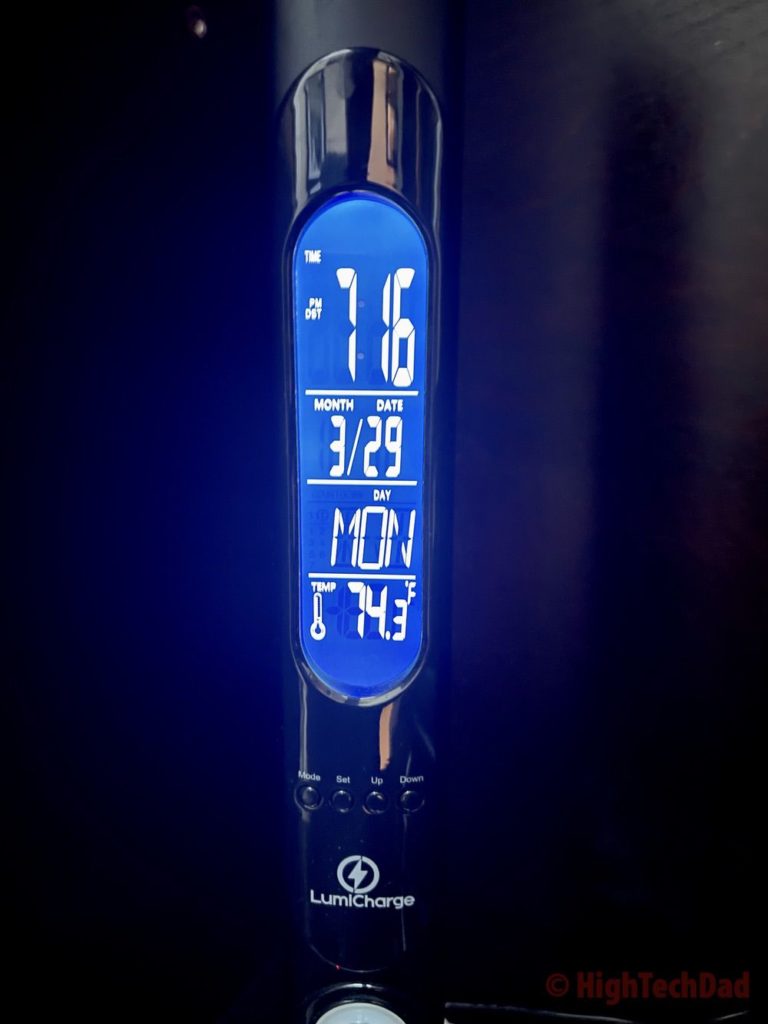 The display is high-contrast and quite easy to read. But, if you feel that the display is too bright, it is dimmable. You can't actually turn off the display, but you have three levels of backlighting, and you can turn off the backlighting altogether (the display stays on though).
Multiple Charging Options
This is the one area where I completely wanted to love the functionality, but I felt that it wasn't quite there. Yes, it worked. And yes, it was a great concept. But in my testing, I would have done it a bit differently.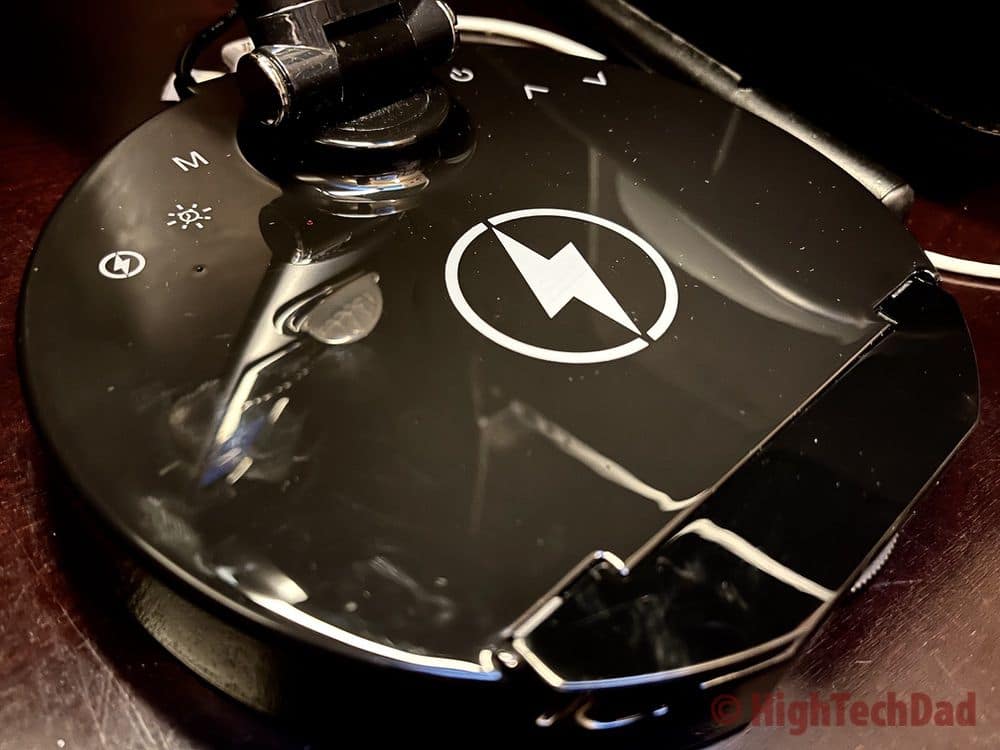 First, there is a Qi High-Speed wireless charger built into the base. It's a 10W wireless charger. I have to say that I love wireless charging and cannot wait for the day to eliminate ports and cable completely. The LumiCharge LED Desk Lamp does do wireless charging. You do have to press a soft-touch button to actually turn the charging on. This is fine, but I do wish that it automatically started charging.
The wireless charging isn't that powerful, unfortunately. I tested with some of my kids' iPhones that have thicker cases. It was tricky at times to get the wireless charging working without moving the phone around to find the sweet sport or completely removing the protective smartphone cases.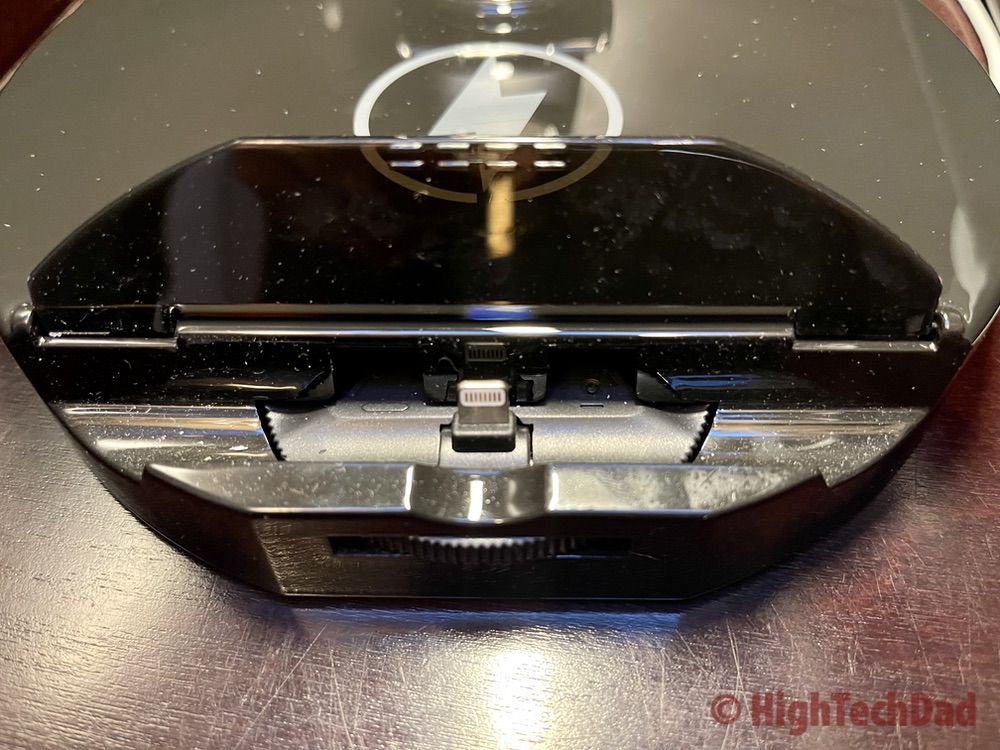 There are other charging options available as well. Built into the base of the LumiCharge LED Desk Lamp is what they call a universal charging dock. There are three of the most common connectors for smartphones: lightning, micro USB, and USB Type-C. The way this works is quite innovative. You "spin the dial" in the base to rotate to the charging connector you want to use. Then you stand your smartphone upright in the dock, connecting to the charger. I liked the concept of having a "universal dock." But it was tricky to use and felt a bit flimsy. And, with a smartphone case on, it was sometimes tricky to connect the phone with the base.
Instead of having the rotating charging dock, I would rather have had either a more powerful wireless charging solution or have two wireless charging solutions, one for a smartphone and one for wireless earbuds.
Lastly, there is a port in the back where you can plug a USB charging cable. Conceivably, you could charge three devices at once using the LumiCharge: one on the dock, one on the wireless charging pad, and one via a connected USB cable.
LumiCharge LED Desk Lamp: Functions + Price = Nifty Gadget!
Essentially there are 3 core functions to the LumiCharge LED Desk Lamp. It's a dimmable, movable lamp, for starters. It is a clock with a calendar and temperature gauge. And it is a smartphone or device charger. I do think this device would be great in a student's dorm room or at home on their bedroom desk. It is also quite a capable lamp for a home or work office.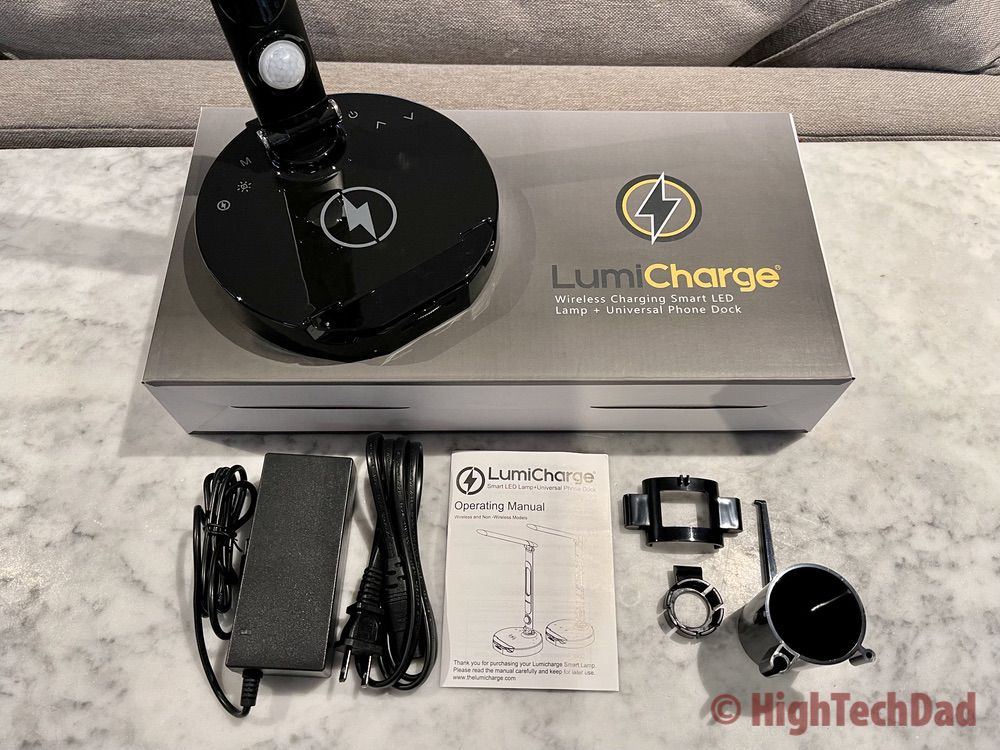 The LumiCharge LED Desk Lamp retails for $149 (note: as of this writing, it is on sale on their website for $119.00). But you can also pick it up on Amazon currently for $99.99.
Shop on HighTechDad
The product shown below (and related products that have been reviewed on HighTechDad) is available within the HighTechDad Shop. This review has all of the details about this particular product and you can order it directly by clicking on the Buy button or clicking on the image/title to view more. Be sure to review other products available in the HighTechDad Shop.
Disclosure: I have a material connection because I received a sample of a product for consideration in preparing to review the product and write this content. I was/am not expected to return this item after my review period. All opinions within this article are my own and are typically not subject to editorial review from any 3rd party. Also, some of the links in the post above may be "affiliate" or "advertising" links. These may be automatically created or placed by me manually. This means if you click on the link and purchase the item (sometimes but not necessarily the product or service being reviewed), I will receive a small affiliate or advertising commission. More information can be found on my About page.
HTD says: Choosing a good, energy-efficient, and utilitarian desk lamp is important. But when it comes built-in with a bunch of other great features, you have to feel lucky about your purchase. The LumiCharge LED Desk Lamp is a desktop gadget that is packed with useful features.
HighTechDad Ratings
Ease-of-Use

Family-Friendly

Price Point

Features
Summary
Choosing a good, energy-efficient, and utilitarian desk lamp is important. But when it comes built-in with a bunch of other great features, you have to feel lucky about your purchase. The LumiCharge LED Desk Lamp is a desktop gadget that is packed with useful features. To set up the LumiCharge LED Desk Lamp, all you need to do is install the backup batteries (option) that power the calendar, clock, and temperature LED. Then just plug it in. The arm is easily adjustable to pretty much any position. The LED lights, fully dimmable and with color temperature controls, are bright to light up any desktop environment. The charging capabilities for smartphones are numerous but are one area that I would like to have improved – more wireless charging and remove the dock feature. But overall, this is a nifty desktop LED lamp for school or home.
Pros
Many functions
Calendar, time, and temperature display is convenient
Light is bright and configurable for many angles
Good control of brightness and color hue temperature
Cons
Wireless charging often requires you to reposition your phone or remove the case
Dock connectors for smartphones are good but sometimes hard to use