I honestly love jackets. I have quite a collection I have amassed over the years, and there is practically one for every type of occasion. And, obviously, I love tech. When there is a melding of the two, I get quite intrigued, so when I was asked if I wanted to review the Fieldsheer Adventure Heated Jacket, I could hardly contain my excitement. In fact, after using the Fieldsheer heated jacket for a while, I now have a nickname for it. It's now my "Ironman Jacket." (*Disclosure below.)
So while this heated jacket is not keeping my heart beating, nor is it powered by some seemingly unending power source, it does have a little button that glows based on the level of heating being provided to the front and back of the jacket. And you can control it via an app on your smartphone.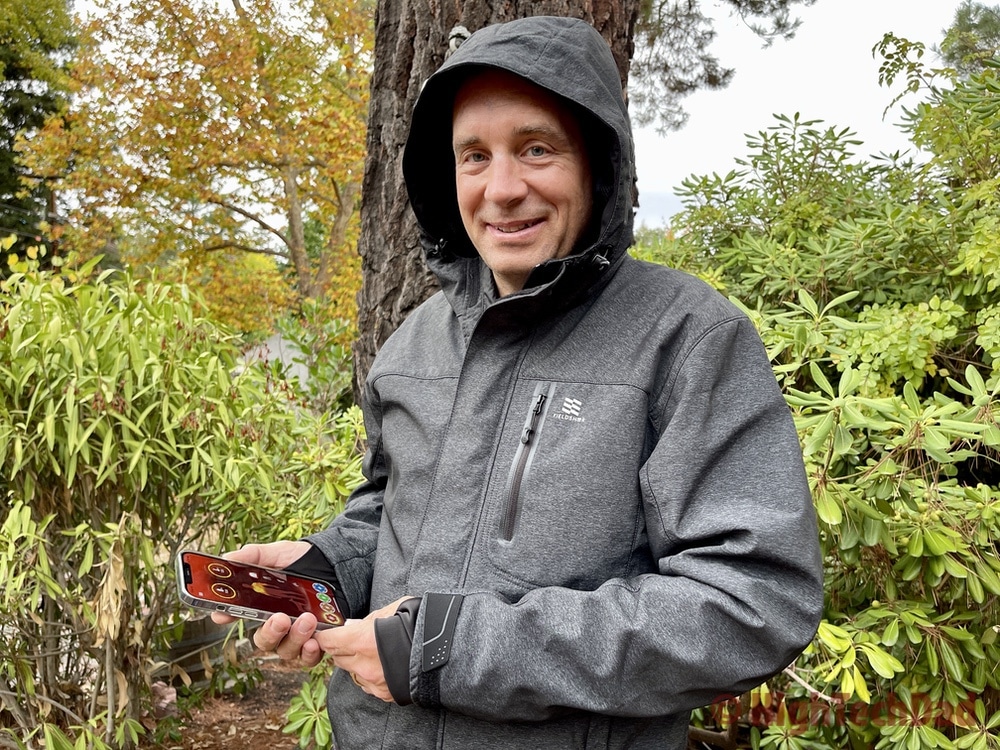 While I received the Fieldsheer heated jacket a few months ago, California was in the midst of an extreme heatwave, with temperatures regularly pushing over 100 degrees daily. So, I wasn't about to 1) put on a jacket nor 2) fire up the heating elements within the heated jacket. But, now that the weather has changed to more autumn temperatures, I've had a little bit of time to test out the Fieldsheer. And, the more I use it, the more I'm really liking it.
A jacket first (with some Tech woven in)
The primary function of a jacket is to keep you warm and potentially protect you from the elements like snow, rain, drizzle, and the like. Yes, jackets need to look good as well, otherwise, they become purely utilitarian, and there is a good possibility that you won't wear them regularly.
The Fieldsheer Adventure Heated Jacket checks those requirement boxes off quite easily.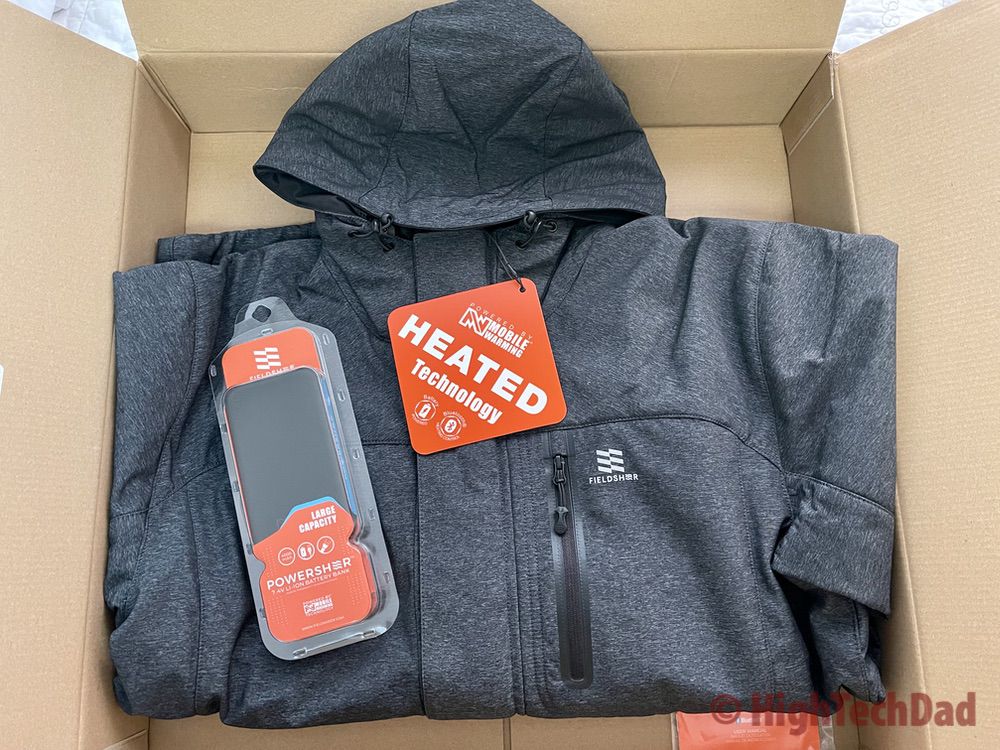 So, let me start with just the jacket part of the equation and then move on to the tech a bit later.
For starters, this jacket is truly designed (even without the heating element) to keep you warm and comfy. It comes in only one color currently – Heather Grey. It's not truly a solid gray but rather a textured type of gray with specks of white throughout the fabric. Those specks of white actually do serve a purpose, I believe, as one of the tags attached to the jacked touted a technology called Phoslite.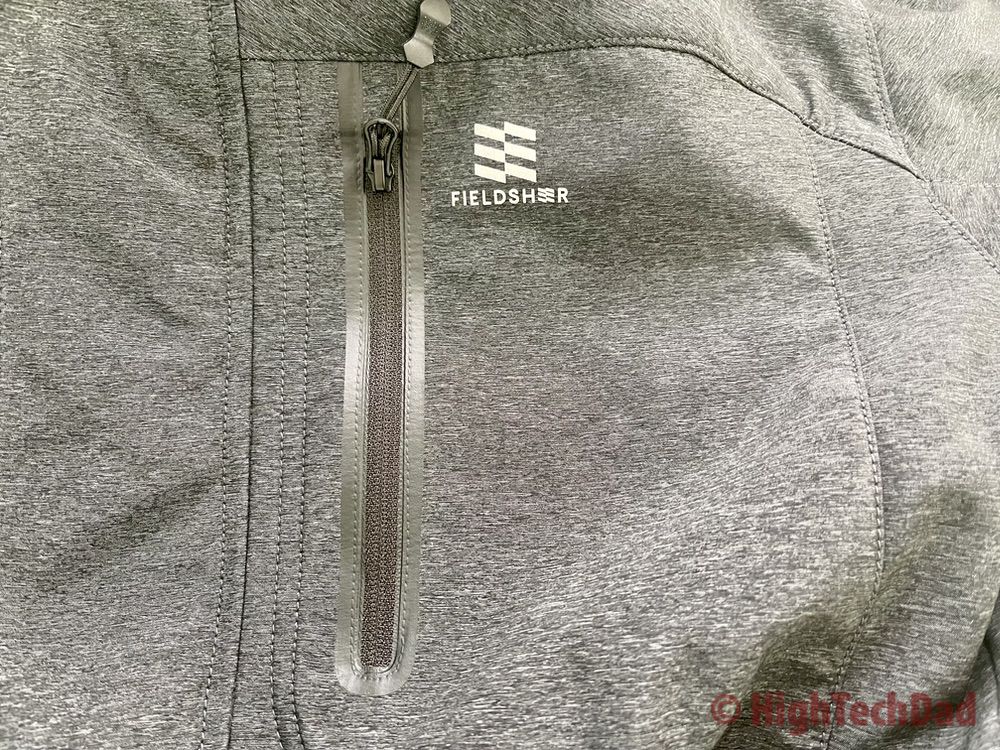 Phoslite essentially embeds tiny reflective lenses throughout the fabric. This means that in certain lowlight or dark environments, in the proper conditions, light is reflected back. This means that if you are walking at night or dusk or dawn, you probably can forgo using a reflective belt or vest because the Fieldsheer does that for you.
Also of big importance to me is having a jacket that is rainproof or at least water-resistant. I have actually had to teach my family the importance of having a true raincoat that does not let water penetrate in. Too many times I have seen my kids head out the door intro with a puffy jacket only to come back with waterlogged looking like a wet dog.
The Fieldsheer is built with Rainguard – a polyurethane coating that allows for perspiration to escape while preventing water from entering the jacket. In fact, to add to the water resistance of the jacket, the seams are also sealed with thermoplastic tape, adding to the prevention of water getting in.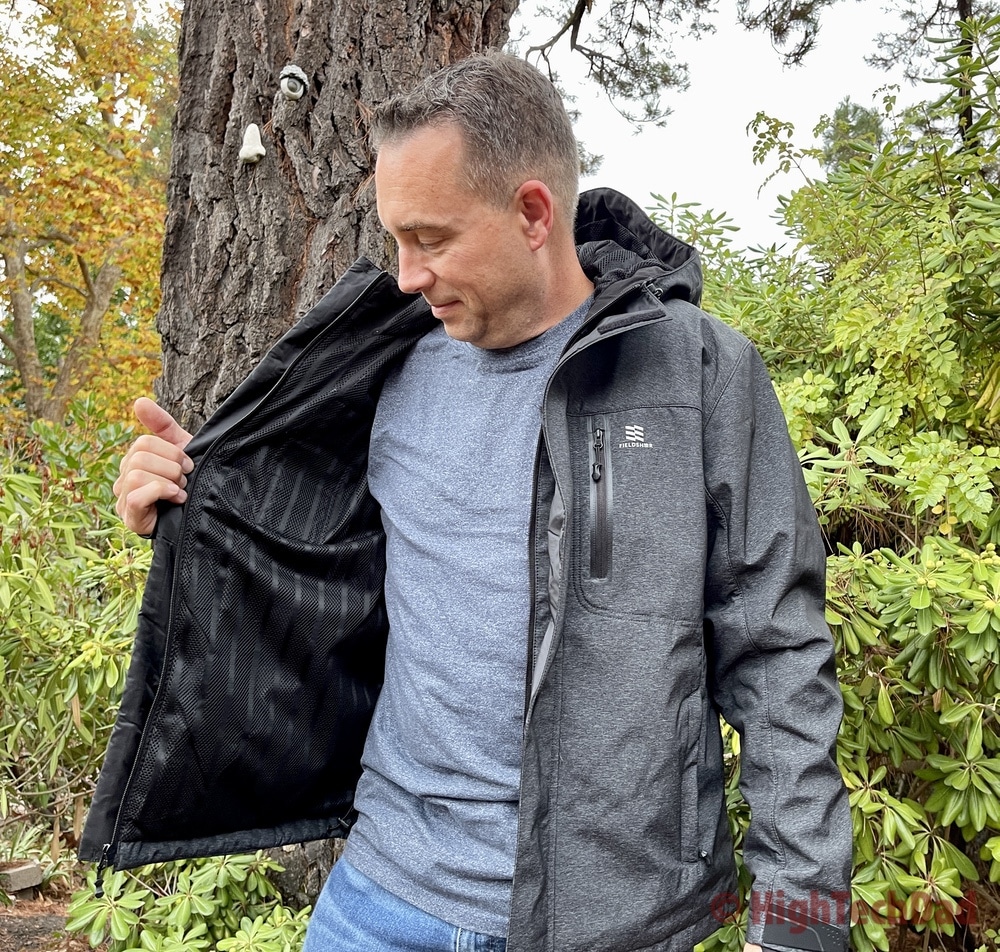 Yet this water resistance does not make the jacket feel rigid or immobile. On the contrary, the fabric is quite flexible. But more importantly is the fact that I don't think I would feel too comfortable having a bunch of electricity or batteries in a jacket when I went out in the rain. Electricity and water aren't exactly the best of friends.
It also has something called Wind-Shark as part of the clothing "tech." If you are braving the elements of rain, snow, wind, and more, you don't want the wind cutting through into the area where you are trying to stay warm. And losing body heat is definitely something you want to avoid, with or without a battery powering additional heating. It is all about clothing efficiency!
Core Fieldsheer Heated Jacket features
To complement the exterior shells, there is also a mesh liner. This has two functions, I found. For starters, it provides the ability to wick away moisture from the inside (like when you REALLY get heated up and start to sweat). This is important because if you get wet with perspiration, it is much harder to warm up as the dampness brings your temperature down – part of the reason why when you are sleeping in a sleeping bag, you want to wear as few clothes as possible.
The mesh also has heating elements directly behind it in parts of the Fieldsheer Adventure Heated Jacket, as I will go into a bit later.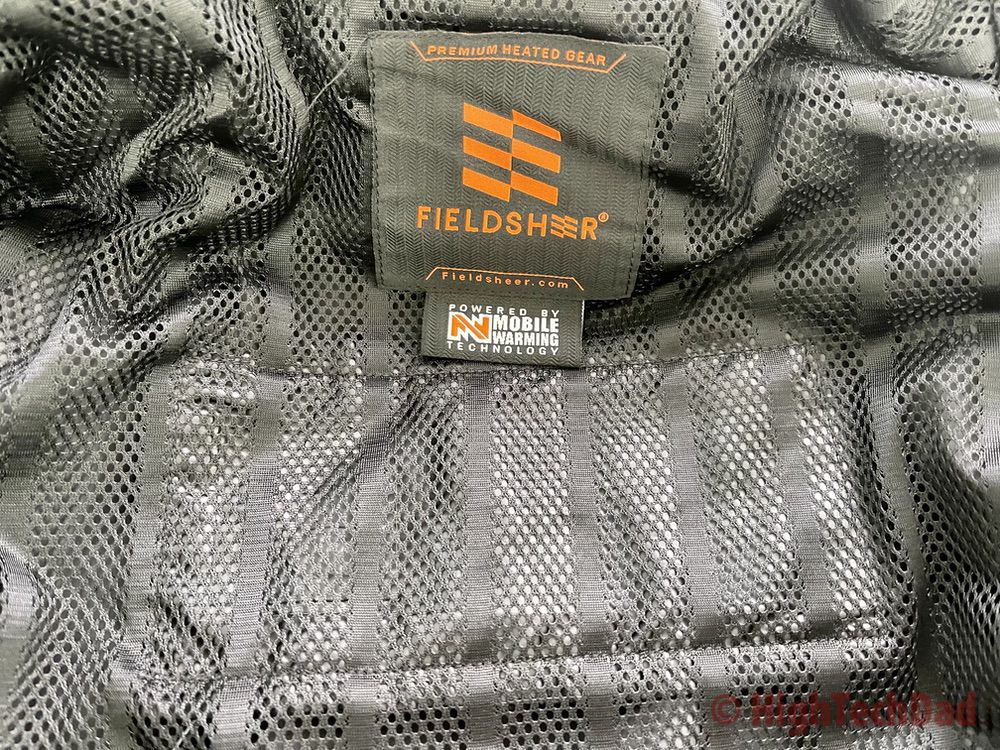 Let me talk a bit more about the jacket. It does have a hood. If you are going out in the rain or snow, you need to have a hood. And the hood should be adjustable so that you can wear it loose or tighten it up. The hood is nicely outfitted with a lip on the top, almost like a visor. And it has a variety of drawstrings to tighten it around your head, including one in the back for additional tightness.
In talking about drawstrings and ways to seal out the wind and elements, the wrists have Velcro closures to ensure no gaps around the wrists. And, two drawstrings around the waist prevent the wind and rain from blowing up into the Fieldsheer jacket.
One thing that I have personally not encountered in a jacket was that for each wrist area, there is a thumb-holder-glove type of thing (I honestly don't know the proper name for it). When I first put the jacket on, I was surprised that I had to put my thumb through an opening which then secured the sleeves to my arm, preventing the sleeves from riding up my arm in any way. It was a great additional feature I wasn't expecting.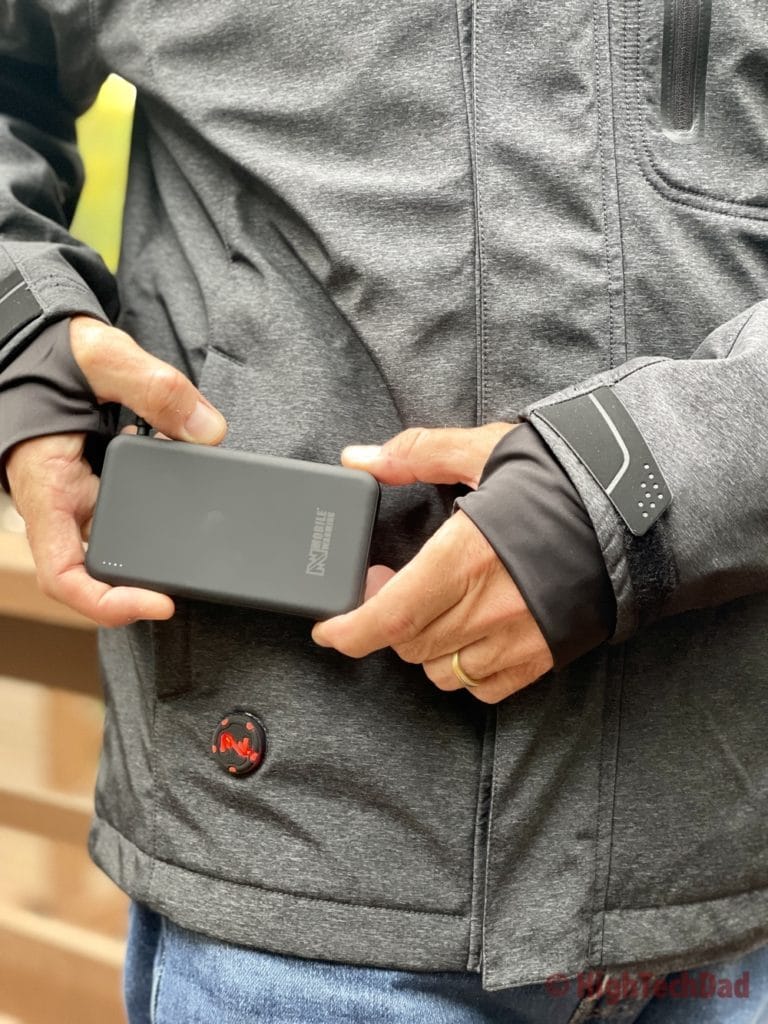 There are three waterproof, zippered pockets on the front, two for your hands (and one has a compartment for the battery), and then one higher up on the chest line for your phone or glasses. While it would have been amazing to have a larger cargo pocket in the back, unfortunately, the Fieldsheet Adventure Heated Jacket does not. But no matter, there is plenty of storage for your gloves and phone.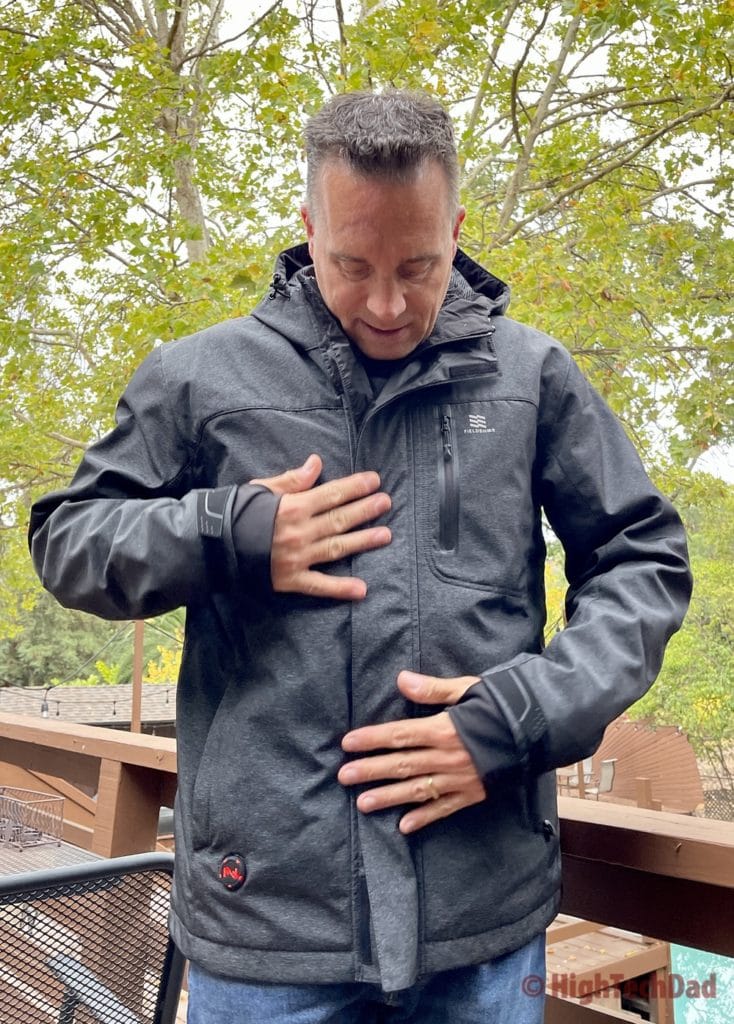 Lastly, I have to mention the front zipper. Extra attention was made to the design of this front section. The zipper is truly "inside" the jacket, and there is a robust, Velcro-sealed flap that completely covers it, making it pretty impervious to any elements entering through the front. It's an additional layer of protection.
So yes, the Fieldsheer Heated Jacket is a great jacket in itself even before any tech was even added to it.
Bringing Ironman into the fold
As I mentioned at the beginning of this article, I have nicknamed this Fieldsheer Adventure Heated Jacket my "Ironman Jacket." And this is because there is a little glowing button on the front controls the heating elements within the jacket itself. Fieldsheer calls this their Mobile Warming Technology and I must say, it does work…quite well actually.
This heating technology is a line of clothing products that you can get with Fieldsheer. From jackets to vests to gloves to socks (men's and women's clothing alike), you can find all types of articles of clothing to keep your body toasty warm. If you or any member of your family suffers from always being cold, you may want to check out some of the options available.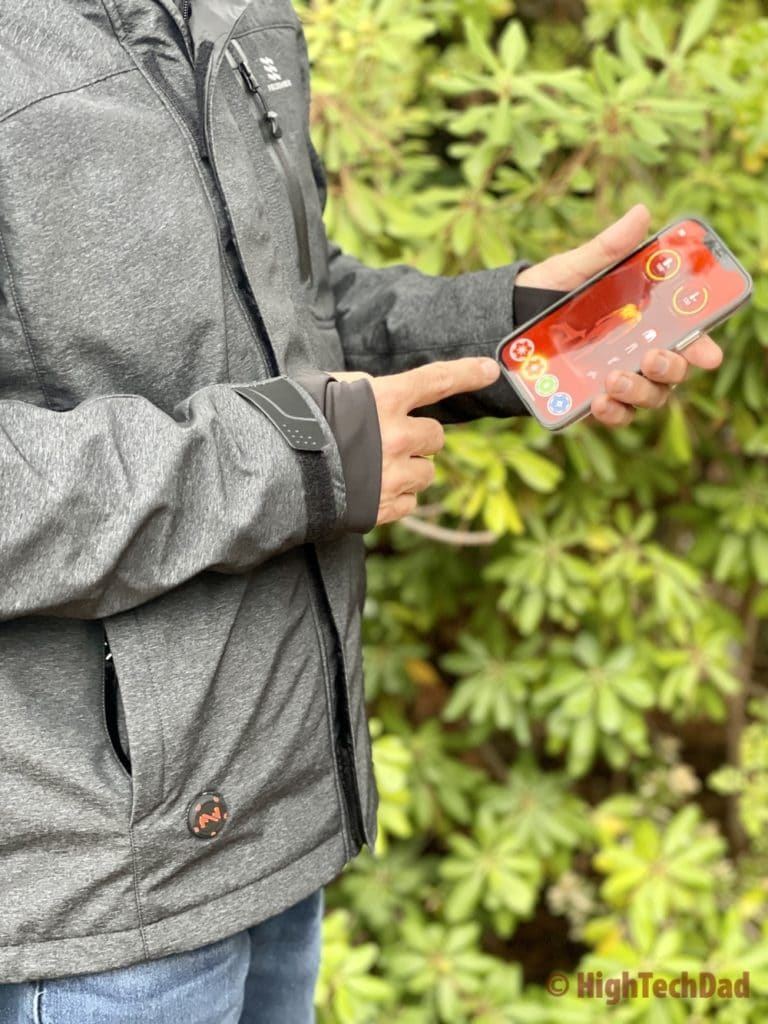 For the Mobilesheer Adventure Heated Jacket, this battery and warming pad technology simply supplements an already nice and warm jacket. But it supplements it a lot, moving it from a warm jacket to something quite hot. You can raise the temperature inside the jacket to an incredible 135º (which is almost too hot for where I live – if there were snow around, that might be a different story).
The warming of this Fieldsheer jacket occurs in four places within the jacket lining itself. There are two heating pads in the front and two in the back. This ensures that your core body gets heat as needed. The pads themselves are visible through the mesh liner but are also very flexible, so you won't notice that they are there (until they are hot).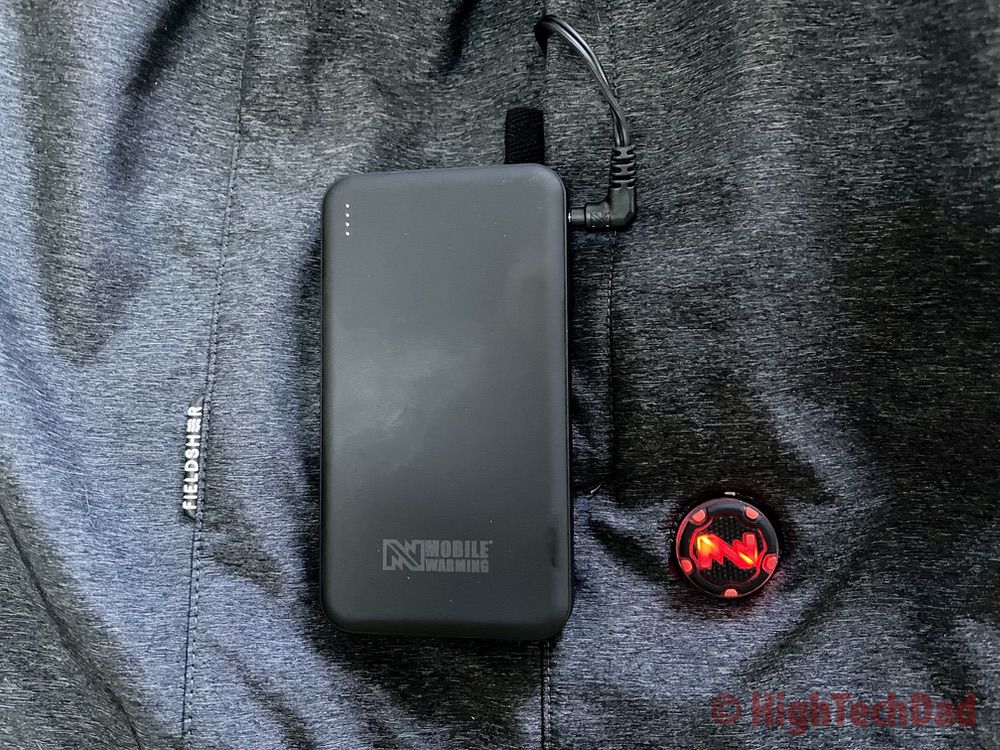 The pads are connected via thin physical wires that run to a hidden pocket where the battery is stored. The battery is a 7.4-volt rechargeable Lithium-Ion battery (4000mAh) which uses a micro-USB connection to charge it up. A great advantage of having a removable battery built into your jacket is that it has dual purposes. You can obviously use it to heat the jacket, but in a pinch, you can use it to charge your smartphone as well.
Because of the jacket's fabric, any heat generated through the ultra-fine fiber elements is reflected back to your body. So while the outside of the jacket is warm to the touch, it is much warmer inside the jacket.
The temperature of the heating elements can be controlled in two ways. First, you obviously have to charge the battery fully. Then you place it into a hidden compartment within one of the pockets. Within that pocket is a cord that connects the battery to the wires going to the heating elements. Do note: the connector is somewhat non-standard. I would have actually liked it to have been a USB of some type so that other batteries could have been used as an alternative.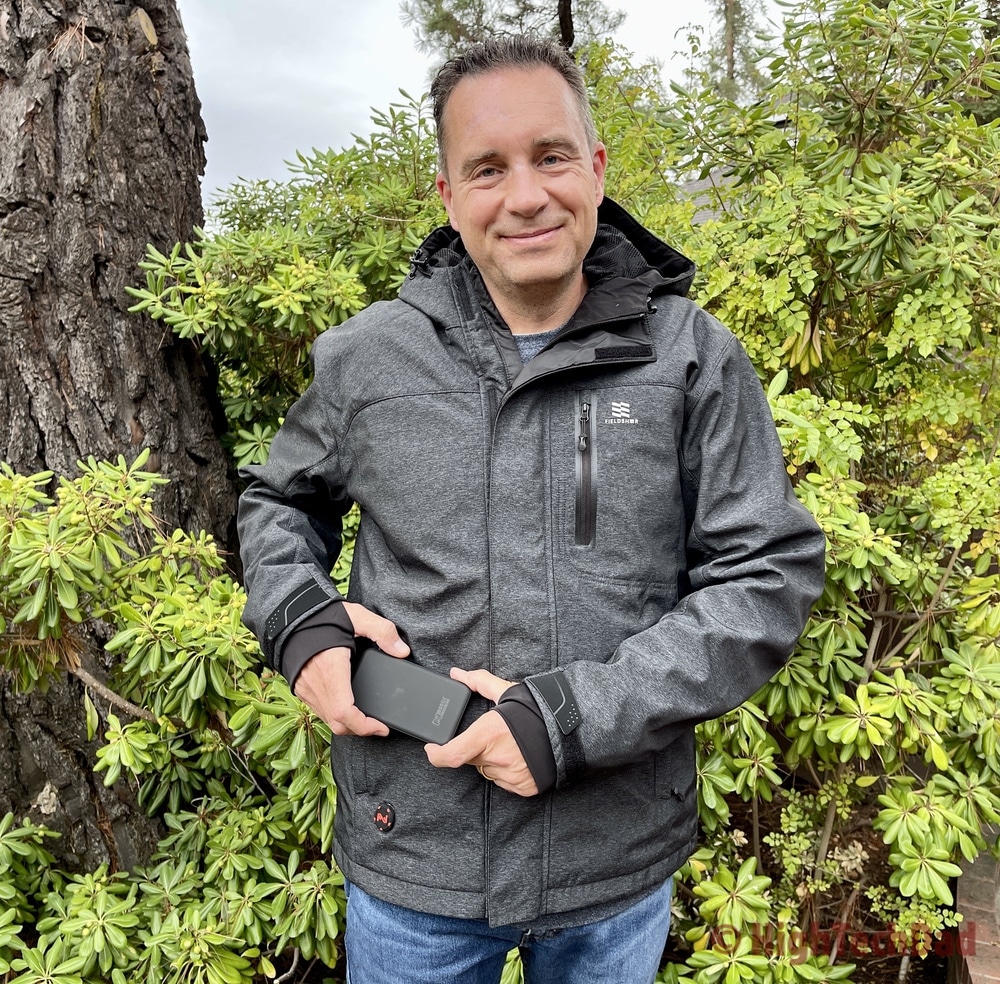 Once you connect the battery, you simply power it on by pressing the button on the battery itself. You know that the battery is on when the "Ironman" button on the front shows a red light. You can manually control the temperature (there are 4 settings) by pressing this button. And the color displayed by the button indicates what setting:
Red – 100% – 135º F (3.2 hours)
Orange – 75% – 120º F (4.3 hours)
Green – 50% – 105º F (6.5 hours)
Blue – 25% – 90º F (13 hours)
Indicated above are how much battery power is used for heating, the temperature it will hit, and how long the battery will last at that power.
So while you can physically control the heating level with the button on the front, the battery can also be controlled via a smartphone app called MW Connect. First, you have to connect the battery to the app via Bluetooth. You have to press and hold the button, then pair it to the app (after you download it). Once paired, you can control the temperature settings directly from the app as well as see how much battery is left.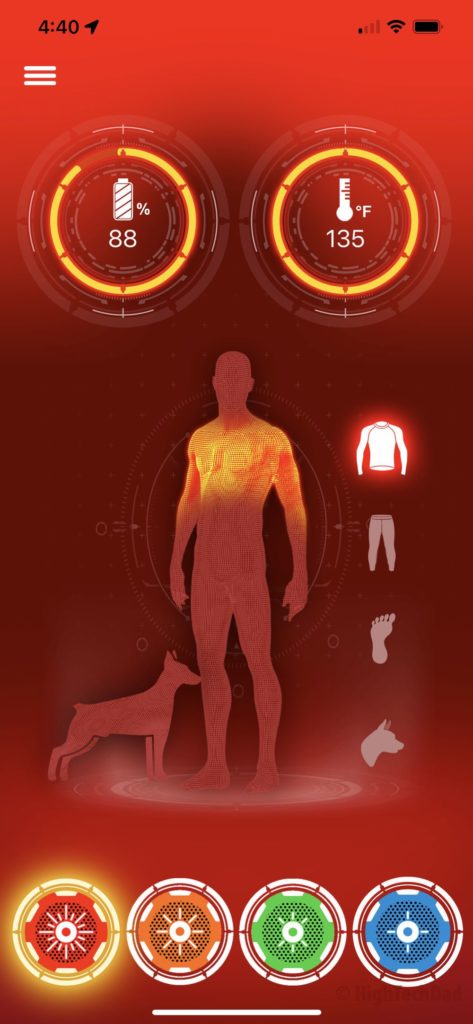 The only tricky thing that I found was figuring out how long to press the button on the battery to turn it on. Press it too long, and you go into pairing mode. So my recommendation is to just test it out. You will know that the battery is on by the light on the button on the front of the jacket. Then, you can check the app to see if you are connected via Bluetooth. Press and hold the battery button to turn it off. And you can see the battery level (and its power state) by looking at the four lights on the battery.
The Fieldsheer Warming Jacket is hot!
I hope it has become painfully obvious that I really like this Fieldsheer jacket both as a piece of clothing but also as clothing with some useful technology built inside it. It's comfortable to wear and is quite well manufactured with a lot of attention to detail. It's quite clear that a lot of thought has gone into ensuring that the jacket is well insulated and quite resistant to the elements (rain, wind, snow, cold).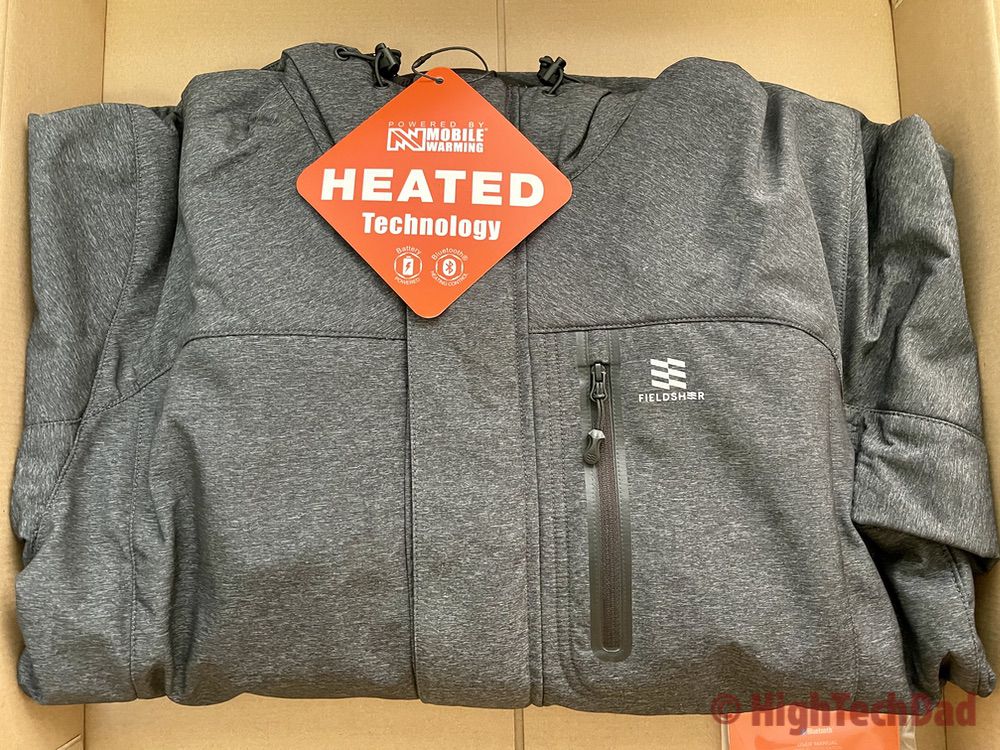 I also found that in comparison to other jackets I have as well as reviewed, it is fairly reasonably priced. It retails for $229.99 on the Fieldsheer site and is also available on Amazon for $229.99. That is a good price for simply the jacket alone. But when you add in the Mobile Warming Technology, complete with a rechargeable battery, the price is even better.
Shop on HighTechDad
The product shown below (and related products that have been reviewed on HighTechDad) is available within the HighTechDad Shop. This review has all of the details about this particular product and you can order it directly by clicking on the Buy button or clicking on the image/title to view more. Be sure to review other products available in the HighTechDad Shop.
So if you know someone who always runs cold or is always out in cold environments, I would highly recommend taking a look at this jacket or some of the other heated clothing items on the Fieldsheer site. There is quite a good variety available. Bottom line – this jacket WILL keep you warm (and look good in the process)!
Disclosure: I have a material connection because I received a sample of a product for consideration in preparing to review the product and write this content. I was/am not expected to return this item after my review period. All opinions within this article are my own and are typically not subject to editorial review from any 3rd party. Also, some of the links in the post above may be "affiliate" or "advertising" links. These may be automatically created or placed by me manually. This means if you click on the link and purchase the item (sometimes but not necessarily the product or service being reviewed), I will receive a small affiliate or advertising commission. More information can be found on my About page.
HTD says: If you are looking for a stylish, well-designed, weather and waterproof jacket, the Fieldsheer Adventure Warming Jacket is a winner. But wait! It's more than just a jacket; it has battery-powered warming elements to make it a "hot" article of clothing!
HighTechDad Rating
Ease-of-Use

Family-Friendly

Price Point

Features
Summary
If you are looking for a stylish, well-designed, weather and waterproof jacket, the Fieldsheer Adventure Warming Jacket is a winner. But wait! It's more than just a jacket; it has battery-powered warming elements to make it a "hot" article of clothing! While as just simply a water and weather-proof jacket, the Fieldsheer checks all of the requirements with well-designed stitching, fabric to block both wind and rain yet also wick away moisture from inside, and with a reflective outer shell, the Fieldsheer jacket is solid. But, when you add in the tech, specifically a battery that warms up four pads (two in the front and two in the back), this jacket is amazingly warm. And, you can control the warmth (and battery life) via a physical button on the front or via a smartphone app connected via Bluetooth. It's easy to set up and is a great jacket for a cold environment.
Pros
Well designed and fabricated
Keeps you amazingly warm (with or without the battery)
Battery can also be used to charge your smartphone
Good attention to quality
Cons
Battery connector within the jacket is non-standard (not USB)