We all love dongles, right? Probably not, I'm guessing. When Apple introduced the USB-C MacBook Pro, the market for adapters and dongles pretty much exploded. As a result, many people's Macs looked like digital octopi with all sorts of connections hanging off the sides. Then came the hubs, consolidating many of these adapters and dongles into a singular device. And, if you have a MacBook or MacBook Pro with one or more USB-C ports, you will want to pick up an EZQuest 8-port USB-C Multimedia Hub. And I have good reasons as to why! (*Disclosure below.)
I do love USB-C though (or, as Apple calls it, Thunderbolt – remember, there are multiple types of both USB-C and Thunderbolt with different capabilities). The ports and plugs are smaller; you can plug them in upside down or right-side up, they can be daisy-chained, they can pass power and data, all through one cable and port. This is one of the main reasons why I'm recommending dumping those dongles and adapters and simply getting the EZQuest 8-Port hub instead.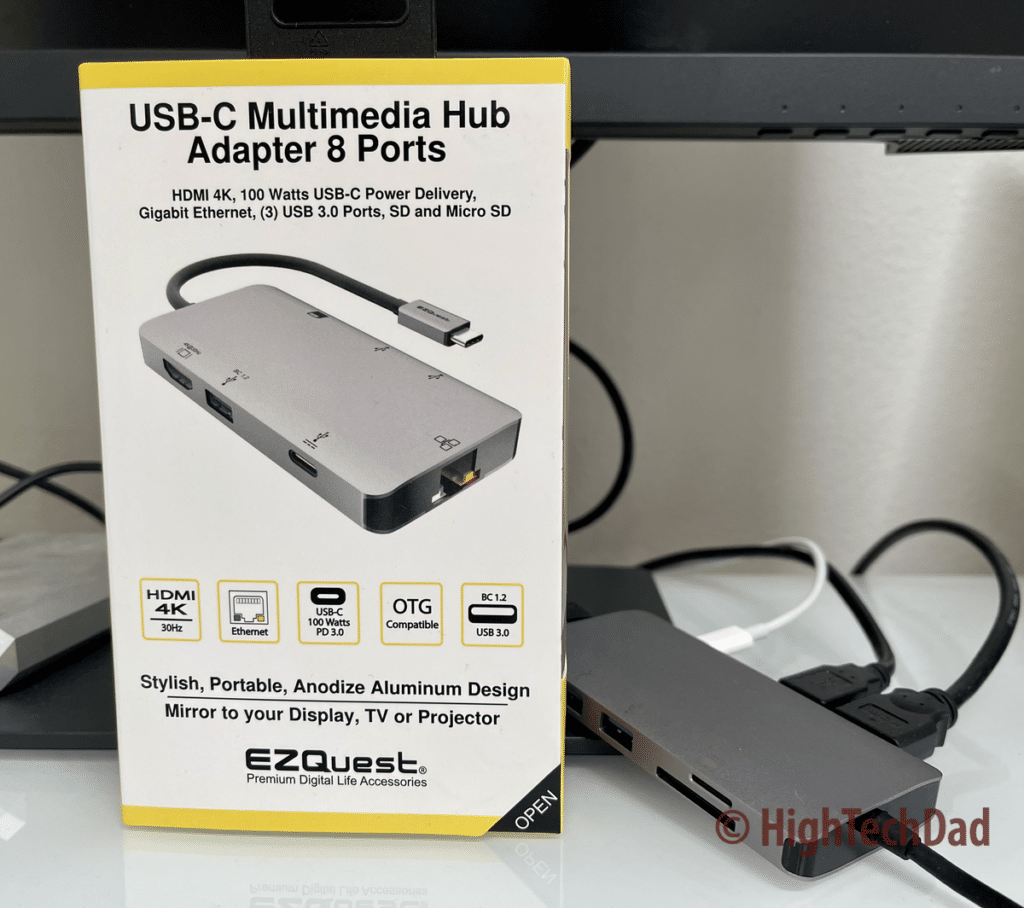 But there are other reasons as well. When Apple did come out with the USB-C MacBooks and MacBook Pros a few years ago, while they had 2-4 USB-C ports, they removed many other ports that did appear in previous Macs. So despite users actually liking, wanting, and needing them, things like Ethernet, card readers, DV, HDMI, and USB-A were dropped by the wayside.
The EZQuest USB-C hub brings all of these helpful connectivity ports back in a single device. And, you only use up one USB-C port on your Mac. So, if you do need to connect other items (yeah, via dongle or adapter), you do have at least one more port available to do so (depending on the Mac model). So, let's take a look at what the EZQuest hub port functionality is.
Connecting the EZQuest 8-Port Hub
One quick thing I should also mention, the EZQuest works with both USB-C Macs and PCs alike. You can also connect it to a Chromebook or a USB-C-capable smartphone. And, there are no drivers or software you need to install. The hub is true plug-and-play. As my environment is pretty much all Apple products, this review focus on that side of the equation.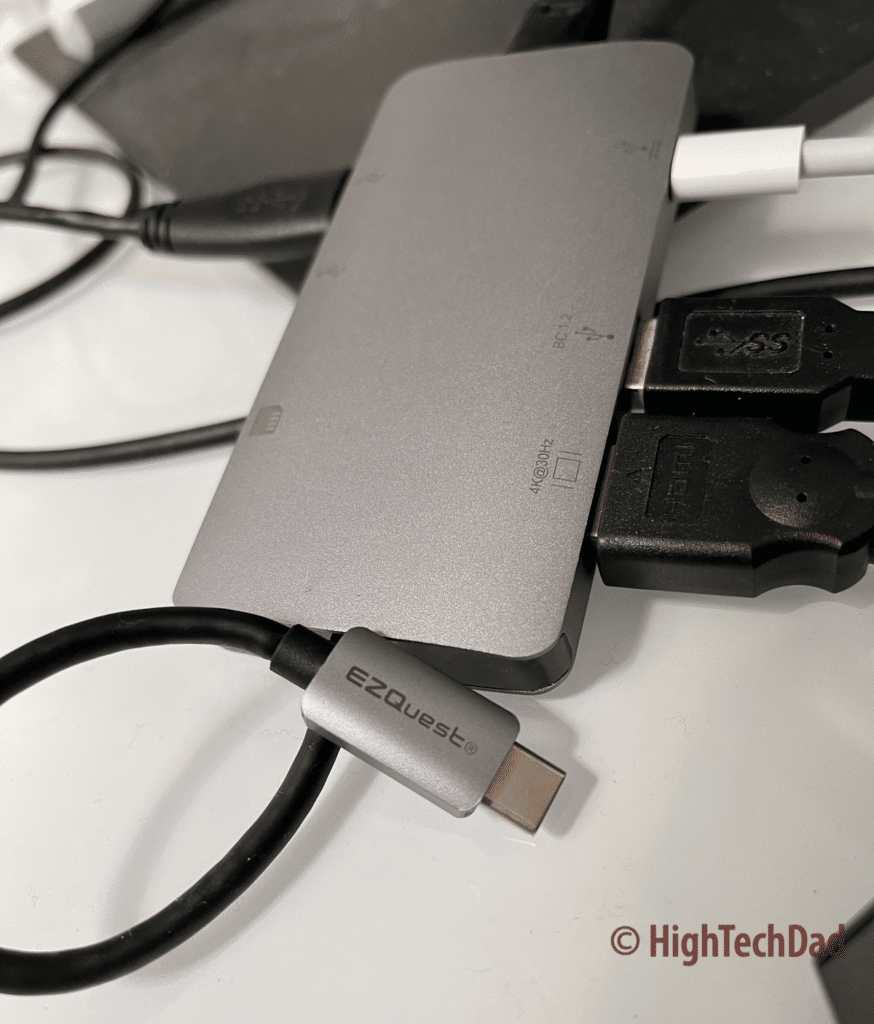 The hub itself has the main body, which has all of the various ports, and then has a dedicated and attached USB-C cable. So to use it, just plug the EZQuest Hub into your computer.
Another nice thing is you don't have to supply power to the hub to make it run, even if you have every port on the EZQuest hub connected to another device. It draws its power from your USB-C device. You can, however, connect your Mac's power supply directly to the EZQuest hub since it has PD (Power Delivery) 3.0 built-in. 100 Watts of power can be transferred via the USB-C cable.
Eight Ports of Goodness
As the name of the hub suggests, it has eight different ports, all of which are quite useful for different use cases. Specifically:
USB-C / USB Type-C cable – Use this to connect to your Mac, PC, Chromebook, tablet, or smartphone
HDMI – 4K 30Hz HDMI output for connecting to monitors or TVs
USB-C PD 3.0 – you can plug in your power supply for you Mac into this port; 1 X 100 Watts USB-C with Power Delivery 3.0 + 5Gbs data. Note: it is Thunderbolt 3 compatible
Ethernet: I always believe that hard-wired connections are better if you can do them; 1 X RJ45 Gigabit Ethernet with LED indicator
SDHC card reader – large format card reader to easily get photos from your DSLR camera
Micro SDHC reader – micro format card reader for action cameras, drones, and the like
USB-A – three 5Gbs USB 3.0 ports with one BC 1.2 capable; BC stands for Battery Charging – this port should be the preferred port for charging battery-powered devices
Personally, I love the fact that there is an Ethernet port built into the EZQuest USB-C hub. While many Windows laptops may still have built-in Ethernet ports, MacBooks, MacBook Airs, and MacBook Pros haven't had them either ever or in many, many years. Additionally, there are LED indicators to show the presence of network activity.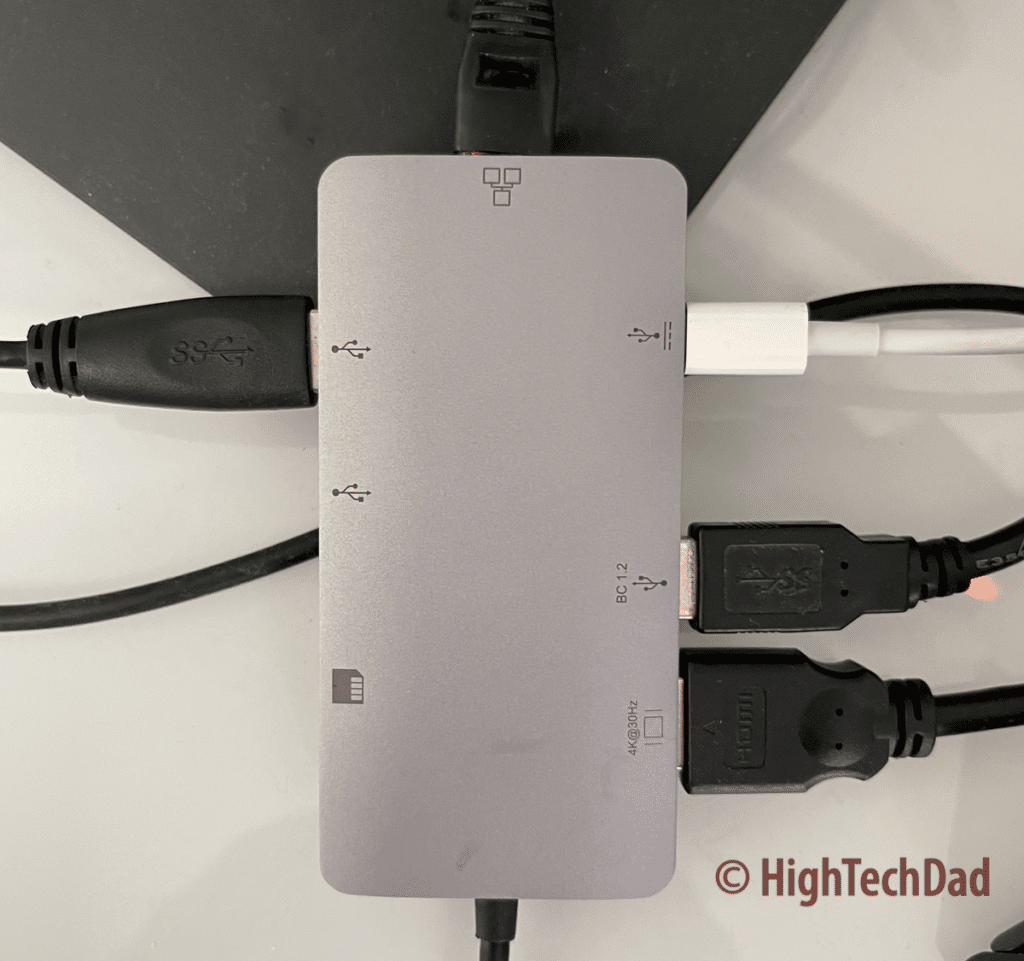 While I didn't test the two card readers, you can use them simultaneously according to the specifications. You can do that with the USB-A connections as well.
The HDMI port allows you, on the Mac, to either do Screen Mirroring or extend your desktop (the option that I always choose).
Small and Compact Design
The EZQuest 8-port USB-C Hub is a great device to have as a business traveler as well as for personal travels. For example, when we were recently in Hawaii, one of our family members rented a camera for underwater diving, and they were given the SD card afterward. Unfortunately, I didn't have the EZQuest hub, so we couldn't look at any of the photos until returning to the mainland.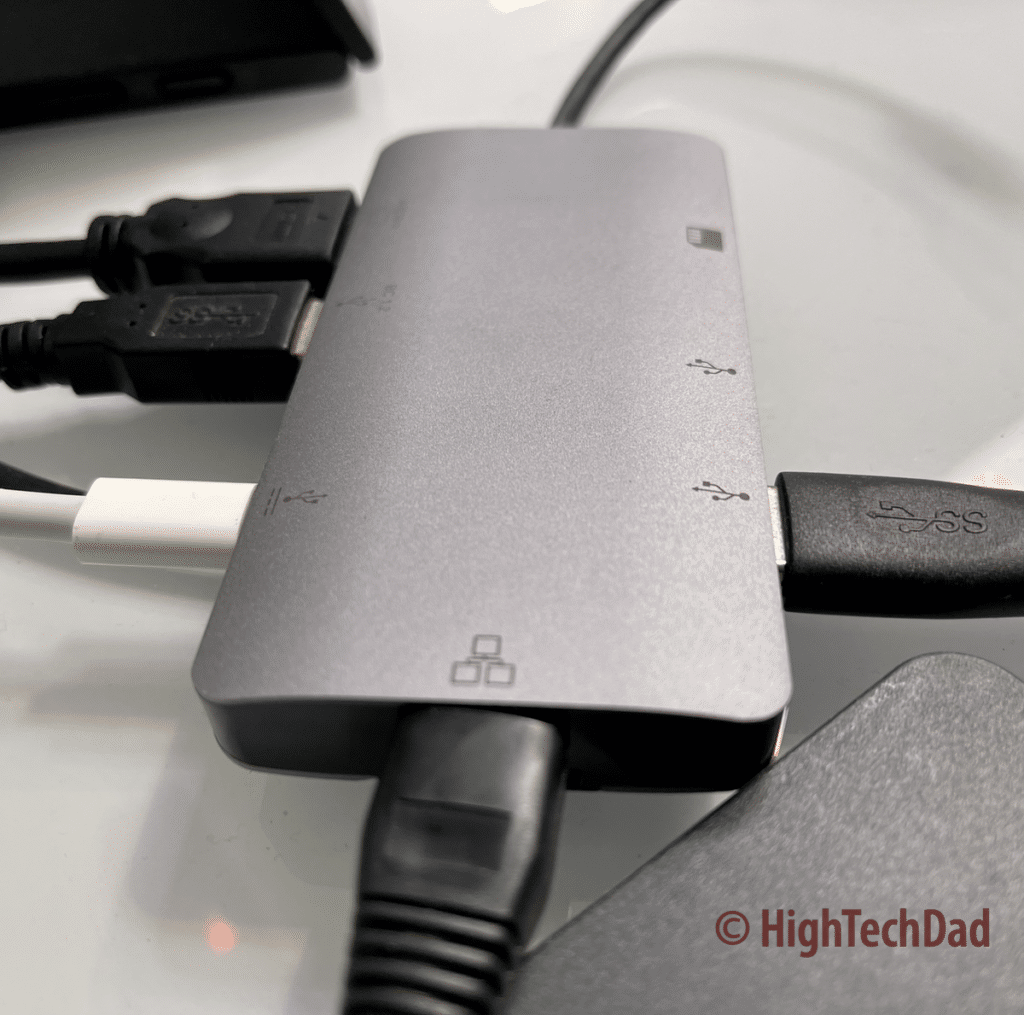 The hub is very lightweight – it only weighs 3 ounces. It's barely noticeable in a bag. It measures 7.63 inches long by 2.25 inches wide by 0.25 inches thick. I'm honestly pretty amazed they can pack all of that tech into such a tiny space.
It is has a precision-engineered anodized aluminum design. One thing to note, this little hub does heat up quite a lot as it runs. While it won't burn you, the heat is quite significant. I haven't seen any degradation in performance due to extended use due to the heat, but I would recommend not covering up the hub and letting it stay in the open to cool.
What's not to like?
I will continue to do more extensive testing over the coming weeks and months of the EZQuest 8-port USB-C Multimedia Hub as I'm curious about how it performs over time. The only thing I would like would be an additional USB-C port. EZQuest does have a version with 13 ports. This 13-port version adds another USB-C port, a VGA port, a 3.5 mm audio port, additional USB-A ports, and another HDMI port.
The 8-port version (the one that I'm testing) retails for $69.99 and is available on Amazon for $69.99 as well. The 13-port version retails for $129.99 and is also available on Amazon for $99.99.
Note, the 13-port version is a bit larger and slightly heavier. But it does have just about every port you might want or need. I haven't tested the 13-port version.
Buy on HighTechDad.com
The product shown below (and related products that have been reviewed on HighTechDad) is available within the HighTechDad Shop. This review has all of the details about this particular product and you can order it directly by clicking on the Buy button or clicking on the image/title to view more. Be sure to review other products available in the HighTechDad Shop.
Bottom line, I do recommend getting rid of all of those dongles and adapters, especially when you have a product as useful as the EZQuest 8-port USB-C Multimedia hub. It is extremely small and portable, yet it lets you connect numerous devices. I use it both as a portable solution as well as a desktop docking stations. Since its footprint is quite small, it doesn't take up a lot of real estate on your desk. And it almost becomes an "emergency device" that you should always have in your bag.
Disclosure: I have a material connection because I received a sample of a product for consideration in preparing to review the product and write this content. I was/am not expected to return this item after my review period. All opinions within this article are my own and are typically not subject to editorial review from any 3rd party. Also, some of the links in the post above may be "affiliate" or "advertising" links. These may be automatically created or placed by me manually. This means if you click on the link and purchase the item (sometimes but not necessarily the product or service being reviewed), I will receive a small affiliate or advertising commission. More information can be found on my About page.
HTD says: I recommend picking up a USB-C multi-port hub if you have a USB-C Mac or PC. The EZQuest 8-port USB-C Multimedia Hub is an essential addition to any home or business environment and particularly useful for people who are always on the go.
HighTechDad Ratings
Ease-of-Use

Family-Friendly

Price Point

Features
Summary
I recommend picking up a USB-C multi-port hub if you have a USB-C Mac or PC. The EZQuest 8-port USB-C Multimedia Hub is an essential addition to any home or business environment and particularly useful for people who are always on the go. There is essentially NO setup as this hub is truly plug-and-play. There are no drivers or software that you need to install. It is reasonably priced and very portable, yet still brings the power of a full docking station solution.
Pros
Quite small dimensions
Very light-weight
Has the core ports