Laptops are rapidly becoming pure replacements for desktop computers (unless you are a full-on gamer or developer or someone who requires a big box under your desk with lots of power and ports). Take the new MacBook Pro sporting the M1 Pro or Max chipset. You can literally do what previously required a MacPro desktop or other high-end computer, but without the requirements of always being tethered to power or a big monitor or a hard drive array. And while these new MacBook Pros now have ports other than USB-C, if you truly want to be mobile, you have to be able to get up and go, throw your hard drives into a bag, and head off. I highly recommend having a USB-C hub or dock handy in your bag when you do hit the road, and the OWC USB-C Travel Dock has those core connectivity ports at your disposal. (*Disclosure below.)
The OWC USB-C Travel Dock is basic but has been designed to be compact while providing essential connectivity. If you have a previous-generation MacBook Pro, the one that only has the USB-C ports, or even a newer M1, you are going to want to take a hard look at how you connect your peripherals when mobile. In previous reviews of USB-C dock, adapters, and dongles, I mentioned that you want to stay away from having too many things just hanging off of your laptop. It's a pain trying to find them and your laptop looks like a digital octopus. In my opinion, it's much better to have all connectivity contained within one device, and that's where the OWC USB-C Travel Dock excels.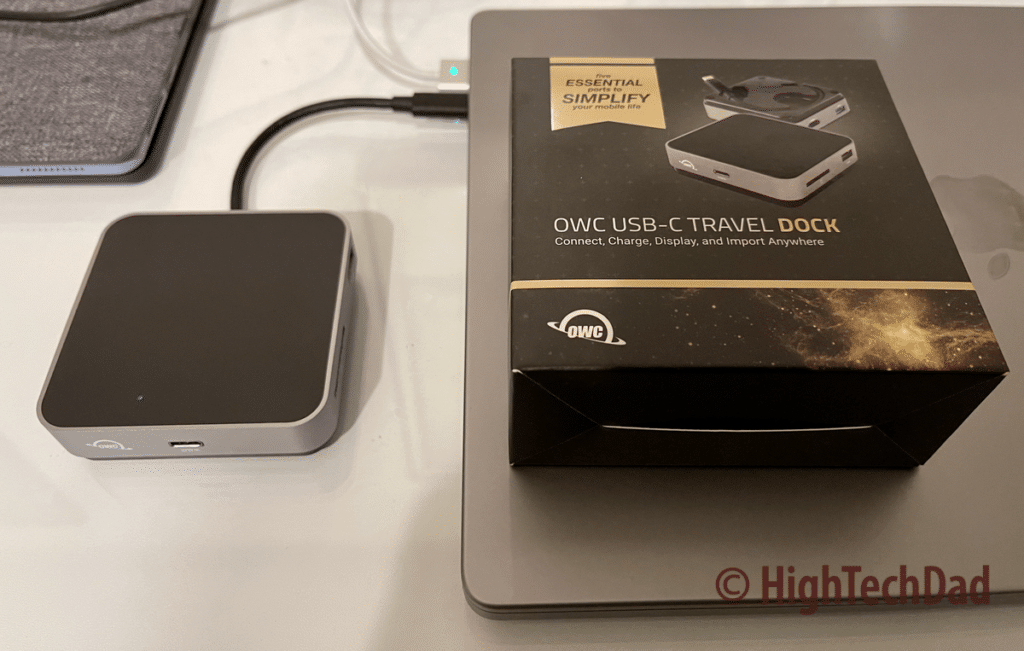 The OWC Travel Dock has five ports that will satisfy most of your needs (with a few exceptions). So, when evaluating USB-C docks, be sure you fully understand your use cases and what you will need when you are on the road. There are some things that are essential and others that you can probably survive without.
5 Core Ports on the OWC Travel Dock
OWC has kept things fairly straightforward when it comes to the design of its hub. They wanted to provide the essentials while maintaining a compact design that could be easily thrown into a bag. These are the core ports:
USB 3.1 Type-A – there are

two

of these ports. These are Gen 1 which are perfect for connecting external, portable hard drives, charging your tablet or smartphone, or connecting other peripherals.
SD Card Reader (UHS-II) – there is

one

SD card reader. This is ideal for photographers who want to quickly download photos taken on their DSLR camera by just popping in the SD card. This SD Card reader is compatible with SD, SDHC, SDXC, and SDUC cards. And, the SD card reader is compatible with UHS-I, UHS-II, UHS-III (Ultra High Speed) and SD Express cards. Remember, the full transfer speed does depend on the type of the card you are using.
HDMI – there is

one

HDMI v2.0 port which makes this travel dock ideal for those laptops or devices that do not have a built-in HDMI port. The HDMI port supports 4K resolution, up to 4096 x 2160 @ 30Hz.
USB 3.1 Gen 1 Type-C pass-through power port – lastly, there is

one

USB-C port. This is where you will probably want to plug in your USB-C power supply. This port supports up to 100W of passthrough charge (a little less as 1.5W of power is used by the OWC Travel Dock itself). Also, the dock draws between 5W and 15W of power, depending on the devices connected.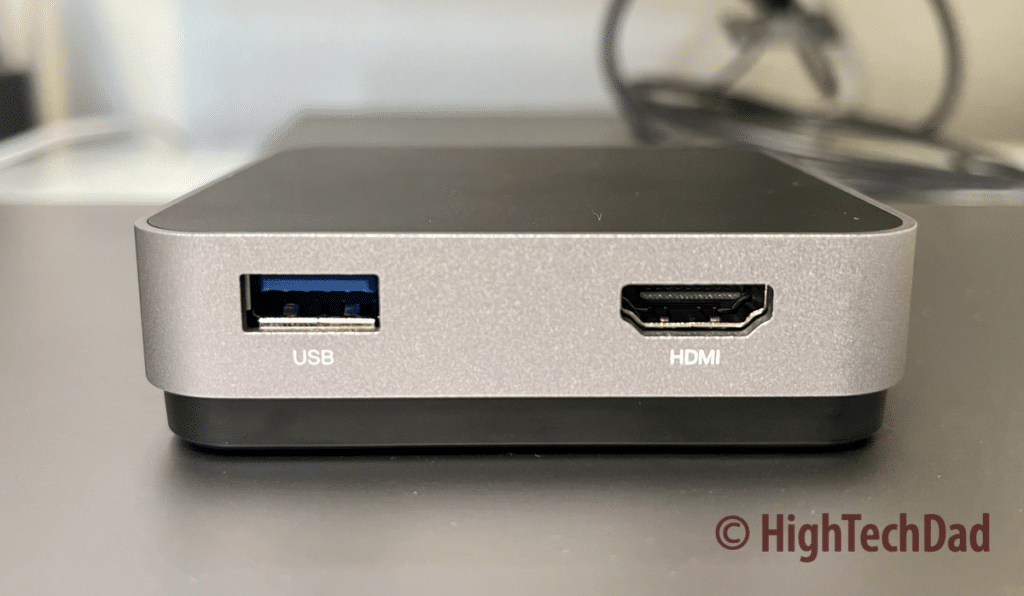 Physically attached to the OWC USB-C Travel Dock is a USB-C/Thunderbolt 3 cable that can connect directly to a compatible device (laptop, Chromebook, tablet, or smartphone). Using the 100W passthrough power, you can connect your power supply to the OWC Travel Dock and plug the Travel Dock USB-C cable into your laptop to power it AND connect your peripherals. And only use one port on your laptop in the process.
This USB-C cable (which is only 5.9″ in length) coils up and can be stored in the bottom of the travel dock, making it truly a compact, little hub.
Why this Travel Dock is actually Great for Travel
When you go on the road, you probably will be concerned with both weight and space. Depending on the size of your laptop, the laptop itself and its power supply may add a few pounds of weight and take up a significant amount of space.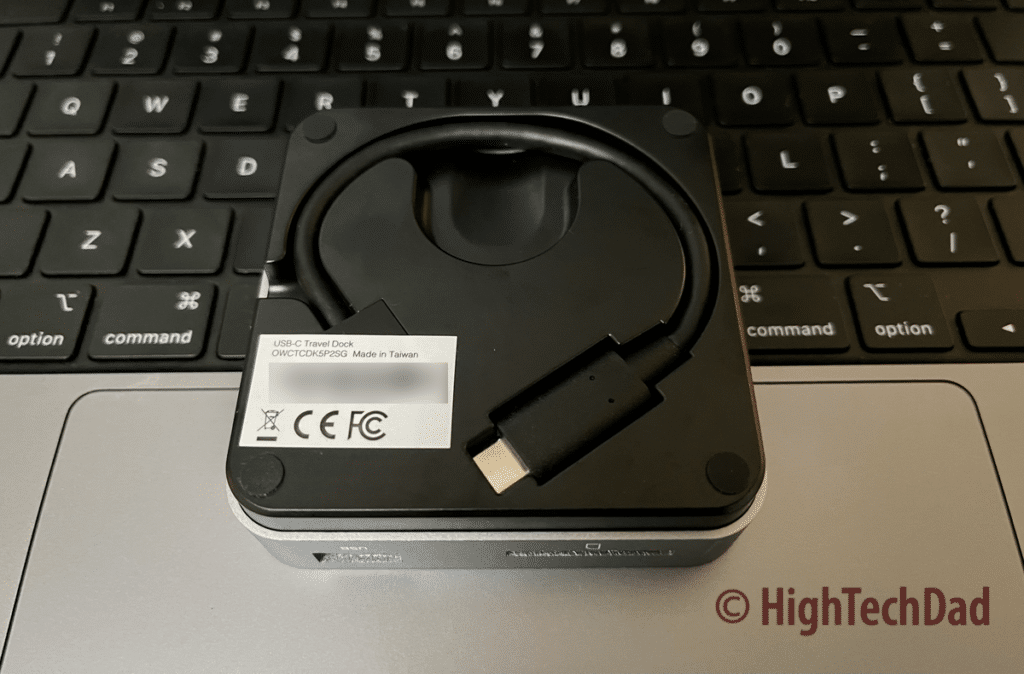 OWC designed their USB-C Travel Dock to reduce that worry of weight and size. The Dock is shaped like a flat cube, measuring 4.4″ in width and length, and is only 2″ high. It's quite compact.
Added to the small dimensions is the fact that it only weighs 6.1 ounces. In comparison, an Apple iPhone 13 Pro Max weighs 8.5 ounces. An iPhone Pro Mini weighs 4.97 ounces, so the OWC USB-C Travel Dock falls right in between those two smartphones.
Also, the OWC Travel Dock is ambidextrous when it comes to the types of devices it can support:
Mac Compatibility

OS X 10.10 or later
macOS 10.12 or later

iOS 12 or later (for any iOS device that has a USB-C connector)
PC: Windows 10 or later
Android, Chrome, and Linux versions with USB Type-C support – Hardware
There is no driver required to run this OWC Travel Dock. However, OWC does provide software to make managing connected hard drives a lot easier. Using the OWC Dock Ejector software, you can safely eject all connected hard drives with one click. In addition, it ensures that all data has been written to the drive, eliminating those pesky errors of "your hard drive was not ejected properly."
The Price of Portable Connectivity
How much will this 5-port OWC USB-C Travel Dock set you back? It's pretty reasonably priced given what you get especially if you added up each of the connectors independently. OWC has the Travel Dock currently listed at $54.99 which is right on the mark in my opinion, given the compact design and portability.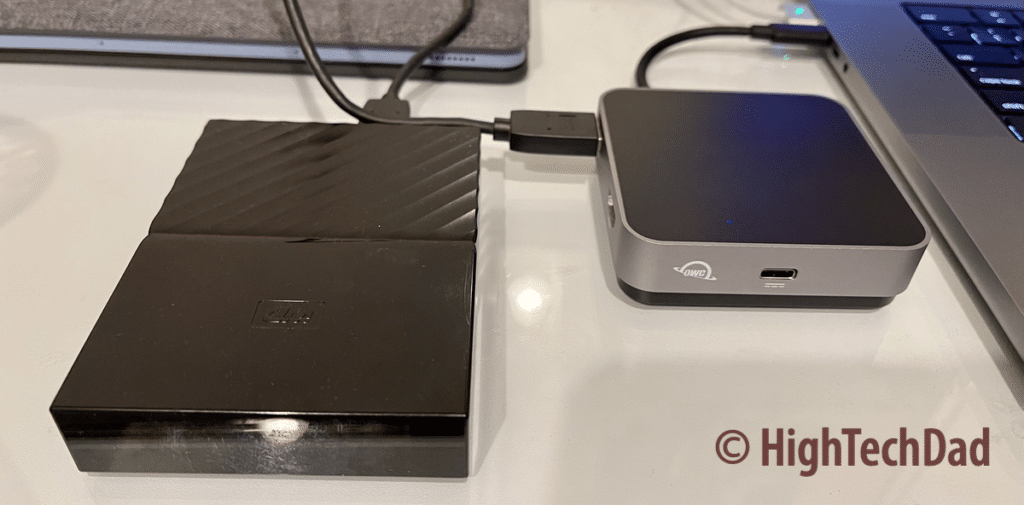 One port that I do wish that it had was Ethernet. I know that WiFi speeds have gotten a lot faster so you probably can be just fine without hard-wiring in your Internet connection, but that would have been a great additional port.
You can currently pick up the OWC USB-C Travel Dock on Amazon for $54.99 as well but you may see it drop in price as we get closer to the holidays.
Buy on HighTechDad.com
The product shown below (and related products that have been reviewed on HighTechDad) is available within the HighTechDad Shop. This review has all of the details about this particular product and you can order it directly by clicking on the Buy button or clicking on the image/title to view more. Be sure to review other products available in the HighTechDad Shop.
The bottom line here is if you are mobile with a laptop, you will want to get some sort of a USB-C hub in the near future. OWC does have larger versions of their USB-C hub with more port options (including Ethernet). For example, you can get the Travel Dock E which does add a gigabit Ethernet port for just $10 more at $64.99. And there are other options available as well.
Disclosure: I have a material connection because I received a sample of a product for consideration in preparing to review the product and write this content. I was/am not expected to return this item after my review period. All opinions within this article are my own and are typically not subject to editorial review from any 3rd party. Also, some of the links in the post above may be "affiliate" or "advertising" links. These may be automatically created or placed by me manually. This means if you click on the link and purchase the item (sometimes but not necessarily the product or service being reviewed), I will receive a small affiliate or advertising commission. More information can be found on my About page.
HTD says: Whether you are always on the road for business travel or just moving around your work or home office to different seating environments, having a small, lightweight, and portable USB-C hub like the OWC USB-C Travel Dock is one gadget you don't want to be without.
HighTechDad's Ratings
Ease-of-Use

Family-Friendly

Price Point

Features
Summary
Whether you are always on the road for business travel or just moving around your work or home office to different seating environments, having a small, lightweight, and portable USB-C hub like the OWC USB-C Travel Dock is one gadget you don't want to be without. There are no drivers to install. Just plug it into a USB-C compatible device and you are ready to go. Two USB-A ports are perfect for external hard drives and the SD card slot will make photographers happy. And, you can plug in your USB-C power supply directly into the Travel Dock and then connect the attached USB-C cable to your computer for pass-through power. Best of all, it has a very compact and lightweight design for easy transportation.
Pros
Compact design
Very light-weight
USB-C connector hides in the base for transport
Cons
Have to pay $10 more for the Ethernet version
No micro-SD card slot