Whether you are a student or someone who travels for work, or someone who moves around when they work with their laptop, having a convenient, flexible, lightweight, and ergonomic docking station is a must. While I have tested various docking stations and a few laptop risers, the IOGEAR Dock Pro, in my mind, offers some of the best features I would want. (*Disclosure below.)
As I have two children heading off to college (1st and 3rd year), I have been thinking about ways to make their school work a bit easier. Unfortunately, I can't make them study harder or pay closer attention in class. But I can offer tech advice and recommend gadgets that may make those study and class hours a bit easier. Laptops are essential if you have the means to get one, and if you do, you need to ensure that when students are working, they are working economically.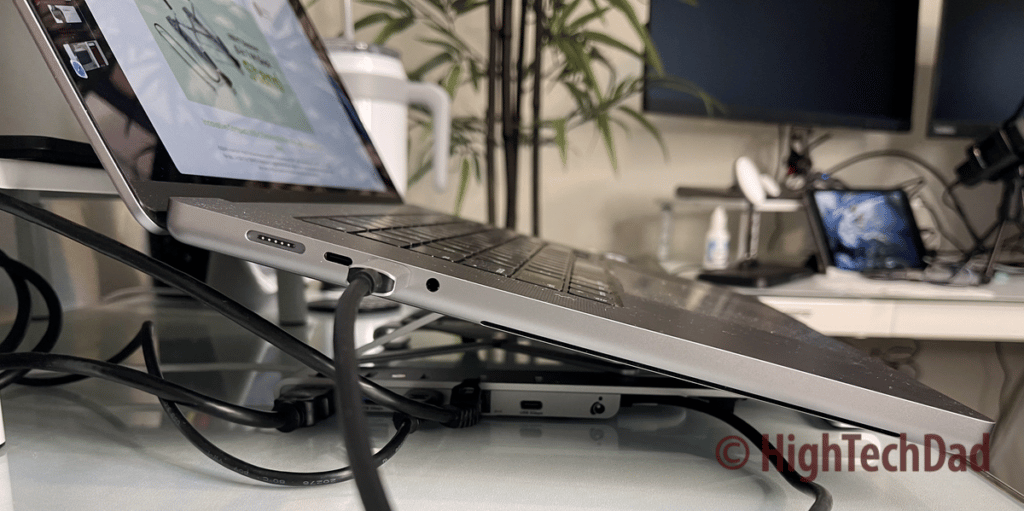 The IOGEAR Dock Pro has a design that caters to students and people who work on the go quite nicely. I will go into the features in a bit more detail, but some things that I feel stand out about the IOGEAR Dock Pro are that it has a flexible design, folds up into a very small footprint, is very lightweight, and has the critical ports available for core items (USB, Ethernet, and HDMI).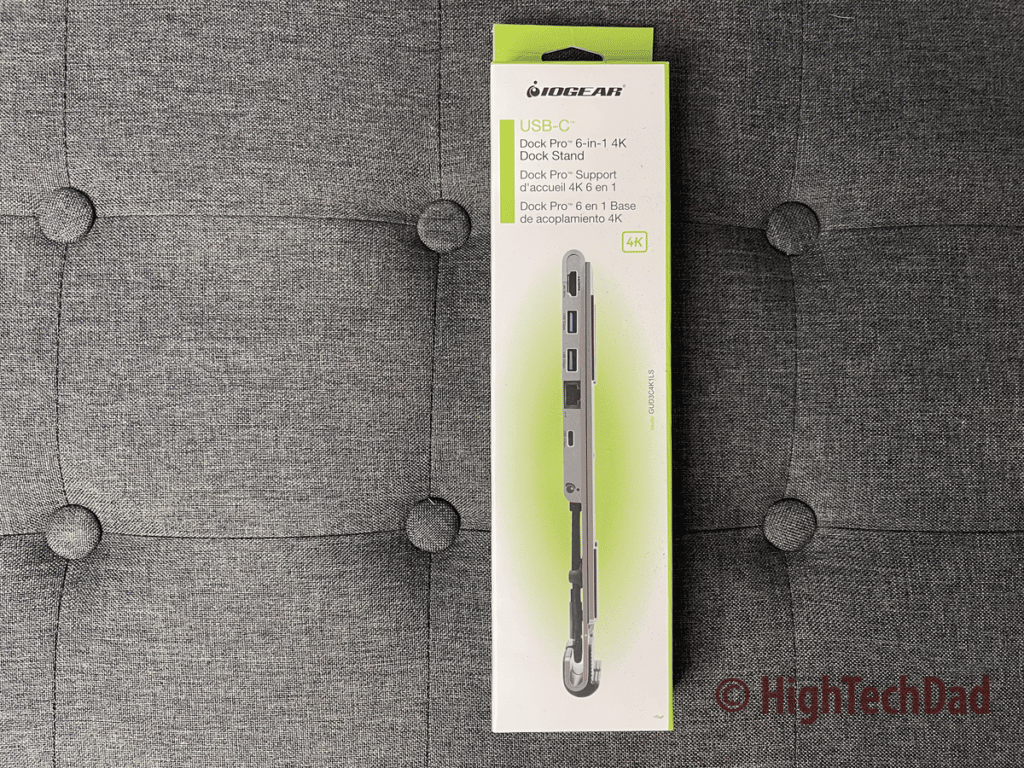 For those who want to get an overview of the IOGEAR Dock Pro, please see my video unboxing and walkthrough review.
Working ergonomically
There are many ways to set up work or study environments. However, it depends on what you have available, like an Ethernet cable instead of WiFi or an external monitor. Personally, I find it hard to work without a second monitor, but I realize that it is a bit of a luxury. But, one important thing is ensuring you are not hunched over staring at the screen. Your laptop screen, for example, should be at a higher level so you aren't looking down at it (which can cause neck strain or even pain).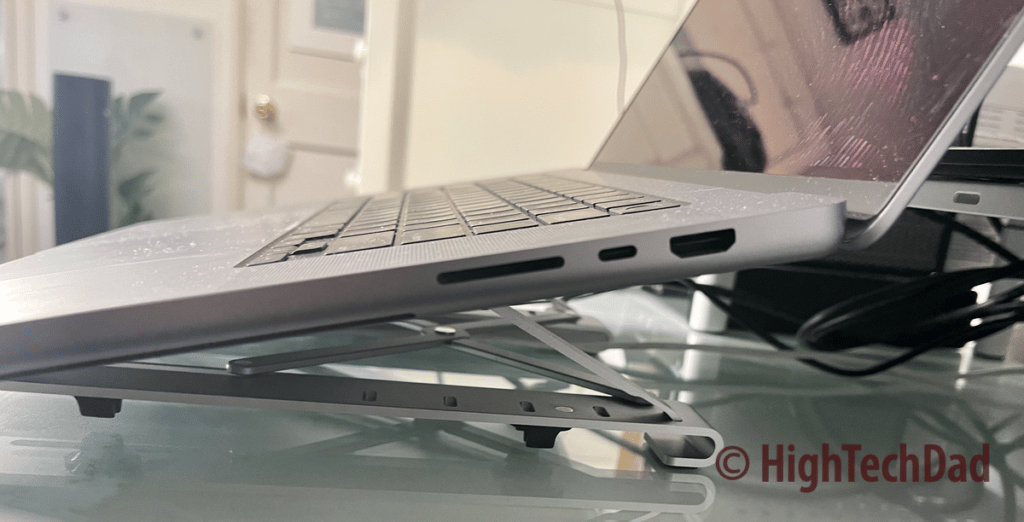 I am no expert at ergonomics by any means. However, I do spend many hours staring at a screen, sitting at a desk. So I try to stand up regularly, even at my standing desk, to ensure that I'm not sitting all day. And my monitors are set so that I face them directly.
But I do feel I can make things even better by not using my laptop screen at all by simply docking it or by raising the laptop higher and using an external keyboard. I haven't quite gotten to that point yet, but it is in the plan.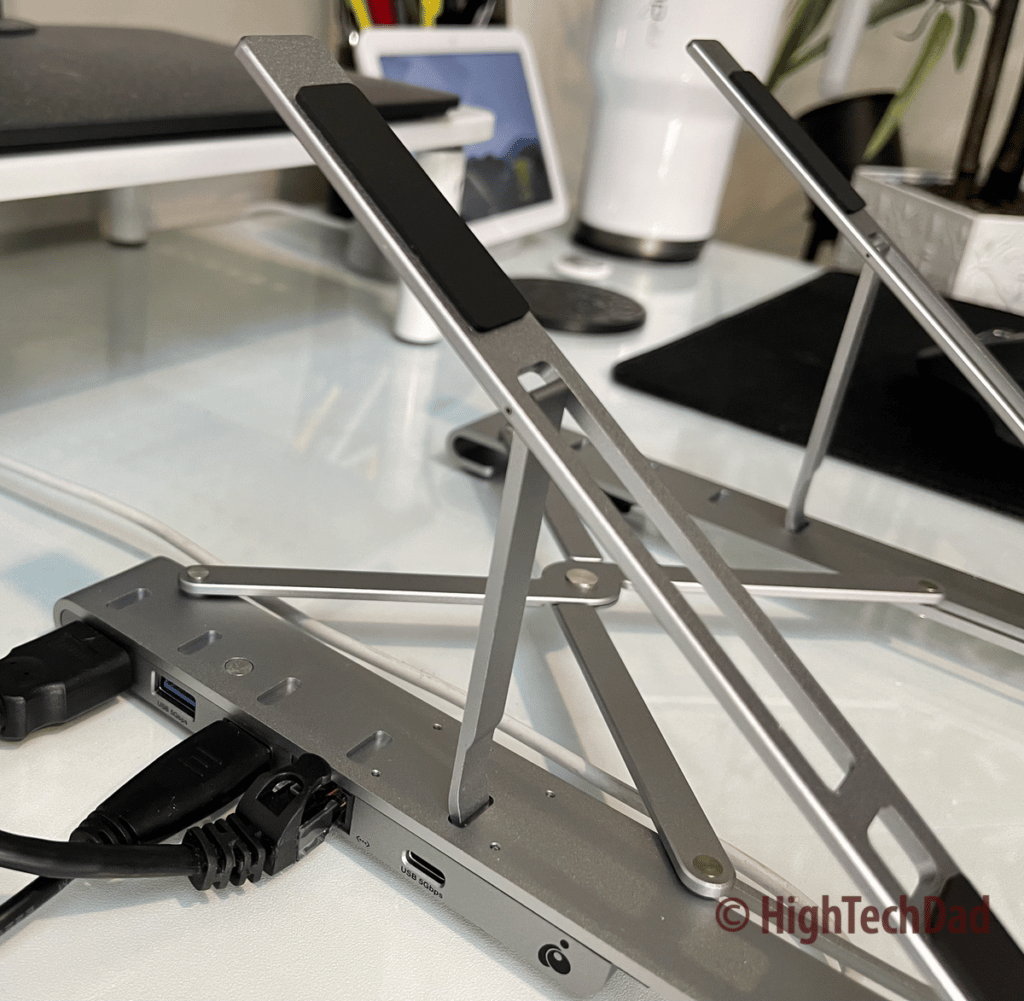 The IOGEAR Dock Pro does give the flexibility to allow this kind of setup, though. It can adjust the angle of the laptop between 15 and 35 degrees. The way I currently work, using the laptop keyboard, I keep it currently at 15 degrees so that I can still type easily using the laptop keyboard.
And, as an added bonus of lifting your laptop off the table surface, you achieve better cooling for your device as airflow can go around your entire laptop. The IOGEAR docking station can handle almost any normal-sized laptop weighing up to 11 pounds.
IOGEAR Dock Pro has a compact design
One of the key requirements of a mobile worker or, more importantly, a student is ensuring that whatever extra devices you have are small and lightweight. You do NOT want to be lugging around items that weigh a lot nor take up a ton of space in your bag. That's why the IOGEAR Dock Pro stands out in my mind.

Due to its unique hinged and foldable design, it barely takes up any space when closed. It weighs about 0.65 pounds which is extremely light. When the IOGEAR Dock is completely folded up for travel, it measures just 10″ long by 2.36″ wide by 0.82″ high. It could probably fit into a pencil case.
There are magnets that keep the dock together when it is in the travel configuration. When you open it up, the scissor hinges extend out and solidly hold your laptop in place; rubber padding adds to the gripping of the laptop.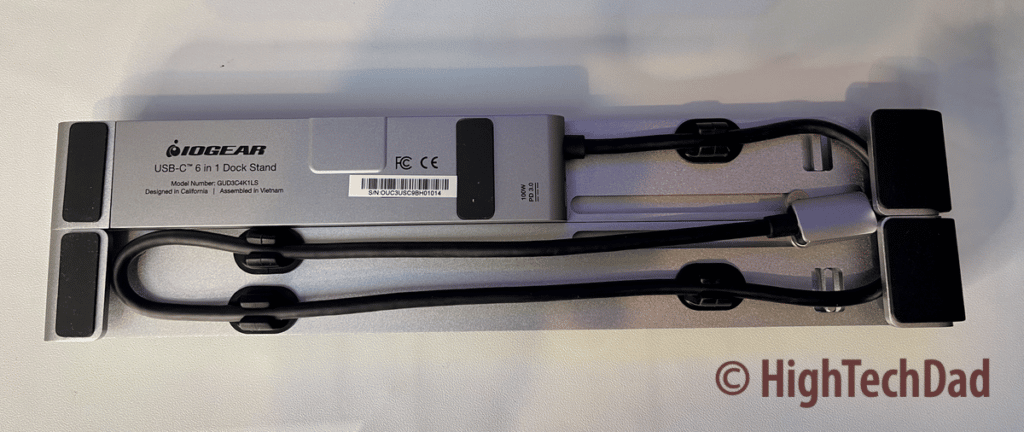 An attached USB-C cable provides all of the connectivity and power to the ports on the IOGEAR Pro Dock. This cable folds neatly into the base when traveling with it.
Six useful ports built into the IOGEAR Pro Dock
To qualify as a "dock," the gadget must have a variety of ports available to use. The IOGEAR dock has the bare essentials, in my opinion, to make it useful but not overloaded with unnecessary items. The goal, I believe, was to keep the dock small and compact, so the choices of ports seem logical.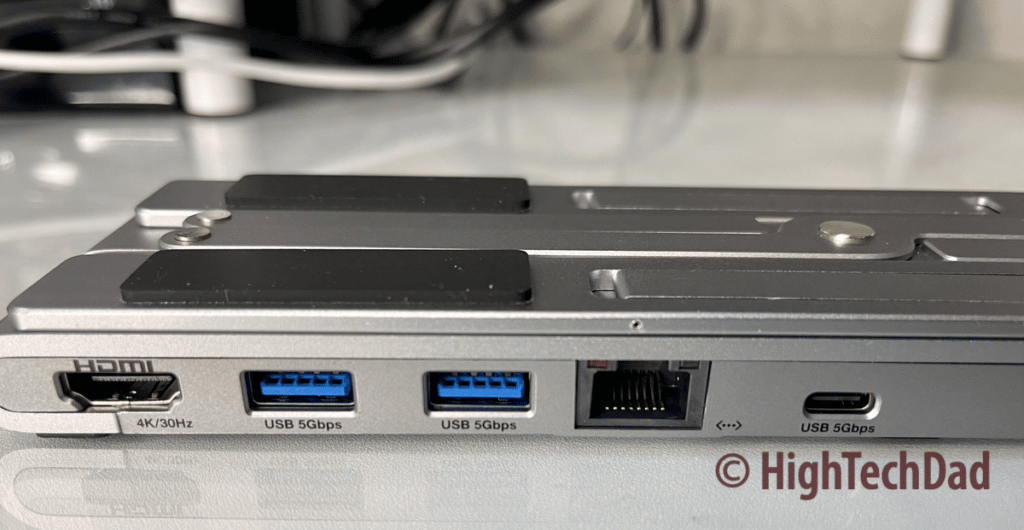 Depending on your laptop, you will also have your laptop's built-in ports available as well. The IOGEAR dock only uses one USB-C connection for everything. And what is "everything" exactly? These are the ports that are built into the dock:
2x USB-A USB3.2 Gen1 with max 5Gbps
1x USB-C USB3.2 Gen1 with max 5Gbps (data only)
1x HDMI up to 4K@30Hz
1x Gigabit Ethernet port
1x USB-C PD Pass-through port up to 100W max, fast role swap, PD 3.0
The last item on the list above is what transfers the power to your laptop. It has 100W of power delivery (PD), meaning you can plug your laptop's power supply into the dock, and then the power passes through to your connected laptop.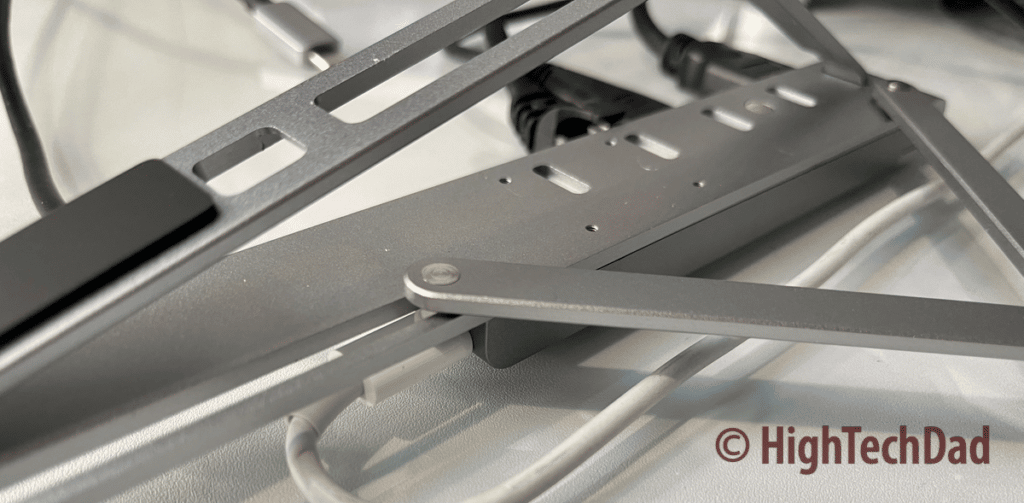 There is a built-in USB-C cable that connects the dock to your laptop for power and connectivity.
The other two USB A and single USB C ports are useful for connecting other peripherals like smartphones or external hard drives. While the data speeds are not extremely fast (if you can, you may want to connect external hard drives directly to your laptop), they are helpful in charging or lower-speed items.
The HDMI port when connected to an external monitor, is great to have to be able to either mirror your laptop's display or to set it up as a secondary monitor. Again, this may depend on the capabilities of your laptop. Also, if you have an additional HDMI port on your laptop, you could potentially have two external displays set up in addition to your laptop's display. This also depends on your Mac or Windows laptop (and yes, the IOGEAR Pro Dock does work with Windows or macOS).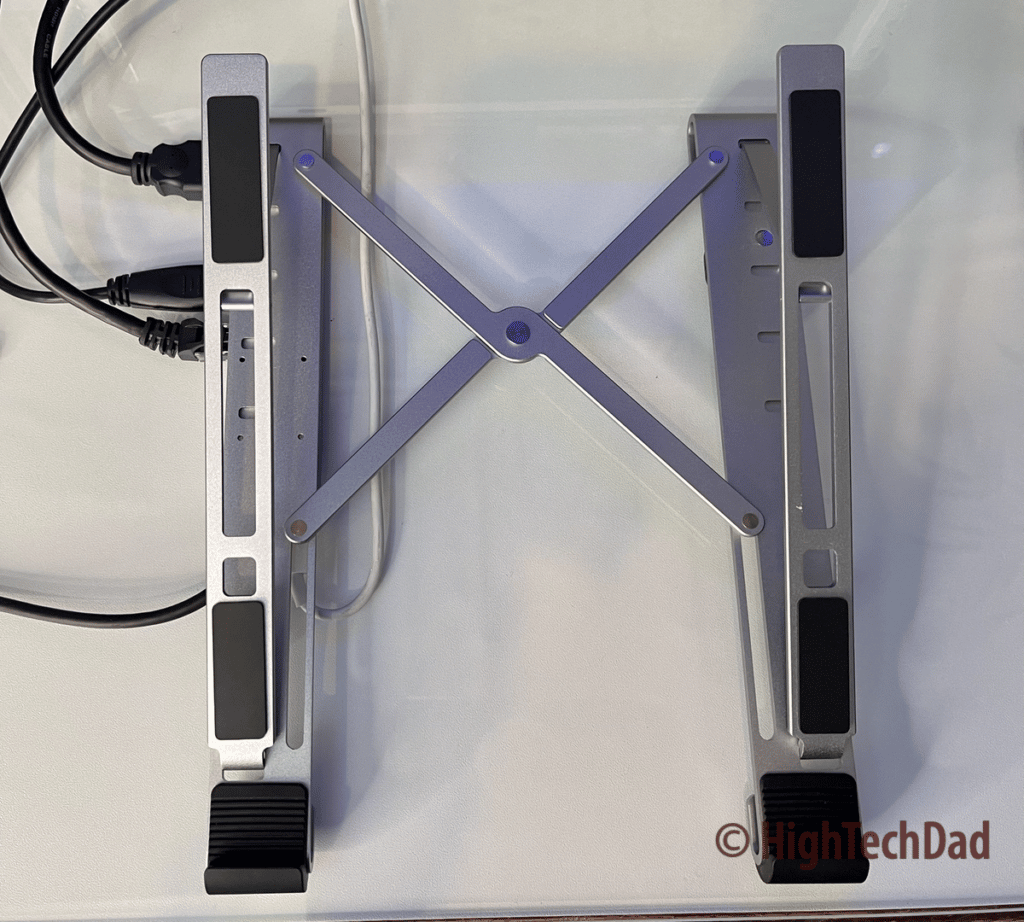 Lastly, there is the gigabit Ethernet port. I know that most people tend to use WiFi for their connectivity. I, however, am a huge fan of using wired (Ethernet) connections whenever possible. You benefit from faster upload/download speeds typically. So, while I know that many people might not use the Ethernet when they are moving around, if the IOGEAR is part of a more permanent docking station environment, I would highly recommend using a wired connection and that Ethernet port.
Ideal for the student or road warrior
As mentioned, I do believe that this IOGEAR Pro Dock is a great, portable solution for students or people who frequently travel for work (or just move around their office environment). It offers essential ports to extend your display while also allowing you to set up your work or study environment ergonomically.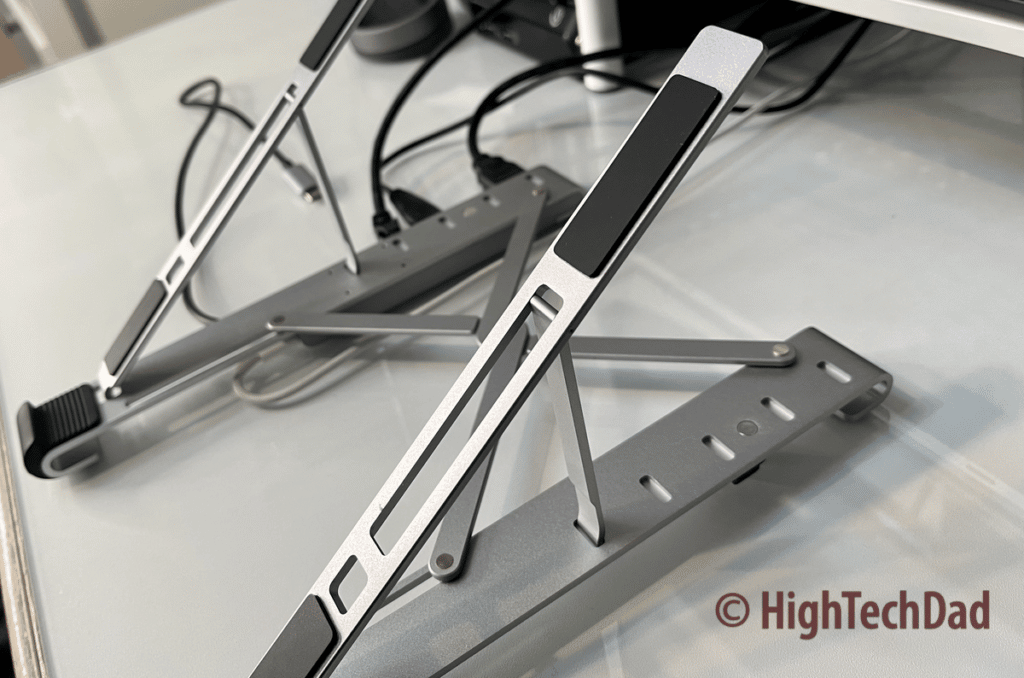 For what you get in the package, complete with the design and ports, I feel that the IOGEAR is reasonably priced. It has an MSRP (on the IOGEAR site) of $89.95, but it is currently available on Amazon for $69.95 which I believe is a great price.
Shop on HighTechDad.com
The product shown below (and related products that have been reviewed on HighTechDad) is available within the HighTechDad Shop. This review has all of the details about this particular product and you can order it directly by clicking on the Buy button or clicking on the image/title to view more. Be sure to review other products available in the HighTechDad Shop.
If you have a student heading off to school, I do believe that the IOGEAR Pro Dock is a great "essential" to have. However, while I do think you can live without it, I also believe that once you start using one of these Pro Docks, you or your student will find it hard to live without it.
Disclosure: I have a material connection because I received a sample of a product for consideration in preparing to review the product and write this content. I was/am not expected to return this item after my review period. All opinions within this article are my own and are typically not subject to editorial review from any 3rd party. Also, some of the links in the post above may be "affiliate" or "advertising" links. These may be automatically created or placed by me manually. This means if you click on the link and purchase the item (sometimes but not necessarily the product or service being reviewed), I will receive a small affiliate or advertising commission. More information can be found on my About page.
HTD says: Having a portable and compact docking solution can be a great essential for students or mobile workers. The IOGEAR Pro Dock offers a lightweight & portable docking station solution with numerous essential ports for connectivity while also allowing for an ergonomic setup.
HighTechDad Ratings
Ease-of-Use

Family-Friendly

Price Point

Features
Summary
Having a portable and compact docking solution can be a great essential for students or mobile workers. The IOGEAR Pro Dock offers a lightweight & portable docking station solution with numerous essential ports for connectivity while also allowing for an ergonomic setup. The Pro Dock is an ideal gadget to promote ergonomics while still providing necessary ports like HDMI, Ethernet, and USB. It also ensures good airflow around your laptop, keeping it cool. It's easy to fold and unfold, and there are multiple angle adjustments to get that perfect position, whether you use the laptop keyboard or an external one. And the price point is reasonable for students.
Pros
Great for any USB-C laptop
Very portable and lightweight
Folds to a small size
Easily adjustable
Cons
Wish there was one more USB-C port