Between smartphones, tablets, laptops, gaming devices, and other gadgets, we are always in search of power to keep connected, gaming, working, playing, and more. But you can't always find a wall plug when you are on the go, which is why there are suddenly so many portable battery solutions available. With so many choices available, what do you look for in a portable battery pack? The Hyperjuice 245W USB-C Battery Pack seems to have all of the features to reduce that battery anxiety quite a bit! (*Disclosure below.)
Hyper has a long history of providing all types of battery and charging solutions, but when I saw the features of the Hyperjuice 245W USB-C Battery Pack, I knew that I had to get some hands-on time with it and test it out. And thus far, it is living up to expectations as a high-capacity, multi-USB-C port portable battery. And I have compiled five features about the Hyperjuice 245W battery that I really like and the reasons why I think this will be my go-to, on-the-go work and play charging solution.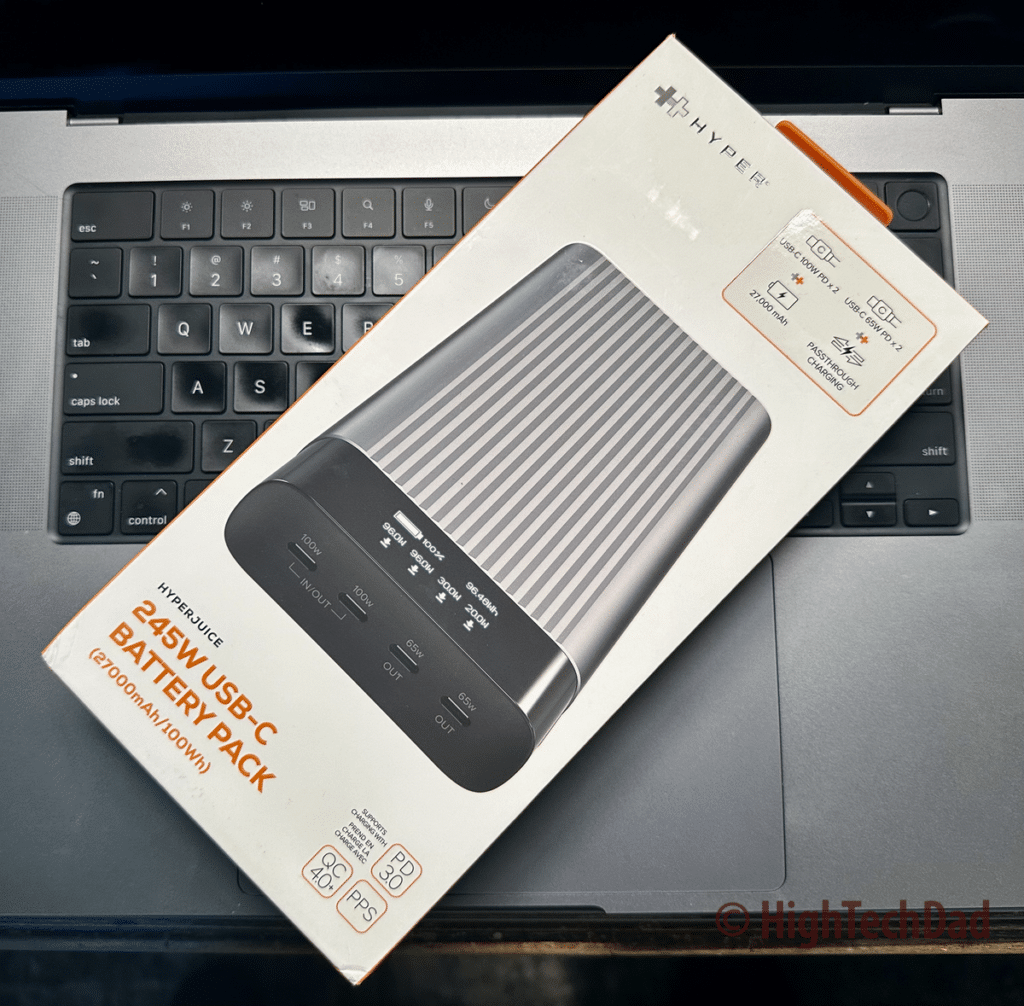 It's important to remember that not all battery packs are the same. And the technology continues to get better. For example, charging times may improve as the actual battery tech improves. And while, for example, there are limits in the capacity of portable batteries for airline travel, other capabilities and features continue to improve. The Federal Aviation Administration (FAA) has published limits to power banks that use Lithium batteries, so if you have questions, be sure to refer to this article. To sum up the limits for Lithium-Ion, please review the list below:
Batteries can only be in carry-on baggage (not checked-in bags)
100 watt hours (Wh) per battery
With airline approval, you can carry a limit of two spare batteries with larger capacities (101-160Wh)
The Hyper 245W USB-C battery pack falls into the category of simply being allowed to bring in your carry-on without any airline approvals. And, unless you plan on charging many, many devices while on a multi-hour flight, you will have more than enough capacity in this battery solution to ensure that when you are wheels down, all of your devices are fully charged!
If you want to get a video overview of the Hyperjuice 245W Battery Pack, take a look at my review on YouTube (also embedded below):
Let me go into the five features that really "energized" me about the Hyperjuice 245W battery pack.
Table of Contents
#1 – Massive Capacity in the Hyperjuice 245W Battery Pack
Since I have already been talking about battery capacity, let me go into the details. As mentioned earlier, the Hyperjuice 245W battery is below the watt-hour limit required by the FAA, but just barely. If you read the mouse type on the back of the battery, you will see that it is listed at 98.01Wh. What is a watt hour? It is precisely what is written – the "power utilization for one hour measured in watts," according to PC Mag's encyclopedia.
But there is another number to look at – 245W, which is in the name of the Hyperjuice 245W battery pack. The 245W represents how many watts the battery can output simultaneously for one hour. This is an important number to consider when looking at charging solutions (as are the output wattages for all of the ports on the battery – I will go into that in another section).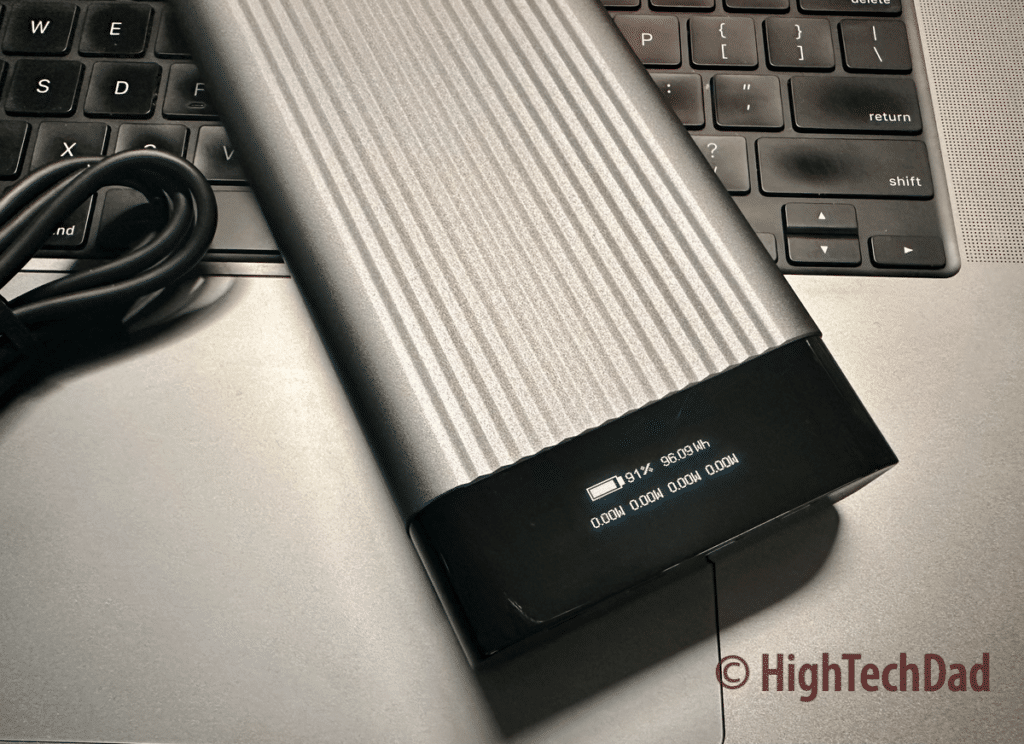 Let me talk about another number for this battery – 27,000 mAh – this is the charging capacity. mAh stands for milliampere-hour, or essentially the energy charge that a battery can hold. It is how long a battery can run before it is out of charge. Most rechargeable devices list their mAh ratings. For example, an iPhone 14 Pro is rated at 3200 mAh. So, conceivably, if you do some back-of-napkin math, you could charge an iPhone 14 Pro a little more than eight times.
My MacBook Pro is rated at 8645 mAh according to coconutBattery, which means that the Hyperjuice 245W USB-C Battery can charge it about three times fully. That is pretty amazing!
#2 – Seeing is knowing – OLED Display
One of the best features of the Hyperjuice 245W battery is the fact that there is an OLED display built into the battery. Press the power button on the side and the OLED will show the Hyper logo and then give you a readout of various key, real-time metrics.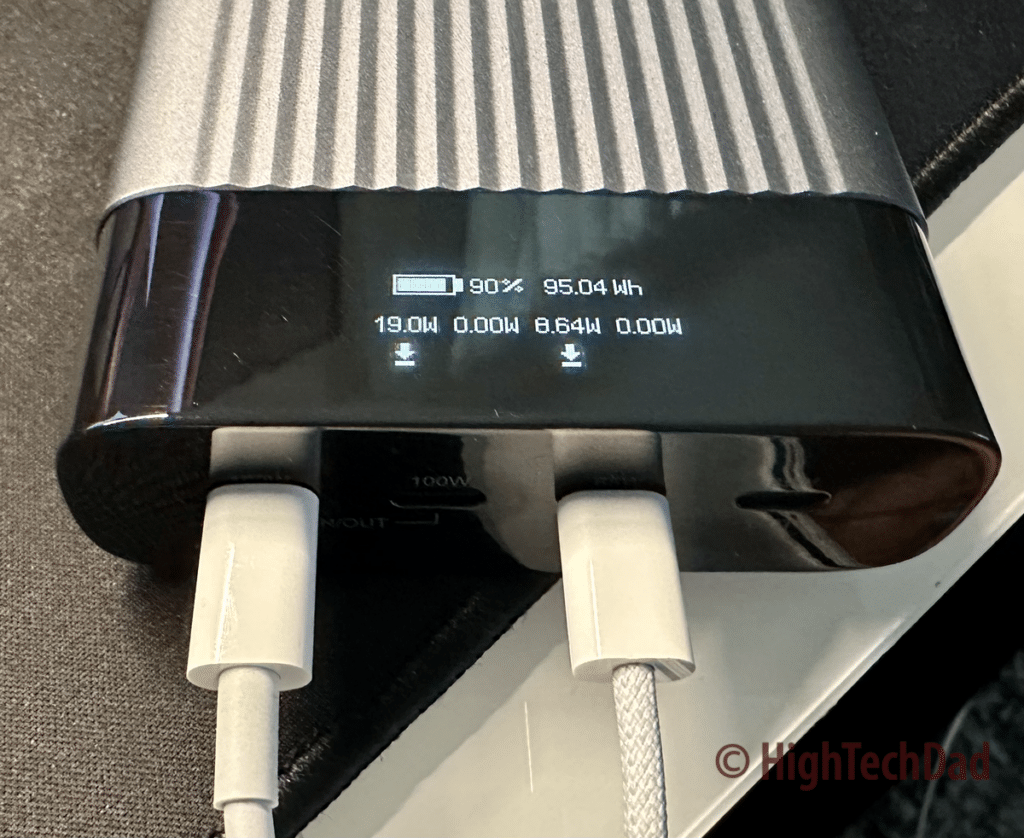 Listed below are the items that are displayed:
Battery icon – visual indicator of the battery level as an icon
Battery percentage – next to the icon is the percentage level of the battery
Wh – shows the real-time watt hours remaining on the battery or, if the battery is being charged, how long until it is currently charged to 100%
USB ports – gives an indication of the state of the USB-C port (I go into more details below)
I love the real-time aspects of how the OLED displays information. For example, when you plug in a device to charge in one of the four USB-C ports, an arrow points down, indicating that power is flowing out of the battery through the connected USB-C cable. Then, directly above the arrow is the real-time wattage being sent through the port so you can easily monitor the output. You can watch as devices move from quick charging to trickle charging as the wattage changes.
#3 – Four USB-C Charging Ports
This is a more modern battery charging bank in that it only has USB-C ports available. There are no legacy USB Type-A ports, so keep that in mind. But that is fine with me! There are two high-power 100W USB-C Power Delivery (PD) ports and two 65W USB-C Power Delivery ports. And as you can see on the OLED, these ports are auto-sensing and regulate the amount of charge going through them based on the capabilities of the connected device(s).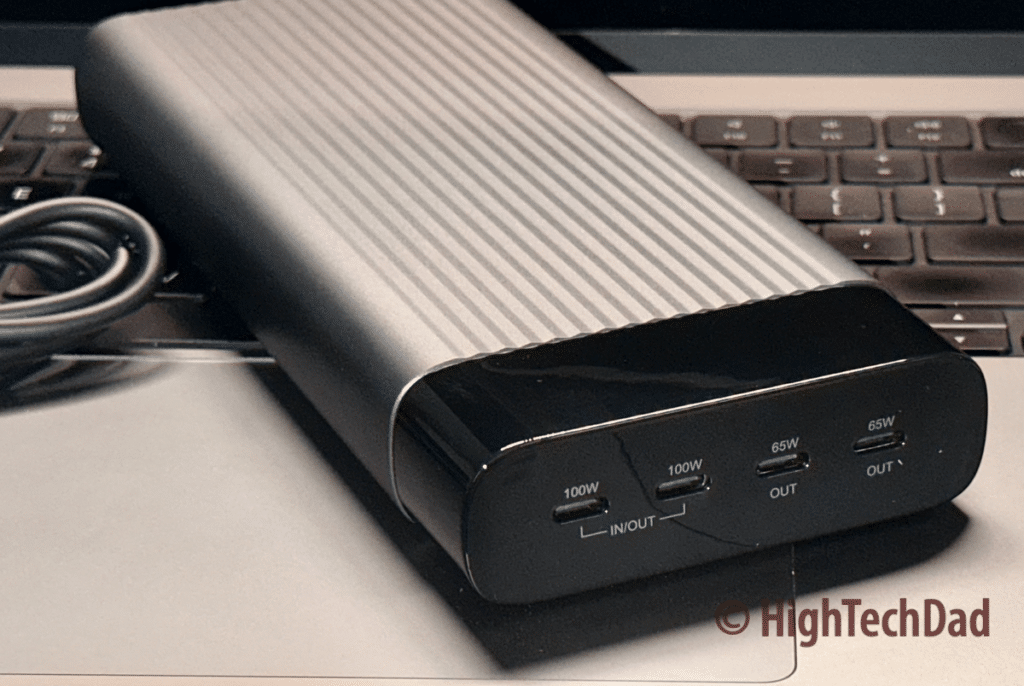 This regulation of the real-time voltage and current is known as PPS – Programmable Power Supply – which is built into the Hyperjuice 245W Battery Pack. Also, the ports support PD 3.0 and QuickCharge (QC) 4.0+. All these standards mean that if you have a modern device, faster charging with the Hyperjuice is almost guaranteed.
Below is a chart from Hyper that shows the combinations and wattage of the various active ports and the total output: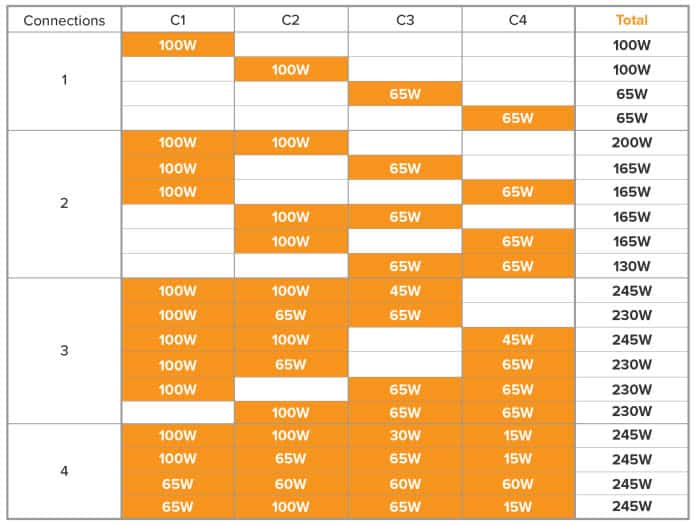 I have to re-emphasize that this battery pack has TWO 100W and TWO 65W USB-C ports which means you can SIMULTANEOUSLY charge four MacBooks potentially. Remember, there is a limit of 245W total output, so you won't get full wattage if you have devices that consume high-wattage connected. But conceivably, you could charge them all up over time connected simultaneously.
#4 – Passthrough charging
This is a small but mighty feature. Passthrough charging allows you to plug the Hyperjuice 245W battery into a plug to charge and connect other devices to the battery to charge them. So, you use one USB-C port for the power in for charging, and you can use the remaining three USB-C ports to charge other devices. It's almost like having a multi-port plug.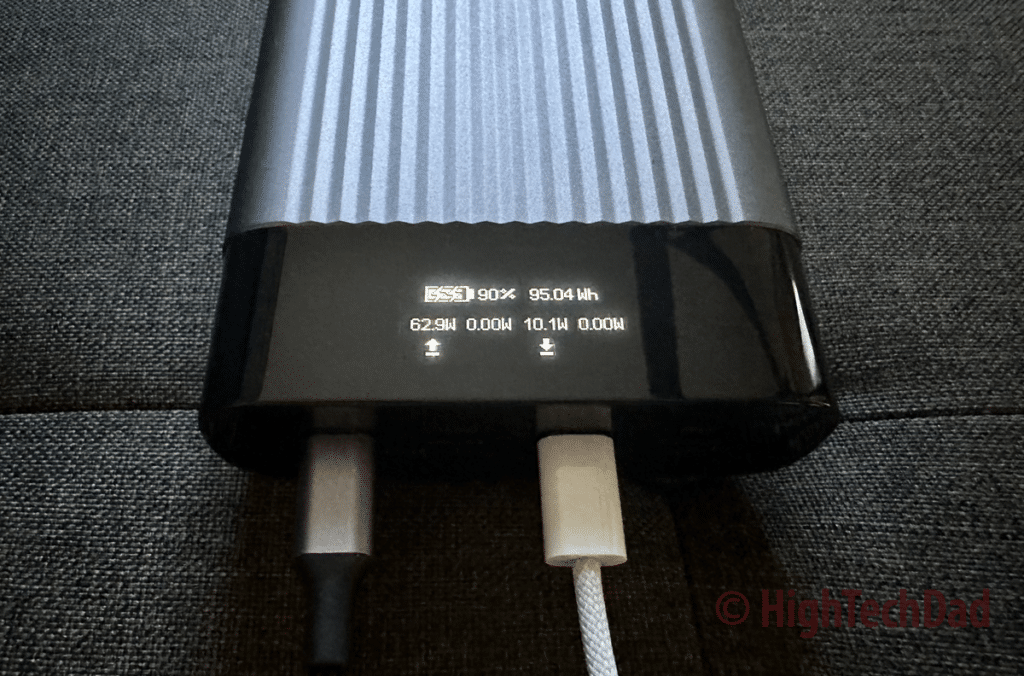 What I should have mentioned in the previous section is that you use either one of the two 100W USB-C ports to charge the battery pack. When you plug in the power to charge the battery, the icon on the OLED shows an up arrow and the wattage flowing into the battery.
As long as you have some good USB-C cables (it is worth paying a bit more to ensure they are rated for PD – Power Delivery), you can simultaneously charge the Hyperjuice battery and/or USB-C devices. You are not limited to EITHER charging the battery or charging devices. You can do both at the same time.
#5 – Built-in safety
Safety is one of the most important things to consider when it comes to portable, rechargeable batteries. I would be careful getting off-brand batteries and stick to brands that have established reputations. Hyper has been in the industry for many, many years.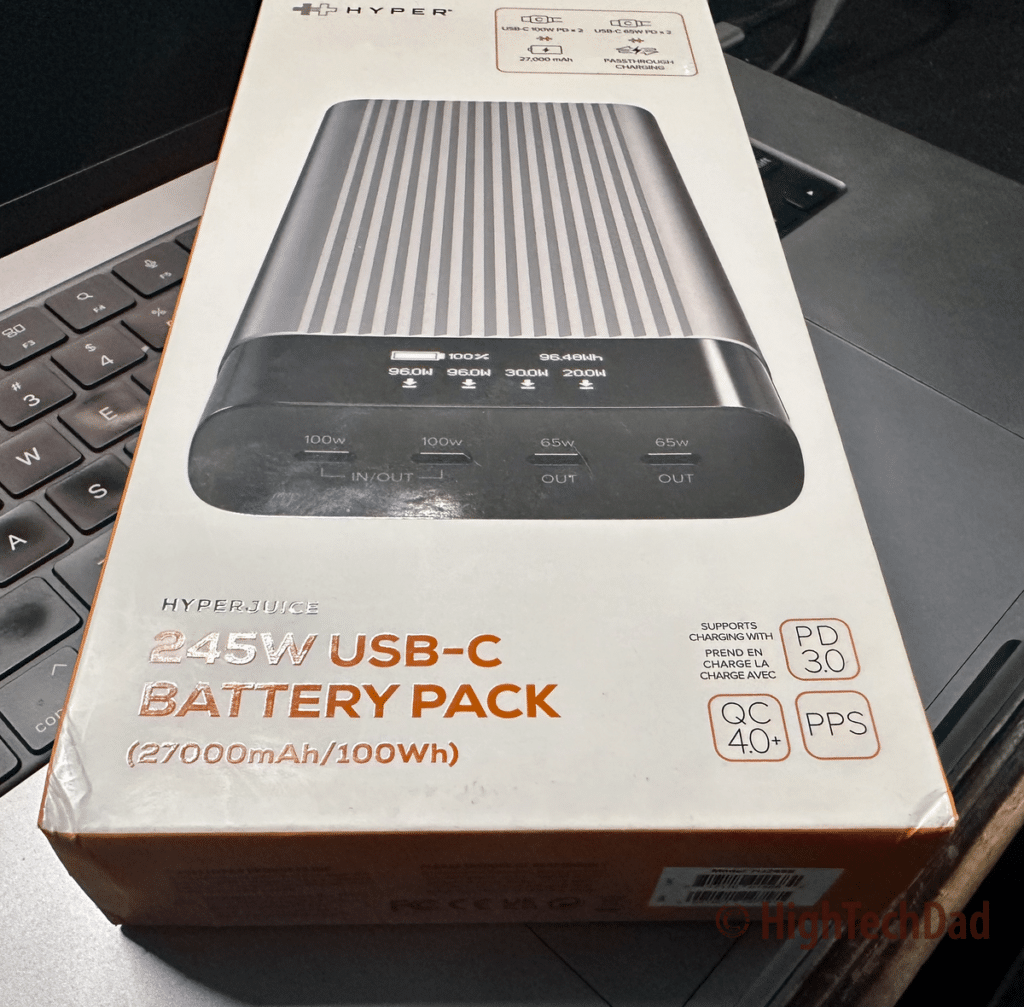 The Hyperjuice 245W USB-C Battery Pack has various power protections, including Over-current, Over-voltage, Over-temperature, and Short-circuit protection.
Additional Specs and some final thoughts
The Hyperjuice 245W USB-C Battery Pack is a BEAST of a battery. It has a travel-friendly limit (right up to the FAA regulations) and can simultaneously charge multiple devices requiring higher wattage. Because of its capacity, it is not super small or lightweight. It weighs 1.68 pounds and measures 7.51″ x 3.18″ x 1.10″, so you probably don't want to put it in your pocket. However, putting it in a backpack, briefcase, or purse is the way to go.
For this technology, capacity, and features, I'm not that surprised by the price. It currently retails on the HyperShop site for $249.99. It is not currently available on Amazon.
Shop on HighTechDad.com
The product shown below (and related products that have been reviewed on HighTechDad) is available within the HighTechDad Shop. This review has all of the details about this particular product and you can order it directly by clicking on the Buy button or clicking on the image/title to view more. Be sure to review other products available in the HighTechDad Shop.
I have to say, this battery solution will be the one I carry with me to work or when I travel. The fact that I can charge up to four devices simultaneously is fantastic. And I'm not limited to just low-powered devices like smartphones. I could, conceivably, charge my MacBook Pro, my daughter's MacBook Air, my iPad Air, and my iPhone without any issues and have power to spare for another round of charging. And using pass-through charging also means that the battery can always be full-charged at home and ready to use on the go.
Disclosure: I have a material connection because I received a sample of a product for consideration in preparing to review the product and write this content. I was/am not expected to return this item after my review period. All opinions within this article are my own and are typically not subject to editorial review from any 3rd party. Also, some of the links in the post above may be "affiliate" or "advertising" links. These may be automatically created or placed by me manually. This means if you click on the link and purchase the item (sometimes but not necessarily the product or service being reviewed), I will receive a small affiliate or advertising commission. More information can be found on my About page.
HTD says: The Hyperjuice 245W USB-C battery pack provides 245W of simultaneous charging power across four USB-C ports. This airline-safe battery also provides real-time visual stats on the power going in and out of the battery, making it a fantastic road-warrior accessory!
HighTechDad Ratings
Ease-of-Use

Family-Friendly

Price Point

Features
Summary
The Hyperjuice 245W USB-C battery pack provides 245W of simultaneous charging power across four USB-C ports. This airline-safe battery also provides real-time visual stats on the power going in and out of the battery, making it a fantastic road-warrior accessory! This is truly a plug-and-power device. The OLED display is fantastic in that it shows real-time power going out to the device or coming in as it is being charged. This is a high-capacity battery that is allowed on airplanes and can charge a variety of USB-C devices multiple times with just a single charge. And you can use it as a wall plug charger with the passthrough charging capabilities.
Pros
OLED display
High wattage output for multiple devices
Passthrough charging
Cons
A bit large & heavy for carrying in a pocket