While it does depend on your occupation, American workers spend over half of their day standing on their feet. Those who work in food service (dishwashers, cooks, servers, and food prep) spend well over 90% of their work time standing. I sit at my desk most of my work day, so my average is much, much lower, so I can only imagine how tired a restaurant staff must feel by the end of their shift, and their feet must be simply aching! As I was testing the Comfier Foot Massager, I thought about how great it would be if restaurants would supply their workers with a Shiatsu foot massager like this one by Comfier. It would definitely make the end of the shift a lot better! (*Disclosure below.)
Apart from having amazing shoes and perhaps gel or other types of inserts, a foot massage is probably the next best thing to ensure your feet recover after a long workday. But, your spouse, partner, loved one, or kids probably don't want to touch your stinky, tired feet at the end of every work day, so the next best thing is to get a foot massager that can relieve the aches and pains in your foot muscles.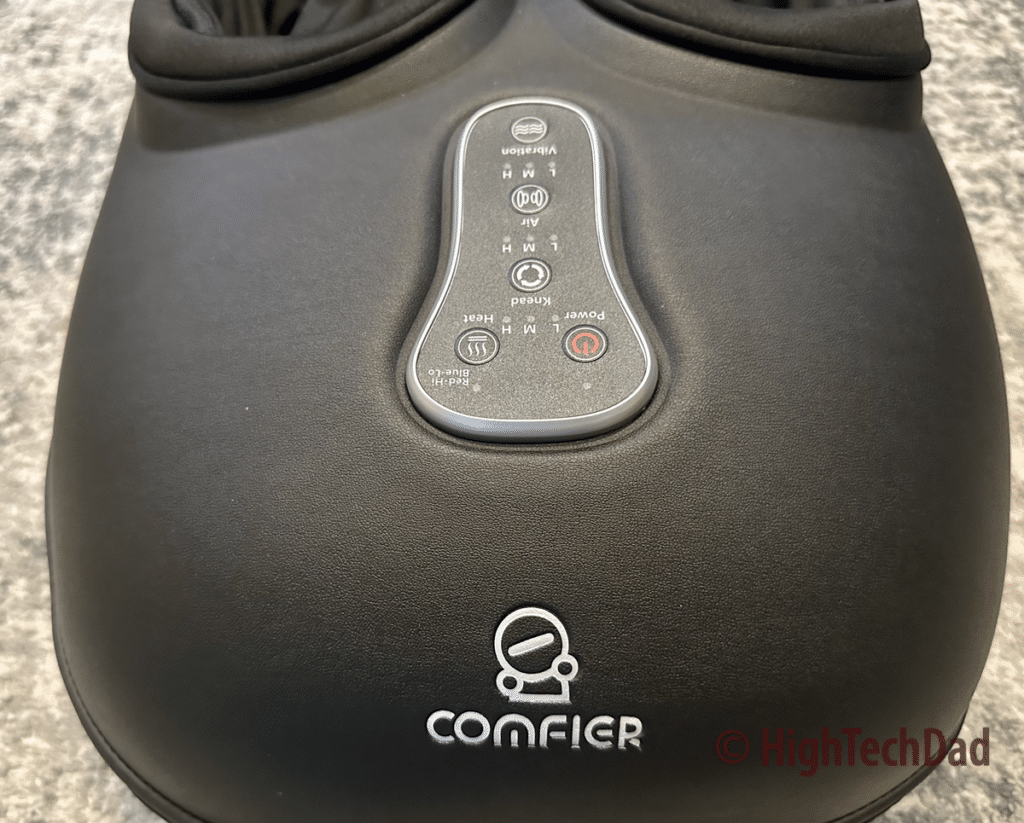 The Comfier Foot Massager has four built-in features you can adjust when massaging your feet at the end of the day, each with varying intensity levels. While it is probably not the same as having a professional give you a foot massage, it's the next best thing and can definitely help with foot soreness and tired muscles after just a few minutes of use. Let me go into the four ways the Comfier Foot Massager can help your worn-out feet.
Table of Contents
A Techy Masseuse – Comfier Foot Massager
This foot massager is multi-function. And all of the different massage settings for your feet are adjustable. The Comfier Foot Massager has four main features: rolling shiatsu massage, heating, ankle compression, and vibration. The massager plugs into the wall (sorry, it's not battery-powered – you would need a pretty darn big battery to power all of these functions) and works with 100-240V power outlets.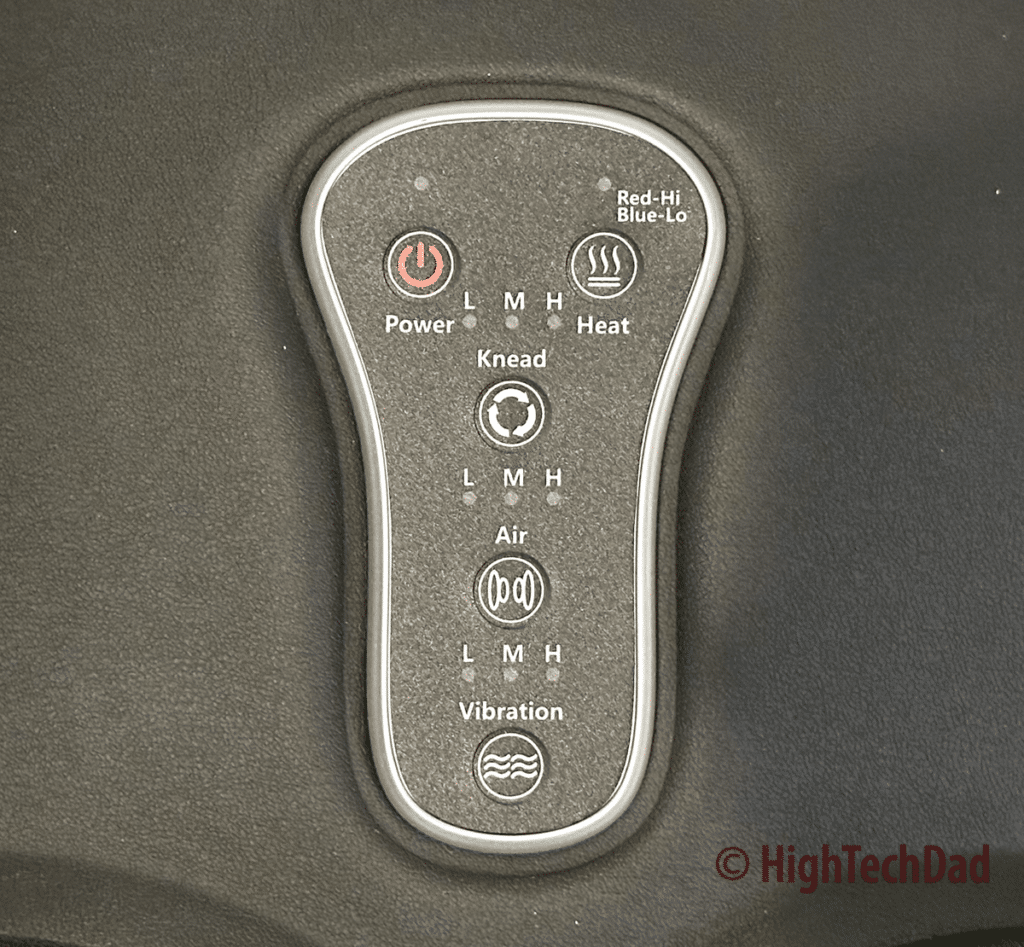 Each of the functions mentioned above is adjustable with varying levels of intensity. As I write this review, I'm actually getting a foot massage using the Comfier. There are two holes for your feet – it's almost like slipping into a pair of low boots. The massager measures 13.7 inches long by 12 inches wide, and the version I tested can handle a foot size up to US size 13.
Deep-kneading via a Shiatsu massage
When you turn on the Comfier, you immediately feel all of the four main massage features in action. Each of the four features mentioned here is set to the lowest level by default. The one that immediately got my attention was the rolling and kneading action of the Shiatsu massage. Little balls work up and down your feet, slowly pushing on the soles of your feet.
There are three intensity levels for the kneading massage. Pressing the button works through each of these. An LED light indicates what level you are at – green is the lowest, blue is the middle setting, and red is the highest. Press it again after the red, and you turn off the Shiatsu massage (the same is true with the other settings).
The arches of your feet and heels feel the compression and kneading action, so it is not isolated to just one part of your foot. And the tip of your foot also benefits from the rolling and kneading motion.
Vibrating those aches away
Vibration is a key feature of any massager. However, the Comfier doesn't just turn on and vibrate constantly. The vibration turns on and off, seemingly randomly. There are three levels of vibration that you can choose from as well, each indicated by the colored LED. And you can turn the vibration off completely.
To me, the vibration's randomness almost seems to be formulaic. I tried to see if the vibration happened when another part of the massager was in action.
I particularly like having the vibration at full power, as it seems to massage out those tiny muscles and aches. This is one feature that I think should be on high, but some of the others might be too intense for some people—more about that at the end of this review.
Heat always helps
One of the best things to relax tired muscles is heat. The fact that the Comfier has two levels of heat, also indicated by color (red – high, blue – low, no light – off), means that you can warm up your feet as the other various features work through your tired foot muscles.
This feature is particularly great for those who have difficulty warming up their feet. Wintertime is ideal for using this feature as the internal temp of the Comfier can get up to 131 degrees F.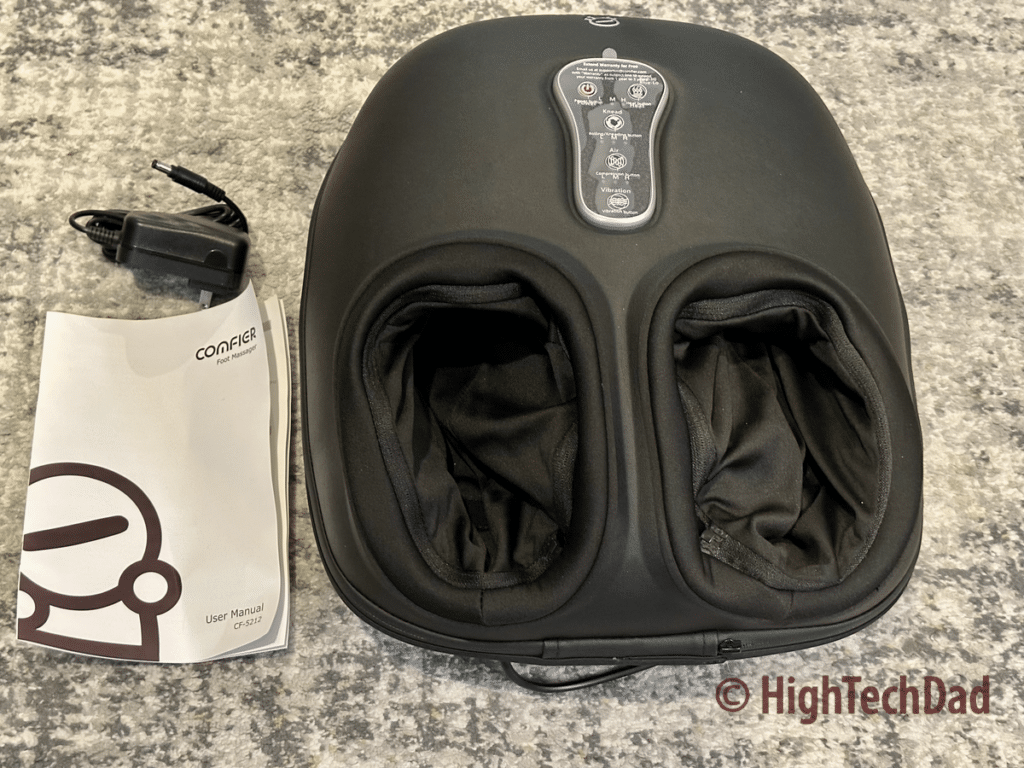 You can use the heating function entirely on its own without any of the massage features on if you simply want to warm up your feet.
Squeeze your ankles
The compression feature was not something I was expecting. As the massage started, I heard an airbag fill and release with a hiss. As the bag was filling, I could feel the area around my ankles get tight for a second or two and then release.
The compression is around the heel and ankle areas of your feet. Comfier recommends starting at the lowest level with the compression until you get used to it. I particularly like this massage feature. It can become pretty tight at times and, depending on the size of your ankles, could be uncomfortable, so start at the lowest setting.
Final thoughts and pricing
As the massager works through a "session," it does seem to get a bit more intense. It starts out pretty easy, regardless of the intensity setting for each feature. However, I noticed that as I approached the middle to the end of each foot massage session, the Comfier Foot Massager would compress a bit more tightly and push and hold my feet in place so that the sole and heel would get a better massage.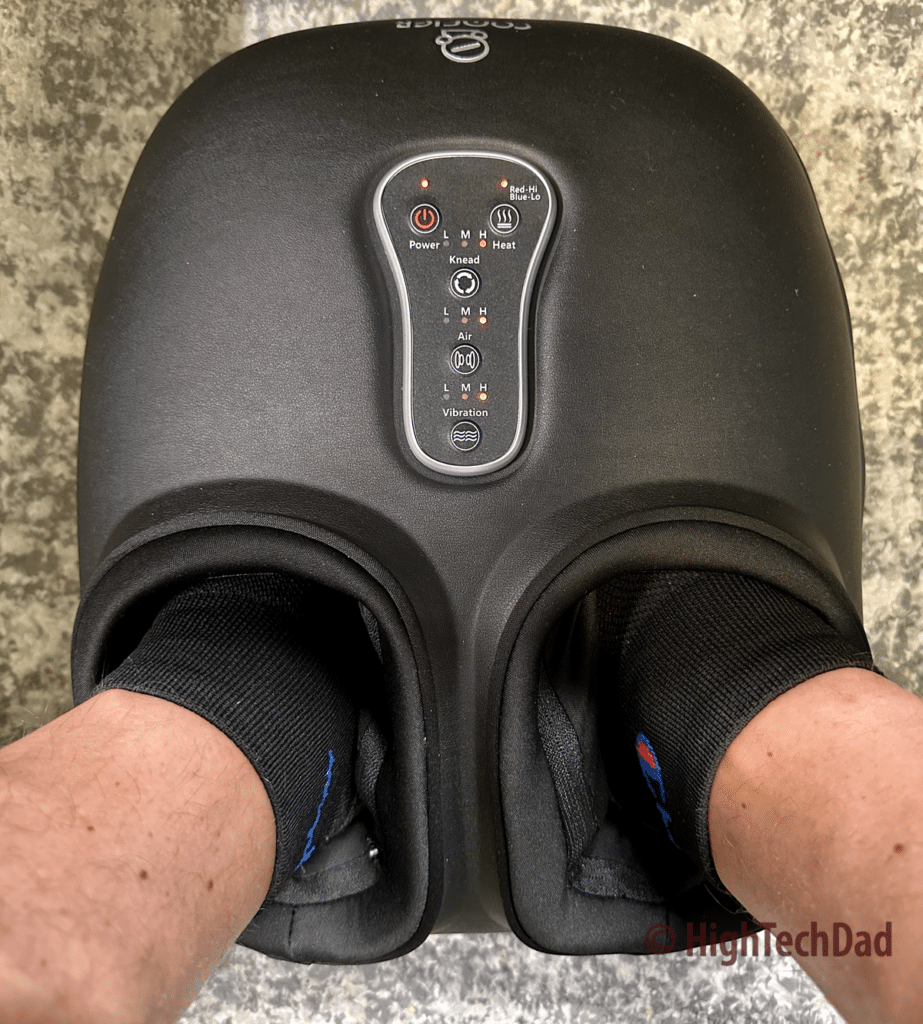 The Comfier Foot Massager will shut off automatically after a certain amount of time – I haven't timed it, but I think it is around 10 minutes or so. And trust me, you probably don't want to go longer than that. The first time I used it, I put all the settings at maximum to see how strong each item was. It felt amazing, and my feet were quite relaxed afterward. However, the next day, I tried to do another massage, and I realized that my feet were actually quite sore from my first massage. So, I decided to wait a few days before I did it again. Everything in moderation, I guess.
Another nice non-massage feature is the fact that the foot sleeves are both breathable and washable. Zippers on the sleeves allow you to remove them and then put them in the wash. This is particularly nice if you share the massager with others (although I also recommend using socks when using the massager).
The Comfier Foot Massager retails for $89.99 on the Comfier site and is available on Amazon for $79.99. 
Shop on HighTechDad.com
The product shown below (and related products that have been reviewed on HighTechDad) is available within the HighTechDad Shop. This review has all of the details about this particular product and you can order it directly by clicking on the Buy button or clicking on the image/title to view more. Be sure to review other products available in the HighTechDad Shop.
If you spend a lot of time on your feet for work or pleasure, you need to be sure you are kind to your feet. Try to have good arch support either via good shoes or with inserts. I use gel inserts to alleviate some of the stress on my feet after my daily walks. However, sometimes it is just nice to get a little tender, loving care for your feet in terms of a foot massage, and the Comfier Foot Massager is a great device that can provide your feet with some additional care and relaxation.
Disclosure: I have a material connection because I received a sample of a product for consideration in preparing to review the product and write this content. I was/am not expected to return this item after my review period. All opinions within this article are my own and are typically not subject to editorial review from any 3rd party. Also, some of the links in the post above may be "affiliate" or "advertising" links. These may be automatically created or placed by me manually. This means if you click on the link and purchase the item (sometimes but not necessarily the product or service being reviewed), I will receive a small affiliate or advertising commission. More information can be found on my About page.
HTD says: The Comfier Foot Massager offers four varying levels of foot massaging via Shiatsu kneading, vibration, compression, and heat to allow your tired feet to recover and rejuvenate. It's a great gadget for anyone who needs a little extra care for their feet on a regular basis.
HighTechDad Ratings
Ease-of-Use

Family-Friendly

Price Point

Features
Summary
The Comfier Foot Massager offers four varying levels of foot massaging via Shiatsu kneading, vibration, compression, and heat to allow your tired feet to recover and rejuvenate. It's a great gadget for anyone who needs a little extra care for their feet on a regular basis. The Comfier Foot Massager is easy to set up and use. Simply plug it in and press the power button, and the massaging starts at the lowest level. From there, you can set the intensity level of each of the various massage features. Your feet will receive a variety of massages, from vibration to Shiatsu kneading to compression to heating. It would have been great to have some kind of countdown timer to know how much time is left on the massage. This is a great product for people who stand a lot for their work. Easily provides relief to your feet at the end of the day.
Pros
Easy to use
4 adjustable massage features
Varying levels of intensity
Unique ankle compression
Cons
No countdown timer to say how much time is remaining on massage