I could probably write most of this review talking about different use cases for this gadget. It's one of those devices you suddenly can't believe you don't have once you learn about it. And, believe it or not, until recently, I DIDN'T have one – and I can think back to some problematic occasions where I now realize that it would have made a huge difference if I DID have one. What I'm talking about here is the Sanyipace Borescope. Sounds like a medical device, right? Well, it is…sort of…as long as you are NOT using it on your body but instead around the home or work. (*Disclosure below.)
A borescope is a tool that you use to make an inspection, visually, of items that are typically hard to access due to the items being hidden away, around corners, in walls, or inside of something. Usually, they consist of a camera or two at the end of a semi-rigid cable, and at the other end is a monitor or way to view what the camera can see. They are similar to endoscopes but often provide a better view and are a bit more rigid. Endoscopes are usually used in medicine or by vets, while borescopes are more widely used across industries.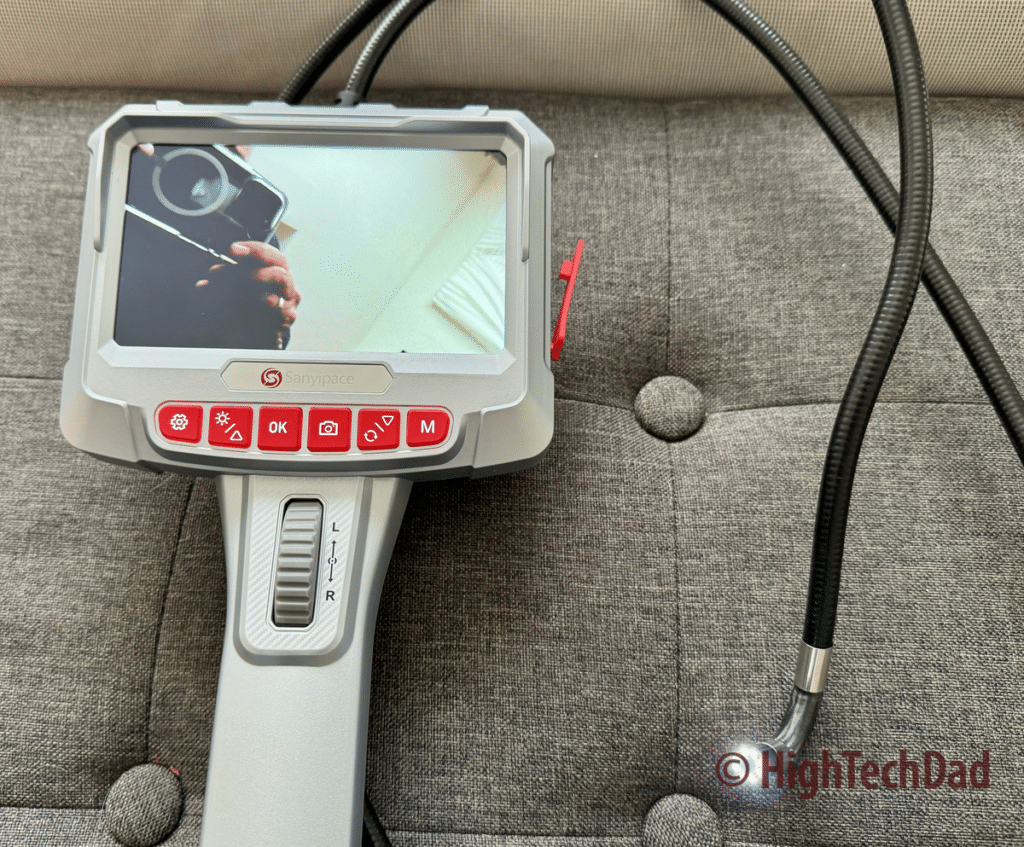 The Sanyipace Borescope (model SU9432) is a consumer-grade borescope with two cameras, an articulating head, and a 5-inch video screen to see what the active camera sees. Sanyipace also manufactures more industrial, professional-grade "sewer cameras," which allow you to inspect long-running sewer lines, wells, and other plumbing scenarios. Honestly, I could really use a long-running drain camera with a locator, as my main sewer line is old, and the ceramic has cracked due to roots breaking into the line. Sigh.
But this review is not about a sewer camera. But the concept behind the Sanyipace Borescope is the same. You can use it to visually inspect those inaccessible places around your home or office. Once you start using it, suddenly, your To-Do list starts to grow as you realize you need to repair something or clean something else.
Table of Contents
A video walk-thru and review
While I'm happy to share my written thoughts about the Sanyipace Borescope, sometimes it's easier to simply show the product and walk through how it works and some of its features. A bit of a warning…this video (also available directly on YouTube) is about 17 minutes long. Definitely use the timestamps in the description to jump to a particular part of the video review.
As you can see from the review, the whole concept of a borescope is a bit new to me. However, the more I started using it, the more I realized there were more scenarios I could use it with.
Features of the Sanyipace Borescope
While I show many of this borescope's features in the video, some people always want to read about the specifics. Listed below are the core features and my thoughts on each of them.
5-foot length – unlike the sewer cameras that can be 150-200+ feet in length, this Sanyipace Borescope is limited to just five feet. Around the home, this is pretty sufficient for accessing a lot of drains, into walls, around corners, or other hard-to-reach spaces.
Dual lenses – while having a single-camera borescope is quite sufficient, having two cameras is even better. At the end of the flexible cable is the primary camera. It's a 2 MP HD camera which does a good job at capturing images. But, on the side of the head, there is another camera. It isn't documented very well in the manual, but pressing and holding the camera icon on the buttons allows you to switch between the two cameras quickly. While the articulating head (which I will talk about shortly) is excellent for "looking around," sometimes you don't have enough space to do so, and that is where the side camera is handy. The focal length for the forward camera is 0.8-4 inches, and the side camera's focal length is 0.8-2 inches.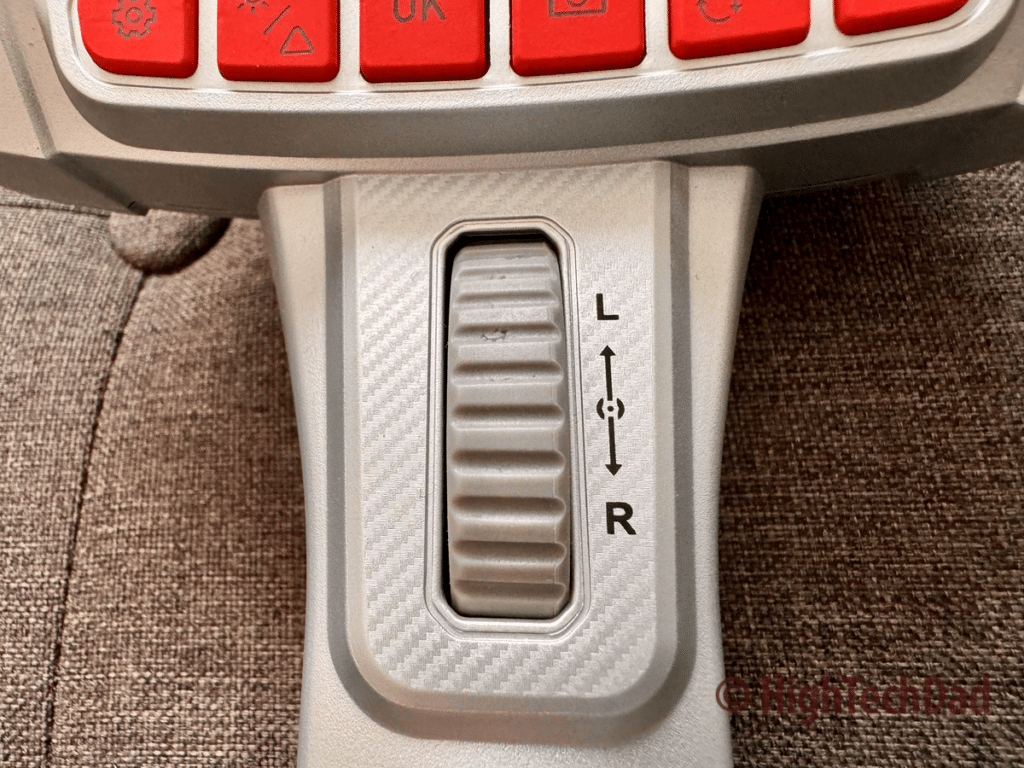 Articulating head – the end of the cable where the camera is can bend 180 degrees to the left or right. You use a physical wheel on the control screen to move wires within the cable to move the head from side to side. This eliminates the need to try to force the cable to move manually to see at a particular angle, and it helps with navigation if the area where you are probing makes a turn one way or another.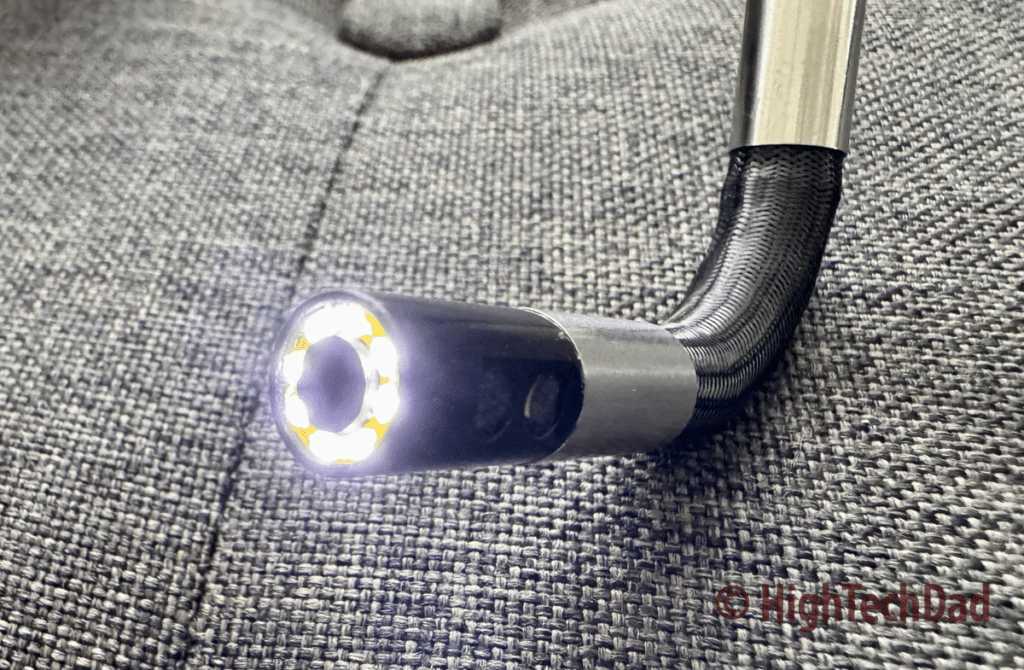 LED lighting – the front camera has an 8-LED light ring around it with three levels of brightness, and the side camera has a single LED light that also has three levels of brightness. A button on the display part of the borescope controls the brightness.
5-inch IPS display – at the other end of the cable is the display. This is a 1080P HD display that shows you live video or your recorded photos or video. Several buttons at the bottom of the display allow you to easily change settings, adjust the digital zoom, switch cameras, take pictures or videos, control the playback of videos or see captured images, and a whole lot more. The screen is well backlit, so viewing items is pretty easy to do.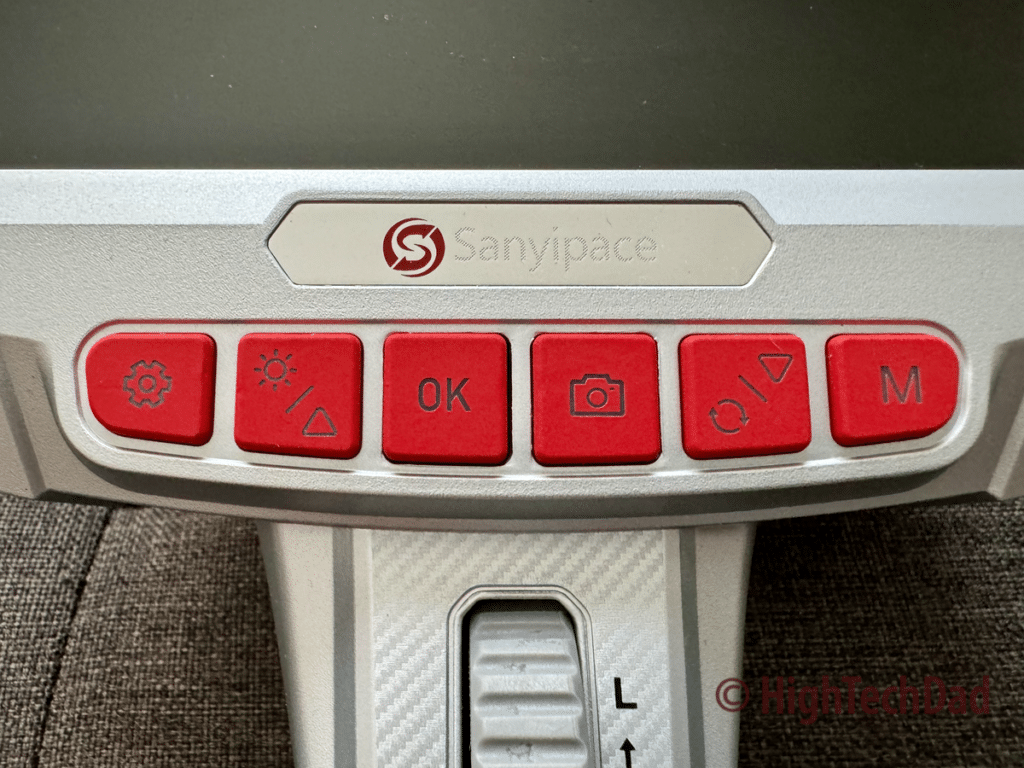 2000mAh Battery – this rechargeable battery can last up to 3 hours on continuous usage according to the specs. While I did not leave it on for that long, it is more than adequate for those longer projects. Charging via USB-C (cable included) takes a little over two hours. One note – be sure you use a lower-powered charger as it won't take a charge from some of the higher capacity chargers I have found.
Flexible, semi-rigid cable – as mentioned earlier, the five-foot cable is more than adequate for many at-home projects. The cable is flexible enough to go through curves and corners quite easily but is rigid enough to be able to position the cameras well. The cable also has an IP67 rating, meaning it can be submerged for a short time. It is recommended that you clean the cable and lenses after each use.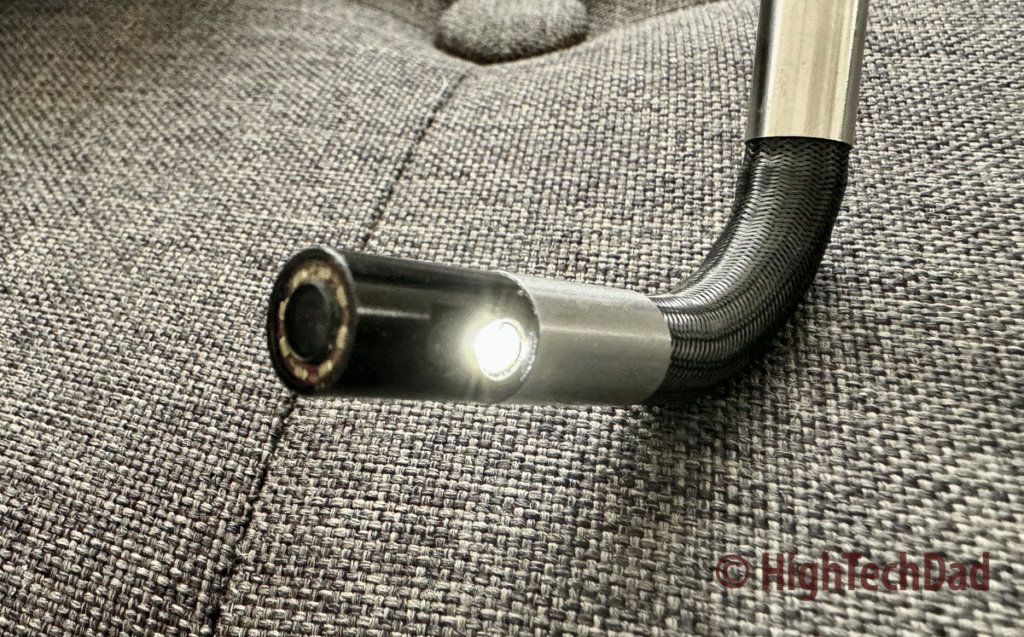 Padded, hard carrying case – it is always important to protect your tools when they are not in use. The Sanyipace Borescope comes with a padded carrying case that protects your investment. The cable coils nicely around the display portion of the unit, and there is a mesh pocket to hold the manual and charging cable.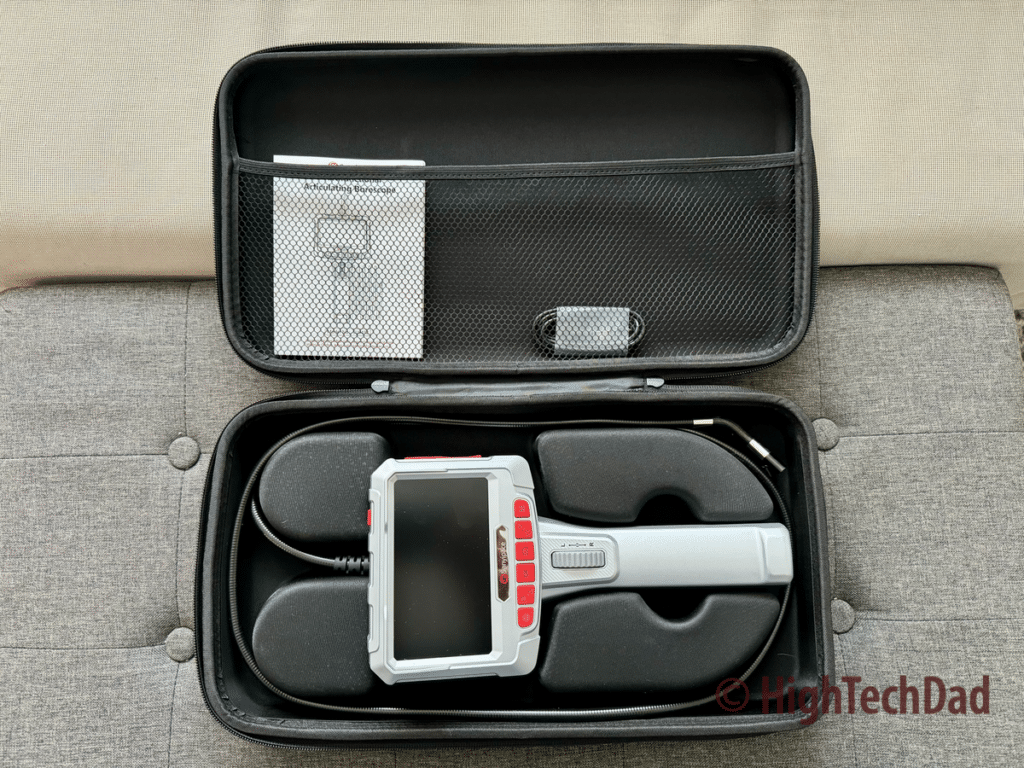 Real-time or captured media – as mentioned before, you can take photos and videos and record them to the included 32 GB TF card. You can, of course, also view things live as you are recording video. There are time and date stamps that you can have watermarked onto the photos or videos. And you can record audio, although it is often a bit hard to hear.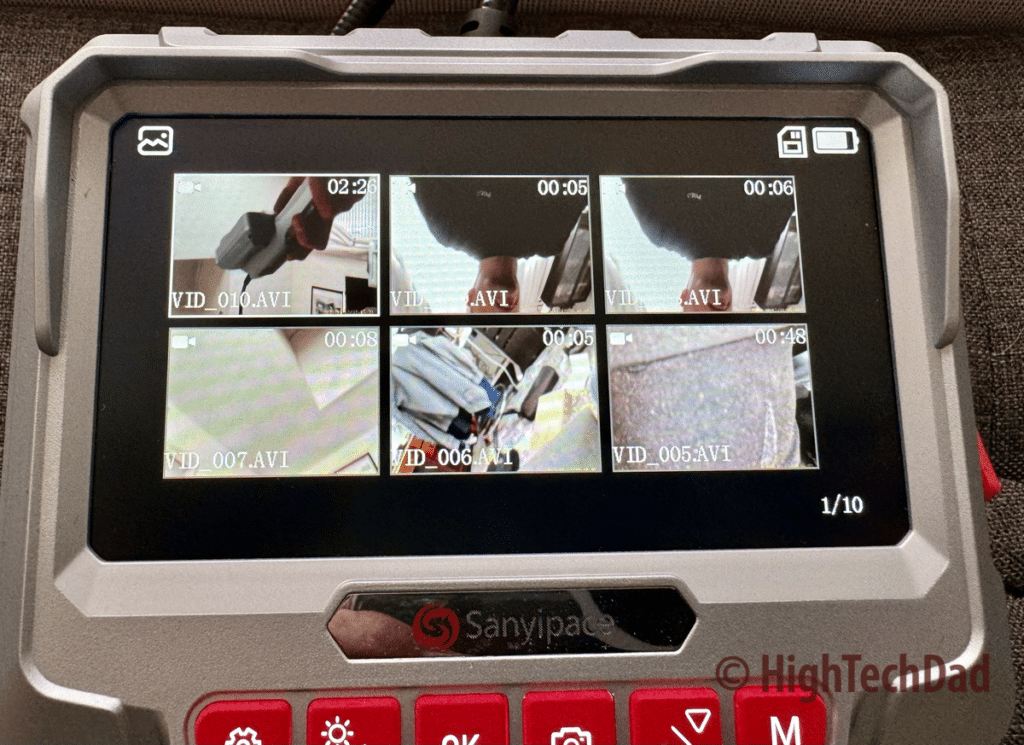 A few use cases
There are many, many use cases that I could come up with for using the Sanyipace Borescope. Some of these are quite silly, while others are definitely practical. Just a few off the top of my head:
Car inspections – you can access engine areas you can typically not see with your eyes. And, in some cases, you could send the cable into portions of your engine to do closer inspections of valves or vents or other things.
Plumbing – since the cable is waterproof, it is ideal for inspecting pipes and drains. For example, perhaps someone dropped a ring down a drain – you could use the borescope to check to see if it went past the p-trap and into the main line or if you were lucky and the ring is still in the p-trap.
Peer into walls – while sometimes a stud finder works pretty well, sometimes you need to get a better view to see if there are cables or smaller pipes that you couldn't identify with the stud finder. All you need is a small hole to be able to "look around" before you make a major cut or drill a screw.
Look under big objects – have you ever had anything drop and roll under the refrigerator, sofa, or piano? This borescope lets you look under those items easily to see where to start fishing for that lost item.
The manual does say that you should not use this on your person (e.g., it shouldn't be used as a medical device). But assuming you are smart and careful, you could use the borescope to peer into an ear or throat. BUT do NOT insert the borescope into any orifice of a living being or animal! It is NOT a medical device and should NOT be used like one. That being said, you may be a little scared of how much ear wax is in your ear.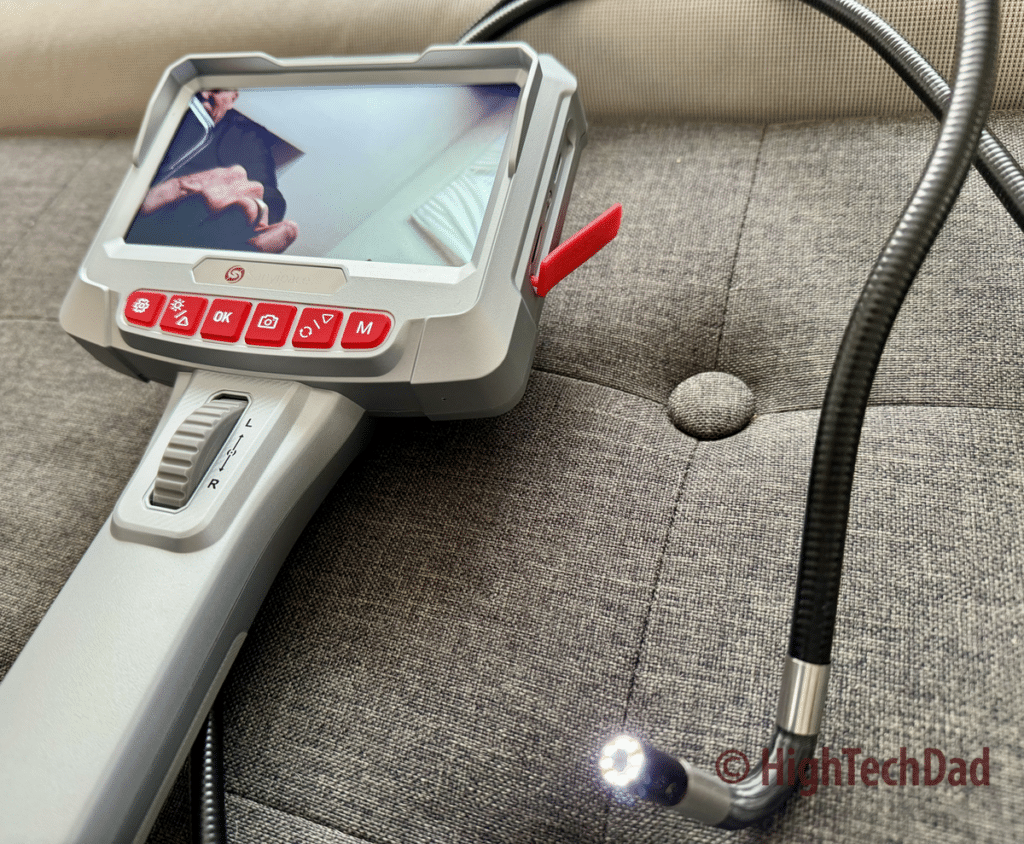 What types of use cases might you use a borescope like this for? I would love to see some ideas, so please leave a comment and let me know.
Shop on HighTechDad
The Sanyipace Borescope retails for $199.99. As of the writing of this review, it is currently on sale on the Sanyipace website for $169.99.  
The product shown below (and related products that have been reviewed on HighTechDad) is available within the HighTechDad Shop. This review has all of the details about this particular product, and you can order it directly by clicking on the Buy button or clicking on the image/title to view more. Be sure to review other products available in the HighTechDad Shop.
Final thoughts
I honestly never thought that I would need a gadget like this around the home, but now I'm thankful that I have it. Accessing hard-to-reach places, whether in a pipe or a wall or behind some furniture or in an engine with such ease, is truly a life-saver. It's much easier to send a cable with a camera into those difficult spots than trying to either contort your body to see at an odd angle or use your smartphone to try and take a picture or capture a video. It's much better to be able to guide the cable and articulate the head to really get up close and personal with the object or area you are trying to see.
Disclosure: I have a material connection because I received a sample of a product for consideration in preparing to review the product and write this content. I was/am not expected to return this item after my review period. All opinions within this article are my own and are typically not subject to editorial review from any 3rd party. Also, some of the links in the post above may be "affiliate" or "advertising" links. These may be automatically created or placed by me manually. This means if you click on the link and purchase the item (sometimes but not necessarily the product or service being reviewed), I will receive a small affiliate or advertising commission. More information can be found on my About page.
HTD says: The Sanyipace Borescope is one of those devices that all homes should have. While it may sit on the shelf for a while sometimes, you will be thankful you have it when it is really needed, especially when you don't have x-ray vision or the ability to look around corners or down small, dark holes.
HighTechDad Ratings
Ease-of-Use

Family-Friendly

Price Point

Features
Summary
The Sanyipace Borescope is one of those devices that all homes should have. While it may sit on the shelf for a while sometimes, you will be thankful you have it when it is really needed, especially when you don't have x-ray vision or the ability to look around corners or down small, dark holes. While the documentation is a bit light, you can get up and running using this borescope pretty easily. It does help to watch a few video tutorials as well. However, once you understand the buttons and what they do, this is a very nice device to have around the home. You are easily able to view hard-to-access spaces and record or take pictures as you go for later documentation. The cable head can move 180 degrees side-to-side, and there is a side camera, so it is almost impossible not to be able to take a photo or record a video of that hard-to-reach item.
Pros
Relatively easy to use
Lightweight
2 HD cameras
Articulating head
Cons
Buttons are sometimes hard to push
Documentation is a bit light – especially on how to change the camera