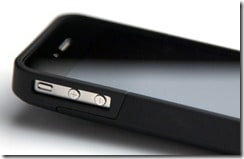 I burn through batteries on my iPhones faster kids go through their Halloween candy. (Well, maybe not that fast but you get the point.) Just about every iPhone that I have owned, I have had to replace the battery in it (seem my iPhone 3GS & iPhone 4 posts on how to do this). But if you don't want to have to crack open your iPhone to do battery replacement surgery, you can do a much easier thing – get a case that has a battery built in.
This is not a new concept at all, in fact, I have written reviews of other manufacturers in the past (see here and here). But I think that over time, the battery case solution are getting better and more aesthetically pleasing. I have been using a Mophie JuicePack Air Plus for quite a while and couldn't leave home without it, especially now since my iPhone 4S seems to be plagued with the "battery drain issue". I drop 1% a minute it seems currently on my iPhone 4S. Yes, I'm a heavy power consumer, with Location services on, Push notifications enabled, and multiple email addresses running, but my iPhone 4 handled the power consumption much better than the iPhone 4S. But I digress.
When I went to MacWorld 2012, one booth that I stopped by was that of Vicotec which recently announced a couple of iPhone/iPod Touch battery cases. I, obviously, gravitated toward the one that had the highest capacity, which happened to be the CasePower A4 which boasts of 1700mAh (it has a Li-polymer battery cell) – this is just slightly less than the Mophie's JuicePack Air Plus which comes in at 2000mAh. But the additional 300mAh comes at a bit of a price in terms of weight and size.

{ 0 comments }