Bloggers are not second class citizens. At least not all of them. I do have to draw a bit of a line here between those "bloggers" who simply post sales, coupons, contents and giveaways, and those who produce content in the form of reviews, how-to articles, social commentary, experiences, analysis and the like. In my mind, there is a clear distinction. While both types provide some sort of value, I dare say that the "top-tier" bloggers, the ones interested in enriching and helping the lives of their readers are providing more to the marketplace than those who are simply out there writing about giveaways.
But that's my opinion. Take it or leave it.
What bothers me though, is the fact that many times brands and their PR firms don't understand the differences. And don't get me started on those SEO firms that pitch me daily on doing a "guest post" of "quality content" just to be able to put a link back to their client's site. I try to write with integrity, fully disclosing relationships, clients, gifts and special privileges I have when I write my content. I'm not going to dilute my own brand just so that you can push some silly keyword-optimized, link-heavy article that provides no relevance or value to my site or my readers. There are plenty of other sites that will do that for you, just not mine please.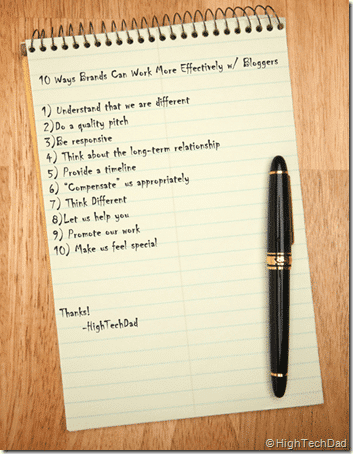 Anyway, as I have worked on a variety of programs, campaigns, product launches and awareness programs for many brands and PR firms around the globe, I have obviously developed some opinions on strategies that I think work (and a few that don't). So I have compiled a top-10 list, specifically for brands and their PR firms, to help guide them when approaching and working with top-tier bloggers. Obviously, this is not the end-all, de facto list, but it's a start. I would love to get others to weigh in as well. [click to continue…]
{ 16 comments }