Polk Audio, who has always been a maker of quality audio products ever since I can remember, has a real winner on their hands. Over the past few weeks, I have been able to test the Polk Audio I-Sonic ES2 and have found it to be a gadget truly worthy of praise. It is a multi-functional device that handles not only music playing via your iPod or iPhone, but also functions as a AM/FM receiver, clock radio and HD Radio receiver.
The ES2 (which stands for Entertainment System 2) is Polk Audio's second generation release in this product line. The original ES had CD-playback. The ES2 replaced this with the ability to doc, charge and play an iPod or iPhone, among other things. However the feature that really got my attention was that of HD Radio, something that I hadn't personally pursued or even researched.
The ES2 has a few items that I would like to talk about in greater detail, namely:
Design
Sound Quality
HD Radio
iTunes Tagging
Note: My quest for stellar gifts for that techie dad for Father's Day continues! The Polk Audio I-Sonic ES2 has been added to this list of gadgets that you must consider for dads out there. To see other Father's Day gadgets, click here.
Design
The ES2, like many "on-display" devices these days, is a combination of sharp edges and curvy lines. It looks as if a cylindrical radio slightly melted under the weight of a hot iPod. Actually, the ES2's design seems to reflect the desire to place the iPod front and center and makes it the presentation piece.
A flap towards the front of the cop covers a dock. The dock allows for just about any iPod or iPhone to connect to it. When not in use, the flap closes to cover the iPod doc and keep dust out of the docking area.
Immediately in front of the doc are a series of control buttons. While the ES2 does come with an extremely handy Remote control, it can be fully controlled using the built-in buttons.
The front of the ES 2 boasts a large LCD display which extremely well positioned for readability. The display not only shows HD Radio information, but also what is playing on the iPod, making it extremely convenient to know what music is playing when you are several feet away. When playing HD Radio stations, the station ID, song name, composer and other details are displayed.
The top button control panel is towards the front of the device with the following controls (when viewing from the front – left to right, back to front):
Power – turns unit on/off
Volume -/+ – controls the volume
Snooze/Mute – snoozes the built in Alarm or mutes the speakers
Source – Controls where the audio is coming from: FM, AM, Aux, or iPod
Tune – allows you to tune the Radio manually. Holding the Adjust buttons lets you tune quickly
Seek – tunes the radio to the next station above/below current frequency. Pressing this button twice will make the unit search for the next available HD Radio station
Preset – allows you to scroll through various presets
Store – allows you to store a particular station as a preset (up to 30)
Settings – gives you access to various controls including: Bass, Treble, Backlight, Contrast, Sleep, and Input Gain
Time Set – enables you to set the time that displays on the LCD
Alarm Set – allows you to set the time for the alarm (sources include Radio, Tone or iPod); you can set the volume of the alarm as well
Alarm On/Off – activates/deactivates the alarm
Directional Arrows (Adjust) – Used for a variety of functions (e.g., Next/Previous or Up/Down when tuning or on iPod playlist)
The front of the device has a TAG button (discussed later).
The functions are very intuitive and you typically do not need a manual to quickly configure your ES2. Most of the functions can also be accomplished using the included remote control.
Sound Quality
The I-Sonic ES2 produces an extremely clear and crisp sound, even at higher volumes. The 4-speaker design allows all listeners, regardless of their position as related to the ES2 to hear music and audio clearly with full 3D sound. My unit is placed within a bookcase, which probably is not the most ideal placement to take full advantage of the 4-speaker array.
Polk Audio suggests the following ideal placement of the ES2:
Table/Shelf – 6″-12″ from wall
Corner Table – closer to the wall will produce more bass
Armoire/Enclosed Shelf – acoustic image may be restricted due to the bass being below the shelf
I found the out-of-the-box settings to have a bit more Treble than I would have liked and not quite enough Bass. There is a built-in bass speaker as well that directs lower levels out the bottom of the device. This, I believe, helps increase bass by using furniture as an amplifier of sorts.
Luckily, you can adjust both the Treble and Bass using the setting within the ES2. I found that by increasing the amount of bass, the music was truly great, in fact, it is equal to and sometimes rivals some larger speakers that I have used in the past.
At high volume, distortion is minimal. Also, there is hardly any discernible difference between playing HD Radio or the iPod as a music source due to the digital delivery of both.
HD Radio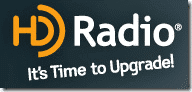 I must admit, until a few months ago, I hadn't really given HD Radio much thought. I had heard a few ads about it on regular radio…claiming to be CD-quality music, that was static-free, AND there were no subscription costs. I wasn't truly sure what to make of it. I did a little bit of research, specifically for my car and found some brands that had HD radio built into them. To me, it sounded like a great "poor-man's" version of Satellite radio. The problem was, you did have to buy a compatible radio to make it work and you had to be somewhere that was near stations that transmitted HD Radio.
For those who want some more information about HD Radio, you can check the main HD Radio site here, or read up on it on Wikipedia. Before you think that you should rush off and buy a new HD Radio receiver for your auto, office or home, you should definitely check to see if there are stations in your area that are broadcasting HD Radio. You can do some general market area searches here. The San Francisco market where I'm in shows about 26 stations currently broadcasting 43 HD Radio channels.
When I heard that the ES2 had a HD Radio tuner built into it, I must say that I was excited. This was the first time that I had heard of an iPod speaker system that also had a HD radio tuner. Most that I had seen had just a plain old AM/FM receiver built in. With HD Radio, much more information is able to be passed using the digital frequency, including the artist's name and song, live weather & real-time traffic updates, local news, sports scores and school closings, and emergency information and notifications. This is all on top of the crystal-clear quality of the music. It's important, though, to understand that "HD" does not stand for "High Definition" nor "Hybrid Digital", it is simply a marketing term that that industry has adopted.
As I mentioned earlier, my metropolitan area supposedly has 26 stations that are broadcasting HD Radio. The problem is, however, I live in the suburbs and I was only able to get 1 station. It is a classical music station, which actually was quite nice because they are commercial-free and provide two different channels of HD Radio.
When the ES2 is scanning for HD Radio stations, it will first tune into a strong FM station. On the front of the display, you can see the signal strength of the station, similar to bars on a cell phone. Once the ES2 locks in on a station that is transmitting an HD Radio channel, you immediately notice the difference. The static is gone and is seems like you are listening to a CD. Also, on the front of the ES2, you see the "TAG" button light up a bright blue color, and the full artist, song and station information is displayed on the LCD screen. When this all happens, it's actually pretty amazing.
The I-Sonic can be hooked up to a variety of FM antennae. There are two included in the package, dipole and wire. I first tried the wire but found that I got better reception with the dipole. The problem is, those are ugly antennae and hard to hide away. I'm considering getting a Terk High Definition Indoor Antenna or figuring out how to hook up an outdoor antenna as the quality of the HD Radio stations truly is astounding. Do note that Polk Audio actually states in their manual that "amplified antennas may be useful for analog FM reception but actually degrade reception of HD Radio signals."
What is great, though, is that Polk Audio didn't just stop there with simply including HD Radio, they also enabled something called iTunes Tagging.
iTunes Tagging
How many times have you heard a song on the radio and wished you knew who the artist was or even the name of the song? Nowadays, there are a few ways to get that information. You could use the great iPhone (and Android) application called "Shazam" which identifies the song and artist based on a 10-20 second "recording" of the song (you simply hold your phone with Shazam "listening" to the speaker, and it figures out who is singing it).
Also, with an FM receiver that has HD Radio, you can see the artist information displayed on the LCD screen. But who has time to try to remember that or find a pen to write it down. If the blue "TAG" light is lit up on the I-Sonic ES2, simply press it and the song and artist information is saved.
The ES2 can store up to 50 tags at a time. So tag to your hearts content. Then later, when you dock your iPod or iPhone, the tags are transferred from the S2 to your iPod. Once you sync your iPod with iTunes, a new "Tagged" playlist appears which you can use to quickly purchase those songs from iTunes. It really is that simple.
Summing it all up
I only touched upon some of the features that I felt were pretty important. There are other things that makes this device a definite must-have for any person who owns an iPhone or iPod. The sound quality is excellent and the fact that you can receive AND tag HD Radio songs, makes it a multi-purpose entertainment system that fits on a table.
You can also optionally connect either Composite or S-Video so that you can play any video you have on your device on a larger display or monitor. Also, you can connect other MP3 players, CD players or other audio devices to the AUX Input in the back of the ES2. There is also an AUX Output to optionally connect a powered subwoofer or other audio system to the ES2.
My only minor complaints were that of having to adjust the bass a bit, and the lack of being able to find several HD Radio stations (not an issue of the I-Sonic ES2 though). I was actually hard-pressed to find other issues. The only other thing that I could complain about is the MSRP is of $499, which I feel is a bit steep, considering there are several other similar products on the market. As of this writing, the Polk Audio site shows a discounted price of $399 (although it also says that this price expired 15 days ago so they might not honor it). Amazon currently has it listed for $350.
The ES2 has a modern look, shows nicely in just about any environment, has multiple functions and features and, on top of everything has great sound quality. It's definitely setting a high standard for shelf-top music systems.
HTD Says: If you are looking to give a gift that will bring ear-to-ear smiles, or you simply need an entertainment system with a small footprint but a large sound, the Polk Audio I-Sonic ES2 is the one for you!