For the past week or so as of this writing, just 40 miles north of where I live in Northern California, tragic and devastating wildfires have been burning out of control. There has been a horrible loss of life and property, and countless numbers of lives have been completely upturned. And while I do know people who have been affected, for the most part, our family has luckily been spared. But every time I walk outdoors, I'm instantly reminded of the devastation just an hour away. The air in the San Francisco Bay Area is filled with smoke and ash, causing respiratory problems and itchy eyes. In fact, some have said that our current air quality is equal to super-polluted China. While masks and outdoor activity can help, these solutions can't really stop the smoke and smog that is actually occurring IN my home. As luck would have it, just a week prior, I received two Blueair Air purifiers to review. And I instantly turned them on to start cleaning the smoky air from inside our home. (*Disclosure below.)
A quick note, Blueair is currently offering a 20% discount (directly through their site) on Classic and Pro filters for residents living in California and Oregon. Use "WILDFIRE2017" at checkout. I'm not sure how long this discount will be active though.
Blueair has an extended family of air filtration and purification products. A few months ago, I reviewed the Blueair Aware and Blueair Classic 205. Since then, Blueair has launched a new line of air purifiers simply called "Blue Pure." They have a much cleaner and modern look than previous models. And they require less energy to run and produce less noise, all while filtering the air. You can check out the new Blue Pure family at in-store at your local Best Buy.
My receipt of the two Blue Pure air purifiers couldn't have been timed better, as I mentioned, as our home smelled of smoke and the outside was very hazy due to the fires close by. So, I quickly unpacked the Blue Pure 211+ and the Blue Pure 411 and set them up.
The Blueair Blue Pure 411 Air Purifier – Good for Small Rooms
The Blueair Blue Pure 411 is the filter that I set up in one of my daughters' room. It is relatively small, cylindrical, and slightly larger than a large shoebox turned on its side. It is designed to cover approximately 161 square feet, so the size was actually perfect for her room. It has a Clean Air Delivery Rate (CADR) of 105. More about CADR shortly. It consumes on 10W (as compared to the average of 45W for similar-sized air purifiers. And, it has a very low sound output, rated at 17dB (compared to the 28dB average). And that's at the highest speed.
I just mentioned setup. It's really hard to find something that is much more easy to set up and get running than the Blue Pure 411. Probably the hardest thing is deciding what color of a pre-filter you want to decorate your Blue Pure 411. While the Blue Pure 411 comes with a couple of colors, you can buy other ones separately. The color options are Diva Blue, Dark Shadow, Buff Yellow, Crystal Pink, and Lunar Rock. The ones included are Dark Shadow and Diva Blue. The pre-filter acts as a net to catch larger particles, effectively extending the life of the internal filter. Pre-filters for the 411 cost about $8.
Once you decide which pre-filter color you want, you will wrap the bottom portion (the filter) with the pre-filter. The pre-filter basically has two openings with elastic. While I actually took the filter off to put on the pre-filter, you probably could just slip it over like a sock without having to detach the filter.
After you put the pre-filter on, just plug it in and turn it on! The power button, which really isn't like a button but rather something that you just lightly have to touch, also controls the fan speed of the Blue Pure 411. There are found settings: Off, Low, Medium, and High. Just lightly touch the button and it will cycle through each level with a touch. And you will see a light, indicating what level you are at. The light is on the top and divided into 3 sections.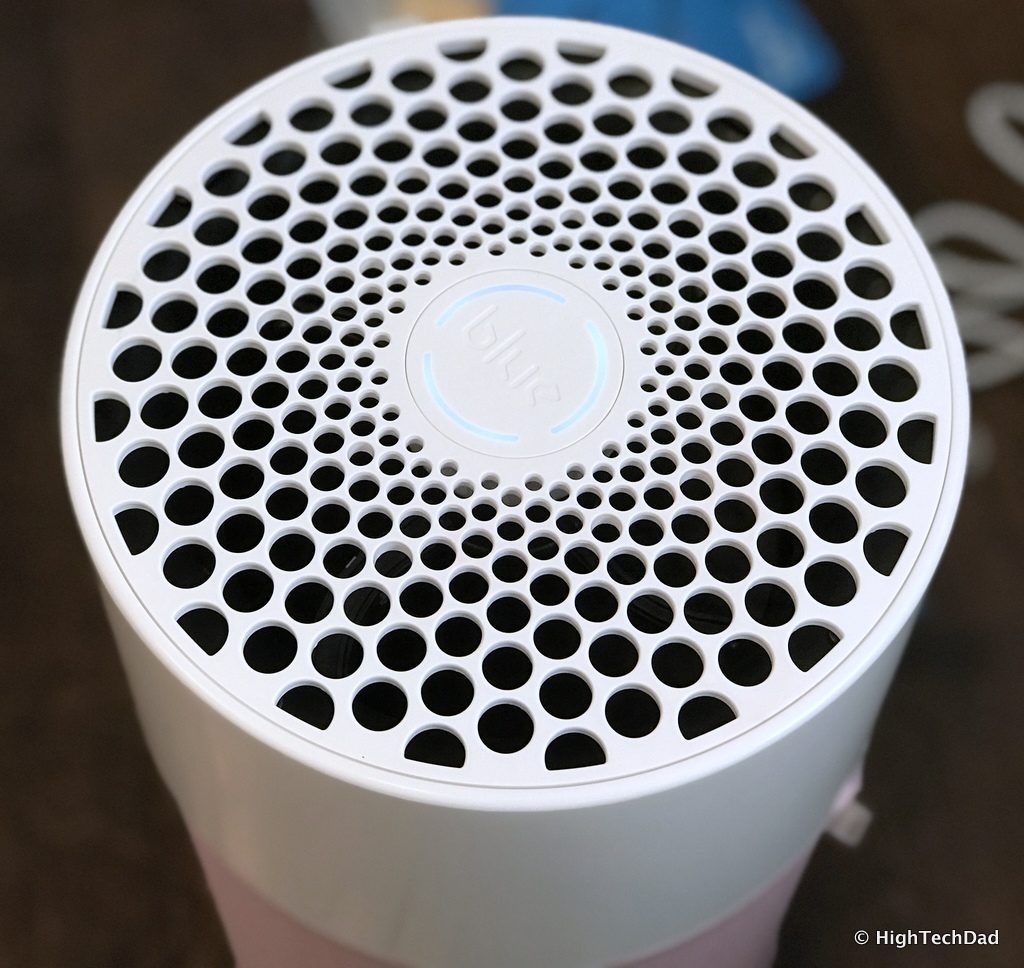 The Blue Pure 411 comes with a Particle and Carbon Filter. Replacement filters cost around $20. There is a filter replacement indicator built-in so you know when to replace the filter. These filters remove 99% of airborne particles up to PM 2.5, essentially, pollen, dust, pet dander, etc. The carbon part of the filter helps to remove smoke and other volatile organic compounds (VOCs). The colored pre-filter can just be cleaned in a washing machine (you probably would want to air dry it though).
The Blue Pure 411 pulls in air all around its body and then pushes the air out the top of the device. It is important to note, that this is a 100% manual filter, meaning there are no built-in sensors or WiFi connectivity to control it. You gotta push the button!
As I mentioned, the 411 is fairly small (especially in comparison to the 211+). Its dimensions are 16.7" x 8" x 8" and it only weighs about 3.35 lbs so a child could easily move it around their room. There are no exposed fans or anything like that so it seemed to be relatively safe, even for small kids (but DO check it out yourself – my kids are teenagers!).
The Blueair Blue Pure 211+ Air Purifier – Great for Larger Rooms
The features and functions of the Blue Pure 211+ are essentially the same, except this air purifier is larger and can, therefore, purify a larger room. I set the Blueair Blue Pure 211+ in a more stationary location, given its larger size and weight. It is more of a rectangular box with curved edges but shares many of the same features. It too has a colored pre-filter with the same included colors as well as choices for extra ordering.
While the Blue Pure 411 can cover about 161 square feet, ideal for a small to medium-sized bedroom, the Blue 211+ has a much larger purification area. It can cover up to 540 square feet. (Note, there is an even larger Blue purifier, the Blue Pure 121, which can handle 620 square feet.) The CADR (Clean Air Delivery Rate) for the 211+ is 350 cubic feet per minute (CFM). What is CADR? Well, it's essentially how much filtered air is delivery by the air filter/purifier when it is operating full blast, as well as how well it filters out smoke, dust, and pollen from the air.
The Blue Pure 211+ is designed in much the same way as the 411. The top part contains the motor and fan, while the bottom portion is the particle and carbon filter. You have a similar touch-enabled power and speed button, with the speed indicated in this case with a semi-circle with three light settings. You also install the pre-filter in the same way (it's a larger pre-filter than the 411). The pre-filters cost about $9 and two colors are included with the Blue 211+. Replacement particle and carbon filters are about $60.
The Blue Pure 211+ weighs about 13 pounds and measures 21" x 13" x 13". I would recommend finding a permanent home for the 211+. While it is easily movable, it's better to carve out a space to essentially set it and forget it. Where I placed mine is probably not the most ideal location, simply because only the front portion is fully exposed to the air. The other three sides are slightly obstructed by walls and furniture. Remember, the air inlet is 360 degrees, pulling in air from all sides so ideally, you would place it in a room with no sides obstructed. The air outlet, like the 411, is on the top.
As there is a bigger fan and motor in the Blue Pure 211+, the noise output is higher with levels starting at 31 dB(A) on the low fan setting and going up to 56 dB(A) on the high setting. Still, the noise output is quiet enough so that you can have a fairly normal conversation with the Blue Pure 211+ chugging away in the background.
Also, like its siblings, the power output is quite low, ranging between 30 and 61 watts depending on the speed of the fan.
Wrapping these Blueair air purifiers up…literally
So, both of these Blueair Blue Pure air purifiers have been hard at work, keeping our indoor air free of contaminants. Given the horrible air quality outside, due to the Northern California fires, I found it quite refreshing to come home to air that did not smell of smoke. And my eye irritation from the outdoor air was reduced after a couple of hours being indoors. While we had all of our windows shut (which actually does cause CO2 levels to rise a bit), ensuring that the indoor air had greatly reduced VOC levels made me breathe a bit easier, literally.
What I liked about these Blue Pure air purifiers was the fact that they were very easy to set up. Just choose the color for the pre-filter wrap, wrap the particle and carbon filter itself, plug it in, and just turn it on and forget about it. And the fact that they were not very loud, nor gobbling down tons of electricity was an added bonus as well.
You can currently pick the Blue Pure 411 and the 211+ at Best Buy (online or in-store). I do recommend you go and see and experience them if you can. The Blue Pure 411 retails at Best Buy for  $99 and the Blue Pure 211+ goes for $249. Remember, if you are a CA or OR resident, you can get a 20% discount on filters directly through Blueair (not with Best Buy though).
Update: The Blue Pure 411 is available on Amazon for $$115.75. And the Blue Pure 211+ is available for $298.99.
Shop on HighTechDad
The product shown below (and related products that have been reviewed on HighTechDad) is available within the HighTechDad Shop. This review has all of the details about this particular product and you can order it directly by clicking on the Buy button or clicking on the image/title to view more. Be sure to review other products available in the HighTechDad Shop.
Disclosure: I have a material connection because I received a sample of a product for consideration in preparing to review the product and write this content. I was/am not expected to return this item after my review period. All opinions within this article are my own and are typically not subject to editorial review from any 3rd party. Also, some of the links in the post above may be "affiliate" or "advertising" links. These may be automatically created or placed by me manually. This means if you click on the link and purchase the item (sometimes but not necessarily the product or service being reviewed), I will receive a small affiliate or advertising commission. More information can be found on my About page.
HTD says: Whenever there is bad air quality outside of your home, you are pretty much guaranteed poor air quality inside your home as well. With the Blueair Blue Pure family of air purifiers, you can reduce contaminants within the inside air, in an energy-efficient and quiet manner.
HTD Ratings
Ease-of-Use

Family-Friendly

Price Point

Features
Summary
Whenever there is bad air quality outside of your home, you are pretty much guaranteed poor air quality inside your home as well. With the Blueair Blue Pure family of air purifiers, you can reduce contaminants within the inside air, in an energy-efficient and quiet manner. The new Blue Pure family of Blueair air purifiers aims to accomplish a few things: provide good air filtration indoor, consume less energy, reduce the amount of noise, and look modern. I can attest that the setup and usage is extremely easy and these air filters are extremely quiet. I slightly lowered the Price Point rating simply because they are a bit more costly (as are the replacement filters on the larger filters). But overall, the Pureair Pure family is a great, easy-to-use air purifier for the home.