I love the fact that smartphones and some accessories are becoming wireless charging enabled. In my home, charging cables are more valuable than gold and seem to become lost or misplaced regularly. As all of our family iPhones in active use are wireless charge capable, I have been shifting the charging stations from wired to wireless. But, there are still some devices like older iPhones, portable batteries, or AirPods that still require cords to plug in. It seems that Accell has this in mind with two new charging docks, specifically the Accell Power 3-in-1 Fast Wireless Charger and the Accell Power Wireless Charging Pad with 5 USB ports and 2 AC Outlets. (*Disclosure below.)
Wireless charging is fantastic. If you aren't doing it with your wireless charging capable smartphone, you are really missing out. Just being able to place your smartphone down to have it juice up is so much easier and better than finding a cord (that isn't broken) or just finding the cable in general. And, I'm going to look forward slightly here…I'm going to guess that smartphones will eventually get rid of the charging port in a few years. That will be a dramatic change that we probably aren't ready for, so now is the time to start getting used to the functionality.
Accell has a variety of corded and cordless charging solutions, and the two mentioned above that I'm reviewing represent solutions that I didn't realize my family needed until I had the products in hand for testing. So let's take a look at each of these charging solutions in a bit more detail.
Accell Power 3-in-1 Fast Wireless Charger Review
First, let me talk about the 3-in-1 Fast Wireless Charger. This is the optimal solution for those people who have truly embraced the Apple ecosystem. I say this because this charging device can recharge an iPhone (or wireless charging smartphone), and Apple Watch, and the Apple AirPods.
The 3-in-1 comes with just the charging station and a USB Type-C to USB Type-A cable. You have to supply your own USB plug or hub to power it. So only two things are included in the package.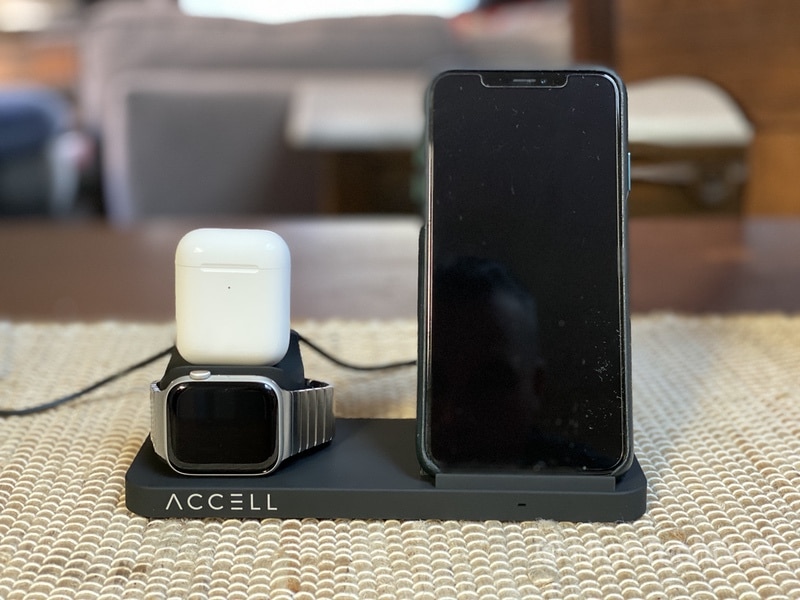 For the smartphone wireless charger, you can place your smartphone either vertically or horizontally to activate the charger. Just place it in the dock, and your smartphone starts charging. This is a Qi-compatible charger.
Behind the smartphone charging stand is a quiet fan which will prevent your smartphone from heating up while it is charging. I haven't seen that in other wireless smartphone charging pads before. This is designed to protect battery life.
So let's move on to the next charging option, that of an Apple Watch. I have seen many Apple Watch charging solutions that require you to provide your own Apple Watch charger that you have to fit into the base of the charger.
The Accell has the Apple Watch charger built-in. That means that you actually save yourself a few dollars since an extra Apple Watch cable costs about $30.
You can place your Apple Watch around the charging area, and it will instantly start to charge. And it will go into bedside mode so that you can easily read the time.
Lastly, there is a dock to charge Apple AirPods. There is a lightning connector coming out of the dock, and when you connect your AirPods, it is firmly seated within the dock.
This is a perfect desktop charging solution for people who have various Apple products (iPhone, Watch, and AirPods). Obviously, you can charge other smartphones, but the other two built-in charging solutions are specific to Apple.
If you use a 9V power adapter, you can take advantage of faster charging. Overall, this is a great all-in-one charging solutions that is perfect for a home office or at work. And it only uses one cable instead of having many different cables to charge each device.
The Accell 3-in-1 Fast Wireless Charger retails for $44.99 and is available on Amazon for $44.99 as well (but I expect the price to drop as currently, it is a new product).
Accell Power Wireless Charging Pad with 5 USB ports and 2 AC Outlets Review
This next Accell charging solution is a bit more robust in terms of being able to support a variety of devices. At its heart is still a wireless charging solution. The top of the charger is a charging pad that supports 5V/1.5A/7.5W (max) wireless charging. This is great for any type of wireless charging capable smartphone. There is a blue LED that indicates when charging is taking place. And, the pad is Qi-compatible.
But, if you have a lot of charing power needs like my family, you are going to need more ports for charging. Also available on the side of this Accell Power Charging Pad are four USB ports. There are two USB Type-A ports designed for Apple devices and two USB Type-A ports for Android devices. And there is one additional USB Type-A port that is dedicated for Universal Smart IC.
What I like about this is that I can wirelessly charge one smartphone, but then also plug in a variety of other power-hungry devices. You can, for example, plug in some iPads or tablets, portable batteries, cordless earbuds, or other gadgets that often need powering.
Another great thing about this charging pad is that while it does consume one wall AC plug, it actually gives two back. This means you can plug two additional items that use a regular AC plug into the side of the Accell Charging pad. NOTE: this power device does NOT have surge protection built-in so you will probably want to ensure that the devices you plug in don't require surge protection. The two AC plugs have a rating of 125V, 12A, 60Hz, 1500W.
This charging solution has a quite small form factor, only measuring 5.2" x 5.2" square and it's 1.75" tall. The hefty power cord (which requires a 3-pronged AC plug) comes from the corner of the pad. It's great that it is 8 feet long (and has the additional 2 AC plugs built-in), and the cord is 90 degrees adjustable at the base making it easier to fit into spaces.
This is a fantastic charging solution for the entire family since it can actually support up to 7 devices being charged at once. Plus there is a little dock that slides into the main unit itself to hold smartphones or tablets. And there is an extra piece that you can attach to hold even more devices.
The Accell Power Wireless Charging Pad with all of the extra plugs and ports retails for $59.99 and is available on Amazon for $59.99 as well (again, a new product, so I expect the Amazon price to drop eventually). Note: when shopping on Amazon, be sure you are selecting this particular device as there are other options available (e.g., round surge protectors).
Charging Solutions for Home or Work
Either of these Accell wireless charging solutions are great for home or office. However, you need to evaluate your use case to find the appropriate solution. If you just want something for your desk and you fully embrace Apple products (Watch & AirPods), you may want to consider the 3-in-1 wireless charging pad.
But if you have a family and need a charging hub to support a variety of devices (corded or wireless), the Accell wireless charging pad that has the four USB ports and two AC plugs is ideal. Put this charging pad in a high-traffic area and watch all of the various devices that require power gravitate towards it.
Shop on HighTechDad
The product shown below (and related products that have been reviewed on HighTechDad) is available within the HighTechDad Shop. This review has all of the details about this particular product and you can order it directly by clicking on the Buy button or clicking on the image/title to view more. Be sure to review other products available in the HighTechDad Shop.
Disclosure: I have a material connection because I received a sample of a product for consideration in preparing to review the product and write this content. I was/am not expected to return this item after my review period. All opinions within this article are my own and are typically not subject to editorial review from any 3rd party. Also, some of the links in the post above may be "affiliate" or "advertising" links. These may be automatically created or placed by me manually. This means if you click on the link and purchase the item (sometimes but not necessarily the product or service being reviewed), I will receive a small affiliate or advertising commission. More information can be found on my About page.
HTD says: Accell has released two wireless charging pad solutions that fill many use cases at home or work. Each differs from the other – one more for Apple-specific charging and the other is more universal and has more charging abilities. But either provide that juice for your power-hungry gadgets.