I believe that dashcams should be built into vehicles much the same way that rearview cameras now are. While they don't provide the same type of immediate safety features that a rearview camera does, they do provide after-the-fact "evidence" after an incident occurs. And I put evidence in quotes simply because videos and photos can be altered. It's a bit harder to do with videos, so insurance companies and lawyers do use dash cam footage to prove or disprove their cases. So until that day when dashcams are built into vehicles, we have to use third-party solutions to record our driving experiences. For the past few months, I have been testing out the Thinkware F800PRO dash cam, which is a relatively high-end and feature-packed video camera that records your drive. And while I have only tested it on and off (mainly because my wife seems to have taken over my car), I have been able to do some testing. Luckily, I haven't had any accidents or idiot drivers to record (but there are plenty of people who probably shouldn't be driving). (*Disclosure below.)
Much the same way you have security cameras around your home, a dashcam monitors the road ahead of you (and behind you if you have a rear-facing camera). There are many different types of dashcam features you may want to look for. And I wouldn't recommend simply buying based on low price alone as the features in the higher-end dashcams (like the Thinkware F800PRO) are quite worth it.
What Basic Features to Look for in a Dashcam
Before I go into the features and functions of the Thinkware F800PRO dashcam, it's probably important to list out what are some of the essential features to look for when purchasing a dashcam. Here's a starting point:
Auto-Start & Auto Record
You want a dashcam that, when connected to a power source, automatically turns on and starts recording. Power sources can be the cigarette socket or actually be hard-wired into your car. Some have battery packs as well.
Loop Recording
When a dashcam records, it usually writes to a memory card. These memory cards have limited capacity, so a good dashcam will start writing over older clips automatically. If you want to preserve more video footage, get a large capacity memory card.
Storage
As mentioned, the more capacity you have, the more you can record. A 128 GB card can get anywhere between 10-40 hours depending on the dashcam being used, and the resolution of the videos—high definition will take up more space than standard. Be sure to look for a dashcam that can handle at least 128 GBs.
Record Audio
While I disabled the audio recording feature on the Thinkware, I'm going to re-enable it. Being able to hear the audio of things on and off-screen could be quite useful. If you get in an accident, what is recorded in the cabin could provide additional insight. Or if you are pulled over, having an audio recording of your conversation may be helpful.
How It's Attached
You should find a dashcam that securely mounts to your windshield. Typically, you mount these dashcams behind or slightly under the rear-view mirror. And while using a suction cup is great for something like holding your phone or a radar detector, when it comes to a dashcam, you want it to be securely mounted to the windshield so that it isn't bouncing around a lot.
Wide Field of View
The more of the road ahead of you that you can capture, the better. (But don't opt for a vast range of vision at a low-quality resolution). Dashcams have a wide range, but my understanding is that you want around 140° (between 125° and 165°) to capture the right amount of road.
What About Higher-End Dashcam Features?
Those are the basic features you should look for in a dashcam. But if you have a bit extra budget, here are some other higher-end features to consider:
LCD Screens
Contrary to what you might think, many premium dashcams don't have built-in LCD screens. A screen is one more thing that can go wrong, and it can add bulk (and distraction) to the design. You should look for a design that is small and discreet, especially if you are going to leave it connected in your car while you are away (although, I would be careful doing that – prime item for thieves!).
High Definition Recording
I'd recommend getting a dashcam that has high definition capabilities (1080p or 4K). But remember, while a dashcam might be capturing in HD, it also depends on the type of sensor that is built-in. A low-end sensor won't perform well in low-light conditions, making it grainy or hard to view.
Heat Tolerance
The poor dashcam usually never gets much shade or cooling. The windshield is one of the hottest areas within a vehicle, so you should find a dashcam that can handle very high (or even cold) temperatures.
Night Vision
Most dashcams work great during the day when there is lots of lighting. However, we don't always drive during the day. When the dashcam detects lower lighting, it will increase the exposure to capture more detail at night. It's not the same thing as true night vision unless it has Infrared capabilities though.
Impact Detection
Impact detection is one of the main reasons to get a higher-end dashcam. If the dashcam's G-force sensor detects some sort of an impact (like a jolt or bump), it can automatically tag those videos and, based on the dashcam, store those videos in a protected directory on the storage card that won't be overwritten (the way the continuous recording video files are).
Parking Mode
Some dashcams (including the F800PRO) can record video when parked. Some can connect to built-in WiFi in modern vehicles, and transmit videos that occur while the car is parked. This does require power from the car's battery or an external power source, so you need to consider that.
Video Transfer
Be sure to look at how you transfer videos from your dashcam. It is a matter of convenience. Do you have to take out the storage card and connected it to your computer to view the videos, or can you use a smartphone app to directly connect to the dashcam to view and download the videos?
GPS
GPS can add quite a bit to the price of a dashcam, but it has a variety of uses. You can tag GPS info to your videos, or if you are viewing your dashcam live on your phone, tablet, or laptop, it can provide important map information. But more importantly, GPS can store your vehicle speed, which can be critical for an insurance claim, provided you aren't speeding. GPS can also help with other high-end features like Lane Departure or Collision Warning.
Memory Partitioning
If the dashcam has many different types of features, like collision detection or continuous recording. Recorded videos will automatically be placed into the appropriate directory within the memory card. For the most part, this is in the continuous recording directory.
As you can see, there are a lot of things to consider when evaluating dashcams. I do, as I mentioned, recommend not getting the least-expensive dashcam available (unless you think it will be stolen). There are some core features that you really must have.
Thinkware F800PRO Dashcam Features
The Thinkware F800PRO is considered a high-end dashcam. It has most (if not all) of the features that I wrote about in the previous sections. The F800PRO is a highly-capable dash cam even if you don't use all of the built-in bells and whistles. And I didn't use all of the bells and whistles.
Here's a list of the F800PRO's capabilities (based on what I wrote about above):
Super Night Vision – while not powered by Infrared, the F800PRO does have a high-end SONY STARVIS sensor to allow for better capture of detail in dark lighting environments.
HD Camera – Full HD 1080P/2.13 MP at 30 frames per second
Field of View – 140° which captures multiple lanes on the highway
Operating Temperature – 14° to 140°
Storage Card Capacity – up to 128 GB
GPS – Build-in antenna, can help you locate your vehicle, can be used for geofencing and more
Power – 12V (hardwired or via cigarette power port)
Windshield Mount – NOT a suction cub, adhesive tape and mount
Parking Mode – I didn't test this feature as I didn't hardwire in the dashcam, but there is a Time Lapse feature to record extended periods; Energy Saving mode only records when an impact is detected.
There are a few more features I have tested that I want to go into a bit more detail. There is a smartphone app that you can use for a variety of functions. I do wish that the Thinkware Cloud app was a bit more polished. It works and does have the basic capabilities as well as provides settings to configure your dashcam.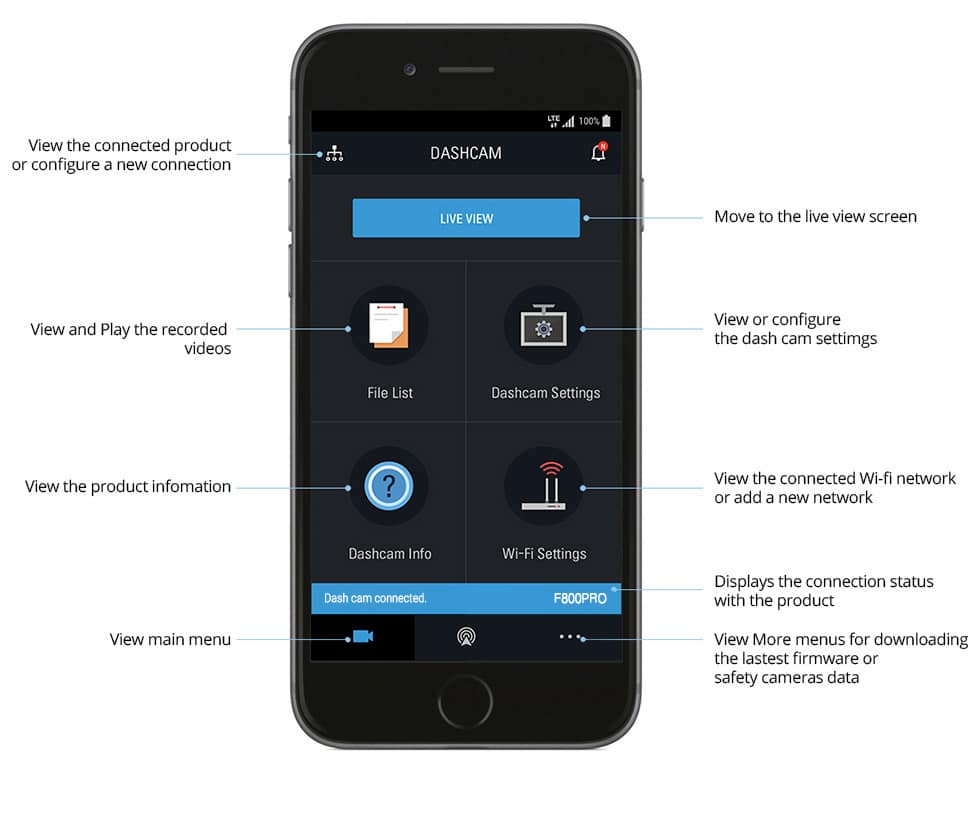 But I ran into a bit of an issue. My car has wireless Apple CarPlay. So, when my iPhone connects to my car, it actually connects using an ad hoc (local) WiFi connection and Bluetooth in order to transmit all of the data required for CarPlay.
The problem is, if you want to connect the Thinkware F800PRO dash cam to the smartphone app, you are required to connect using a WiFi network created by the F800PRO. So, you have to choose if you want CarPlay connected or your Thinkware dash cam connected. I chose CarPlay every time.
BUT, in order for the Thinkware dash cam to work, you don't need to have it always connected to your smartphone. It will record and save videos automatically and autonomously. And, you could bring a tablet or a separate smartphone to connect to the Thinkware dashcam (perhaps an older smartphone). You only need a connection if you want to have a live view of the dashcam or if you want to view video footage directly from the dashcam.
I also noticed that the G-force impact sensor is quite sensitive. As you drive down the highway and hit bumps in the road, you may hear a beep that indicates that the F800PRO has detected an impact. Those videos are stored in a separate directory, as I mentioned. But, it is a bit sensitive and does record a lot of bumps.
I did activate Forward Collision Warning, Front Vehicle Departure Warning, and Lane Departure Warning. These three features work without having to have the smartphone connected to the Thinkware. Forward Collision Warning (FCWS) will notify you if the dashcam detects a stopped vehicle or object on the road ahead of you. Front Vehicle Departure Warning (FVDW) will notify you if the vehicle in front of you starts to move (so you don't start having people behind you honking for you to move).
The Lane Departure Warning System (LDWS) was sort of funny. I was changing lanes and suddenly heard a knocking noise. I thought it was something on the radio or my daughter's phone. But it was actually coming from the Thinkware F800PRO. It senses the lanes on either side of your vehicle, and if you drift over the lane lines, you get the knock-knock sound. This feature is built into some high-end vehicles. The one advantage those vehicles have is if you have your turn indicator on, you don't get a warning. Not so with the Thinkware.
Below you can see a compilation of a few videos I recorded. It shows mainly daytime videos, but also entering and exiting a tunnel to demonstrate how well the sensor reacts to changes in lighting. Also note, I have sped up the videos considerably.
The Thinkware F800PRO dash cam has a few options available (and the price affects that). Here are some options on Amazon:
Shop on HighTechDad
The product shown below (and related products that have been reviewed on HighTechDad) is available within the HighTechDad Shop. This review has all of the details about this particular product and you can order it directly by clicking on the Buy button or clicking on the image/title to view more. Be sure to review other products available in the HighTechDad Shop.
The model that I received to test had both the front and rear cam, but I have not tested or hooked up the rear cam yet. It also came with the Cigarette Power Cable, which is perfect for one of my cars, but not the other (which has had the cigarette port used by something else now).
The photos above do show a suction-cup mount. However, this particular mount was not compatible with the F800PRO, which is probably a good thing since I now know that dashcams are better if they are mounted securely to the windshield.
But circling back to my original idea about making dashcams a required safety device in vehicles—I don't think we will see this as required for many years. In the meantime, you will most likely need to invest in a high-quality dashcam to ensure that the driving activities of you and those around you (and parking as well) are recorded for future viewing. And the Thinkware F800Pro is a perfect dashcam to do this.
Disclosure: I have a material connection because I received a sample of a product for consideration in preparing to review the product and write this content. I was/am not expected to return this item after my review period. All opinions within this article are my own and are typically not subject to editorial review from any 3rd party. Also, some of the links in the post above may be "affiliate" or "advertising" links. These may be automatically created or placed by me manually. This means if you click on the link and purchase the item (sometimes but not necessarily the product or service being reviewed), I will receive a small affiliate or advertising commission. More information can be found on my About page.
HTD says: Choosing and using a quality dashcam like the Thinkware F800Pro is potentially a great way to ensure you can show "what really happened" when it comes to traffic accidents or violations or just safety in general.
Ease-of-Use

Family-Friendly

Price Point

Features
Summary
Choosing and using a quality dashcam like the Thinkware F800Pro is potentially a great way to ensure you can show "what really happened" when it comes to traffic accidents or violations or just safety in general. The F800PRO is a feature-filled, top-of-the-line dashcam. It is relatively easy to set up and configure once you connect to it using the smartphone app. Once configured, you don't need to have the smartphone app connected and the dash cam will automatically record as you drive. It is a great safety device for all drivers, and could potentially help you should you or someone around you be involved in an accident or violation of some type. The small form factor allows you to discreetly mount it to your window. For a high-end dashcam, it provides good feature value for the money.
Pros
Has all the advanced features
High-quality recordings
Great night time filming
Compact design
Cons
Cannot connect to Apple CarPlay and F800Pro simultaneously
Smartphone app feels a bit dated