We have like 50,000 reusable water bottles in our house, or so it seems. We have made a conscious effort to move away from environmentally-damaging, disposable, plastic water bottles, and now refill our metallic bottles instead. But while I wholeheartedly agree with using reusable metal bottles, I sort of refuse to wash them because it's a bit of a pain. Or I will just wash the area that touches my mouth. But I have sometimes noticed a stinky smell or a metallic taste, especially if the water has been sitting in the bottle for a while. So, how do you correct this? Well, you could wash the bottle like crazy (unfortunately, you can't just put these in the dishwasher), or you can use this fancy gadget to zap 99.99% of bacteria using UV-C light. It's called Klear Cap and it will supposedly get rid of waterborne microorganisms. (*Disclosure & coupon code below.)
Like some of my other reviews that involve scientific claims, unfortunately, I don't have a science lab set up in my home and don't have a way to prove any of the claims made by Klear (and Oak & Hearth – the distributer of the Klear Cap). So, you are just going to have to take my words as claims made by Klear on truly removing bacteria from water bottles. But more on that shortly.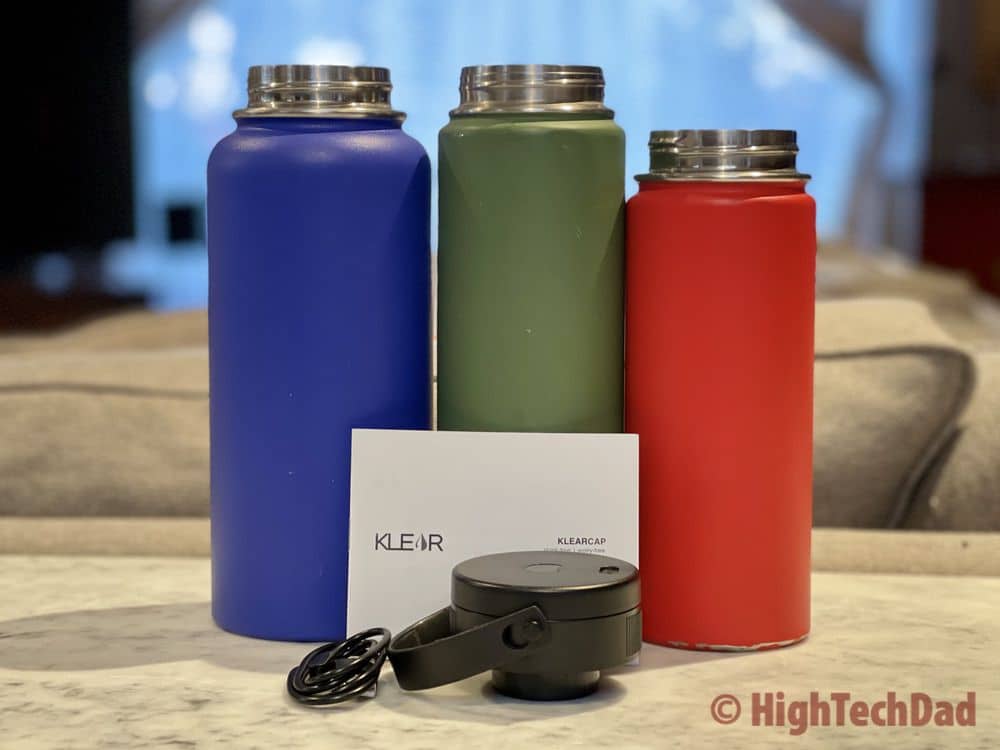 Klear Cap has a straightforward technological process. Recently, more and more products have emerged which use UV-C light to remove bacteria. From cases where you put your smartphone and keys into wands that you use over surfaces, UV-C light (blue light) actually destroys the DNA's chemical bonds of bacteria, germs, and viruses. The FDA has a page dedicated to the explanation of UV-C and other UV lights, so if you are curious about the efficacy of UV-C to eradicate germs and such, I encourage you to read it. Needless to say, the use of any product to remove viruses, bacteria, and germs is an important strategy to have at home, particularly during this COVID-19 pandemic.
What is the Klear Cap?
First, you really should be using a reusable water bottle. Period. While recycling disposable plastic water bottles is ok, it's better to simply reuse something over and over. Trust me, my teens tell me how our planet is heading for disaster if we don't start being much more environmentally conscious every day. And one easy way to start is by using a reusable water bottle.
So, we have a lot of reusable water bottles. They vary in size and color and type, but they all have one thing in common. They need to be cleaned regularly. As I mentioned, I'm a bit lazy when it comes to washing them, simply because I do the regular dishes every day, but I kind of reach my "limit" when I have to hand wash a ton of these metal water bottles. So my wife does the cleaning of those fairly rigorously and regularly.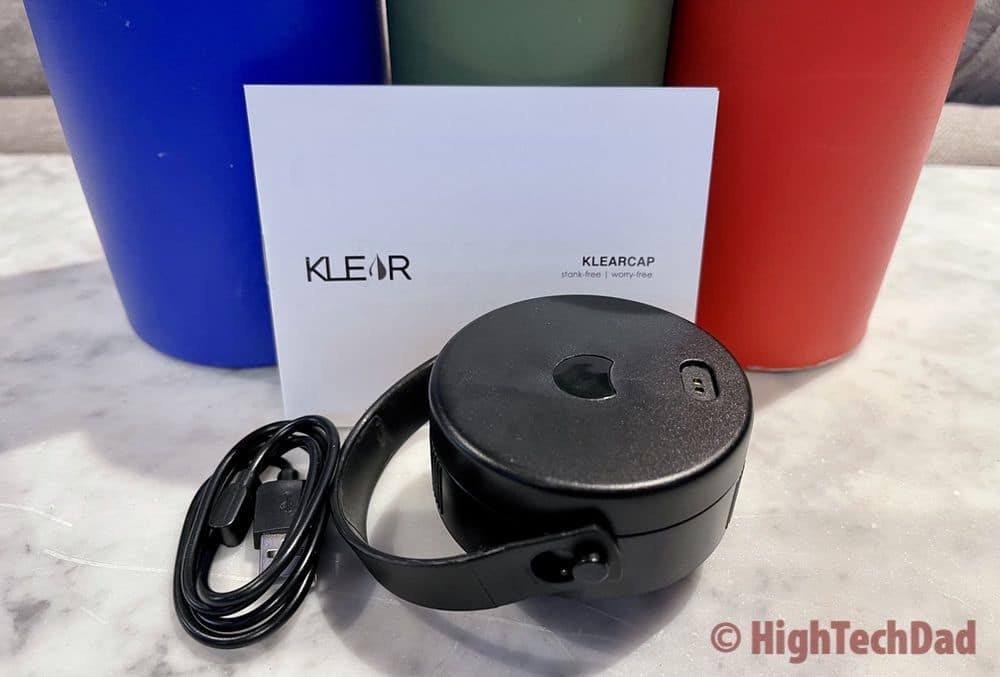 But I have noticed that if you leave a bottle with water in it, and you reuse it (because it's the one that you usually use), there sometimes is a stink to it. I always figured, "hey, it's my bottle and my germs, so I'm good, right?" Yeah, probably not. I should be washing it regularly.
That is where the Klear Cap comes to the rescue. Assuming you are using a standard, wide-mouth reusable water bottle, you can use the Klear Cap. Klear says that its cap is designed to fit 95% of all wide mouth water bottles, regardless of the water bottle's capacity. But remember, there are some (that I found even in my home) that don't fit the Klear Cap.
Back to what the Klear Cap is. It replaces the cap that comes with your water bottle with a rechargeable cap that has a 275nm UV-C LED built into it. It has a 30-day, rechargeable battery built into it as well. And it is super easy to use!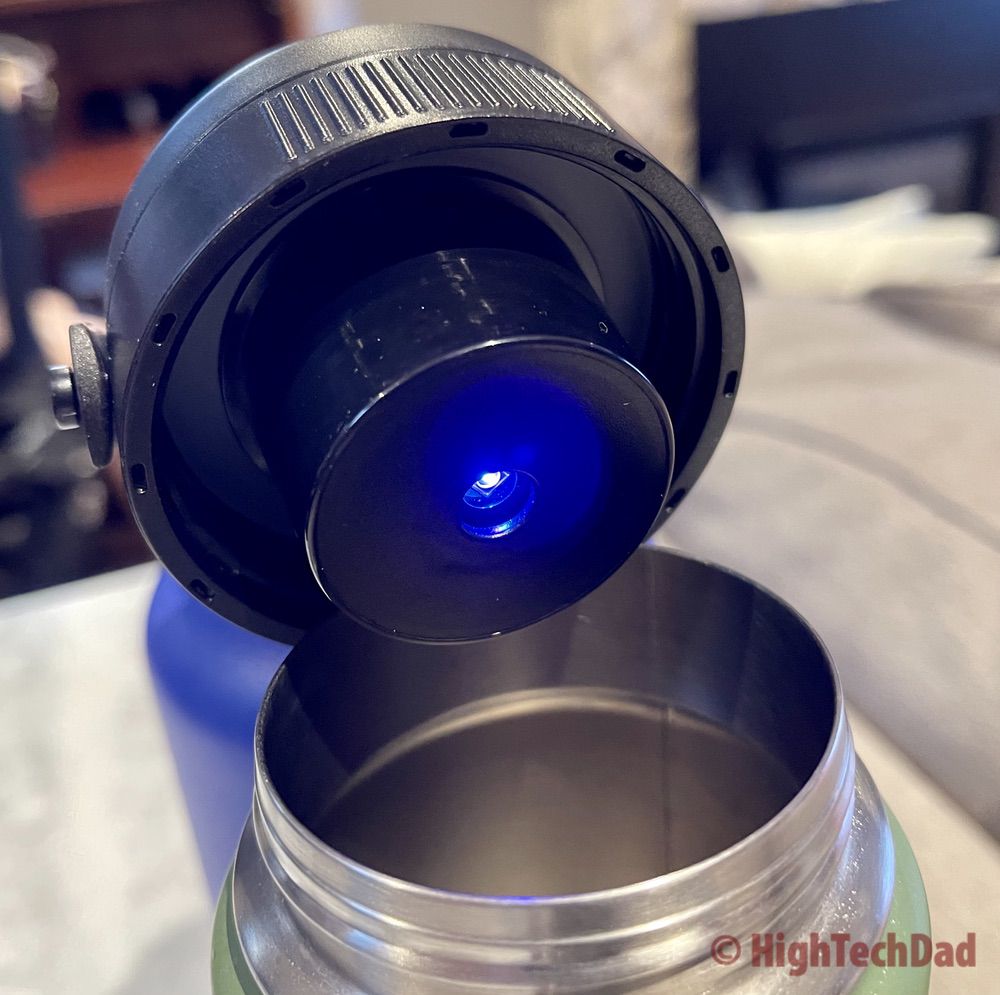 First, be sure you have the Klear Cap charged up. It comes with a magnetic USB connector cable (don't lose this cable because it is proprietary). Plug the cable into a USB port or charger and snap the magnetic connector to the top of the Klear Cap. The light on the top will turn red as it is charging and then green when fully charged.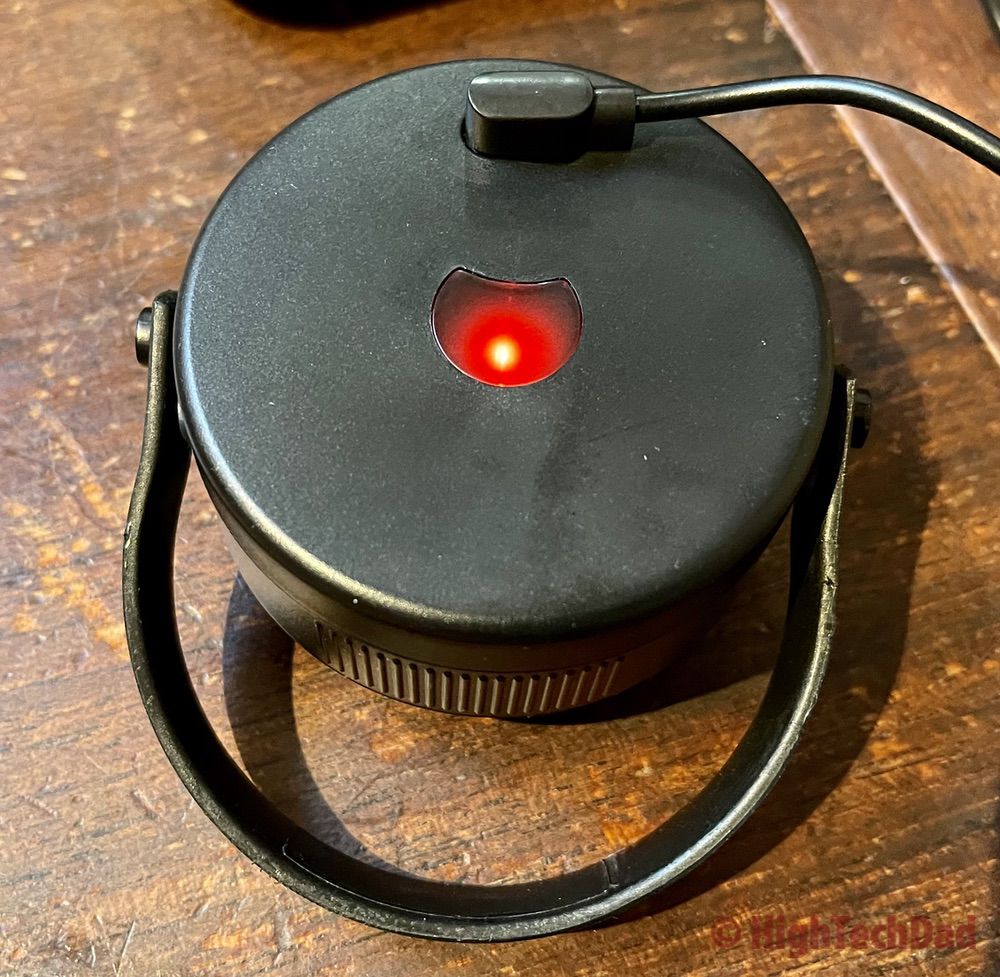 Next, get rid of your old water bottle cap and replace it with the Klear Cap (well, don't throw it away, save the cap for later). Pour in your water you want to sanitize (note, you should use cool/cold water and not hot liquids) and screw the Klear Cap on. Now you are ready to zap the bacteria.
One thing to note – the Klear Cap is NOT a filter. It cannot remove things that make water murky or heavy metals or fluoride. So, don't grab a bottle of pond water and expect it to magically transform into pure glacial water.
But assuming you have pretty good tap water, the Klear Cap can help. With the Cap firmly in place, tap the Klear crescent button on the top twice to start sanitizing (this will activate the blue 275nm UV-C LED inside the cap).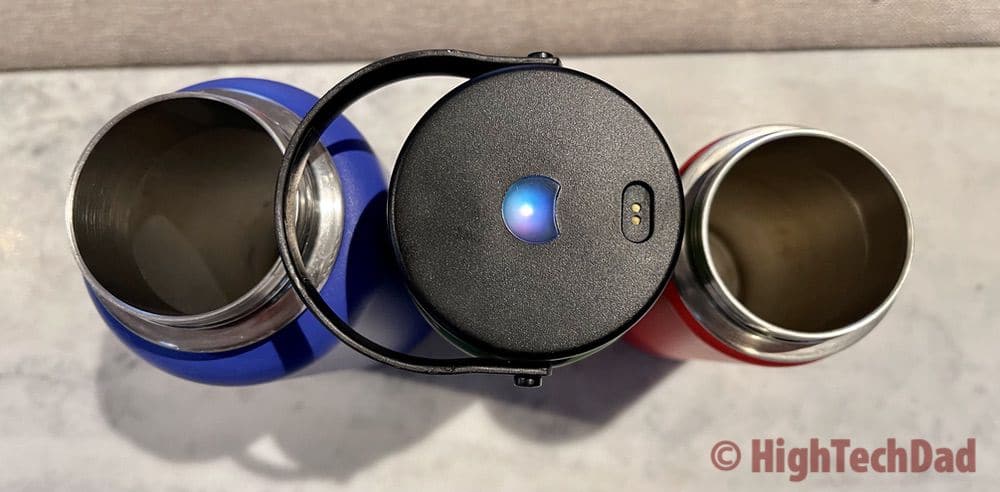 On top of the cap, when it is sanitizing, the light will be on. You then need to ensure that you move the water around within the bottle during this process. Probably the easiest way is if you are hiking with the bottle, hold it in your hand and make sure the water moves around and is exposed to the blue LED.
After about 2-3 minutes, the light on the top will turn off, and you are ready to drink better water. Just don't remove the cap during the sanitation process!
How Well Does the Klear Cap Work?
Does the Klear Cap work? As I mentioned, I don't have a scientific lab to test the water's contamination levels before and after the Klear Cap has purified it. I could only use two senses to un-scientifically test – smell and taste.
I did a before and after smell and taste test and felt that yes, the water did taste fine (if not slightly better) – our neighborhood does have incredible good water that comes from the tap in terms of purity, so it is a tricky challenge. You can view our area's water quality report to see for yourself!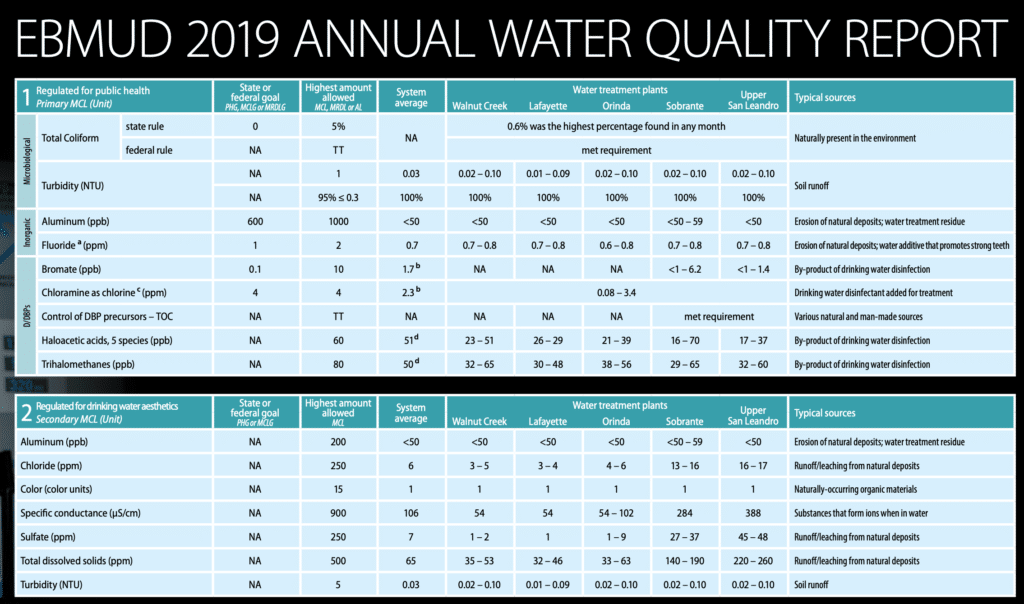 And in terms of the smell after purifying? Well, there wasn't any distinguishable smell, which I believe is exactly what I wanted to hear…er…smell. I smelled nothing.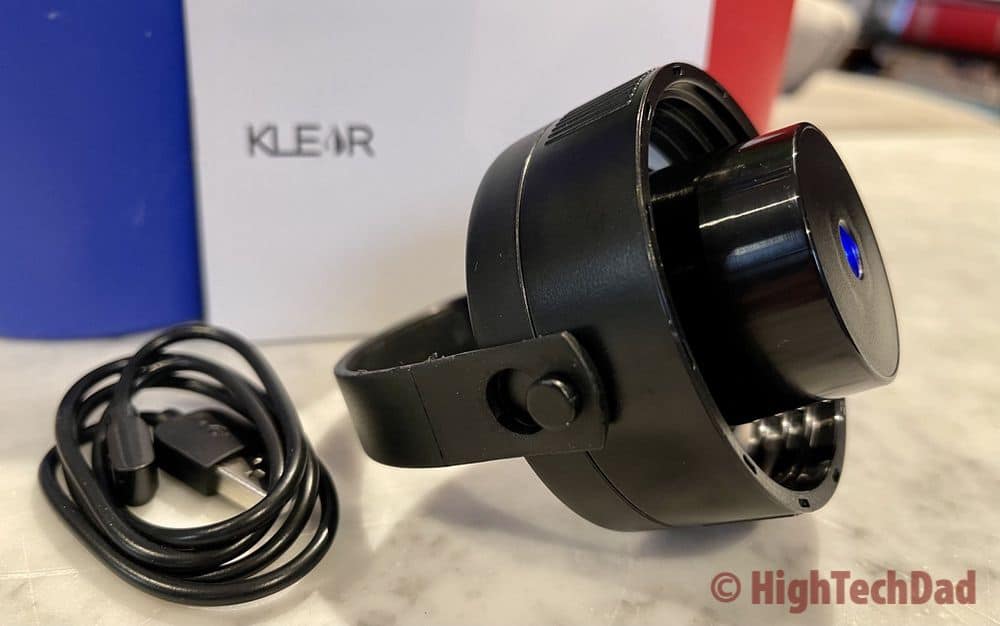 The Klear Cap retails for $49.97 for a single cap alone. You can also get combo packs, which include a black reusable water bottle and a Klear Cap for $79.97. Use coupon code: HIGHTECHDAD to get 10% off your purchase (or click here to have it applied to your purchase).
Shop on HighTechDad
The product shown below (and related products that have been reviewed on HighTechDad) is available within the HighTechDad Shop. This review has all of the details about this particular product and you can order it directly by clicking on the Buy button or clicking on the image/title to view more. Be sure to review other products available in the HighTechDad Shop.
The bottom line here is, not cleaning your reusable water bottle probably exposes you to lots of bacteria, germs, and viruses that you probably shouldn't be exposed to. Regularly cleaning your water bottle is a good thing, but it can be a bit of a pain in the butt to do it all of the time. Adding the Klear Cap to the cleaning process takes you further down the road of having safer drinking water!
Disclosure: I have a material connection because I received a sample of a product for consideration in preparing to review the product and write this content. I was/am not expected to return this item after my review period. All opinions within this article are my own and are typically not subject to editorial review from any 3rd party. Also, some of the links in the post above may be "affiliate" or "advertising" links. These may be automatically created or placed by me manually. This means if you click on the link and purchase the item (sometimes but not necessarily the product or service being reviewed), I will receive a small affiliate or advertising commission. More information can be found on my About page.
HTD says: First, help save the globe by not using disposable, plastic water bottles. Then, help save your body from harmful germs, bacteria, and viruses by using a Klear Cap to clean your water bottle's water using UV-C light.
HighTechDad Ratings
Ease-of-Use

Family-Friendly

Price Point

Features
Summary
First, help save the globe by not using disposable, plastic water bottles. Then, help save your body from harmful germs, bacteria, and viruses by using a Klear Cap to clean your water bottle's water using UV-C light. The Klear Cap claims to remove 99.99% of bacteria, germs, and viruses, and consequently the stinky smell you sometimes get when a reusable water bottle sits too long. While I have not done any scientific testing to back up these claims by Klear, I do know that water tasted good and there was no stinky smell to my water bottle after running the sanitizing process. 
Using the Klear Cap is easy. Put in the water. Put on the Cap. Tap the button twice on the top to turn on the UV-C LED light. Move the water around for 2-3 minutes. That's it. A fully-charged Klear Cap lasts about a month. At $50, it's a bit pricy but if it truly does sanitize your reusable water bottles, it is worth it. Be sure that you have a water bottle that works with the Klear Cap's size.
Pros
Cleans smell
Decontaminates water
Easy to use and recharge
Cons
Proprietary magnetic USB charger – don't lose it
A bit expensive
Have to hand wash it
Doesn't fit all water bottles