We all have to charge our smartphones, some of us, multiple times a day. And if you sit at a desk, you probably have it plugged in while you work. So, you could just connect a cable…boring! Or, if your smartphone has wireless charging, put it in a wireless charging stand…better! Some wireless charging stands let you even view the screen easily. But, if you have an iPhone 12 or iPhone 12 Pro, you have MagSafe wireless charging built-in. So, the best and most elegant way to charge and display your iPhone 12 is with the HyperJuice Magnetic Wireless Charging Stand (which also charges AirPods on the base). (*Disclosure below.)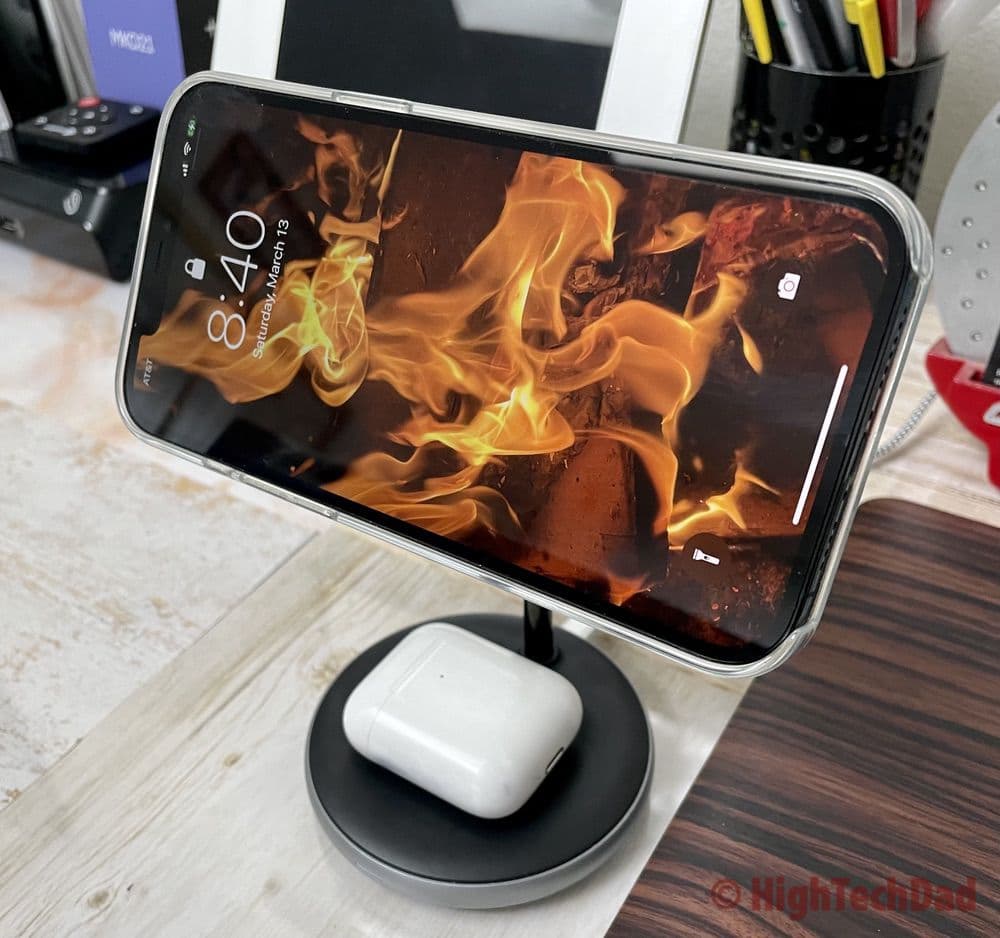 What is so great about MagSafe? Ever heard of it? It was originally built into MacBooks and MacBook Pros a few generations ago. Using strong magnets to hold a connective charger in place, MagSafe was great because if you tripped on the charging cable, it just popped out without having your laptop crash to the floor with it. Well, Apple took this idea of magnetically holding a wireless charger in place and put it into the iPhone 12 and iPhone 12 Pro.
With a MagSafe compatible charger, the iPhone and the charger's magnets align themselves in the most optimal way for wireless charging to occur. And this is exactly what the HyperJuice Magnetic Wireless Charging Stand does. It magnetically holds the iPhone in place, seemingly suspended in the air, and wirelessly charges it.
A simple yet effective design
I have to say, I have seen a lot of wireless chargers. What HyperJuice has done with their magnetic wireless charger is truly elegant. The simple design blends just about any environment. The large, circular base has a slight indention to hold some AirPods (with a wireless charging case) or AirPod Pros.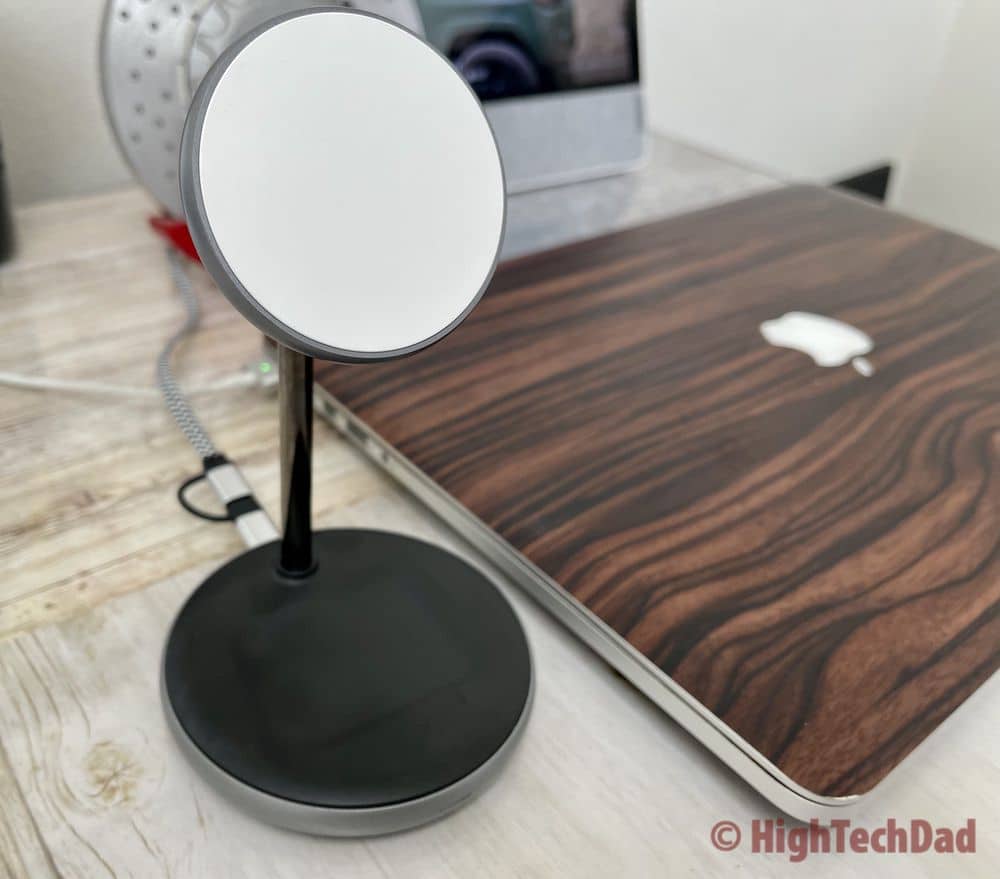 There is then a curved, stainless steel neck that holds yet another circular charger. This is the MagSafe magnetic mount. The magnet holds your iPhone in place. And the wireless coils within it charge up your iPhone. As I said, it's simple.
But there are some nice little nuances about the design of the HyperJuice Magnetic Wireless Charging Stand. For starters, the magnetic "puck" that holds the iPhone can be pivoted up or down to adjust the viewing angle very easily. While it isn't a dramatic pivot, it is enough to allow you to see your iPhone from many different angles.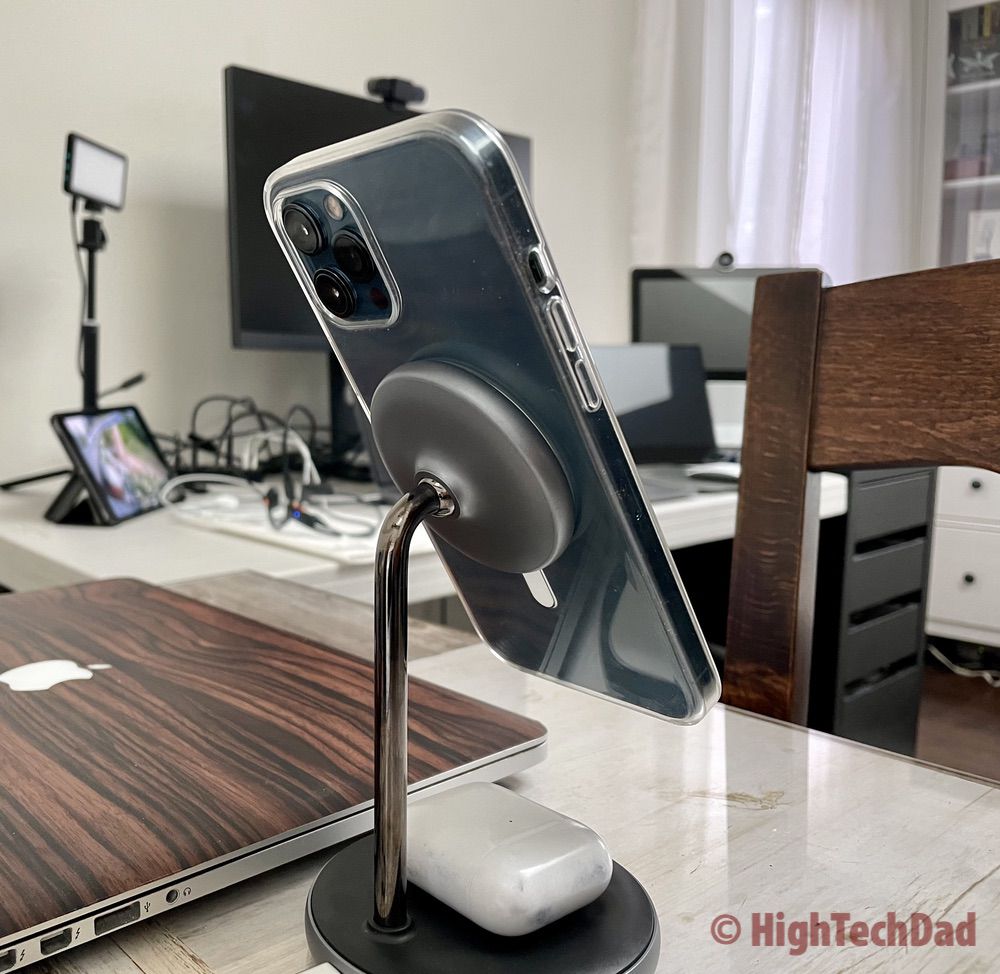 Also, because what holds the iPhone in place is a magnet and not a clamp, you can actually rotate your iPhone 12 easily between portrait or landscape mode (or anything in-between if you want).
Another subtle design decision is the charging indicator on the base. It's just a horizontal white LED slat of light that is quite dim in nature, actually. The dimness is probably a good thing as you wouldn't want something bright pulsating at night if you have this HyperJuice magnetic charging stand in your bedroom.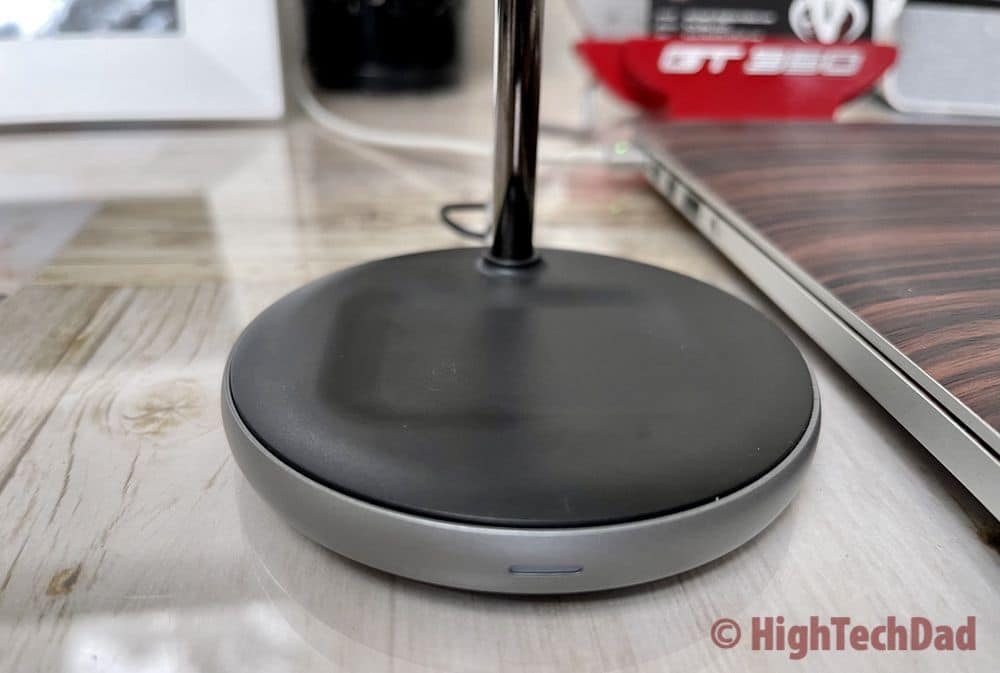 If you are charging both devices (the iPhone 12 and the AirPods), the LED sweeps left and right. If you remove one of the devices from the charger, the LED light changes to a pulsing nature. And if nothing is charging at all, it is dimly lit without any pulsing or sweeping.
Power, protection, and price
This HyperJuice wireless charger support 7.5W high-speed iPhone 12 wireless charging. That means that it will charge as fast as any of the other wireless chargers available. Note: this is not to be confused with fast charging your iPhone using a USB-C power adapter and a lightning to USB-C cable. Also note, the iPhone 12 can handle 15W MagSafe charging with some wireless chargers like Apple's. Those would obviously charge more quickly.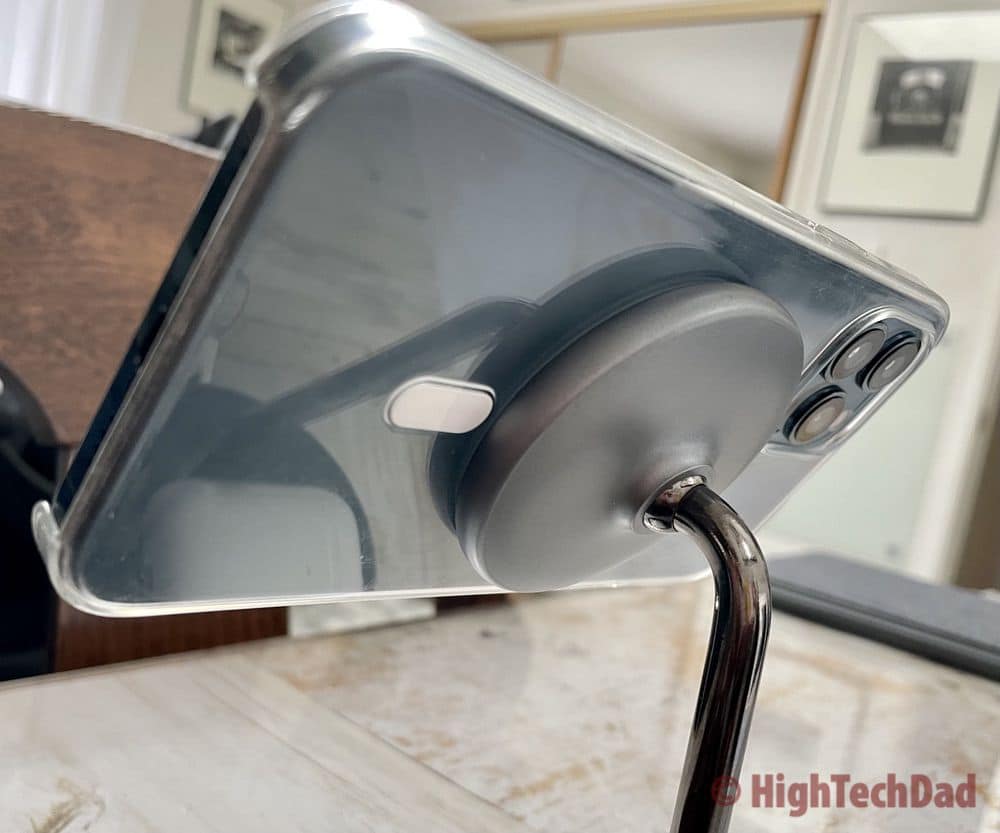 But the thing to remember here is, the HyperJuice wireless charger has split duties, one to charge an iPhone 12 and one for charging AirPods, and therefore, the power is split with 7.5W going to the iPhone and 3W going to the AirPods. There may be 15W wireless charging stands out there, but they probably won't look as nice, or you might only be able to charge your iPhone.
And, of course, there is short-circuit, overheating, over-voltage, and over-current protection built-in, so you don't have to worry about your precious iPhone 12 getting damaged. Hyper is very careful about its brand and reputation, so you know they have built-in good protection.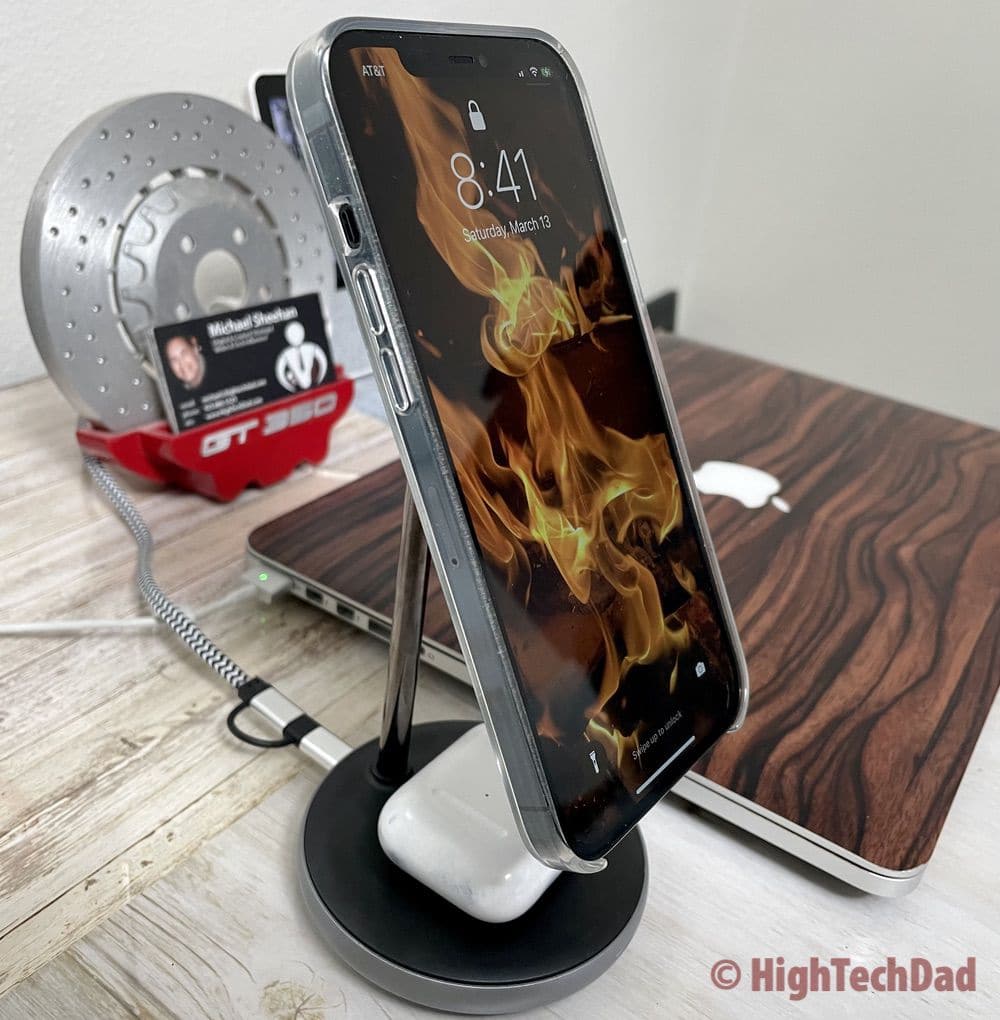 One thing to note, however. The HyperJuice Magnetic Wireless Charging Stand does not come with either a USB-C cable or a PD (Power Delivery) adaptor (e.g., the wall plug). So you will have to ensure that you have one. I reached out to Hyper to find out what they recommend, and you simply need to have a USB-C to USB-C cable and a USB-C wall charger. They have tested the HyperJuice wireless charging stand with the Apple USB-C 18W/30W charger, which comes with the iPad as well as with a third-party 45W USB-C charger. But, I would recommend another Hyper product, the HyperJuice 100W GaN USB-C Charger which is actually how I am currently powering the charging stand. (Be sure to read my review of the GaN USB-C Charger because it is definitely a nice product to have.
So, how much will this magnetic wireless charging stand set you back? On the Hyper side, it is listed (as of this review writing) at $49.99. Unfortunately, I believe it is in high demand, so it is out of stock. And, it is not currently listed on Amazon as it is a relatively new product. Remember, you will need to provide a USB-C cable and a wall charger to complete this wireless charging solution.
Shop on HighTechDad
The product shown below (and related products that have been reviewed on HighTechDad) is available within the HighTechDad Shop. This review has all of the details about this particular product and you can order it directly by clicking on the Buy button or clicking on the image/title to view more. Be sure to review other products available in the HighTechDad Shop.
Disclosure: I have a material connection because I received a sample of a product for consideration in preparing to review the product and write this content. I was/am not expected to return this item after my review period. All opinions within this article are my own and are typically not subject to editorial review from any 3rd party. Also, some of the links in the post above may be "affiliate" or "advertising" links. These may be automatically created or placed by me manually. This means if you click on the link and purchase the item (sometimes but not necessarily the product or service being reviewed), I will receive a small affiliate or advertising commission. More information can be found on my About page.
HTD says: Don't settle for a boring, ugly, clamp or tray-like wireless charging dock. The HyperJuice Magnetic Wireless Charging Stand elegantly levitates your iPhone 12, gripping it with the power of MagSafe magnets, and rapidly charges it (and your AirPods as well)!
HighTechDad Rating
Ease-of-Use

Family-Friendly

Price Point

Features
Summary
Don't settle for a boring, ugly, clamp or tray-like wireless charging dock. The HyperJuice Magnetic Wireless Charging Stand elegantly levitates your iPhone 12, gripping it with the power of MagSafe magnets, and rapidly charges it (and your AirPods as well)! Setting up the HyperJuice Magnetic Wireless Charging Stand simply consists of finding a USB-C cable (it doesn't come with one) and a higher-powered USB-C wall plug (also doesn't come with it). Once you have good power connected (and either don't use a case or have a thinner case or one of the Apple MagSafe cases which is what I have), you simply click your iPhone 12 or iPhone 12 Pro into place and it instantly starts charging. The MagSafe magnets of the iPhone 12 align and secure it to the HyperJuice wireless charger. It can pivot to adjust the viewing angle, and you can swivel the iPhone 12 from portrait to landscape easily. Also, the base lets you charge your wireless-charging compatible AirPods. When attached, your iPhone seemingly levitates while charging.
Pros
Nicely designed – modern yet simple
Fast charging for iPhone 12
Also charges compatible AirPods
Cons
Does not include USB-C cable
Does not include USB-C wall plug
A bit pricy
Might not securely, magnetically hold iPhone 12's with thick cases