Many devices and many plugs. That is the nature of technology now. And, Apple and Samsung are moving to not include plug chargers any more with their newest smartphones. What does that mean? Either you buy some new plugs, reuse some older (underpowered) ones, or get yourself a HyperJuice 100W GaN USB-C charger, which, by the way, can power and charge multiple devices at once. And, I'm not talking about smaller devices like smartphones and watches. This multi-port charger by Hyper can do much more! Read on for the details. (*Disclosure below.)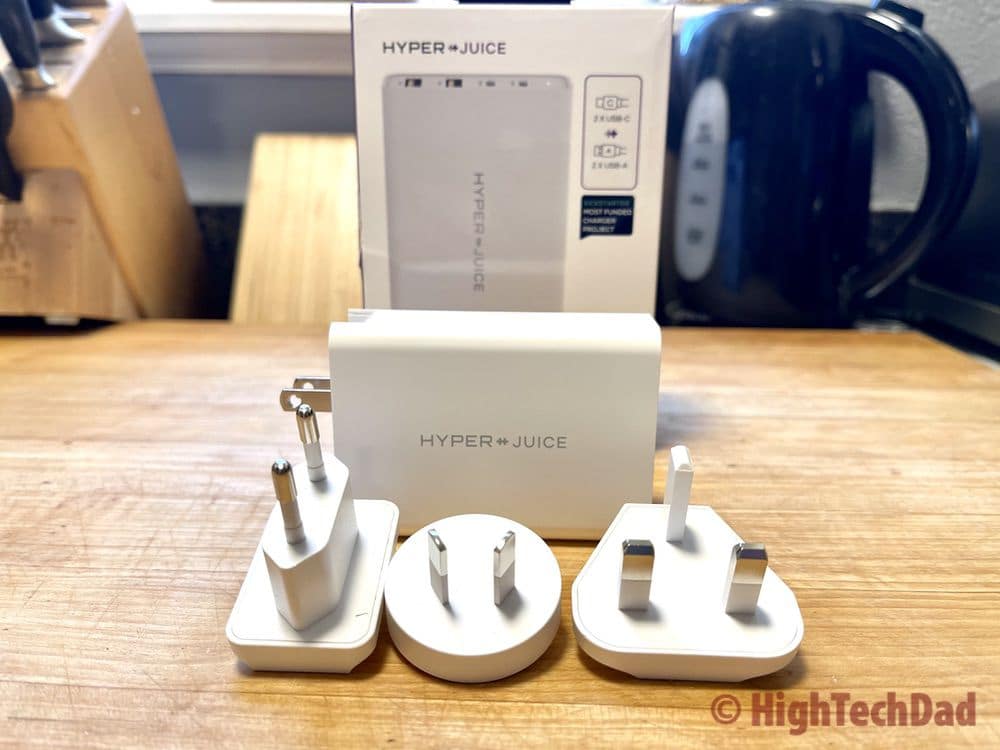 There are so many features to love about the HyperJuice 100W GaN changer, honestly. And I will dive into these in a bit more detail later in this review. Some highlights:
100W power – Charge up to 4 devices
Powered by GaN (Gallium Nitride) technology
4 USB ports (2 USB-C & 2 USB-A)
World travel-ready
Small and portable
Essentially, with the HyperJuice 100W GaN charger, you can leave a bunch of your dedicated plugs at home (sorry, you have to still take your cables along still). I wrote this entire review with multiple devices plugged into the HyperJuice charger, including a 15″ MacBook Pro (which had a ThinkVision monitor plugged into the Mac), a Lenovo Chromebook Duet, some Apple AirPods, and an Apple watch. No issues whatsoever!
Let's dive into some of the details.
100W of Power – Charge up to 4 devices
The 100W of power is a game-changer for me. With my MacBook Pro, I have to carry the power brick around with me. The one supplied the Apple MacBook Pro is 87W. You don't want to go below the rating for what your laptop is, or you won't be able to charge your laptop while working on it.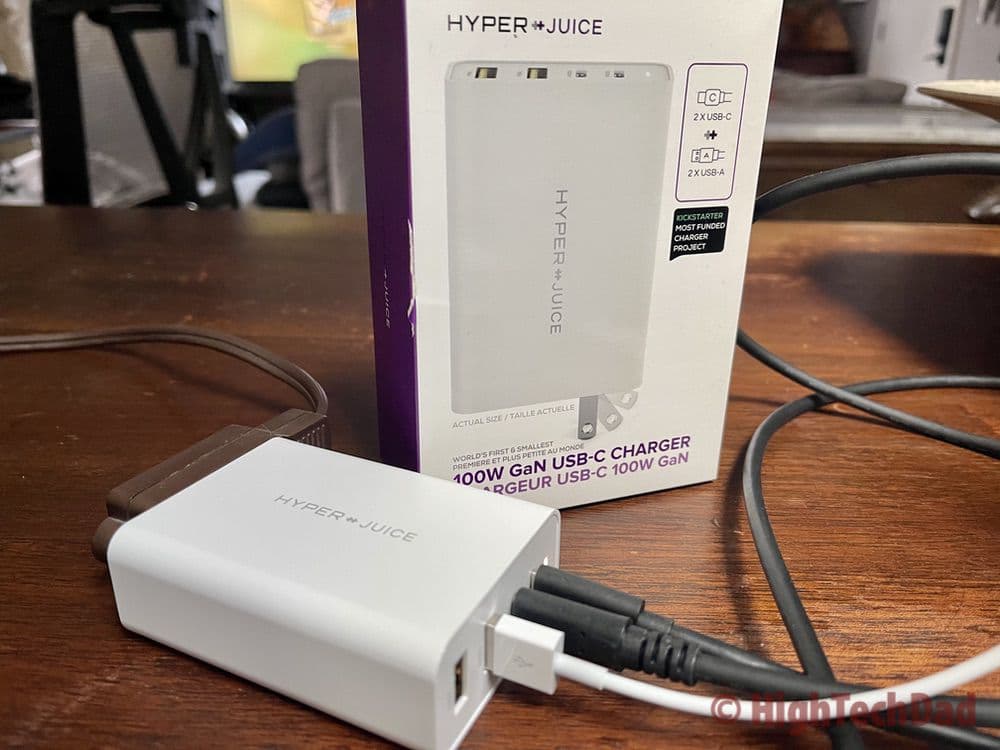 So, with 100W of power in the HyperJuice, I know that I can cover the MacBook Pro, especially if I'm not charging or powering any other devices. However, during my testing, I did plug in a Chromebook, AirPods, and an Apple Watch along with my MacBook Pro. Everything "seemed" to be powered and charging just fine.
But, an important note is that the 100W of power is split across ports, AND it depends on what devices you plug into which ports and the sequence of plugging those devices in. Here are the specific recommendations from Hyper:
One USB-C plugged in (can be in either port): USB-C – 100W
One USB-A plugged in (can be in either port): USB-A – 18W
Two devices plugged into USB-C (note the first device plugged in will get the 65W so this is interchangeable): USB-C – 65W; USB-C – 30W
One device USB-C and one device USB-A (interchangeable): USB-C – 80W; USB-A – 18W
Two devices plugged into USB-A: USB-A – 12W(Max); USB-A – 12W(Max)
One device USB-C and two devices USB-A (interchangeable): USB-C – 65W; USB-A – 12W(Max); USB-A – 12W(Max)
Two device USB-C and one device USB-A (interchangeable): USB-C – 45W; USB-C – 30W; USB-A – 12W(Max)
All four in use: USB-C – 45W; USB-C – 30W; USB-A – 12W(Max); USB-A – 12W(Max)
The best practice here is always to plug in the device which pulls the highest power (like the MacBook Pro) first, as that will prioritize the power output automatically within the HyperJuice charger.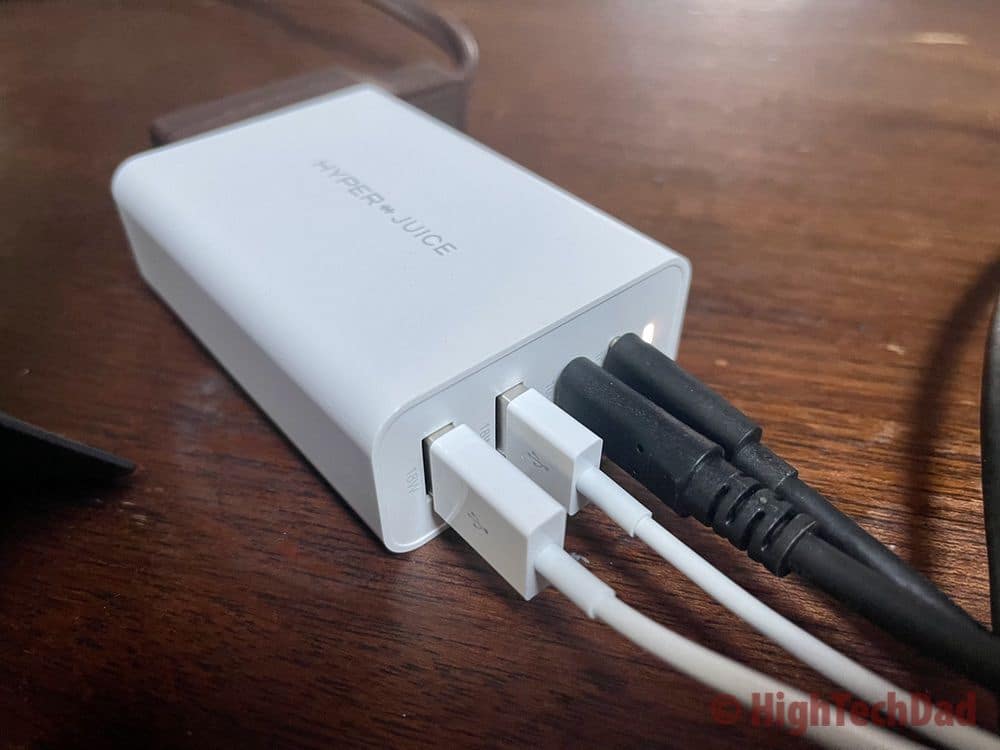 So yes, 100W is available, but you need to ensure you configure your powering and charging to optimize across devices, especially if you want to connect multiple devices at once.
Powered by GaN Technology
You will start hearing much more about Gallium Nitride (GaN) technology soon. Some power manufacturers have started adopting this semiconductor material now, while companies like Apple haven't yet fully embraced it.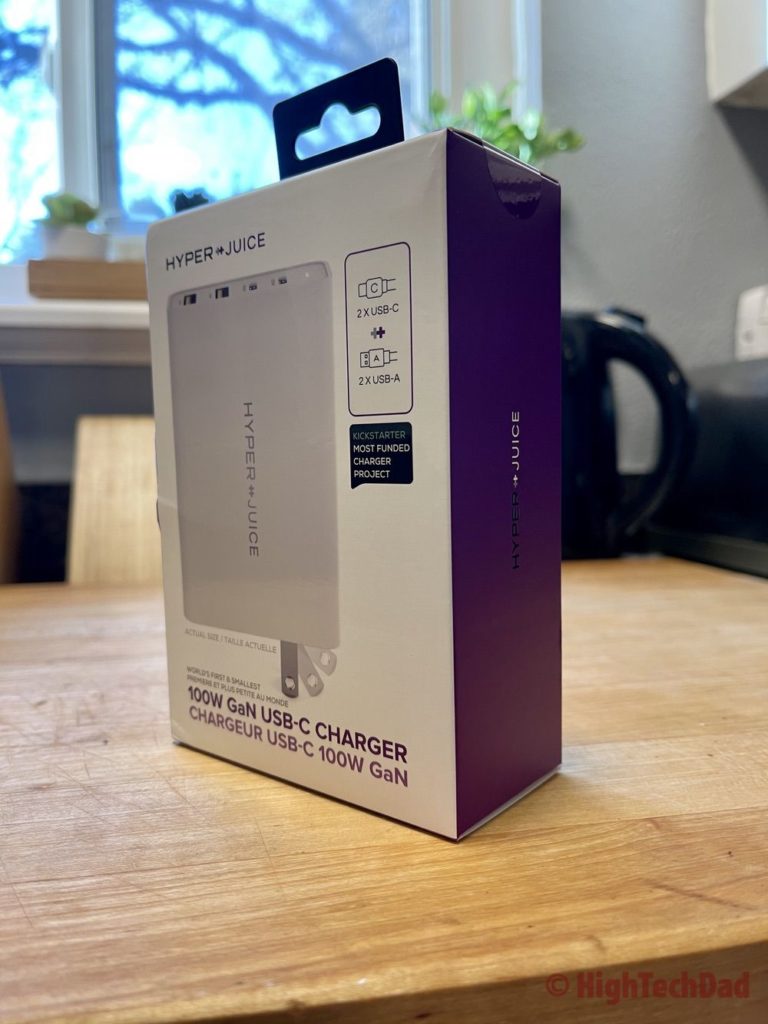 What are the advantages of GaN over Si (Silicon)? For starters, GaN is "smaller, faster, and more efficient" than Silicon. According to Arrow Electronics "Gallium nitride is more efficient, more thermally stable, and certainly more capable for use in power devices that demand more load or higher frequencies at higher temperatures. Gallium nitride is a future-proofed material for the semiconductor world and will lead to more readily available small, high-frequency products."
Obviously, Silicon has been around for decades, and the manufacturing process is highly-optimized. GaN is much newer, and the manufacturing infrastructure will take time to get economies of scale. But in the meantime, those vendors, like Hyper, who are embracing GaN as the next Silicon for charging process, are the ones to watch.
At a high level, GaN electronics can sustain higher voltages than silicon, they are more efficient, and they lose less energy. GaN electronics vendors can make a choice – make smaller charging devices or put more GaN into a larger footprint to have more power in general.
Hyper has taken a blended approach with this charger by having both higher power supported while still having a small footprint.
4 USB ports (2 USB-C & 2 USB-A)
In the 100W of Power section above, I talk about the different port and power configurations. The important thing here is the fact that there are four ports available – two USB-C and 2 USB-A.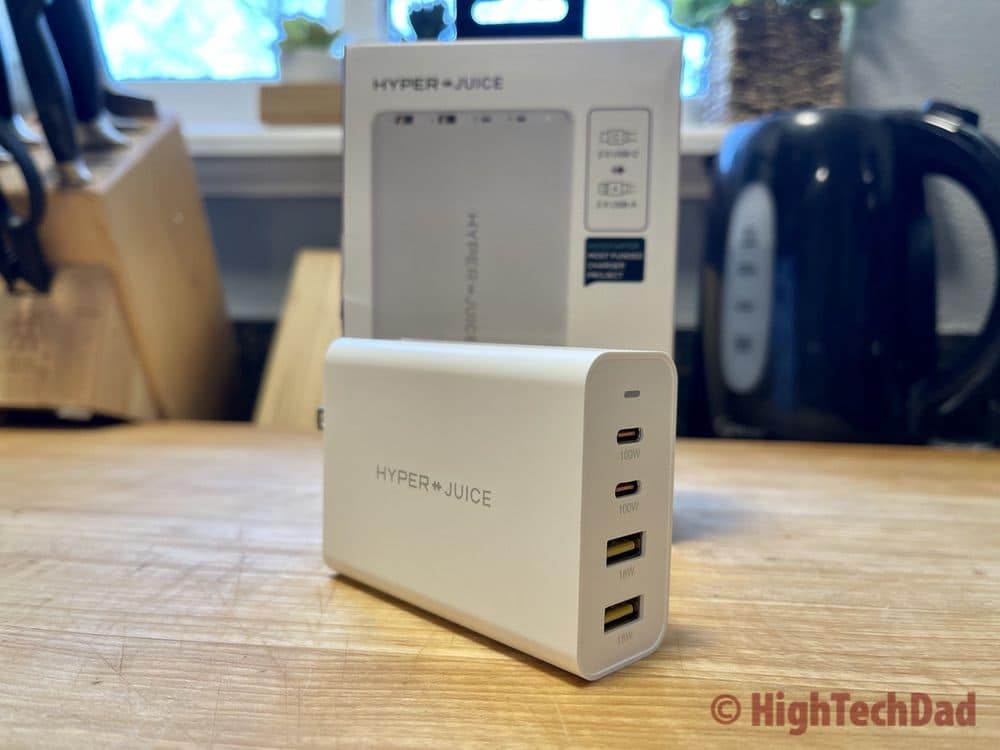 I feel that this type of configuration is both a look back and a look forward as there are many, many devices that are USB-A only. These are mainly for devices that don't require huge amounts of power, like earbuds, smartphones, or tablets.
For those larger, power-hungry devices like laptops, Chromebooks, and some smartphones and tablets, you have the ability to use USB-C ports. USB-C allows for more power transmission for laptops, for example. Or faster charging for some tablets and smartphones, provided you have a USB-C cable that connects to that device.
Here are the specs on the four USB ports:
2 x USB-C : 100W Power Delivery 3.0, 5~15V/3A, 20V/5A
2 x USB-A : 5/10/12W, 18W Quick Charge 3.0, 5V/3A, 9V/2A, 12V/1.5A
The two USB-C ports are Power Delivery 3.0, and the 2 USB-A ports are Quick Charge 3.0. Those specs (assuming you have the proper cables) mean much faster charging of your compatible smartphones and tablets.
Four ports in a tiny charging brick with a footprint of about a credit card (obviously a bit thicker). What's not to like there?!
World Travel-Ready
So, yes, it can charge multiple devices simultaneously. And it has a small form factor (more on that shortly). But guess what? If you plan any overseas travel where plug types and voltages vary, the HyperJuice GaN 100W USB-C Charger is ready for your travel adventures.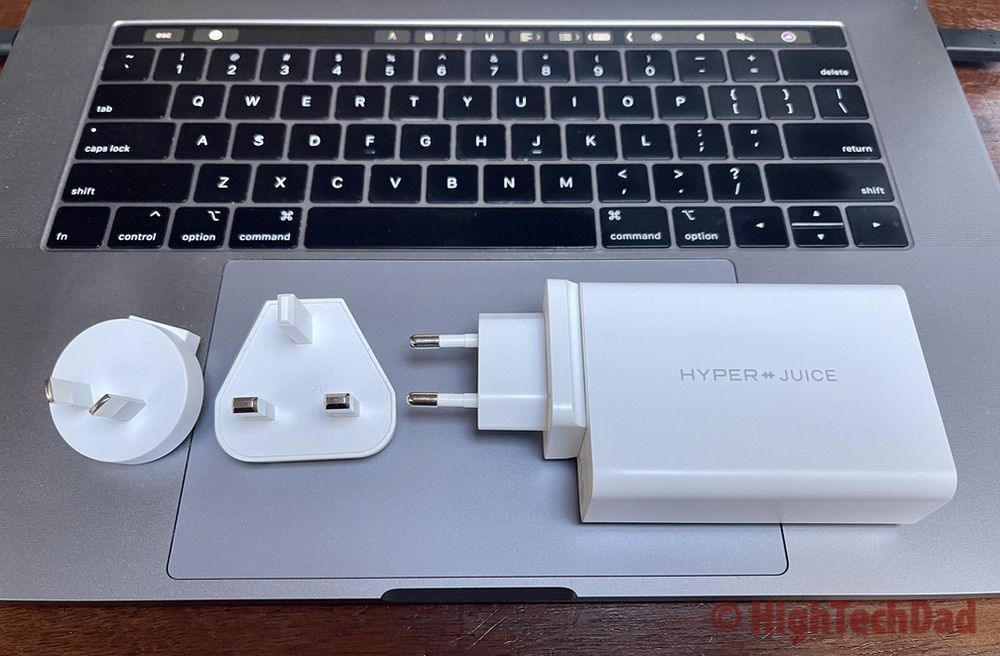 Out of the box, there is a two-pronged U.S. plug type that conveniently folds into the body of the charger itself. But also included in the box are three plug pin converters for the EU, UK, and AU. And, the charger is ready for worldwide universal 100-240V voltage – no converters, transformers, generators, etc., needed!
To use one of the universal pin plugs, you fold the U.S. plug into the charger's body and then slide any of the EU/UK/AU plugs into the slot, and you are good to go.
And, we all know that voltage varies around the world. There are safety mechanisms built into the HyperJuice 100W GaN charger as well to prevent over-current or over-voltage conditions and short-circuit protection. Also, as I mentioned previously, GaN has lower temperature operations, the brick itself doesn't heat up like other power charging bricks. Just touching my hand to the HyperJuice confirms this. While it's not "cool," it is only slightly warm – very different than other chargers.
Small and Portable
I have already mentioned that the HyperJuice GaN charger is compact. In fact, you would truly be surprised at how both small and lightweight it is. This is important, especially for travelers.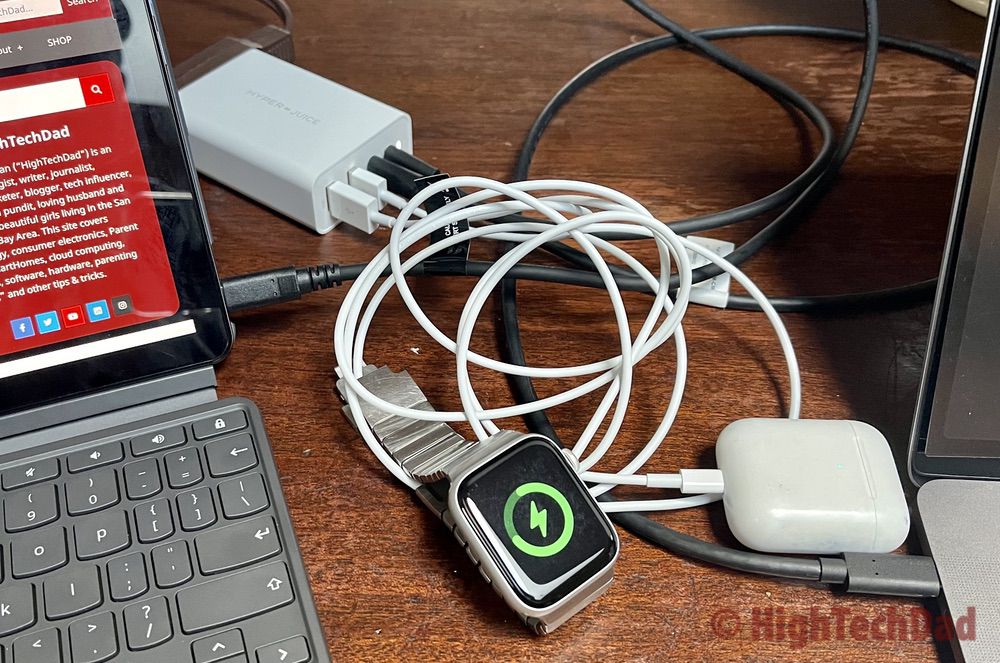 The HyperJuice charger weighs a mere 7.3 ounces and measures 3.36″ x 2.39″ x 1.14″.
So how much is all of this power goodness going to set you back? There are many features and functions in this compact charger. Honestly, I'm impressed with the price point. First, according to Hyper, it was the "world's most crowdfunded charger ever" with over $3.3 Million raised. It retails for $99.99 on the Hyper website and is $99.00 on Amazon.
Shop on HighTechDad
The product shown below (and related products that have been reviewed on HighTechDad) is available within the HighTechDad Shop. This review has all of the details about this particular product and you can order it directly by clicking on the Buy button or clicking on the image/title to view more. Be sure to review other products available in the HighTechDad Shop.
Considering you would have to either carry multiple chargers when you travel to work or overseas or purchase dedicated chargers for newer smartphones (because many don't come included anymore), $99 is a great deal, I feel. And, you can potentially free up three wall plugs (another valuable item in our house).
Disclosure: I have a material connection because I received a sample of a product for consideration in preparing to review the product and write this content. I was/am not expected to return this item after my review period. All opinions within this article are my own and are typically not subject to editorial review from any 3rd party. Also, some of the links in the post above may be "affiliate" or "advertising" links. These may be automatically created or placed by me manually. This means if you click on the link and purchase the item (sometimes but not necessarily the product or service being reviewed), I will receive a small affiliate or advertising commission. More information can be found on my About page.
HTD says: Do yourself and your devices a favor and pick up a HyperJuice 100W GaN USB-C Charger to allow you to quickly and easily charge multiple USB devices simultaneously, including laptops, tablets, smartphones, and more, in a simple, compact device.
HighTechDad Rating
Ease-of-Use

Family-Friendly

Price Point

Features
Summary
Do yourself and your devices a favor and pick up a HyperJuice 100W GaN USB-C Charger to allow you to quickly and easily charge multiple USB devices simultaneously, including laptops, tablets, smartphones, and more, in a simple, compact device. After using this HyperJuice GaN charger for a while now, I consider this to be an essential item in my bag. Whether I am simply commuting to work or going on a longer trip, the HyperJuice GaN charge will be my go-to charging device that I bring. It's compact, lightweight, works overseas with the included plugs, and charges all of my devices, including a MacBook Pro. Given the features and functionality, I find the price point to be just about right – it could be cheaper if it were using Silicon, but the advantages of using GaN instead push the price up a bit. Overall, love this charger!
Pros
Compact size
Multiple charging capabilities
Runs cooler than traditional chargers
Can do both USB-C and USB-A
Overseas-enable with included plugs
Cons
Haven't found anything negative!