I have always wanted to have a Chromebook simply because I felt there was a perfect little niche between a tablet and a laptop or desktop that should be filled. Chromebooks are designed to be lightweight, portable, and relatively inexpensive. I did have a Bluetooth keyboard case that I used with an iPad mini, but in the end, I reverted to just using the mini as a tablet. As luck would have it, I recently got my hands on the Lenovo Chromebook Duet, a smartly-priced, 2-in-1 Chromebook. And, as a first-timer when it comes to Chromebooks, I was pleasantly surprised. (*Disclosure below.)
Chromebooks are not foreign to our family. In fact, each year, our local high school loans out Chromebooks to all of the students. Having something that is light-weight and has Google Docs integrated is quite compelling for education institutions. But, I wasn't sure if a Chromebook would meet my needs. So, I focused on a particular couple of use cases: writing (like a blog post) and entertainment (movies and news consumption).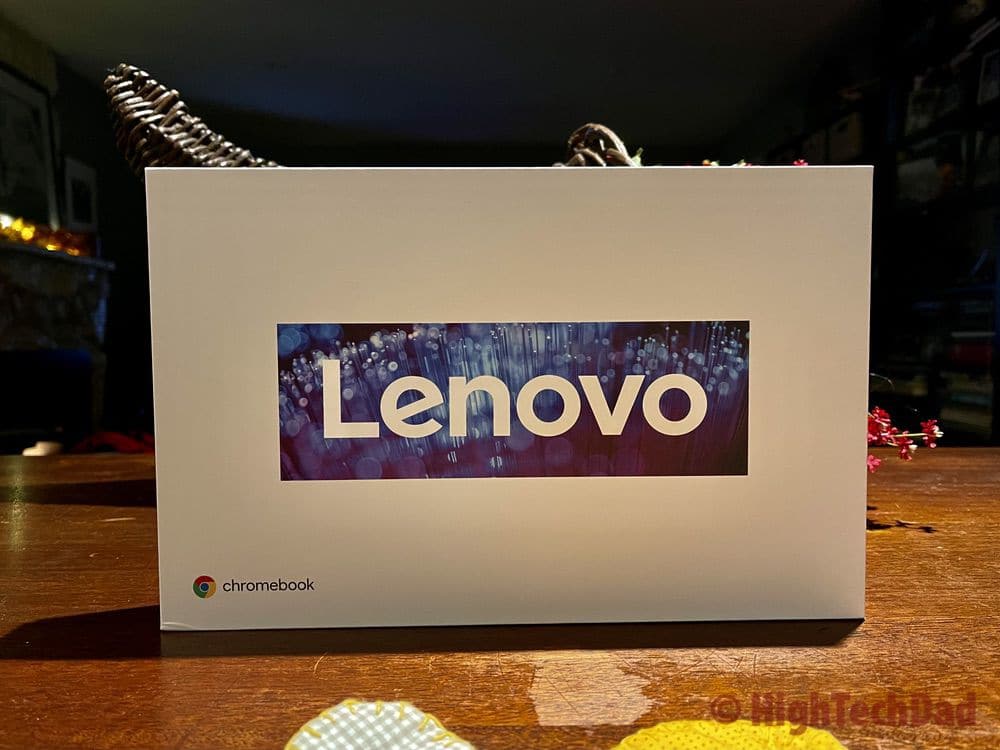 As I used the Lenovo Chromebook Duet for a few weeks, I experienced what all of the hype was about. I tested it as a lounged around on the sofa, sitting at a desk doing writing, and completely as a tablet, binge-watching various shows. While it is not a multi-core laptop or a desktop computer, it has many core features and capabilities to make it a great, portable secondary writing, browsing, and entertainment device. Here are the features, tech capabilities, and other niceties that made the Lenovo Chromebook Duet a great addition to my tech tool chest!
Scroll down for details on each of these items:
It's ultraportable
It's a 2-in-1
Great battery life
A keyboard to go (with a trackpad)
Google is integrated
Fast startup
Full high-definition touchscreen display
Now, on to the details!
1 – It's Ultraportable
One of the most important things about having a good entertainment and writing device is to ensure that it is light-weight and extremely portable. There is nothing worse than having to lug around a massive laptop that weighs multiple pounds. I'm not really sure how we survived those years of having huge, 17″ laptops that were deemed "portable," but that weighed 6+ pounds. Sure, a gaming laptop is probably the one exception to the rule – you must have the ability to pack in a ton of high-end hardware to give you that competitive edge. But for the use cases I described, the Lenovo Chromebook Duet fit my requirements perfectly.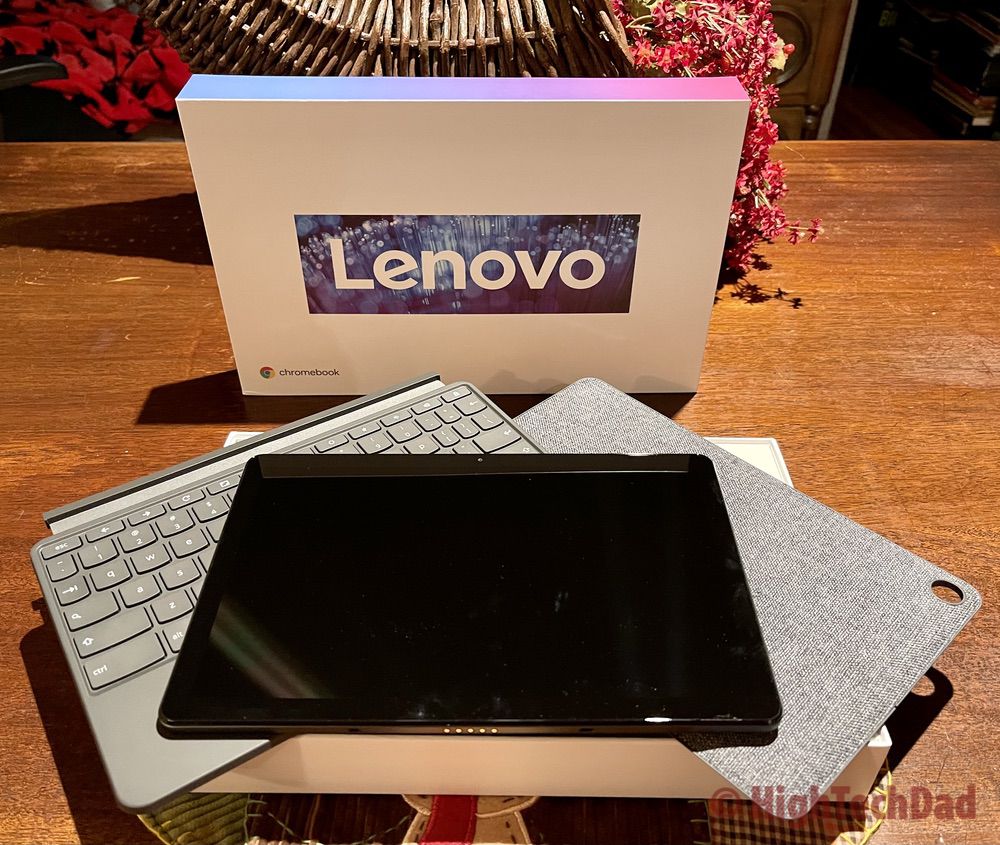 Let's start with the dimensions. It's 9.44″ wide by 6.29″ high by 0.29″ thick (when viewing it in horizontal mode). Now these dimensions are purely for the tablet-only mode, not when it has the included keyboard/case/cover attached. When the full keyboard "pack" is attached, the dimensions grow slightly to 9.64″ wide by 6.66″ high by 0.71″ thick. By all standards, this is still quite slim and compact.
I mentioned weight as an important factor when it comes to portability. In my mind, if it weighs a lot, it's not "portable." In tablet-only mode, the Lenovo Chromebook Duet weighs a mere 0.99 pounds (they just squeaked by under a pound!). When you add the keyboard pack, the weight does double to 2.03 pounds, but still, that isn't significant. Remember, you want to be able to have the best of both worlds…a typing instrument (on-screen keyboards are not ideal for writing in my opinion) but also an entertainment and browsing device (think tablet-only mode here).
2 – It's a 2-in-1
I alluded to this feature in the previous section. And it is important to call this out. The Lenovo Chromebook Duet is NOT just a Chromebook with an attached keyboard. It is also a tablet. This is the best of both worlds (which is what I had done with my iPad mini and a Bluetooth keyboard) – have the ability to just "rip off" the keyboard and go into full tablet mode.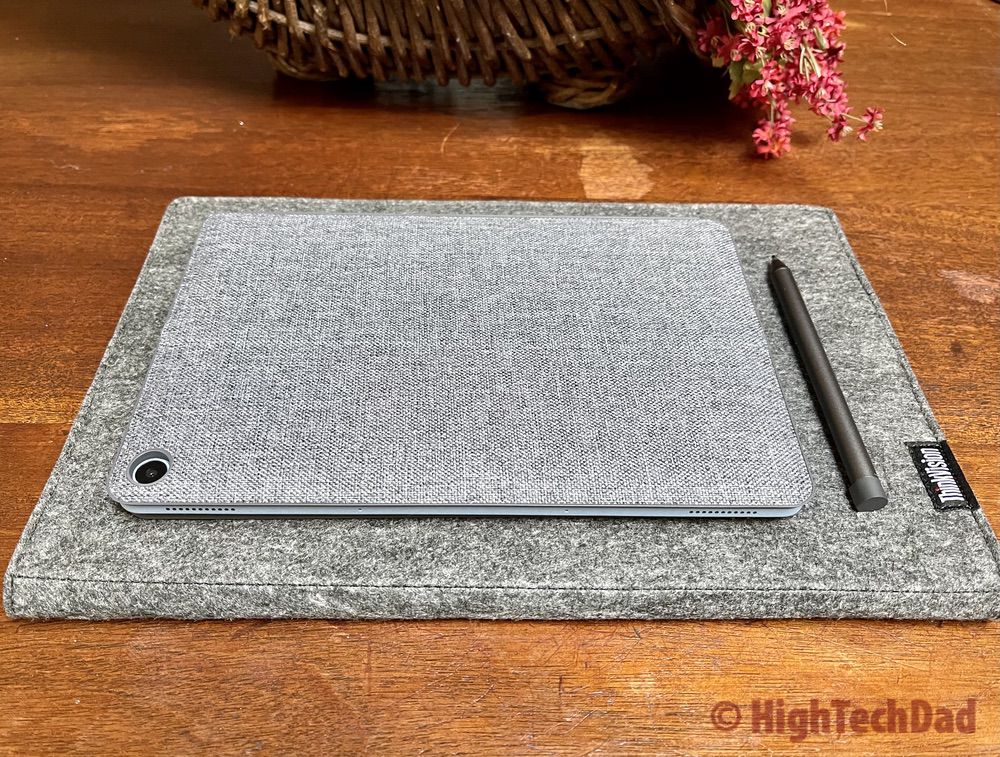 The Lenovo Chromebook Duet comes with this capability out of the box as the keyboard pack is included. No need to purchase a separate Bluetooth keyboard and worry about keeping it charged nor having to pair it all of the time. The included keyboard connects to the tablet portion via a five-point pogo pin and magnet system. You can snap it in fairly easily, and once it is properly connected physically, the keyboard is activated. (More about the keyboard later.)
Part of the keyboard pack includes a magnetic back to the tablet itself. You can leave the backing attached to the tablet if you want, but it does add a little bit of weight. It is easy to remove as it only magnetically attaches to the tablet's back (and there is a hole for the camera, obviously). And, when you are ready to go back into full writing mode, just snap the back of the tablet cover on (it has a built-in kickstand) and attached the keyboard.
3 – Great Battery Life!
While many laptops are starting to achieve vastly-improved battery life, for the most part, you can probably get a day's work out of a fully-charged battery. Tablets fair a bit better, offering well beyond an 8-hour workday. So, what happens when you combine a laptop and a tablet and then throw in a connected keyboard? With the Lenovo Chromebook Duet, you actually get the best of both worlds.
I recently charged up the Lenovo Chromebook Duet and, as I'm writing this review, took a look at the battery remaining indicator in the notification tray. It's showing 11+ hours remaining. Now remember, the Duet is also currently powering the keyboard as well. That is quite respectable when it comes to doing a full day's work just using the Chromebook. According to the Lenovo specs on this Chromebook, a mixed usage profile of browsing, music, video, reading, writing, and typing gets about 10 or more hours.
Charging the Lenovo Chromebook Duet is done via an included USB-C charger. The charger is 10W and does include the plug. I wish that the included USB-C cable was a bit longer as it barely reaches the Chromebook Duet when it is sitting on a table and having a plug on the floor. But, because of the long battery life, the best practice that I'm following is to use the Chromebook all day and then at night, simply charge it all back up.
4 – A Keyboard To Go (and a Trackpad!)
So, one thing that was lacking with my iPad and Bluetooth keyboard was a trackpad. Believe it or not, this is an important little feature. As I discussed previously, the included Lenovo keyboard automagically connects to the tablet portion via a 5-point pogo pin. Once it is physically connected, it powers on and connects to the tablet for full functionality. The nice thing about this soft-touch keyboard is that it is practically full-sized.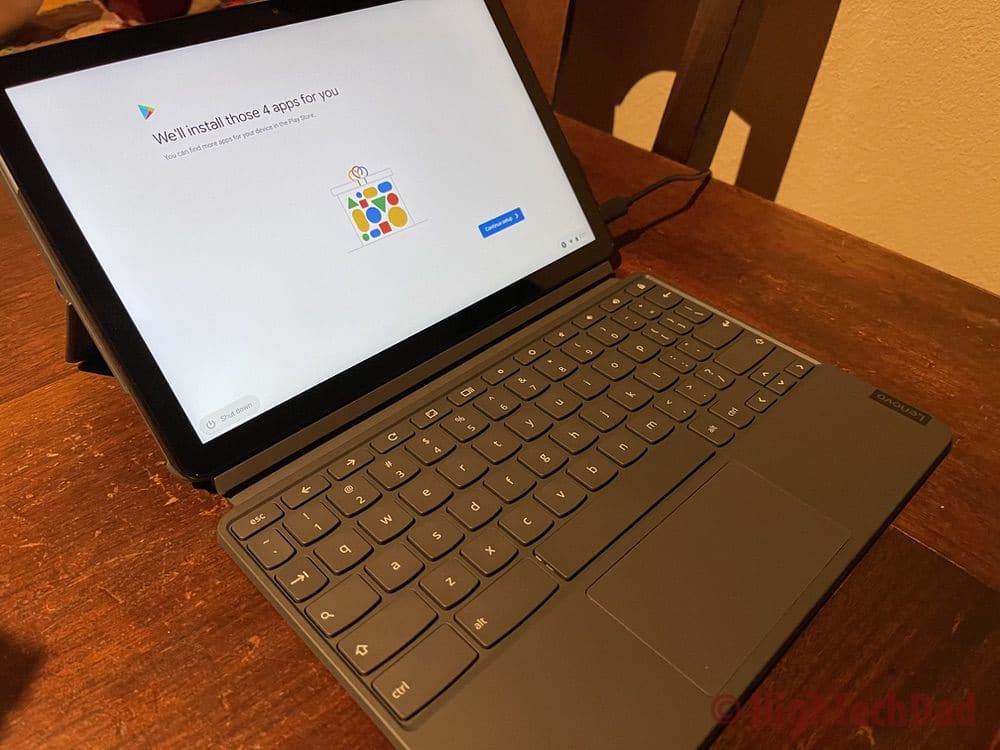 I have large hands, and so smaller keyboards sometimes cause issues for me when typing, especially as I try to quickly type ideas to digital paper. The keyboard for the Lenovo Chromebook Duet is actually quite good. One note, though, it is easy to not properly connect the keyboard physically to the tablet. When this happens, you will lose the ability to type and use the keyboard, and the on-screen keyboard will pop up. Just re-seat the keyboard, and it will automatically reconnect.
There are some dedicated function keys built-in as well, which is nice. The top row has navigation arrows (for browsing), a refresh button, a full-screen toggle, a window and desk manager (to swap between open apps or desktops easily), screen brightness controls (dim/bright dedicated buttons), volume (loud/soft/mute – there are also physical buttons on the tablet itself for obvious reason), and a lock button (press and hold this to lock your screen automatically). Also of note and important is a dedicated search button. Pressing this will bring up the Launcher, which allows you to quickly search your Lenovo Chromebook Duet or the Internet via Google.
Last but not least – the trackpad. I have to say, having a trackpad is really essential for point-and-click actions as well as scrolling. For example, trigger the Launcher via the search button and then use the trackpad and gestures to scroll through the list of installed apps. Very handy!
5 – Google is Integrated
I know this is obvious given that the Lenovo Chromebook Duet is…yes…a Chromebook built on Chrome OS…which is built by…Google. But, I still felt it is important to call this out. This means that if you have a Google account (and who doesn't these days), you just use that account to log into the Chromebook. This also means that if you have the Lenovo Chromebook Duet as a "family device," you can allow them to use the Chromebook as a guest or as a named user/person.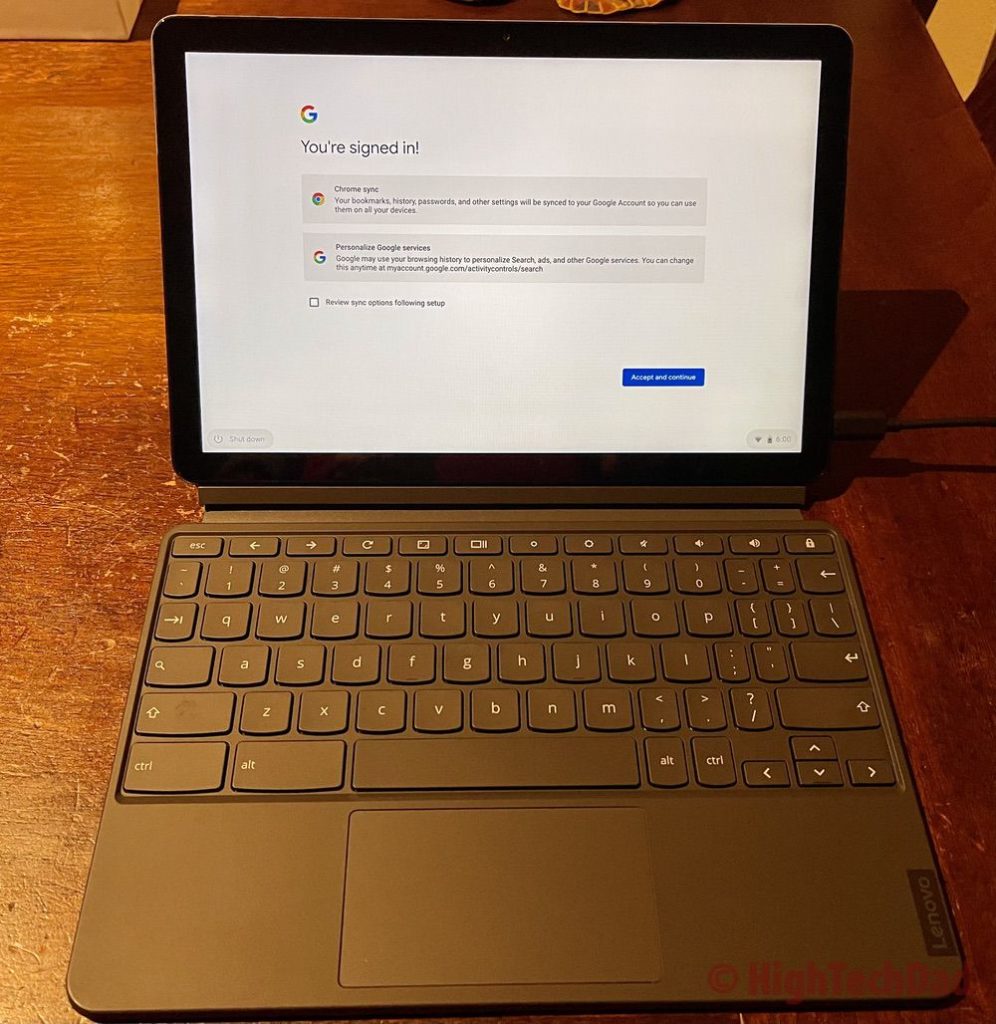 In the Browse as Guest mode, the user pretty much can only do that – use Google Chrome to browse the web. What's nice about that is, it doesn't really take up any storage space, and all of the browsing is "private." If you want to add a user, you can add either an "adult" or a "child." In child mode, you can set up some rules to prevent unfettered access to the scariness of the Internet. Child mode is great for younger kids. If you have adults or teens+, you probably want to just set them up with a regular account. Just bring your Google Account credentials and log them in.
Multi-user is truly a great feature to have. While you can do this on laptops regardless of the OS (Windows, Mac, or Linux), when it comes to a tablet, iPad OS doesn't (yet) support multi-user. The Lenovo Chromebook Duet, however, does. Also, once you log in as a Google user, many of your services (if you have them) are pre-configured, like Gmail and other items.
6 – Fast Startup
So, I probably can't write too much about this great feature. But basically, the Lenovo Chromebook Duet starts up VERY quickly! I just did a quick test, and from pushing the power button until hitting the Chrome OS login screen took ~8 seconds. That's fast! Then, after successfully authenticating, it took only about 2-3 seconds to get back to where I left off when I shut down.
I'm currently using Google Chrome OS Version 88.0.4324.37 (Official Build) beta – I always like to be slightly ahead of the general public so that I can report on new features (or issues). The beta channel is usually quite stable. Since I'm not super familiar with Chrome OS (yet), I'm avoiding the unstable Developer builds.
7 – Full High-Definition Touchscreen Display
Keyboards, speed, portability, 2-in-1 function, and all of the items mentioned previously are great, but they wouldn't be that great without having a nice display as well. Think of having perfectly fine-tuned glasses that are covered with smudges. The Lenovo Chromebook Duet does have a nice display. This is important, especially if you will be streaming videos, TV, or movies, for example. The Chromebook Duet comes with a 10.1″ FHD (Full High-Definition) IPS display with a top resolution of 1920×1200.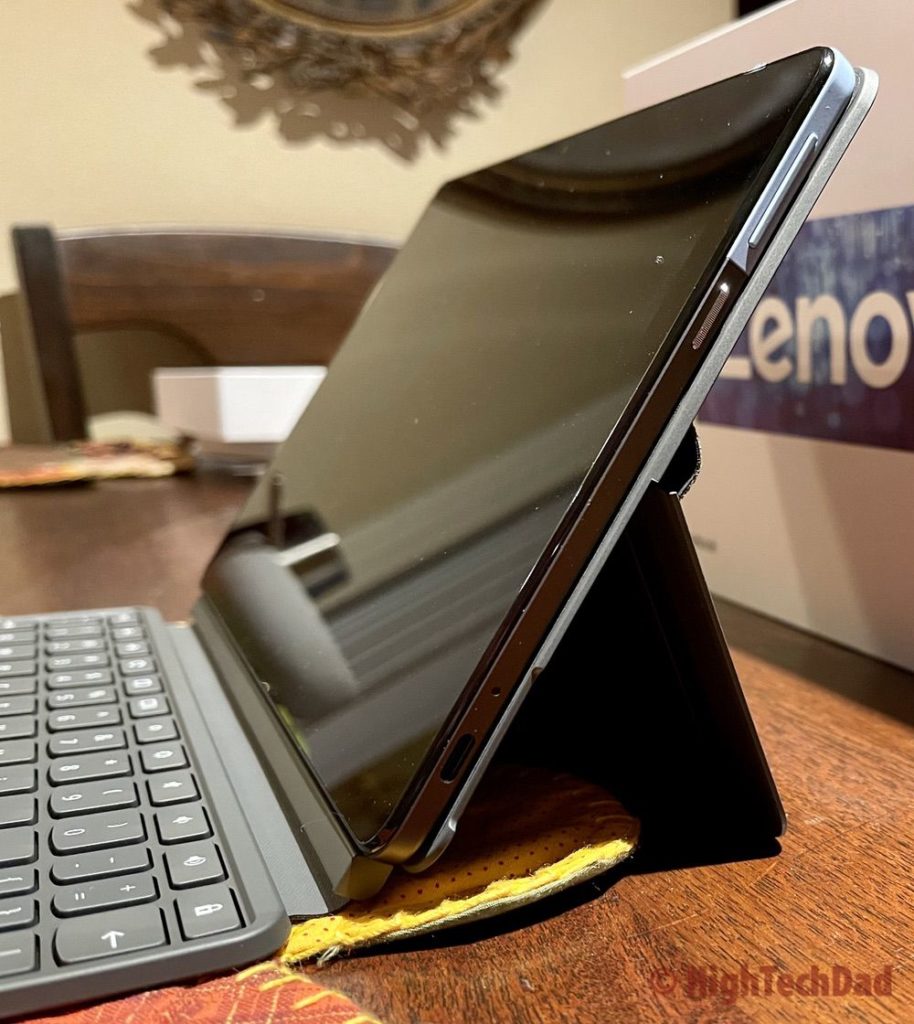 One thing I really haven't mentioned (but should be obvious since part of the 2-in-1 aspect is being a tablet) is that the glossy screen is a touchscreen. I truly like the ability to use the trackpad (when the keyboard is attached) and interact with the touchscreen at the same time. The screen itself is quite bright (400 nits) and using the Chrome OS settings, you can enable Night Light mode to remove some of the blue hues to make the screen a bit easier on your eyes at night time.
A Few Last Thoughts on the Lenovo Chromebook Duet
There are plenty of other things that are great about this Chromebook. And, honestly, a few things that I wish were a bit better. Also, I wanted to include a few more specs of the Lenovo Chromebook Duet. So, let me start with those:
Model tested: Lenovo Chromebook Duet (10.1″) 2 in 1 (CT-X636F)
Processor: MediaTek Helio P60T Processor (2.00 GHz, 8 Cores, 8 Threads)
Graphics: Integrated ARM G72 MP3 800GHz
Memory: 4 GB LPDDR4X
Storage: 128 GB eMMC
Cameras: Rear – 8 MP auto-focus; Front – 2 MP Fixed Focus with LED indicator
Ports: One USB-C (Gen 2) port
Buttons: Volume control & Power
WiFi: 802.11 a/b/g/n/ac, MIMO 2×2, 2.4GHz/5GHz dual band
Bluetooth: Bluetooth 4.2
Audio: 2 x Dolby Audio speakers
Here are a few minor complaints that I had:
Only one USB-C port – I wish there were two, one for power and one for other things like a display – yes, you can daisy chain things; I may purchase a USB-C hub.
No 3.5mm audio port – while you do get a USB-C to 3.5mm dongle (and you can connect Bluetooth headphones), if you use the USB-C audio dongle, you can't use the USB-C port for anything else.
A Bit Flimsy – the kickstand that is built into the magnetic cover does feel a bit flimsy, and also, if you move around a lot with the keyboard attached, it does fairly easily become detached.
No Pen included – it would be really nice to have a stylus or pen included and built into the tablet portion – but that would add to the cost.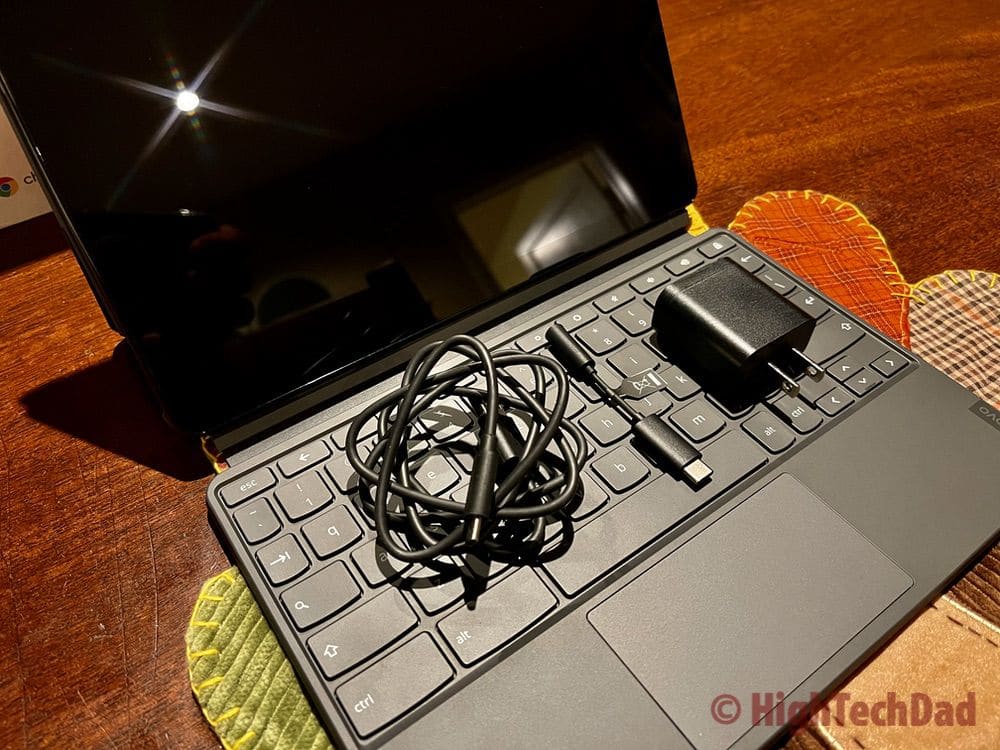 But the items I mention above, if they were there, they would change the other REALLY great "feature" of the Lenovo Chromebook Duet – the price! On Amazon, the Chromebook Duet currently is selling for $290 which is significantly less than a laptop or even some tablets. And remember, you get both functions with this device.
Shop on HighTechDad
The product shown below (and related products that have been reviewed on HighTechDad) is available within the HighTechDad Shop. This review has all of the details about this particular product and you can order it directly by clicking on the Buy button or clicking on the image/title to view more. Be sure to review other products available in the HighTechDad Shop.
I will be writing about a great companion device for this Chromebook, specifically the Lenovo ThinkVision M14, a touchscreen display that truly makes the Chromebook Duet an office-on-the-go device! Stay tuned for that!
Disclosure: I have a material connection because I received a sample of a product for consideration in preparing to review the product and write this content. I was/am not expected to return this item after my review period. All opinions within this article are my own and are typically not subject to editorial review from any 3rd party. Also, some of the links in the post above may be "affiliate" or "advertising" links. These may be automatically created or placed by me manually. This means if you click on the link and purchase the item (sometimes but not necessarily the product or service being reviewed), I will receive a small affiliate or advertising commission. More information can be found on my About page.
HTD says: If you are looking for an inexpensive, multi-function, lightweight Chromebook that is also a tablet, the Lenovo Chromebook Duet is a perfect choice! It has all of the core features for both entertainment and work and has the flexibility to be a tablet one minute and a laptop the next.
HighTechDad Ratings
Ease-of-Use

Family-Friendly

Price Point

Features
Summary
If you are looking for an inexpensive, multi-function, lightweight Chromebook that is also a tablet, the Lenovo Chromebook Duet is a perfect choice! It has all of the core features for both entertainment and work and has the flexibility to be a tablet one minute and a laptop the next. Having the best of both worlds in one device is ideal, making the Lenovo Chromebook Duet a perfect device for school, work, or home. Whether you are just binge-watching shows or writing a paper, The Chromebook Duet can instantly transform from a tablet (with touchscreen obviously) to a laptop (with a full-sized keyboard and trackpad). I did slightly mark down the Chromebook Duet slightly on features simply because I wish it had two USB-C ports and a dedicated 3.5mm audio jack. But this is a great, multi-purpose device as the right price.
Pros
2-in-1 capabilities are great (tablet or laptop instantly)
Very light-weight
Super screen for binge watching
Cons
No dedicated audio jack – includes USB-C to 3.5 mm adapter (can't charge & use audio adapter at same time)
Single USB-C port
Kickstand feels a bit flimsy (but it works)