I don't typically post articles about products unless I have actually spent time to test them out thoroughly. But, in the case of HYPER's new HyperJuice 4-in-1 Wireless Charger with MagSafe, I decided to make an exception. For starters, I have been testing, reviewing, and using a lot of HYPER's products over the past few years. AND I have reviewed and continue to use an earlier version of their wireless charger for quite a while. So I have been eagerly awaiting the release of this 4-in-1 wireless charging solution, and it is now available for order.
Originally launched as a crowdfunded campaign (that got an amazing 3,500+ backers, raising over $500k), the HyperJuice 4-in-1 Wireless Charger truly hits all of those pain points that other wireless chargers can't do or don't do well. And trust me, I have tested quite a few.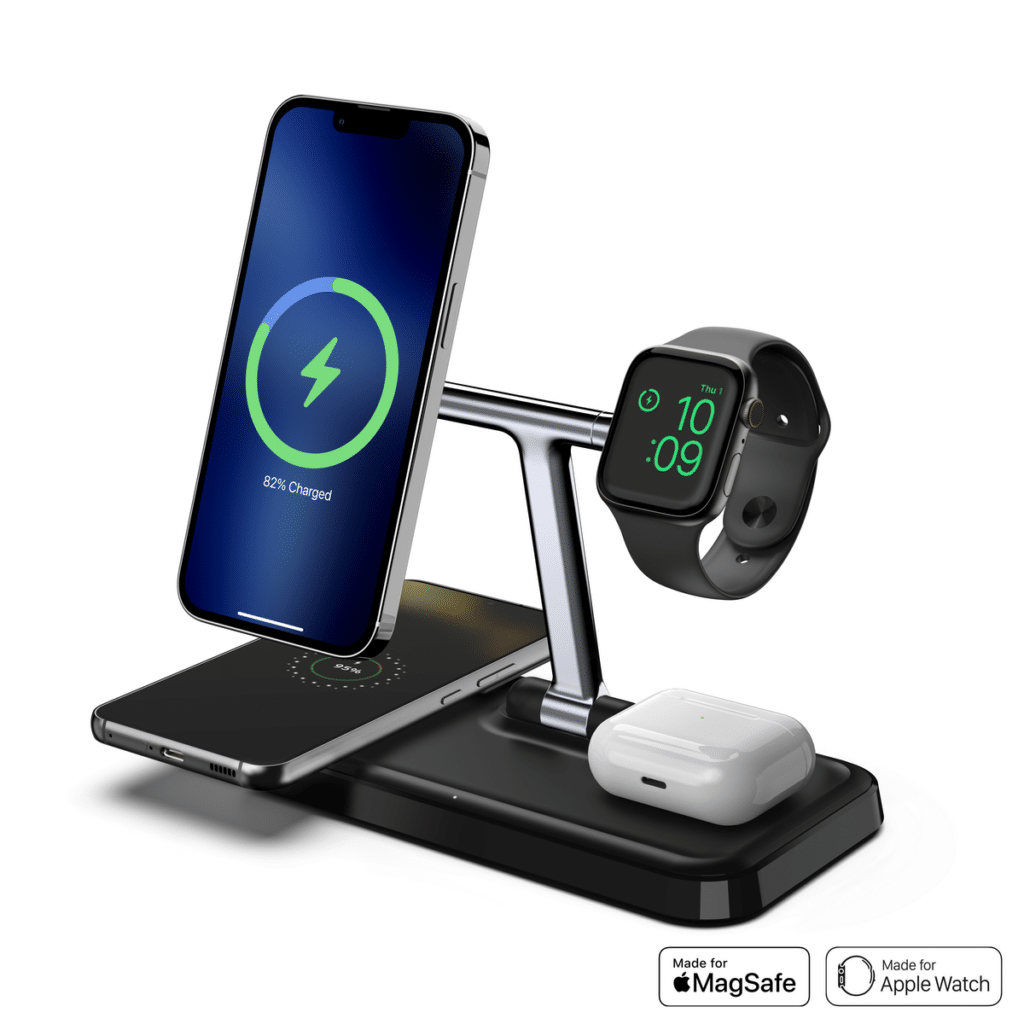 While this wireless charger does support various devices (wireless charging compatible smartphones, Apple AirPods, and the Apple Watch), the Apple MagSafe capability truly makes this stand out. If you are an iPhone 12 or iPhone 13 user (which support MagSafe), this is one wireless charging solution that you should put at the top of your wishlist.
Key killer features of the HyperJuice 4-in-1 Wireless Charger
Honestly, in my opinion, HYPER has a lot to brag about with this release. For starters, it can charge four devices at once (iPhone 12/13, AirPods, Apple Watch, and an additional wireless device).
The power (pun intended) is in the MagSafe capabilities. Using an amazing combination of wireless charging and magnets built into the iPhone 12/13, the iPhone is locked and held into place, and this is what is built into the primary stand of the HyperJuice 4-in-1 Wireless Charger. And, it isn't just plain old MagSafe like some of the other solutions out there. This is an official Made for Magsafe™ solution.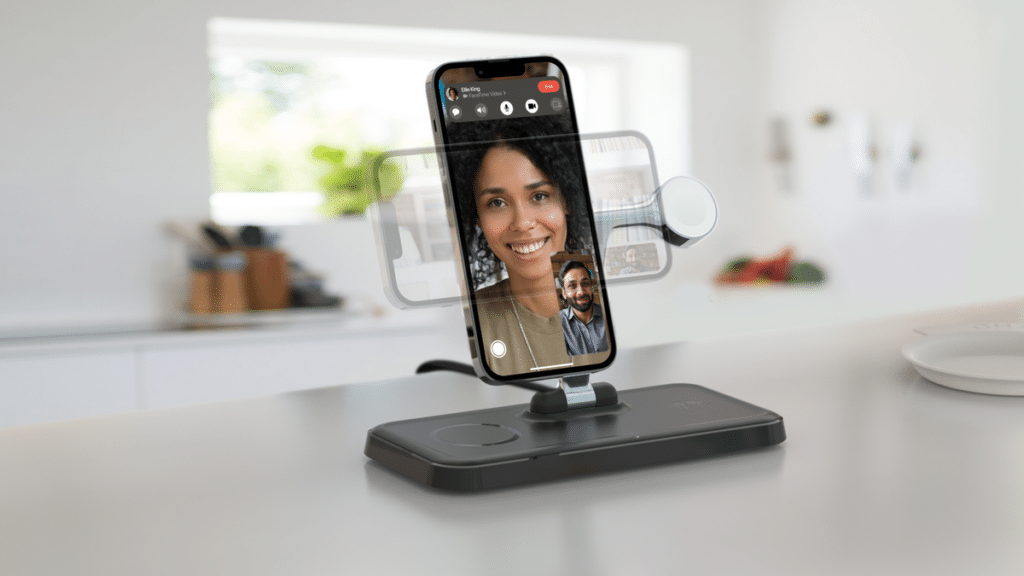 For the iPhone 12 and 13, you will get 15W of fast wireless charging as a result of using MagSafe. But, because MagSafe uses magnets to hold your iPhone in place, you can easily rotate your iPhone from portrait to landscape views by simply turning your iPhone in place.
As with the earlier model I have reviewed, another nice feature is how you can easily adjust the tilt angle of your iPhone when it is anchored to the MagSafe charger. So, if you decide to stand for a video call, you can easily tilt your iPhone to align better for the call.
Since I'm writing about tilting and adjusting, I was happily surprised to learn that the entire 4-in-1 Wireless Charger is travel-ready and portable. This was not a feature of the earlier version I am currently using. The charging arms actually fold down to make the entire charger flat, allowing you to slide it into a bag for easy transportation.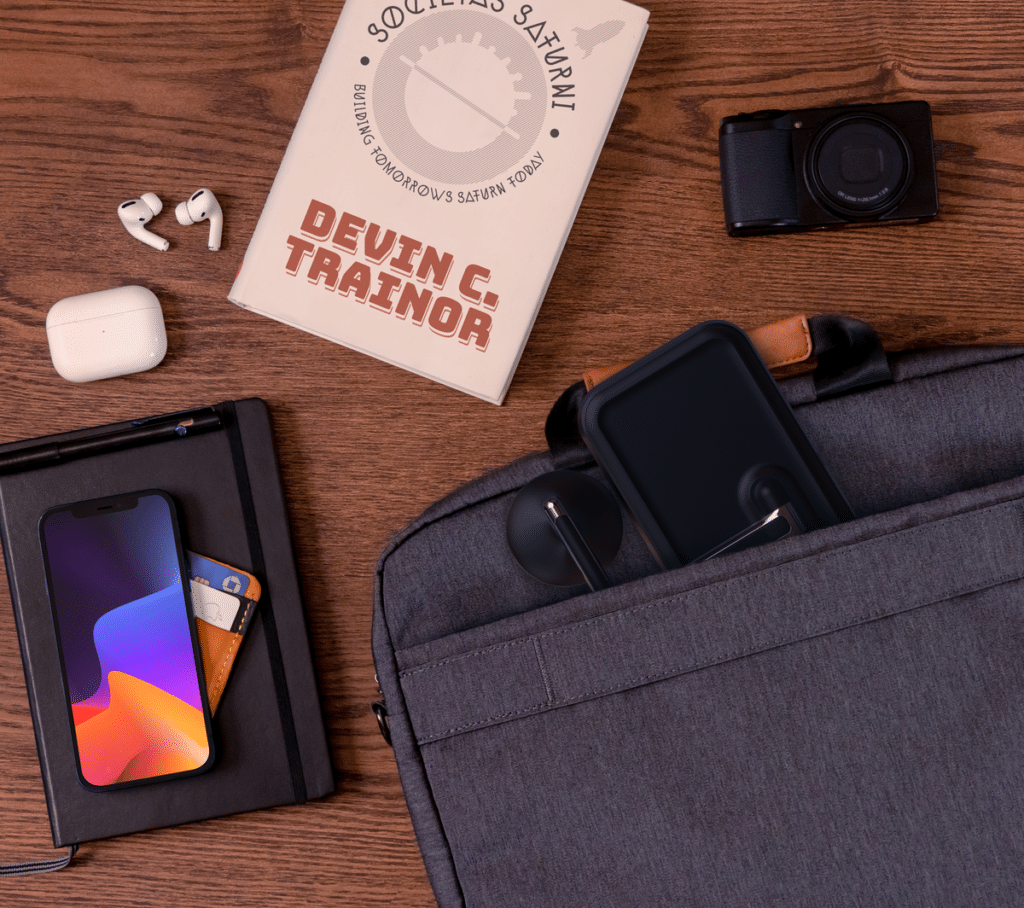 Another nice upgrade from the dual charging solution I have been using is the fact that there are two ways to power the charger. Included with the charging base is a DC charger that plugs into the wall. But you can also use any USB-C charger to power it. So if you have another USB-C PD charger (like this one I reviewed by HYPER as well), you can use that. This flexibility is great to have.
Here are some more high-level specs on the HYPER HyperJuice 4-in-1 Wireless Charger:
15W – MagSafe charging for iPhone 12/13
5W – Apple Watch charging
5W (max) – AirPods charging pad
5W / 7.5W / 10W / 15W – Qi charging pad
Final thoughts on the HyperJuice 4-in-1 Wireless Charger with MagSafe
The big question here is, would I recommend a product without having any hands-on time with it? My typical response is…it depends. It truly depends on the company producing the product and how other products from that company are designed and perform.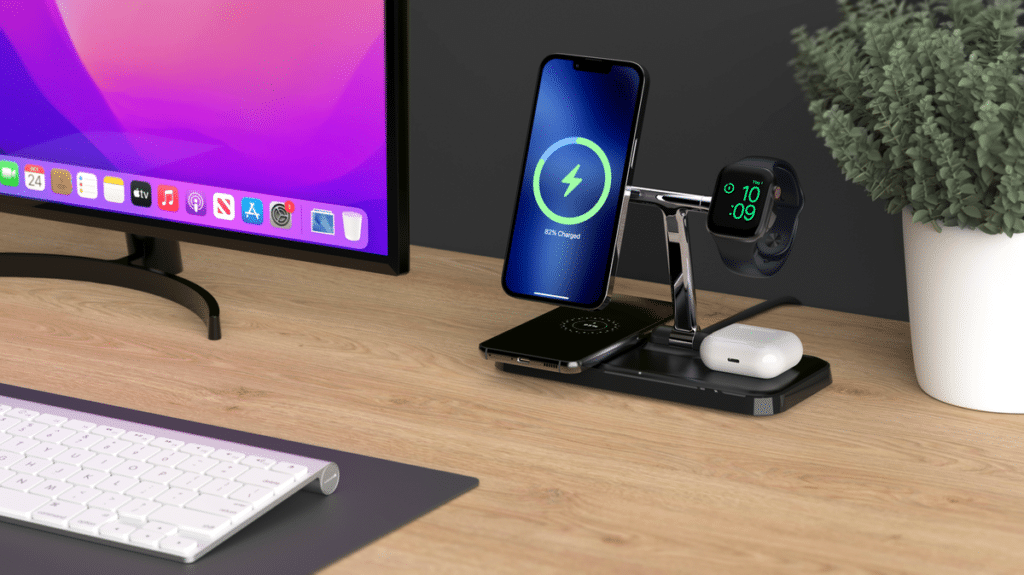 As I stated earlier, I have reviewed quite a few HYPER products in the past (and am working on some other reviews). Unfortunately, I HAVEN'T tested the HyperJuice 4-in-1 Wireless Charger…yet (I do hope to do so soon). But my experience with HYPER has always been positive. I like their product innovations and designs, and this 4-in-1 charger looks to fall right into that group.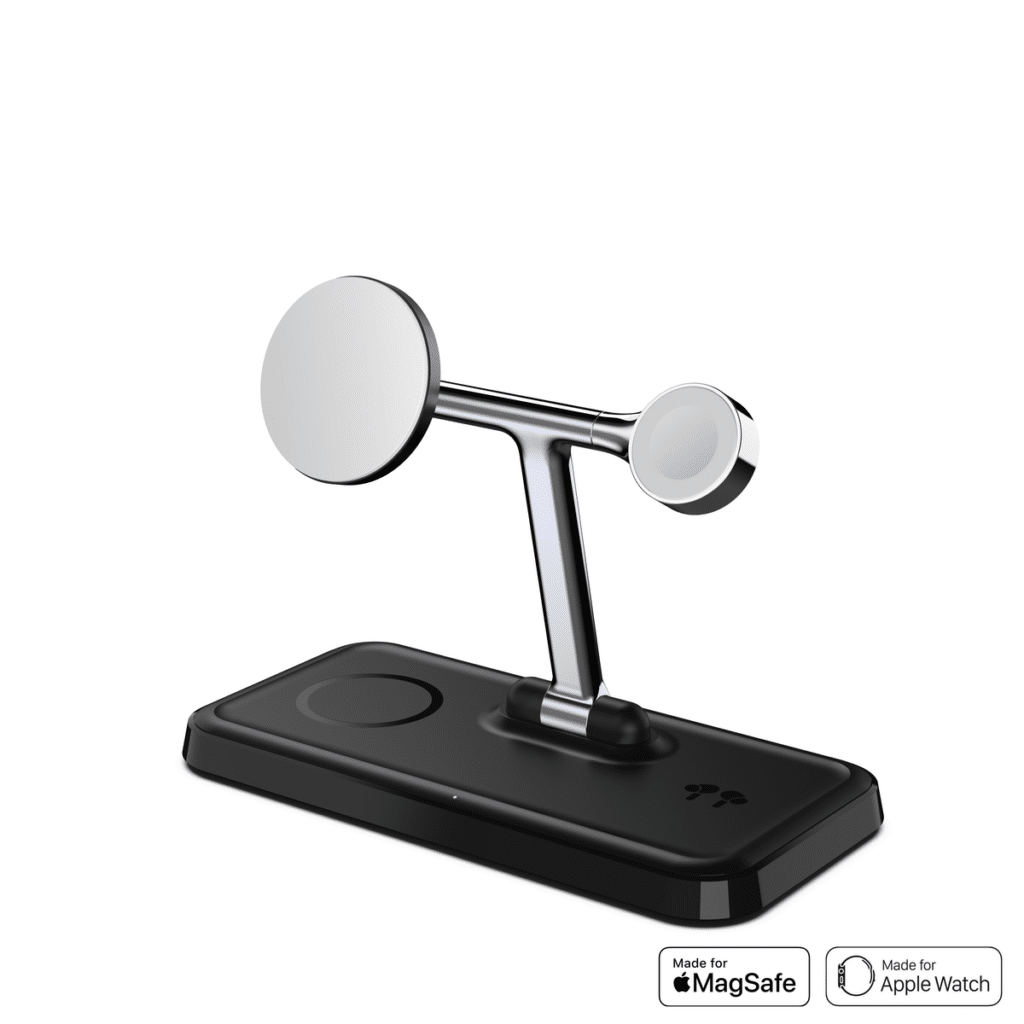 The HYPER HyperJuice 4-in-1 Wireless Charger retails for $199.99. It's not exactly inexpensive, but you have to remember that you get four different charging solutions in one device. AND all of those chargers are wireless (throw away those charging cables)! You can order it now directly on the HYPER shop.
I hope I can get hands-on with this charging solution in the future to be able to provide further insights.
HTD says: HYPER seems to have done it again with their potentially awesome HyperJuice 4-in-1 Wireless Charger with MagSafe. If you are an Apple product fanatic like me, this might be the only charging solution for iPhone, AirPods, and Apple Watch that you will need!