While having good video recording equipment can take you much closer to producing stellar videos, even the best equipment can't help if you have poor lighting. When recording using your smartphone, it's often tricky to light yourself or your scene easily. The TONOR Ring Light (TRL-20) kit easily and inexpensively lets you "cast a better light" on your filming environments! (*Disclosure below.)
I use my iPhone 12 Pro Max for all of my video recordings, and I must say, it does a fantastic job even in poor lighting environments. However, sometimes the results of those low light situations have graining-looking results. The easiest way to correct this is with (better) lighting.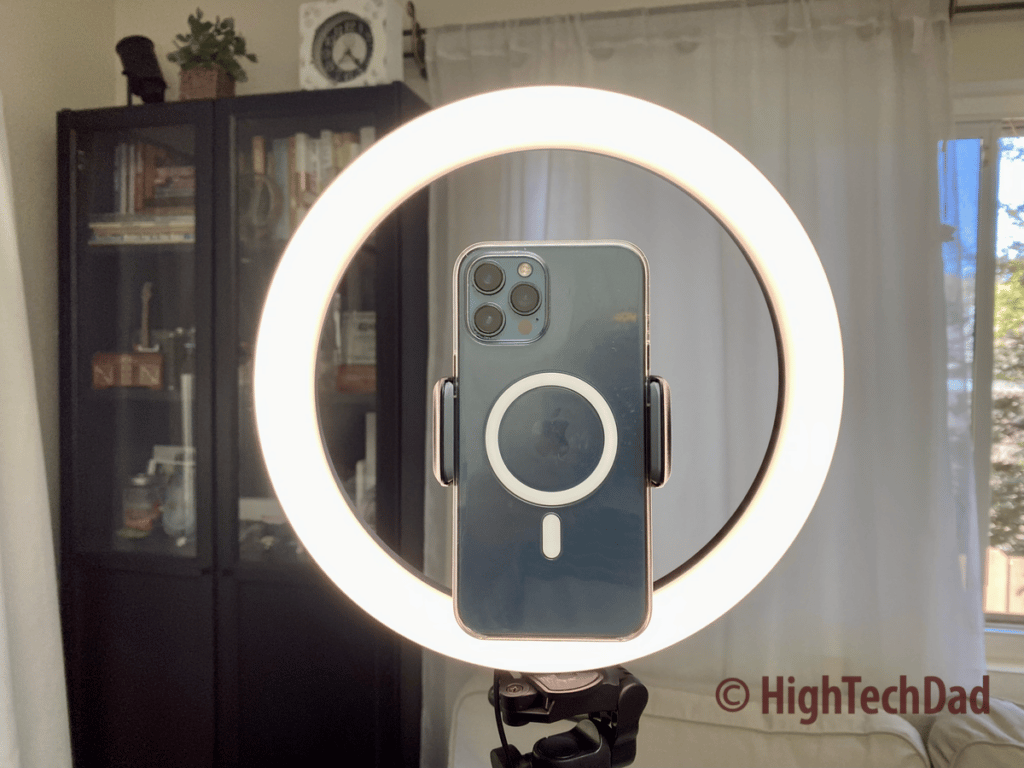 I have used ring lights or light rings or circle lights before as well as other lighting solutions, but I have always found them to either be a bit under-powered or lack a way to hold a smartphone well, or they are simply lights without any kind of smartphone holder. So, when TONOR asked if I wanted to test their 12″ ring light, I happily took them up on their offer. And, moving forward, I might be using the TONOR light for many future video reviews!
Video walkthrough of the TONOR Ring Light
Before diving into the details within this review, I wanted to share my video review of the TONOR 12″ Ring Light in action. It's often hard to capture in words what can be more easily and better shown in a video.
My video walks through the unboxing and what you get in the TONOR Ring Light kit. Yes, it is a kit, not just the light. And I show the light ring in action at various levels and color temperatures.
The video was filmed at dusk without any other light sources on. (As you can see at the beginning, the iPhone does a good job capturing light.) Once I had the TONOR light on and at full power, I pretty much felt like a deer in the headlights!
What's in the TONOR Ring Light box?
As I mentioned, the TRL-20 is a kit, not just a stand-alone ring light. And this is probably what you will want to look for. It comes with everything you need to add to your mobile video filming studio. The key to filming on the go, and I am by no means any type of expert, is making sure things are lightweight and portable.
This ring light will not give you the 3-point lighting that people often refer to, where you have front lighting and then rear and side lighting to create more perspective, shadowing, and depth. Of course, you could add that with other lights, but then you have to take those along with you. That type of setup is better for a home studio, but I often find myself recording videos in various locations.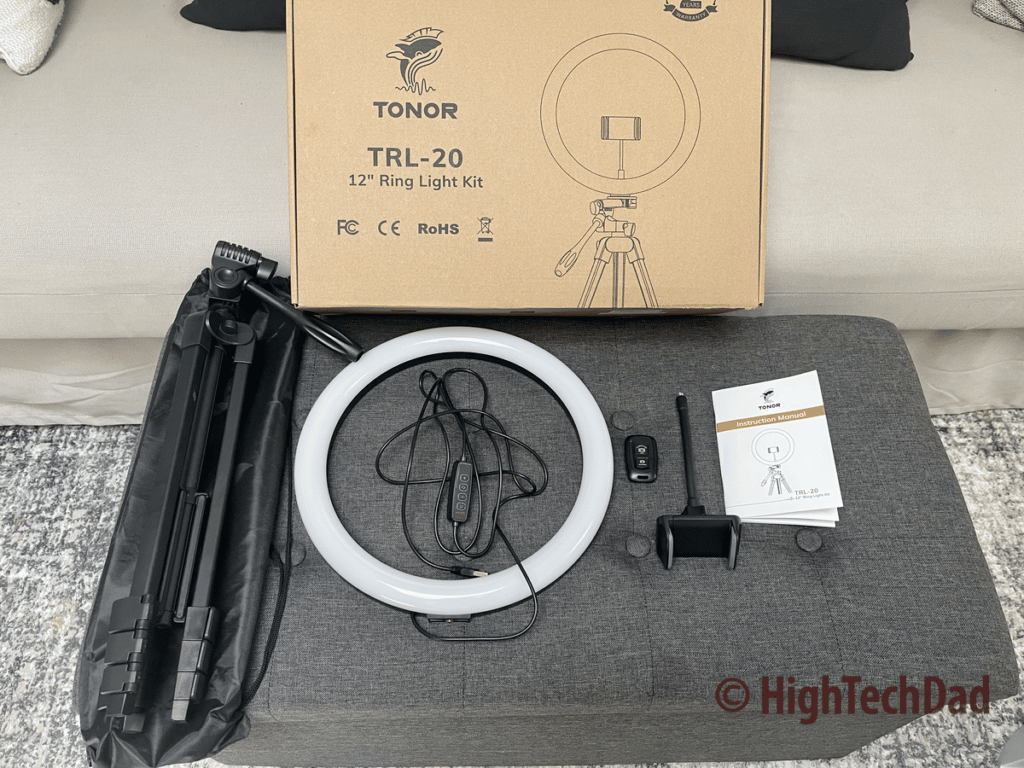 The TONOR TRL-20 kit comes with the following:
12″ ring light
Lightweight, extendable tripod with nylon bag
Smartphone springloaded mount
Bluetooth remote for pairing with your smartphone
Setting up the TONOR light ring takes just a few minutes. The nice thing about the tripod is that it is lightweight and collapsable. The legs have three sets of extensions to make the tripod tall or short, depending on your use case. It goes from 16 to 53 inches (almost four and a half feet).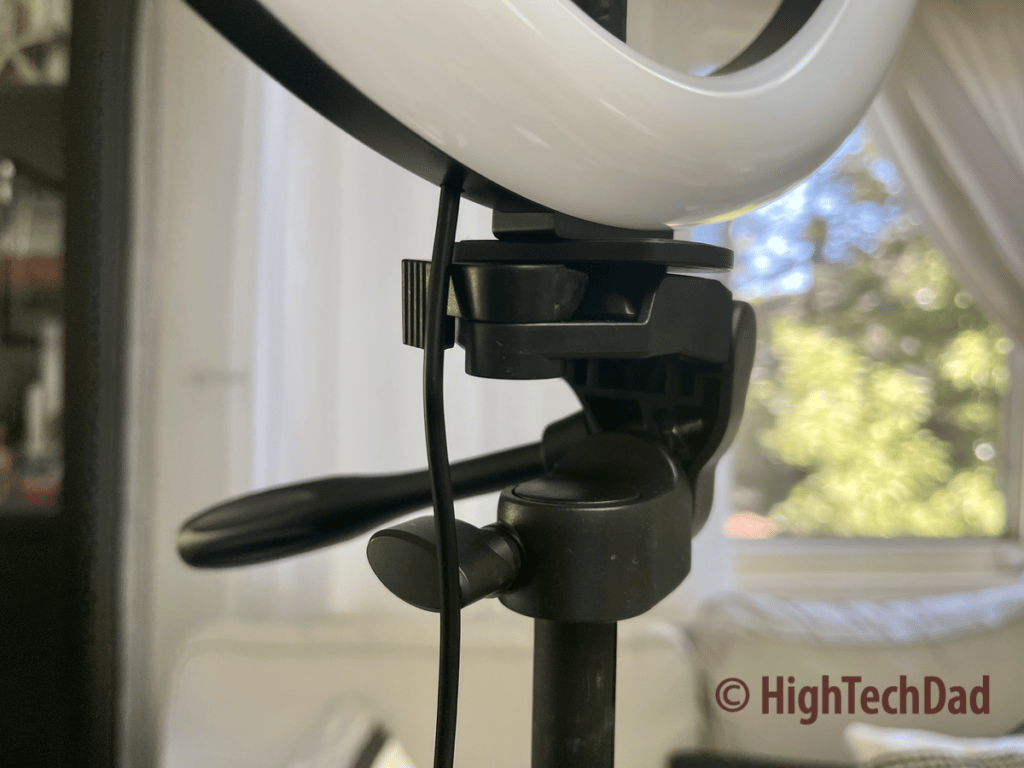 Also, the tripod has a variety of adjustments beyond up and down. There is a pivot that lets you get the proper angle for your filming. You can rotate it easily as well as use the arm adjustment. And, there is a quick release/removable plate to let you quickly take your camera and phone mount holder on or off. There is a pivot as well that lets you quickly switch between landscape and portrait mode.
But enough about the tripod, what about the light itself?
TONOR Ring Light features and usage
Ok, time to cast some light on the light itself. As mentioned, I have used ring lights in the past, but many of them are simply too small or not quite adequate for more extensive lighting needs. The great thing about the TONOR Ring Light is that it is 12 inches in diameter. Why is this important?
For starters, having a larger ring allows more LED lighting elements inside the ring itself. In fact, there are 160 LED lights in this ring light! Also, because of the tripod and the smartphone holder designs, you can essentially place your smartphone in the center of the ring itself. This means that it isn't offset in any way.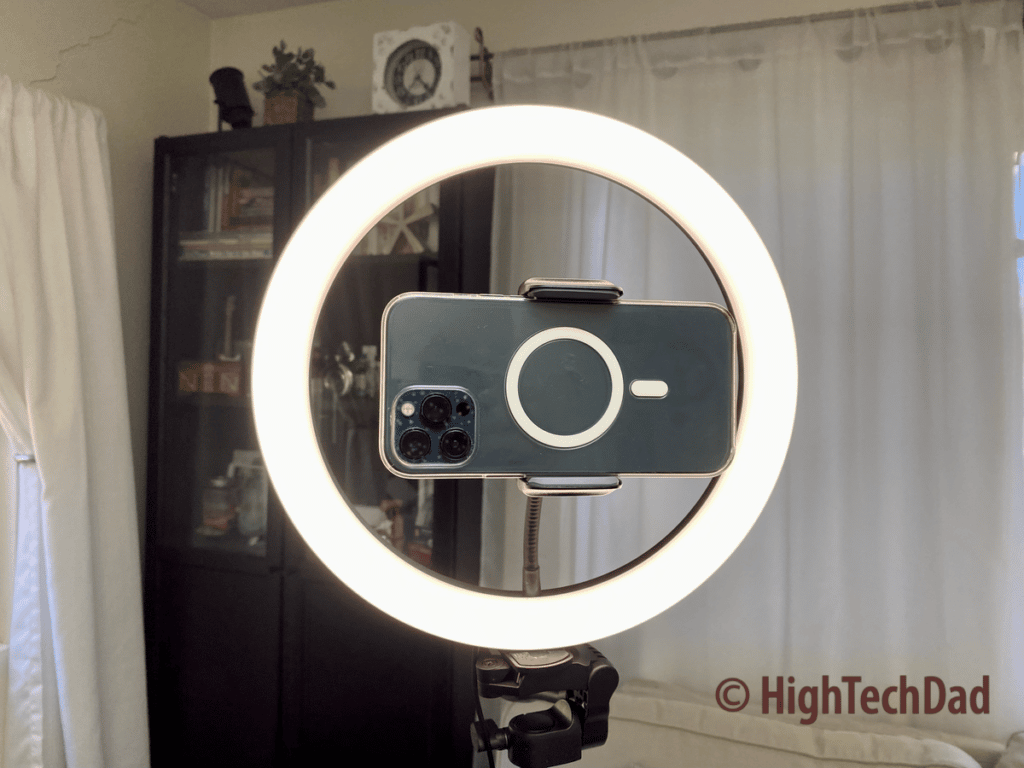 The TONOR also doesn't use a lot of power. It is rated at 10W and has a power input using a USB Type-A cord of 5V-2A. What does this mean? Well, while you can easily plug the power supply into any type of USB Type-A plug, you also have the ability to connect it to a portable power supply. I did this in my video review. For the entire filming, the TONOR was receiving its power simply from a portable power brick with 5V out.
When you are talking about filming on the go, much of the time, you don't have access to a plug, so being able to bring along a couple of portable chargers is a great way to truly be mobile in your filming.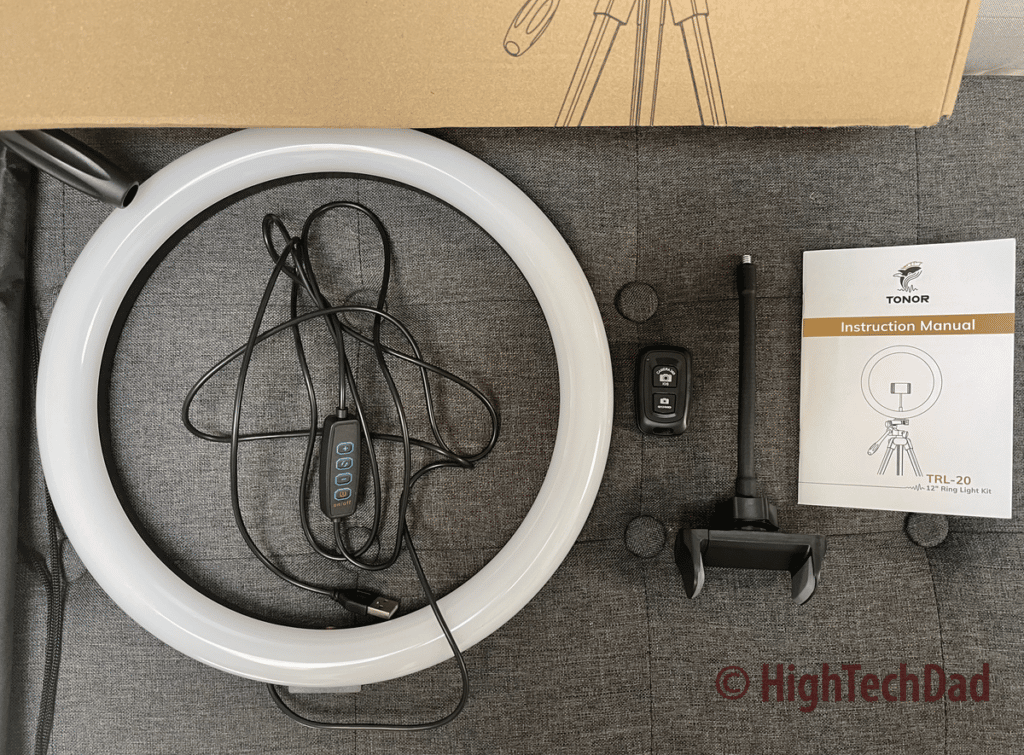 On the power cord is a corded remote that lets you control the LED light. The red button at the bottom will light up when power is available, and pressing it turns the light on and off. Directly above that is the minus button that lets you lower the brightness of the LEDs. Finally, there is a plus button at the very top to raise the brightness. The range of brightness is 500 to 800 lumens (light output).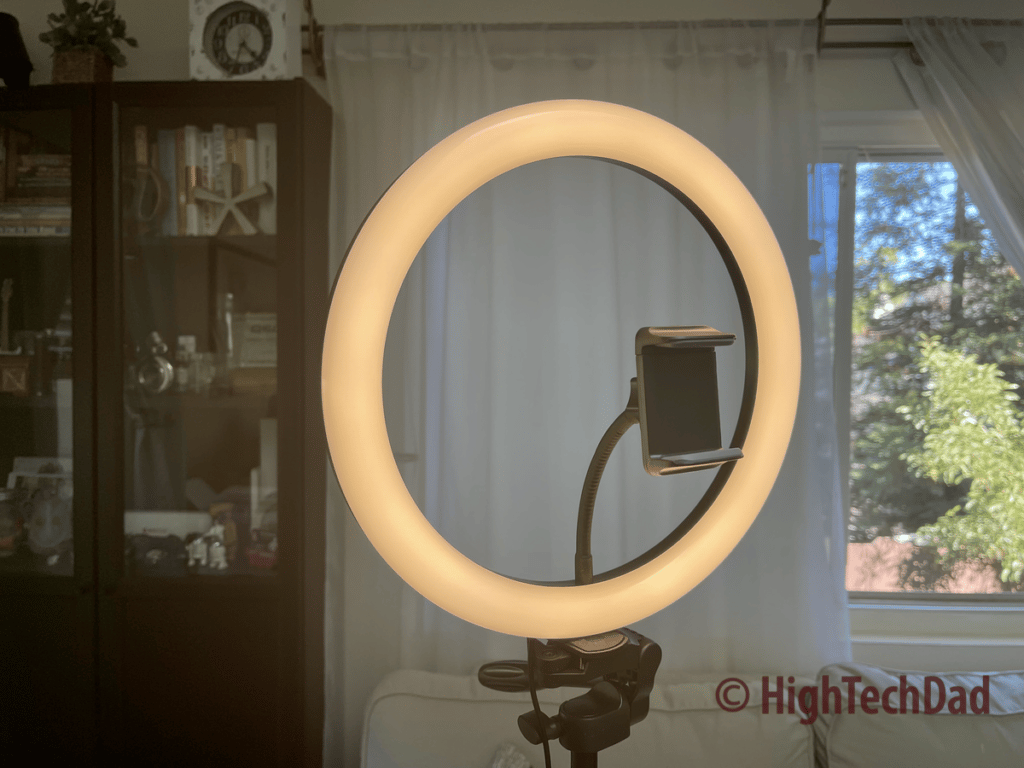 In between both the plus and minus is the color temperature cycle button. There are three color temperatures available: cool white (5800K-6500K), warm white (4100K-4700K), and warm yellow (2700K-3300K). So, depending on the scene you are filming, you can easily cast a warm or cool glow.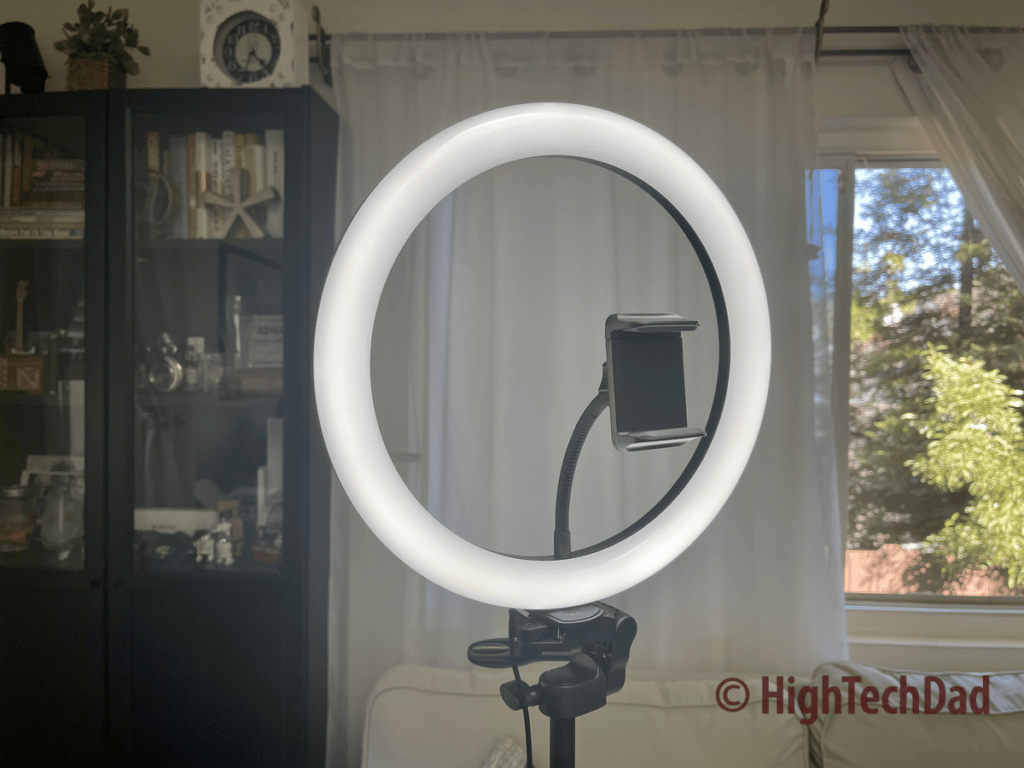 Also included with the kit is a Bluetooth remote that you pair with your smartphone. The remote allows you to take photos or start videos by simply pressing a button (once the remote is paired with your smartphone). I do prefer using my Apple Watch for my filming as I can see what the camera is seeing directly on the Watch face, but it is nice to have the option of also using a Bluetooth remote.
Having the flexibility of color temperature and brightness allows you to craft the perfect lighting, even on the go!
Inexpensive yet powerful
The TONOR TRL-20 Ring Light Kit is currently a bargain and a no-brainer if you are looking to upgrade your on-the-go smartphone video filming. You get a large ring light and a tripod for a very reasonable price.
The TONOR TRL-20 Ring Light Kit is currently available on Amazon for just $33.99 (normally, it retails for $71.99). So if you are considering getting a ring light, this is a steal!
See on the HighTechDad Shop
The product shown below (and related products that have been reviewed on HighTechDad) is available within the HighTechDad Shop. This review has all of the details about this particular product and you can order it directly by clicking on the Buy button or clicking on the image/title to view more. Be sure to review other products available in the HighTechDad Shop.
Remember, you don't have to use this ring light just for smartphone video recordings. You can also use it as a secondary light source for other filming scenarios. I feel it is an excellent addition to anyone doing any kind of filming – whether it is doing work conference calls or doing the next Instagram or TikTok hit!
Disclosure: I have a material connection because I received a sample of a product for consideration in preparing to review the product and write this content. I was/am not expected to return this item after my review period. All opinions within this article are my own and are typically not subject to editorial review from any 3rd party. Also, some of the links in the post above may be "affiliate" or "advertising" links. These may be automatically created or placed by me manually. This means if you click on the link and purchase the item (sometimes but not necessarily the product or service being reviewed), I will receive a small affiliate or advertising commission. More information can be found on my About page.
HTD says: Having a lightweight yet powerful and portable lighting source for smartphone video recordings is a game-changer. The TONOR Ring Light Kit (TRL-20) is the perfect solution for an on-the-go lighting source for stellar videos!
HighTechDad Rating
Ease-of-Use

Family-Friendly

Price Point

Features
Summary
Having a lightweight yet powerful and portable lighting source for smartphone video recordings is a game-changer. The TONOR Ring Light Kit (TRL-20) is the perfect solution for an on-the-go lighting source for stellar videos! This ring light by TONOR is an easy, must-have addition to any influencer, worker, or family member looking to have a great, portable lighting setup. It uses minimal power so that you can use a portable battery on the go. With 160 built-in LEDs, the light can be very bright with 3 color temperatures. It is dimmable as well. And, the kit comes with a Bluetooth remote AND a collapsable tripod and smartphone mount that allows you to put your smartphone directly in the center of the 12″ ring light. 
Pros
Inexpensive (when on sale)
Easy to set up and use
Can be powered via a portable charger
Larger size with more LEDs
Cons
Phone mount holder can barely grab larger smartphones