What do you do when the power goes out at home? Light some candles? Search for batteries because your flashlight is dead? Start eating all of the food in your fridge or freezer? Panic because your internet or WiFi is no longer working? Sure, you could do all that, or you could pull out your GENEVERSE HomePower ONE battery backup solution and get your electronics and devices up and running in no time. And what about if you are "off the grid" camping? A digital detox is great, but you may want to have some emergency power, just in case. The GENEVERSE HomePower ONE is a great way to ensure you have power when you need it, anywhere you are! (*Disclosure below.)
Rolling blackouts in California and other states recently have become "a thing." High wind warnings can trigger utility companies to issue an emergency shutdown to depower the power lines, preventing a fire. In those cases, you often have a warning and can prepare for not having power in your home. But there are other occasions when the power goes out without notice due to a natural disaster or some other "act of God." Are you prepared for that?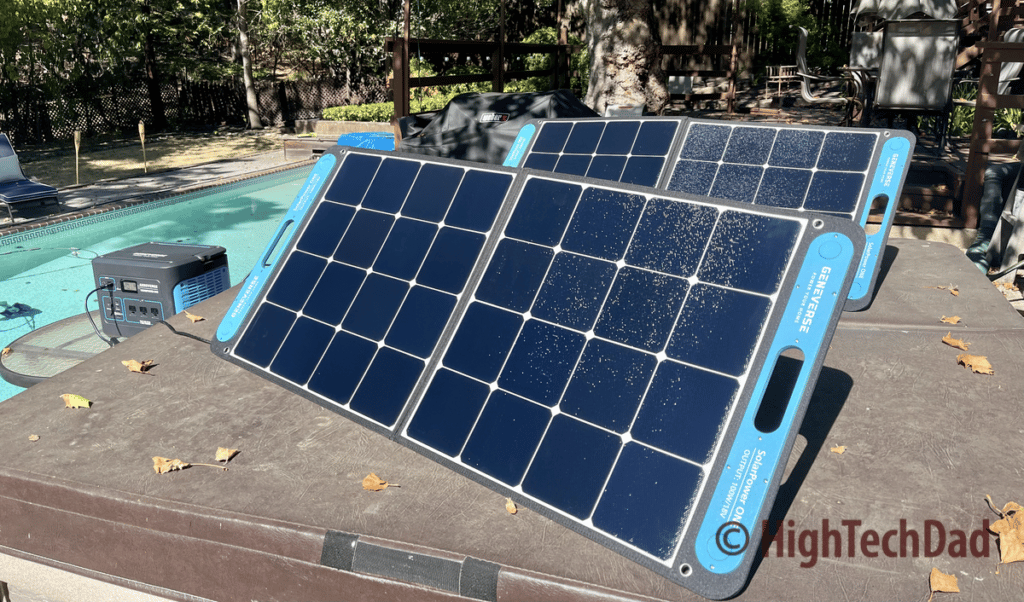 The ability to have many hours or even days of power for your devices and appliances is something to consider seriously. We are now extremely dependent on electricity for many things in our lives (perhaps too much). Regardless, being prepared is something to consider. With a portable battery backup, you can store that power for another time. And with the ability to charge the battery with a solar panel, you can truly be off-the-grid (assuming it is sunny out or not nighttime).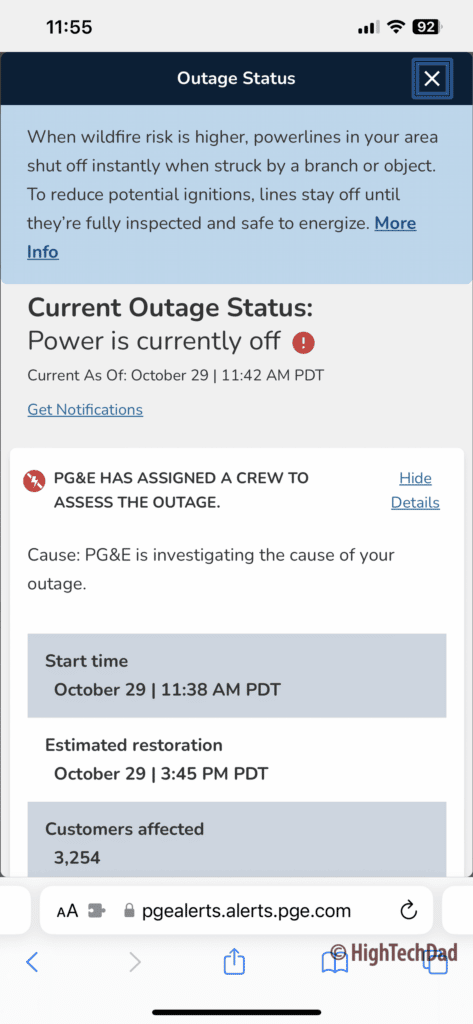 So, I have to write something about karma here. Literally, as I was just finishing up with this review, the power went out in our neighborhood. No storms, no emergencies, not a planned outage. That meant that all of our WiFi and internet connectivity was down, including my ability to finish my article.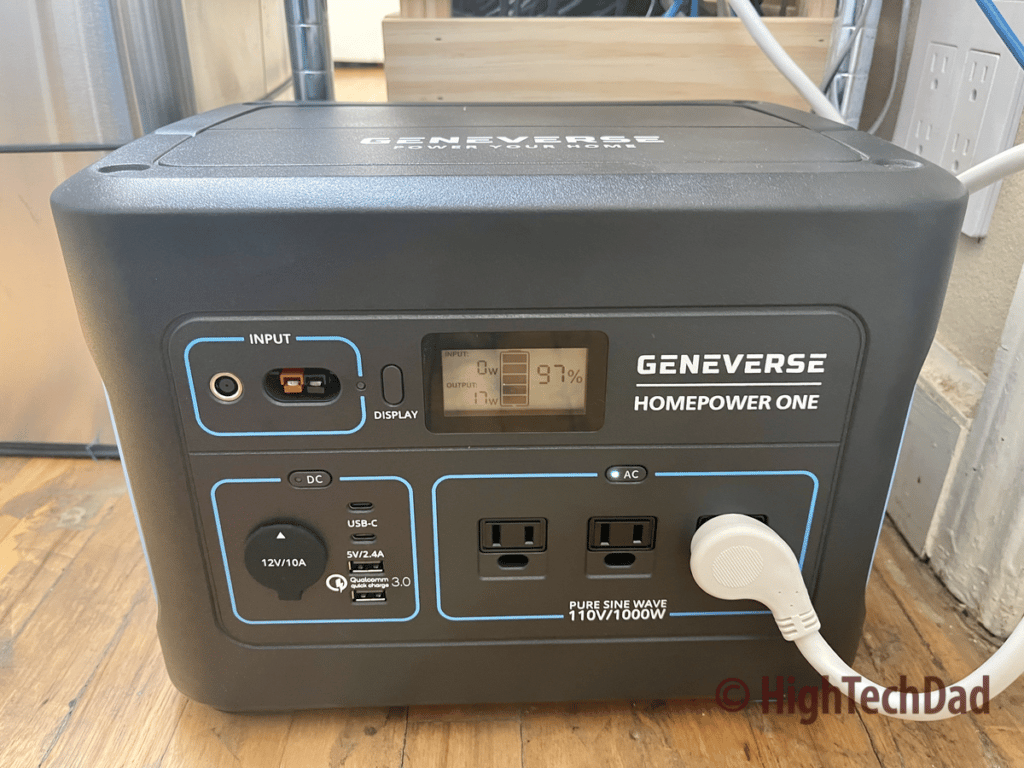 What did I do? I took the GENEVERSE PowerHome ONE battery and plugged in my entire modem, switch, and WiFi router into it, and within minutes, I had WiFi in part of my house again! And the wattage draw was quite small, so I probably could have continued to power my network for a few days!
Below is a video walkthrough of the battery and solar panels in case you want to see this power solution up close. But be sure to read on, and if you have any questions, please leave a comment!
The GENEVERSE HomePower ONE to the rescue!
I got the opportunity to test out the GENEVERSE HomePower ONE backup battery kit that comes with two solar panels, and I have to say, I'm quite impressed. It is one of those power solutions that you don't think you need until you actually DO need it. But it can also be an amazing assistant for other types of use cases.
Earlier, I mentioned the "emergency" use case. This is probably the one at top-of-mind, especially during bad weather or extreme heat conditions where the energy grid might be under pressure. If the power goes out, what do you do? There are definitely many things to consider and much of it depends on how long you are out of power. Often, you simply don't know.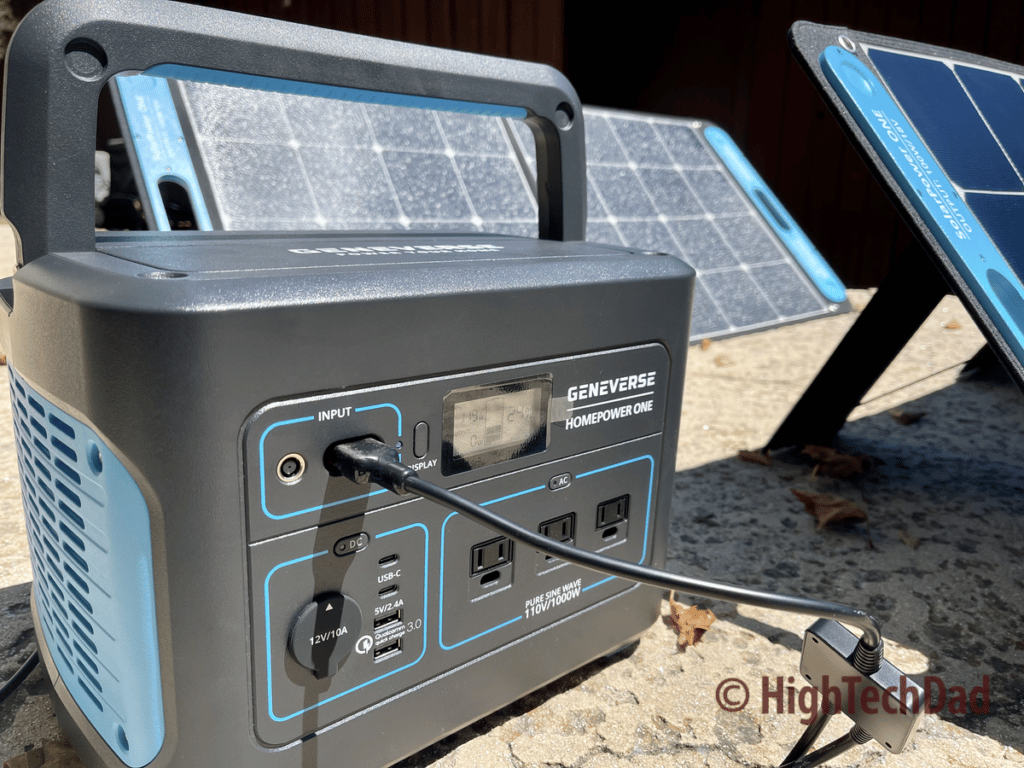 The GENEVERSE HomePower ONE has some impressive specifications. While it won't keep your entire house running for hours, days, or weeks, you can hand-select the devices or items you DO want to continue to keep powered. Here are some of the specs of the GENEVERSE portable battery:
Battery Capacity – 1,002Wh (278,400mAh)
3 AC outlets – 1000W rated power with 2000W surge power (110V)
2 USB-C PD ports – 18W
1 USB-A port – Qualcomm Quick Charge 3.0
1 car outlet – 12V/10A
Charge via AC outlet, car, or SolarPower ONE solar panels (2 included in this kit)
Weight – 23.37 pounds
As I mentioned, this kit also comes with two SolarPower ONE solar panels. Why is this important? Well, if you are off the grid, you can't just plug the battery into a tree or something. The panels allow you to utilize the power of the sun (if it is available) to charge the battery.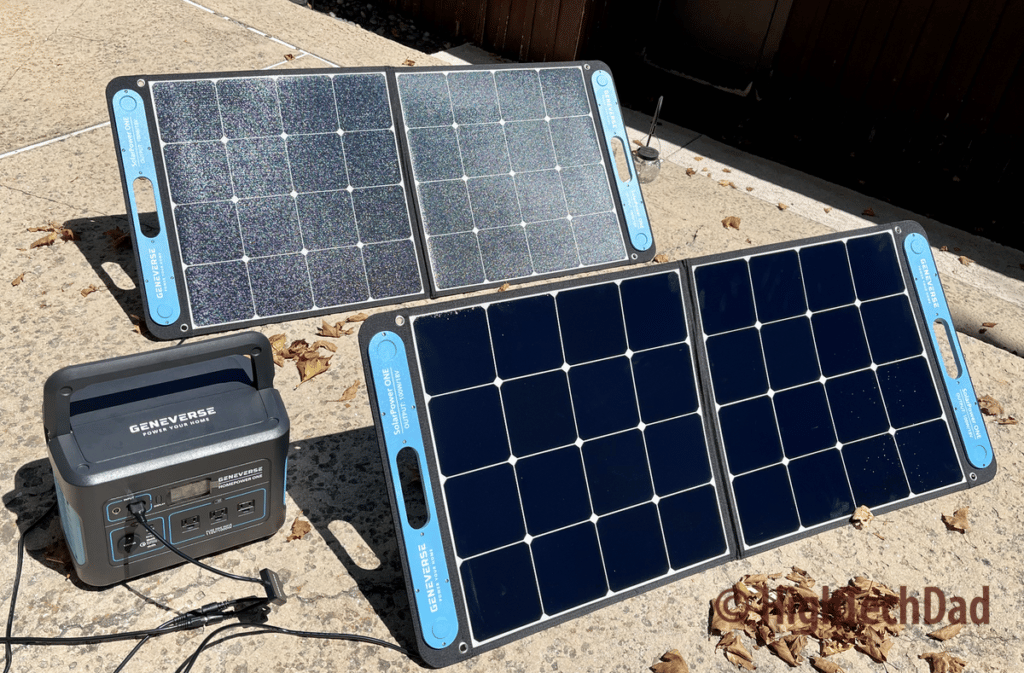 The solar panels are designed to both work directly with the HomePower ONE battery or independently. This particular kit comes with two panels for a reason. The maximum input for the battery via the Anderson Charging Port is 150W. But, a single solar panel emits a maximum 100W of power, so by having two panels, you can be sure that you are getting the maximum output (assuming you have direct sun hitting both panels). Here are the specs on the SolarPower ONE panels (these specs are per panel):
100W output per panel
One 10-foot output cable
One 2-to-1 adapter cable to allow you to connect two panels
32 total solar cells
1 USB-C output – 5V/3A
1 USB-A output – 5V/2.4A
Weight – 9.1 pounds
So, while you can recharge the HomePower ONE battery from your AC wall plug or even your car, the addition of the solar panels means you can charge the battery anywhere that you have access to direct sunlight.
Let's dive into some more details on the features as well as some usage tests.
Using the GENEVERSE HomePower ONE and SolarPower ONE
Luckily, I haven't had an emergency where I have needed to rely on the HomePower ONE solutions. But I did want to test out some of the core features of both the battery and the solar panels before I might be stuck in a bind.
For starters, as part of the initial tests, I wanted to fully drain the battery so I could later test the solar charging process. When I received the HomePower ONE, the battery was not charged to full capacity. I decided to plug a fan into one of the AC outlets on the battery and just let it run until it was fully drained. While I didn't time this, and I don't know the fan's power consumption, and the battery was not at full capacity, the battery was able to power the fan overnight and into the next day.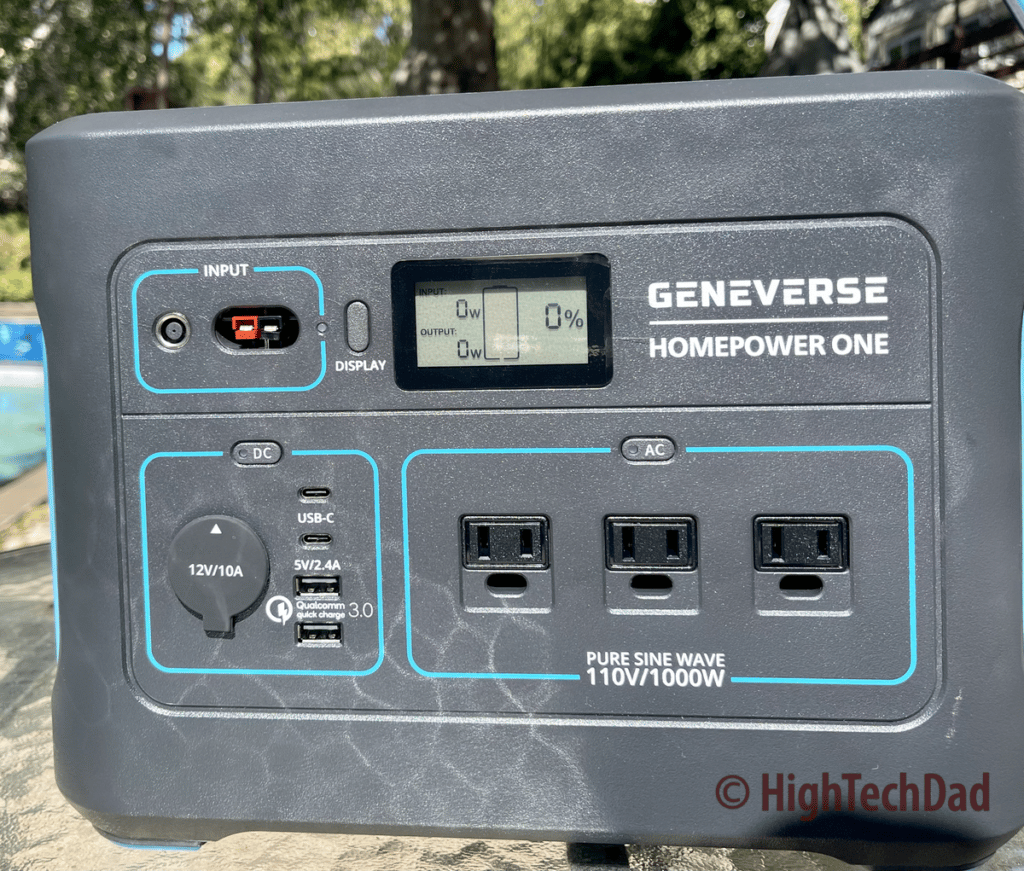 How long does it take to change the battery? I put that to the test once the battery was fully drained. When you use solar to charge the HomePower ONE battery, there are a few things to keep in mind. For starters, it is a slow process. While the specs say about 8 hours, this depends on the sun, honestly. You do need to ensure that the panels are always facing the sun and not in any type of shade.
But, the nice thing about having two solar panels (each with 10-foot cables) is that you can position them independently to get the best full-sun exposure possible. And while each panel is 100W output, the battery will not receive all that power, so part of the panels could be in partial shade or not directly pointed at the sun.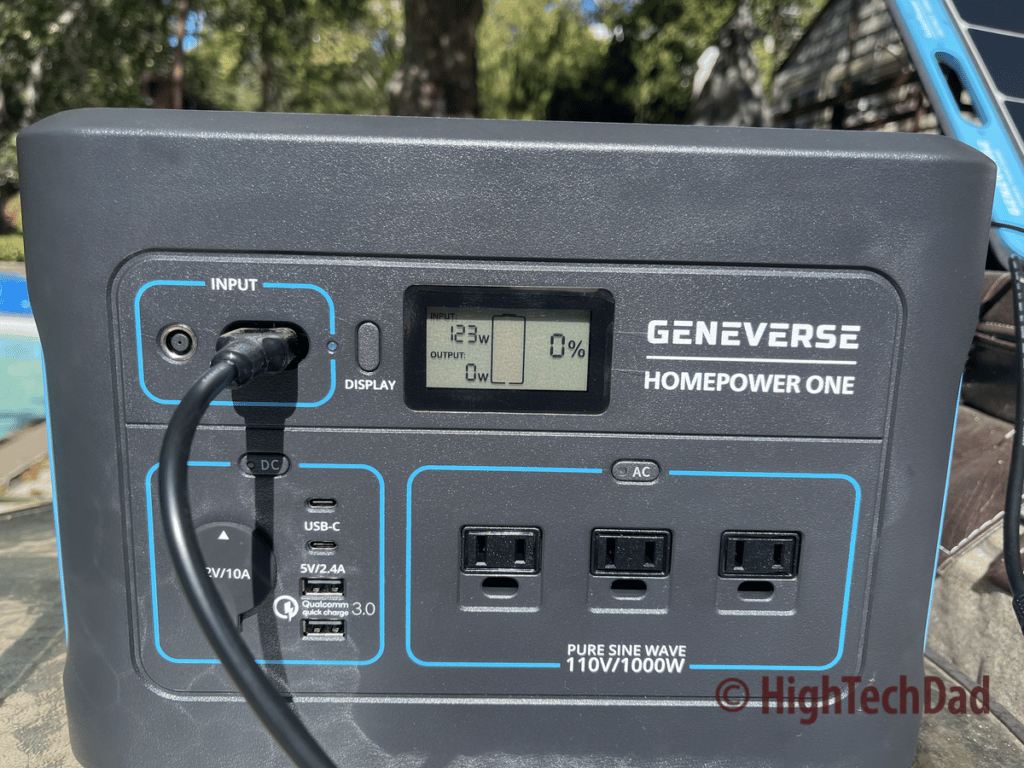 I did a couple of tests using just the sun to charge up the battery. And obviously, this was not a scientific test. There were a few factors that prevented optimal charging – the panels were sometimes in partial shade or not pointed directly at the sun from time to time – so while 8 hours of direct sun is ideal, it sometimes isn't realistic.
In my tests, I found it took about a day or so to charge. I could get to about 75% capacity assuming I periodically repositioned the panels, and then the next day, I was able to top off the battery to full capacity. Again, a lot depends on the sun's position, shade, panel angle, and other factors.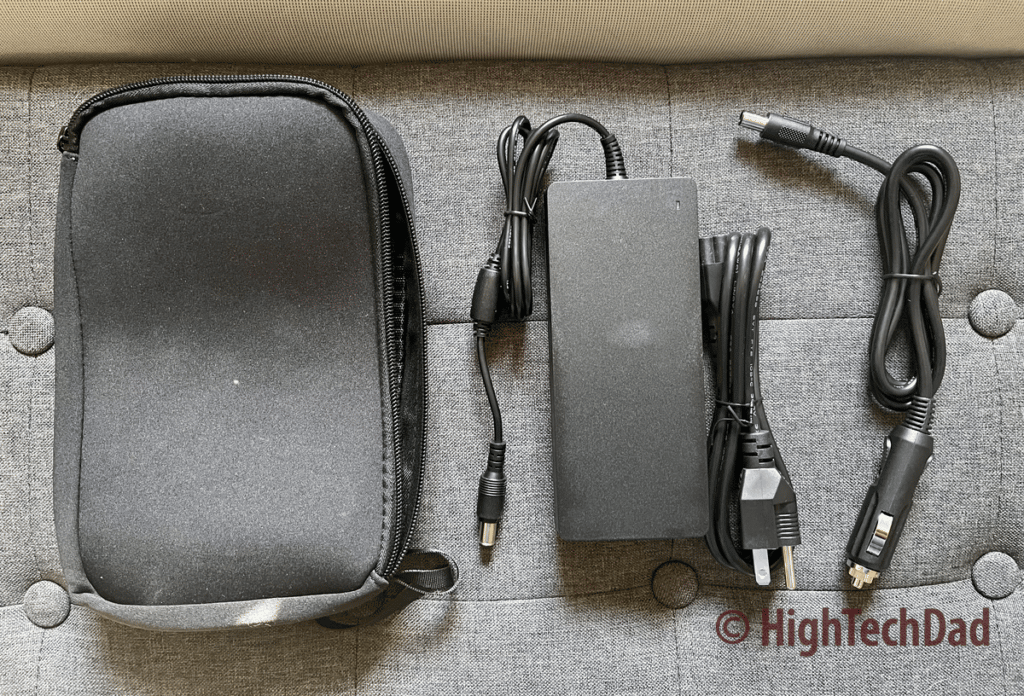 I have NOT tested plugging the HomePower ONE into the wall AC plug or the car. I wanted to test the scenario where I didn't have other power sources other than the sun. The HomePower ONE does come with a neoprene case that has an AC charger and a car DC charger for those situations where you may need an alternate power input.
Each solar panel has a kick-stand attached to it to easily allow you to angle the solar panel at the sun. Also, there is a built-in handle, and the panel folds in half and is held closed via magnets, making the panels easy to carry. They do individually weigh about 9 pounds and measure 24″ x 21″ x 1.38″ folded and 24″ x 21″ x 0.2″ unfolded.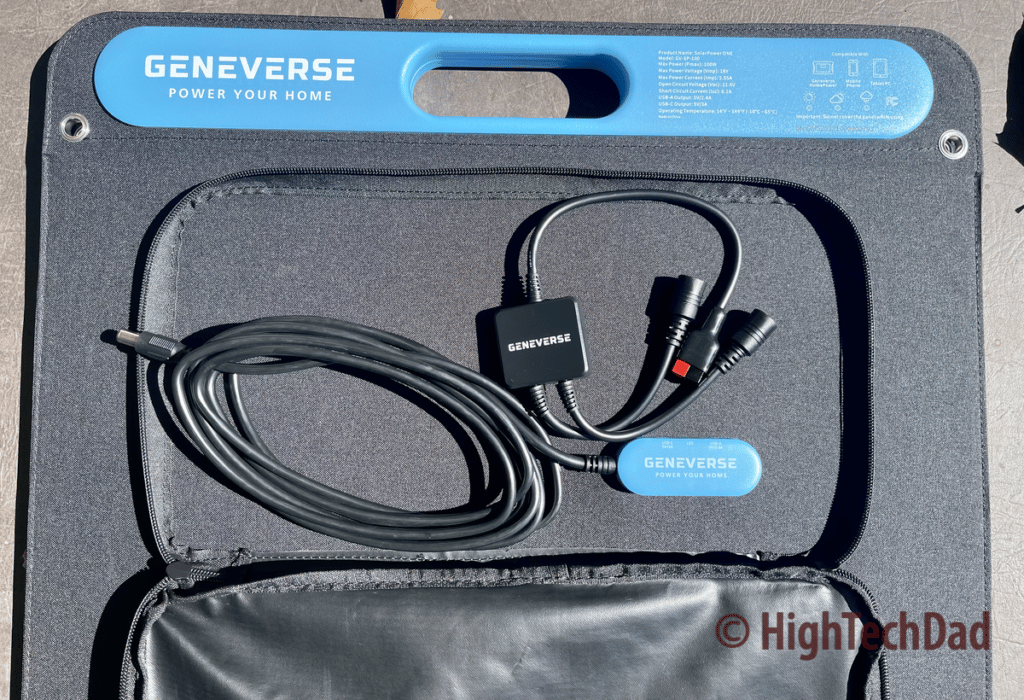 On the back of each panel is a zippered container. This houses the 10-foot cable as well as the 2-to-1 adapter. Each panel has one adapter (nice to have a backup adapter, just in case). When using the two panels, you will need to use the 2-to-1 adapter cable to plug directly into the HomePower ONE battery.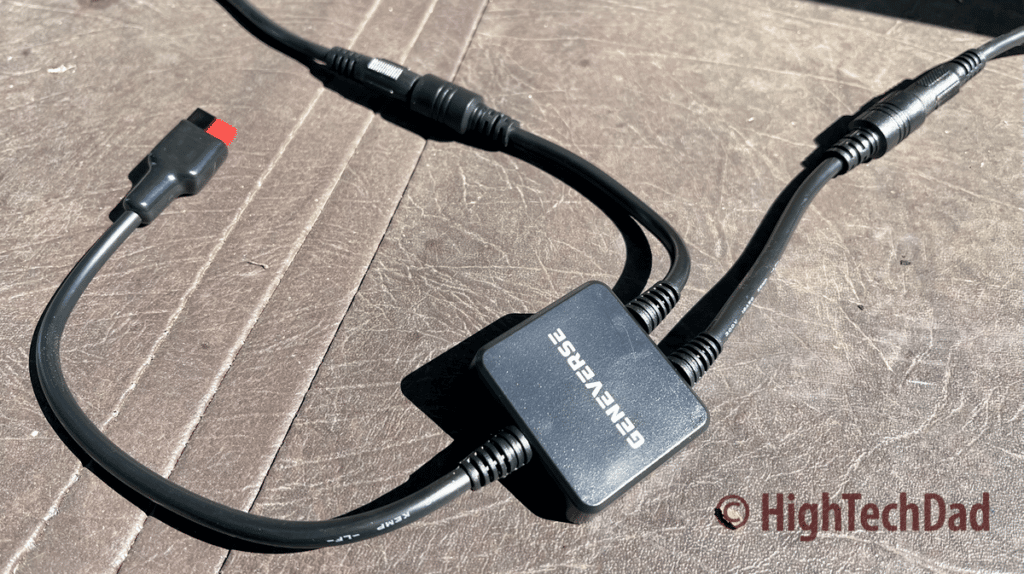 But another great thing (that I mentioned in the video review above) is the fact that you can charge your smartphone directly using the solar panel. There is a mini hub with a USB-C and a USB-A port. Because the output of these ports is pretty low (which means that to fully charge your smartphone just using the solar panel), it will take many hours. But having this as an emergency option is simply amazing!
OK, let's pivot to the GENEVERSE HomePower ONE battery, as this is the powerhouse of the entire solution. I have already mentioned the 3 AC ports. Here are a few more details. You can power devices that operate under 1000 Watts with these ports (and this is total across all 3 of the AC outlets). There are safety features that will automatically shut off the HomePower ONE if you exceed that wattage.
I decided to give that a test. I have a vacuum that pulls almost 1000W of power. So, I plugged it in and powered it on. The LED readout on the HomePower ONE shows both the input and output of power. You can see (in my video review above as well as in the picture below) that the vacuum was pulling in just slightly less than 1000W. I was able to fully use the vacuum using just the GENEVERSE HomePower ONE as the power source.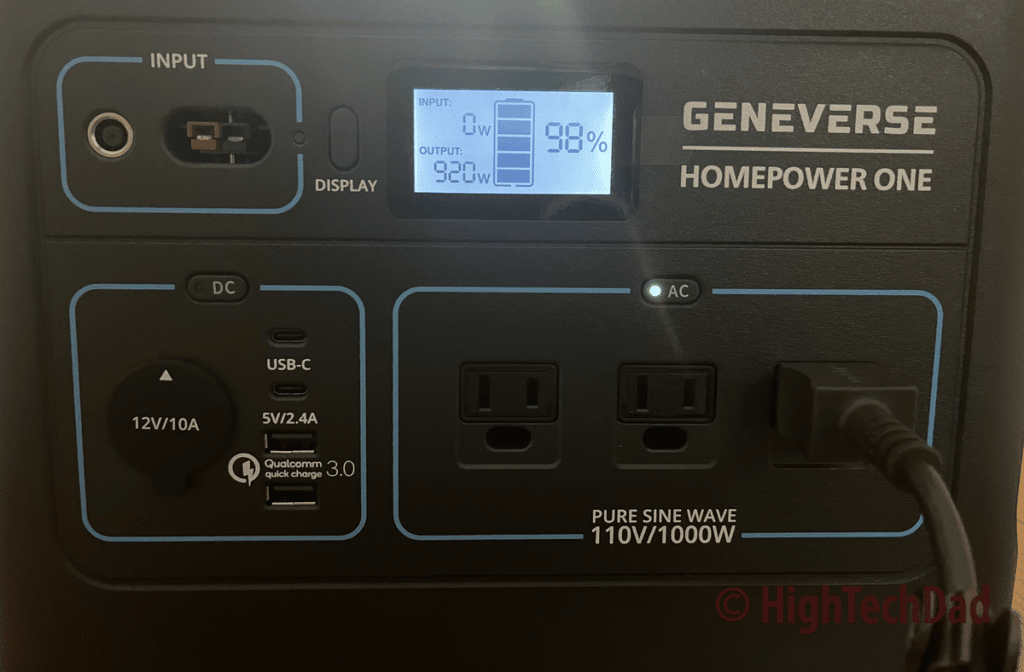 The ports are grouped by type (AC or DC) on the GENEVERSE battery. You do need to press a button to activate them. Similarly, when the battery is not charging nor distributing power, you press a button next to the display to temporarily show the battery's power level.
Several safety protection features are built into the GENEVERSE HomePower ONE battery – Over Charge Protection, Over Discharge Protection, Short Circuit Protection, Over Current Protection, Over, Voltage Protection, and Over Temperature Protection. If any of these safety features activate, the HomePower ONE will shut down. Also, if you are drawing a lot of power, you will hear the internal fans automatically kick on to ensure the battery remains cool.
How long can a device be powered by the GENEVERSE HomePower ONE battery? Well, it depends. It all depends on the power requirements of the device being used. GENEVERSE provided the following formula for calculating an estimated runtime – 10002Wh times 0.85 divided by the operating wattage of the device.
So, if a device is rated at 60W, the total working time (assuming a fully charged HomePower ONE battery) would be approximately 1002Wh x 0.85 / 60w – 14.2 hours.
Obviously, your power mileage will vary depending on the device(s), their power needs, and other factors.
Peace of Mind with the GENEVERSE HomePower ONE battery and solar panels
I could probably go on and on about different use cases for this power solution by GENEVERSE. For emergencies, I view it as essential. For camping, I would say it depends on if you want to be fully off the grid or not and have power if you need it (it would be more for car-camping as it is too heavy to hike with).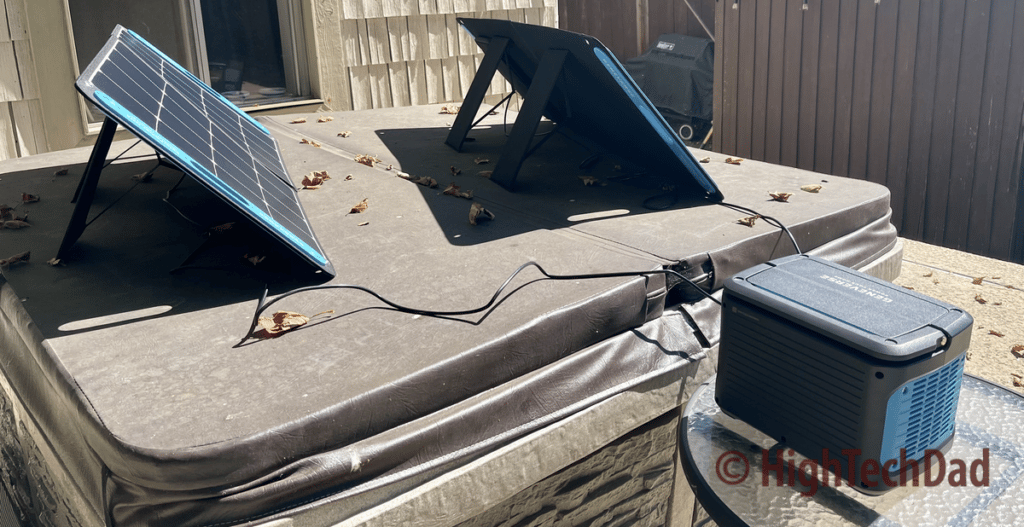 You can use it to power lights, home appliances, medical devices, home office electronics, power tools, and more. And, if you fully charge the HomePower ONE, it will remain fully charged for up to a year.
The three ways to charge are extremely convenient as well, with good charging times for the large capacity battery (~7 hours via AC outlet, ~8 hours via solar, and ~14 hours via car outlet). And, you can power devices from the battery WHILE the battery is being charged.
It is important to remember that this is NOT a whole-house solution. It is more of a portable solution. It will not hook into your home's electrical grid, nor will it automatically power one if you have a power outage. Definitely take a look at some of the other solutions that GENEVERSE recently announced, like the HomePower PRO for extended capacity and features.
The GENEVERSE HomePower ONE series, which includes the battery and two solar panels, retails for $1597.00. On the GENEVERSE site, it is currently on sale for $1,499.00. It is also available on Amazon for $1,499 as well. If you are a Costco member (and the mere fact that the GENEVERSE solution IS available at Costco is a big positive in my mind), you can pick up this kit (battery and two solar panels) for $1,299.99!
Shop on HighTechDad.com
The product shown below (and related products that have been reviewed on HighTechDad) is available within the HighTechDad Shop. This review has all of the details about this particular product and you can order it directly by clicking on the Buy button or clicking on the image/title to view more. Be sure to review other products available in the HighTechDad Shop.
One way or another, this is an important peace-of-mind, emergency portable power solution that I believe families, businesses, and individuals should seriously consider investing in. You never know when the power might go out, nor if you need to suddenly have a large capacity battery on the go for some type of emergency or other occasions.
Disclosure: I have a material connection because I received a sample of a product for consideration in preparing to review the product and write this content. I was/am not expected to return this item after my review period. All opinions within this article are my own and are typically not subject to editorial review from any 3rd party. Also, some of the links in the post above may be "affiliate" or "advertising" links. These may be automatically created or placed by me manually. This means if you click on the link and purchase the item (sometimes but not necessarily the product or service being reviewed), I will receive a small affiliate or advertising commission. More information can be found on my About page.
HTD says: With the GENEVERSE HomePower ONE battery and solar panel kit, you will never be without a source of emergency power. This portable battery power solution provides hours or days of power capacity and can be recharged via solar, AC, and car.
HighTechDad Rating
Ease-of-Use

Family-Friendly

Price Point

Features
Summary
With the GENEVERSE HomePower ONE battery and solar panel kit, you will never be without a source of emergency power. This portable battery power solution provides hours or days of power capacity and can be recharged via solar, AC, and car. Out of the box, this portable battery solution has practically no setup time. You check the battery level with a press of the button. If it needs to be charged up, you can plug it into your AC wall plug or your car or use the 2 included solar panels if you aren't near the electrical grid. The power output for the AC sockets is 1000W, which is enough power for many appliances, power tools, home electronics, and other devices. All of the required charging cables are conveniently packaged either as part of the solar panels or in an accessory pouch. Connecting the solar panels is also a no-brainer. Simply having this portal on-demand power available for emergencies or other events requiring portable power is amazing. While the price point is a bit steep, it is comparable to other similar solutions and worth the investment.
Pros
Extremely easy to set up and use
High wattage for AC plugs
Direct charge smartphones via the solar panels
Long "shelf-life" for the battery
Cons
A bit expensive (but worth the investment)