I recently took a trip to Europe and hoped to use the Zagg Pro Keys keyboard case on my trip as a means to leave my laptop at home and solely rely on my iPad Air. Unfortunately, due to some slow shipping beyond my control, the Zagg Pro Keys arrived after I had returned home. However, I have been testing the Pro Keys in various use cases for the past few weeks to put it through whatever I felt might apply to a mobile warrior. And I found several features to be super valuable, potentially allowing you to leave your laptop tucked away on a table, even at home or work, while using the iPad as a "primary device." (*Disclosure below.)
Zagg is no stranger to cases or keyboards. In fact, they have a wide array of mobility solutions for all types of devices. So, when my review sample arrived for me to test, I wanted to see how it would stand up to a variety of situations, what were the features that I really liked (and a few that I didn't), and generally, if I could use the Zagg Pro Keys as my primary case and keyboard for my iPad.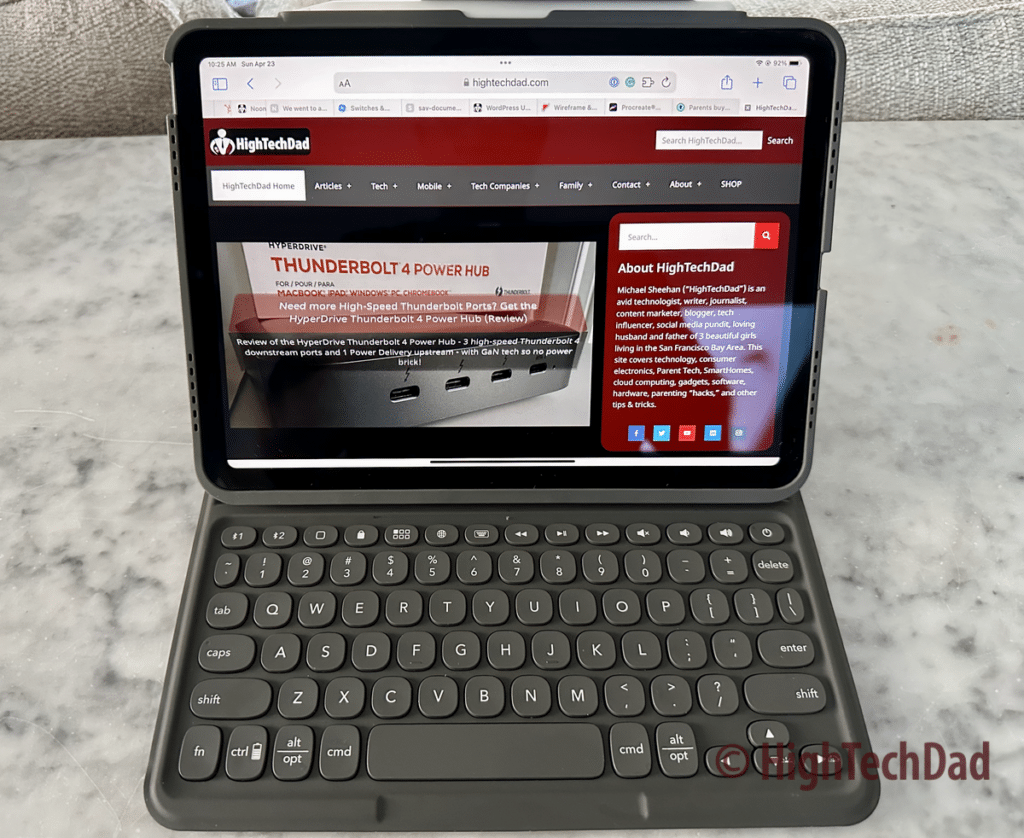 The Zagg Pro Keys marries protection with function. With the case fully closed, your iPad is securely protected on all sides. When you need to type or binge-watch something, you can easily prop it open to do your work or stream away. And if your moment doesn't include the need to type using a physical keyboard, easily detach your iPad from the keyboard base and simply use it as a tablet.
Update 5/4/23: Head-to-Head comparison video now available! In this video, I compare this Zagg Pro Keys keyboard with the Logitech Combo Touch keyboard.
Table of Contents
The Key Highlights of the Zagg Pro Keys Keyboard Case
Here are some of the feature and design highlights of the Zagg Pro Keys case.
iPad Protection
First and foremost, I want to talk about protection. An iPad is an investment, regardless of which model or generation iPad you have. I have always strongly recommended never letting your devices go "naked." While a protective case does add weight, in the long run, if you drop or carry around your device, there is a good chance that you will bump or drop it. You need to protect your investment.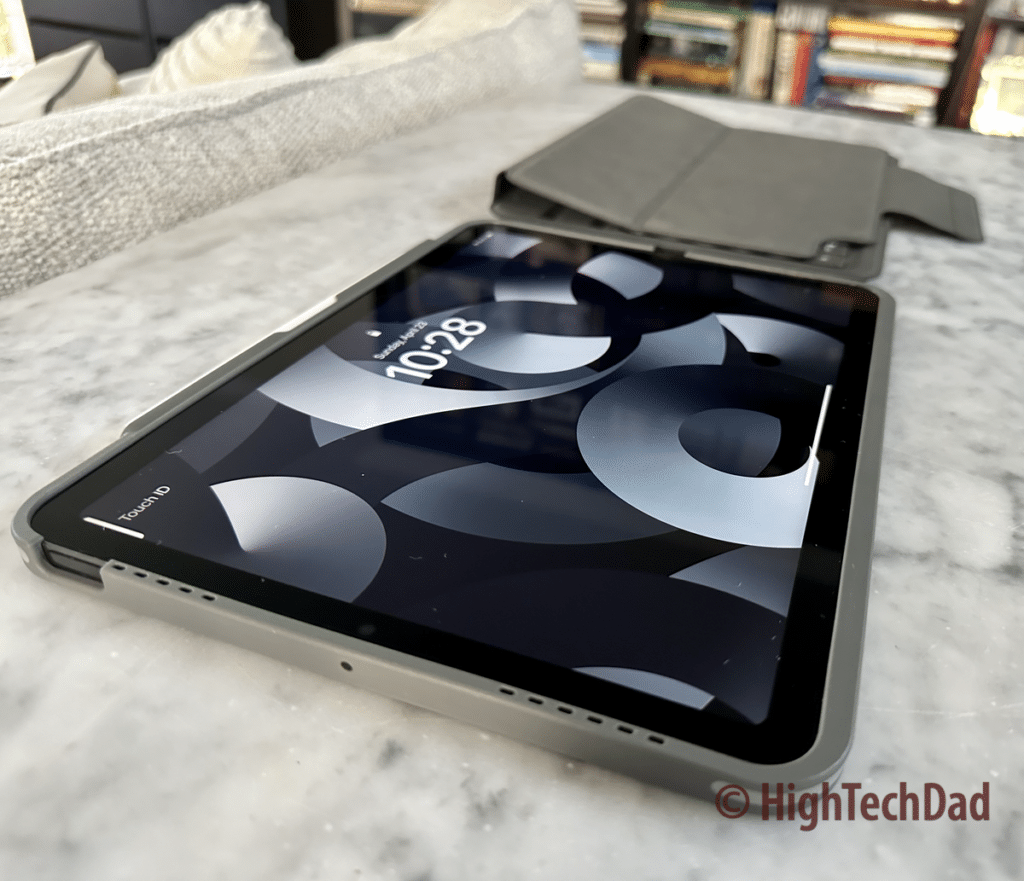 The Zagg Pro Keys does a great job at full-device protection. The Pro Keys themselves are actually two detachable parts – a case for your iPad (an iPad Air in this case) and the keyboard and stand (as a contained unit). The iPad snaps into a durable polycarbonate case. It does take a bit of effort to get the iPad into the case, but once it is in there, it feels incredibly secure. The corners are rubberized to absorb bumps and minor drops.
There are cutouts for the USB-C charger connector, the speakers, the TouchID power button, and the mic. The cutouts for the speakers are forward-facing, which means sound coming from your iPad isn't blasting out to the sides but instead coming towards you. The volume buttons are built into the case, and simply press down on your iPad buttons. I also very much like that the bezel is raised to provide additional screen protection, so you can put your iPad face down without worrying about scratching the screen.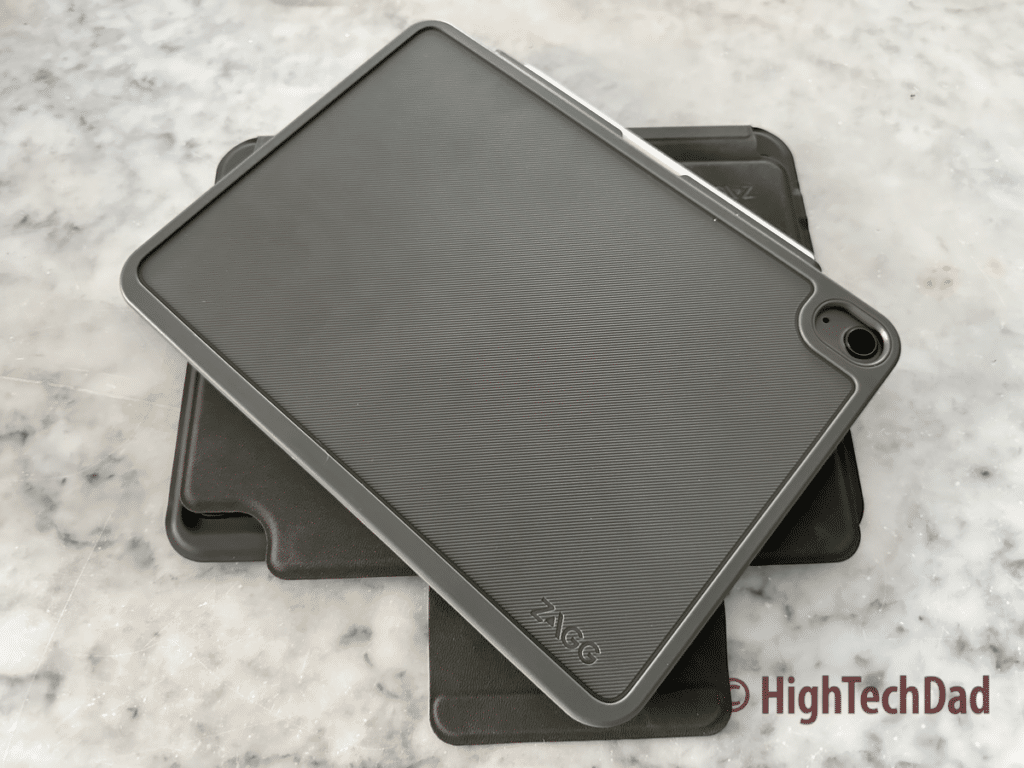 According to Zagg, this iPad protective case offers 6.6 feet of drop protection. While I'm not about to test this out (I don't have any spare iPads just lying around), I can confirm that this rigid case feels solid and strong while still not adding too much weight to the mix.
The detachable keyboard, which I will talk about shortly, offers that additional screen protection when you are not using your iPad. The iPad portion (with the Zagg iPad case on) magnetically connects to the back flap of the keyboard portion. So when you are done typing or propping up your iPad, just fold it up, and away you go!
A Keyboard Worthy of Typing On
While I do enjoy using the on-screen keyboard on my iPhone, I do find the on-screen keyboard on the iPad to be a bit cumbersome. Often, the on-screen keyboard gets in the way of half of the screen real estate, making it pretty hard to do any kind of work (or play). While the on-screen keyboard is convenient if you only have a case for your iPad, having a physical keyboard, despite its slight additional weight and bulk, offers a huge advantage if you are a writer.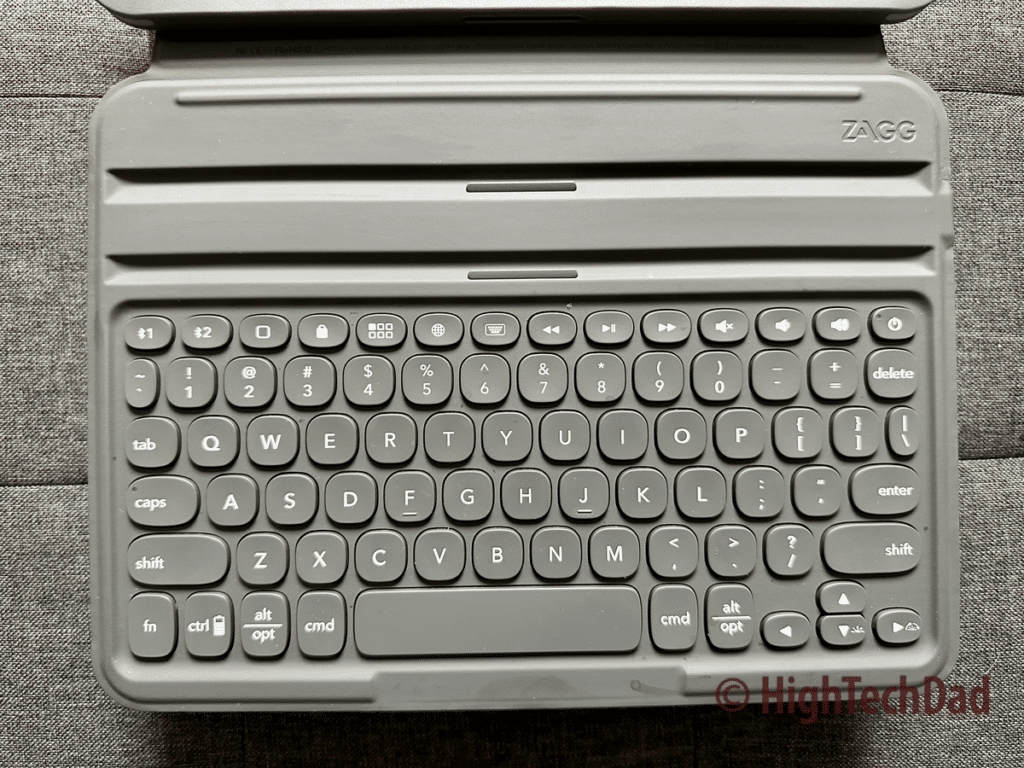 The Zagg keyboard itself is a pretty nice size. While it is less wide than a laptop keyboard (10.75 inches versus 9 inches for the Zagg), typing does not feel cramped, even with larger hands. The keys are responsive and have some slight travel to them, so you can type reasonably quickly once you get used to the slightly smaller keyboard size. Typing noise is also relatively quiet, so you won't disturb your partner if you are madly typing in bed or next to them on a sofa.
The top row of the Zagg Pro Keys has a variety of function keys, including the ability to pair your keyboard with two different devices. If you want to pair your iPhone to the keyboard, prop it against your iPad and use the physical keyboard.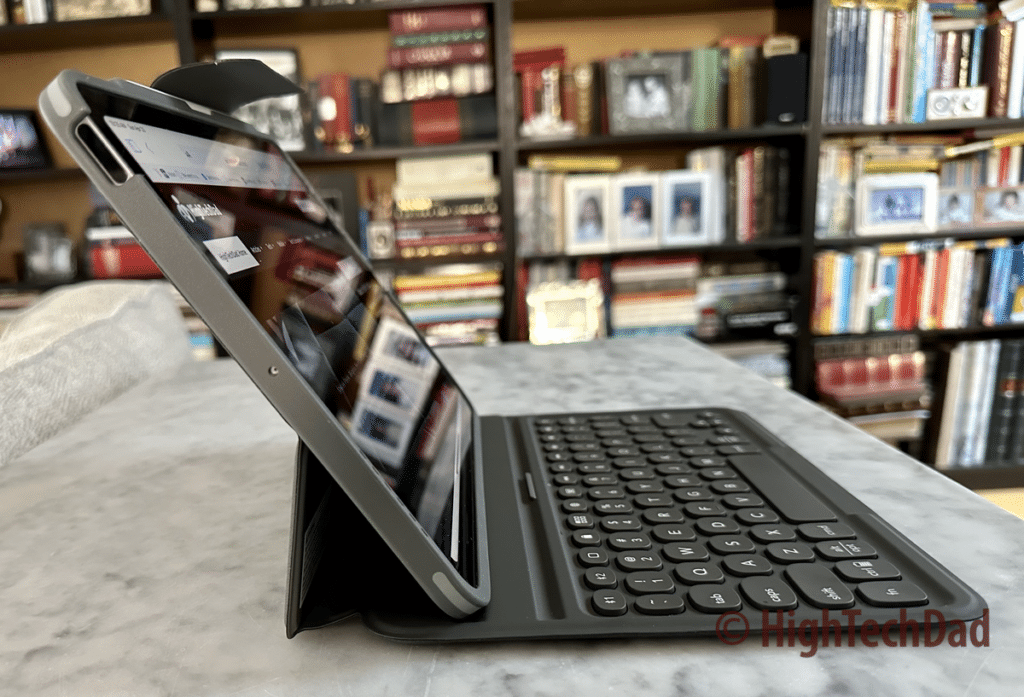 There are various other utility buttons as well: Home, Dashboard (if that is what it is called), on-screen keyboard button (to show emojis or switch languages, for example), show/hide the on-screen keyboard, media controls, volume controls and mute, and a power button to turn on or off the keyboard.
I should mention here that the keyboard is Bluetooth. It does NOT use the smart connector like some other detachable keyboards like the ones from Apple (which I have not tested, by the way).
It's also important to note the bottom row as well (and the fact that, yes, there are two full-sized Shift keys). There is an FN (function) key that allows you to activate a few other sub-functions of the keyboard, including the backlight. Yes, this keyboard has a backlight to the keys, which is incredibly useful when working in a dark environment. Using the FN and backlight keys, you can cycle through varying brightness levels for the keys.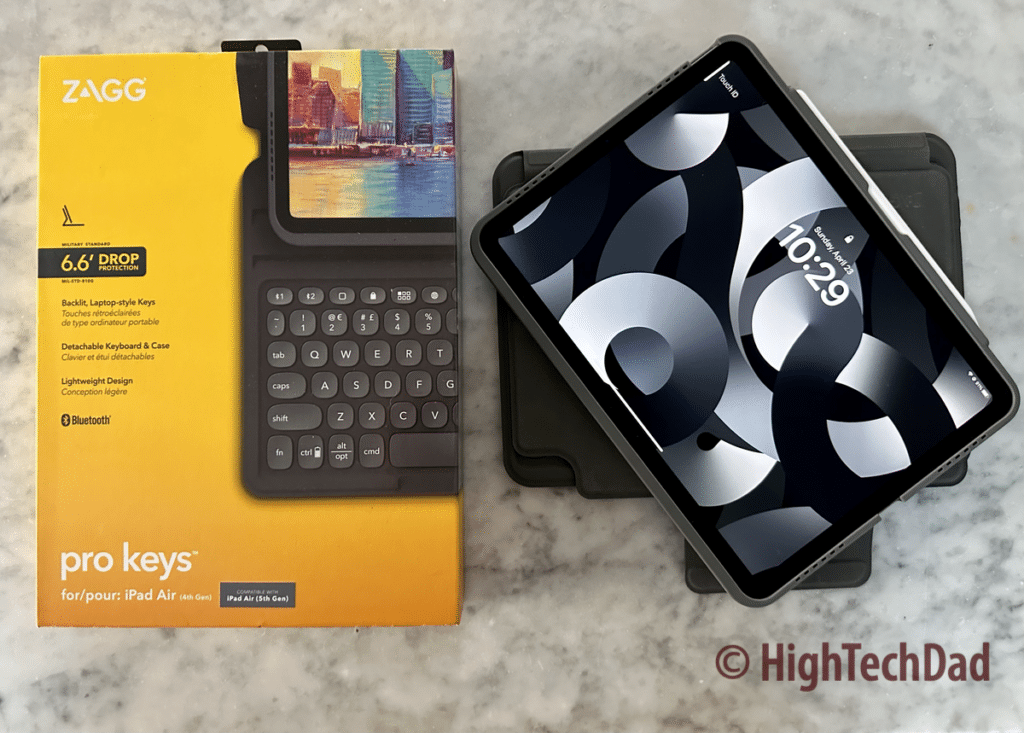 AND, as an added bonus, you can choose the color backlight light. While I prefer the standard white, you can use turquoise, blue, red, purple, green, or yellow in addition to white.
You also have CTRL, ALT/OPT, and CMD keys. This is great if you want to CMD TAB between active applications. There is also a key combo to test the battery level of the keyboard (one, two, or three flashes indicate the level).
Some Additional Features Worth Mentioning
If you use an Apple Pencil or perhaps the Zagg Pro Stylus ($69.99 on Amazon), the Zagg Pro Keys has a great feature. There is actually a holder built into the case for the stylus. And, if you have the Apple Pencil, when it is placed in the holder, it WILL charge the Pencil via its connection to your iPad. It is not only magnetically held into place; it is a beveled holder to keep it from sliding around.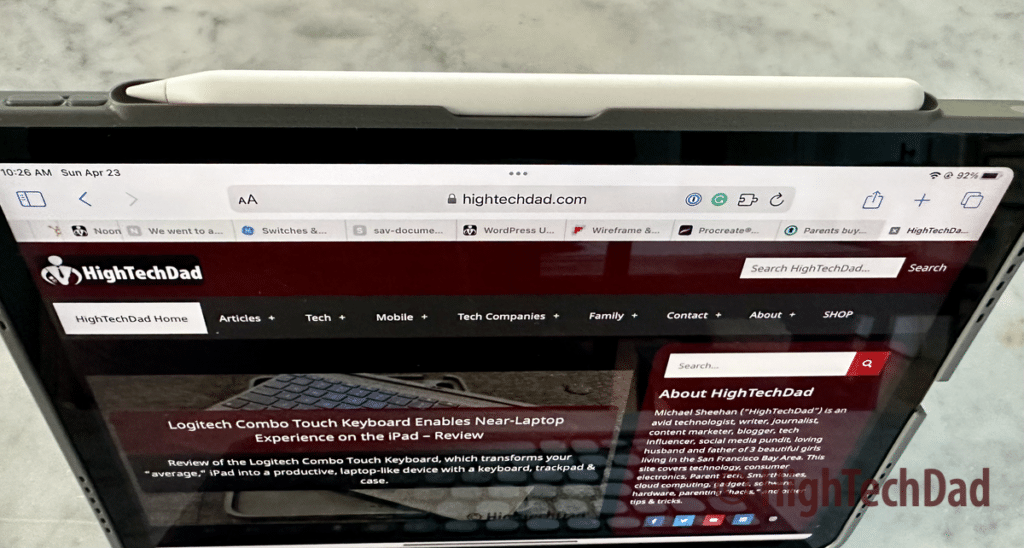 AND, when you close the case fully and fold the keyboard up, the pencil and keyboard are held in place and together via a magnetic strap. This is ideal if you put your iPad into a bag or carry it around. Your stylus won't easily pop out and get lost. Honestly, this is a key feature. Other cases have forced me to carry my Apple Pencil completely separately either because they aren't securely held in place or you can't even attach the Pencil at all.
The keyboard charges via a USB-C cable. You can connect a USB-C cable to a wall charger or USB hub to charge the keyboard, or if you have a USB-C to USB-C cable, you can charge the keyboard directly from your iPad. According to Zagg, a fully-charged keyboard will not need another charge for about a year, which is a very long time. Of course, it depends on if you use the backlighting and how much typing you do. Regardless, that is a long battery life.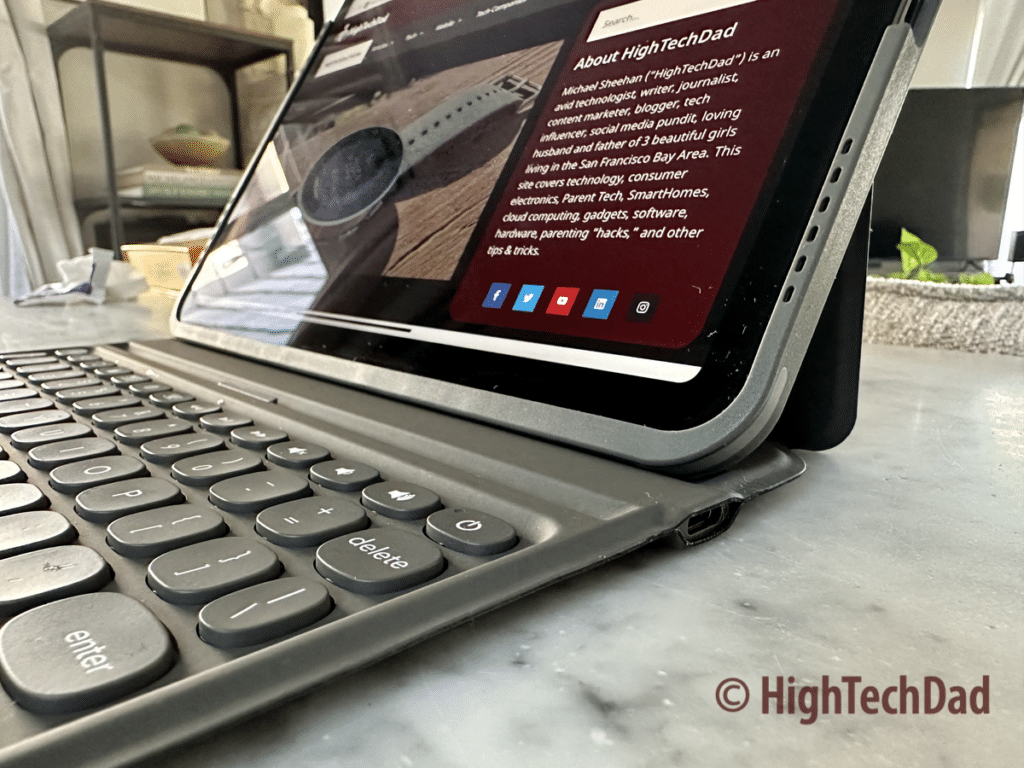 To preserve the battery, the keyboard will automatically go to sleep if it is not used for a while. To reactivate it, you can type on the keys (which sometimes wakes the keyboard up and connects automatically) or press the power button to turn on the keyboard (and it will connect).
There are also only two positions to angle your iPad when in keyboard mode. There is one that is more upright and one that is a bit more "relaxed." The keyboard case has two physical notches in the lower portion to hold the iPad at a pre-defined angle.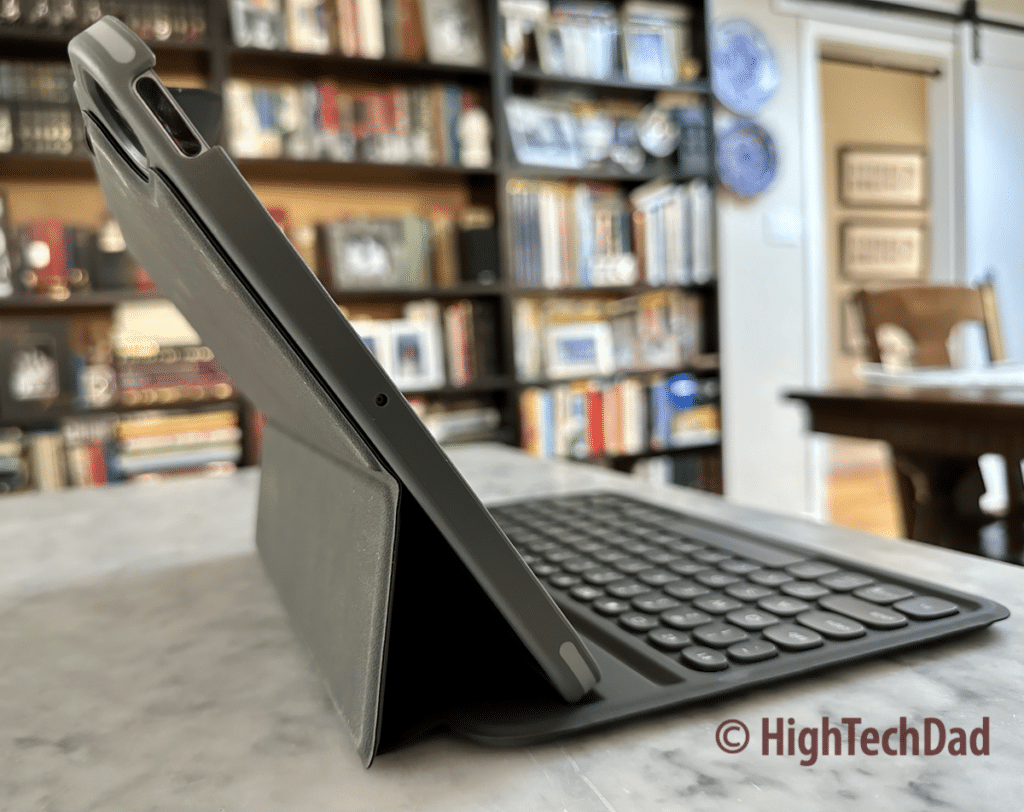 When the keyboard is open, the footprint on your desk (or lap) is relatively small. This is great if you use your iPad and Zagg keyboard on a plane using just the dropdown tray. It also works reasonably well if you have it propped on your lap while typing in bed or on a sofa. It's relatively stable.
One thing to note, this keyboard case does NOT have a trackpad. However, there are versions of this that include a trackpad, which may be an added bonus for you. The one reviewed in this article is just the keyboard. The one with the trackpad isn't listed on the Zagg site but is listed on Amazon, so be careful when choosing which one you get to ensure it is compatible.
Competitively Priced
The Zagg Pro Keys keyboard case is an important investment regarding your iPad's functionality, utility, and protection. Several versions of this keyboard case are available, depending on the type of iPad you have and its size, so be sure you get the proper one.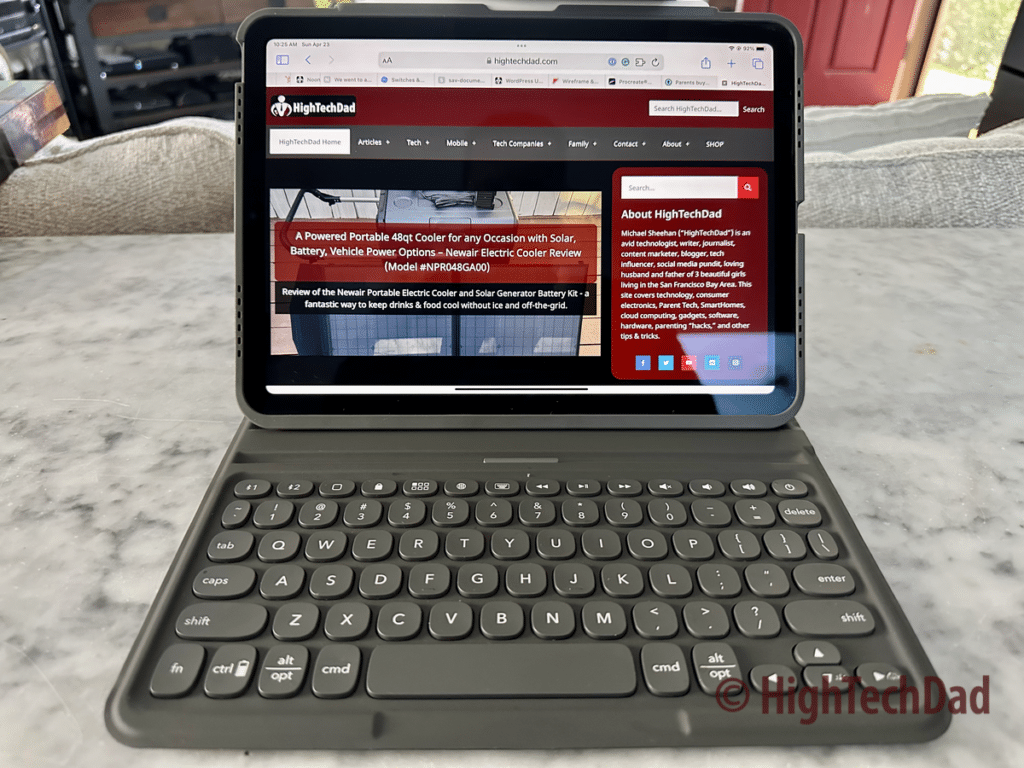 If you have a 5th-generation iPad Air, this case is an important protective case and keyboard to have. It is the version for the 4th and 5th generation 10.9″ iPad Air. It currently retails on Zagg for $109.99 and is available on Amazon as of this writing for $109.99 as well.
It is comparable in price to other similar solutions out there and definitely less expensive than Apple offerings like the Apple Smart Keyboard Folio, which retails for $179.00 (or $159.00 on Amazon).
Shop on HighTechDad
The product shown below (and related products that have been reviewed on HighTechDad) is available within the HighTechDad Shop. This review has all of the details about this particular product and you can order it directly by clicking on the Buy button or clicking on the image/title to view more. Be sure to review other products available in the HighTechDad Shop.
While some people believe that all they need is simply an iPad protective case and cover, I feel that there are added benefits to having a physical keyboard as well, particularly if you will be doing any typing or writing regularly. Having a full screen while you write (or even a split screen to have two applications on-screen simultaneously) allows you to be much more productive. Of course, if you are just browsing the web or streaming media, you might not feel a need for a physical keyboard. But personally, I think that having that ability is worth the extra price, weight, and size. And, since I can be a bit less reliant on lugging my MacBook Pro around, this is an added benefit.
Disclosure: I have a material connection because I received a sample of a product for consideration in preparing to review the product and write this content. I was/am not expected to return this item after my review period. All opinions within this article are my own and are typically not subject to editorial review from any 3rd party. Also, some of the links in the post above may be "affiliate" or "advertising" links. These may be automatically created or placed by me manually. This means if you click on the link and purchase the item (sometimes but not necessarily the product or service being reviewed), I will receive a small affiliate or advertising commission. More information can be found on my About page.
HTD says: With the Zagg Pro Keys keyboard case, you not only get important added protection for your iPad, but you also get the benefit of the added screen real estate and the ability to type much more naturally and quickly using a physical keyboard.
HighTechDad Review
Ease-of-Use

Family-Friendly

Price Point

Features
Summary
With the Zagg Pro Keys keyboard case, you not only get important added protection for your iPad, but you also get the benefit of the added screen real estate and the ability to type much more naturally and quickly using a physical keyboard. Setting up the Zagg Pro Keys keyboard and case literally consists of pairing the keyboard via Bluetooth. Once it is configured, you can just power it on or off as you need it. The protection for your iPad is quite robust, and it is fantastic to be able to separate the iPad from the keyboard if you just want to use your iPad in tablet mode. The keys are responsive, allowing you to type quickly once you get used to the slightly smaller-than-laptop keyboard. And they are backlit to let you type in dark environments. While you do have to charge the keyboard separately via USB-C (it doesn't charge when attached to the iPad), the battery life of the keyboard is quite long. Overall, the keyboard is easy to set up and use, and the benefit of not having to use the on-screen keyboard is fantastic. It saves you a lot of precious screen space!
Pros
Great protection for the iPad
Lightweight
Detachable from keyboard
Backlit keys
Apple Pencil or stylus holder is built-in
Long battery life
Ability to connect two Bluetooth devices (e.g., iPad and smartphone)
Cons
Must charge separately via USB-C – doesn't automatically charge from iPad when connected
Must connect via Bluetooth manually
Only two rigid positions for propping the iPad